By Grace Kalac reporting from London – Runner's Tribe
Fifteen Australians graced London's Queen Elizabeth Olympic Park for the annual Diamond League Müller Anniversary Games on Sunday afternoon, producing a combined four personal bests and four season's bests. With many of the 15 athletes set to compete in next month's World Championships at the same location, the meet provided a valuable test-run.
Setting an uplifting tone for the day, the Australian 4x100m men's team of Trae Williams, Alex Hartmann, Tom Gamble and Nicholas Andrews took out the first senior race of the day in a season's best performance of 39.08.
Next to take the track was Sally Pearson, who won her 100m Hurdles heat in a season's best of 12.71. Hours later, Pearson claimed second in the final, slicing another few tenths off her heat time to update her 2017 best to 12.48. Nicholas Hough (13.56) finished seventh in his 110m Hurdles heat.
The women's mile race was arguably one of the most anticipated events on the program. With Laura Muir attempting to surpass the British record, the pace was swift. While Muir fell short of her target, her fellow competitors benefitted from her pacing, with 11 personal bests across the 15 starters. Among those was Australian Linden Hall, who positioned herself smartly and came home strong to finish ninth in 4:23.96.
Equally as suspenseful was the men's 3000m, where 11 personal bests were also snagged across the field. Much to the delight of the British crowd, the event was taken out by Mo Farah, who is in the concluding stages of his track career before pursuing road races. Australians Patrick Tiernan and Sam McEntee continued to showcase their impressive current fitness, executing personal bests of 7:37.76 and 7:41.03 respectively.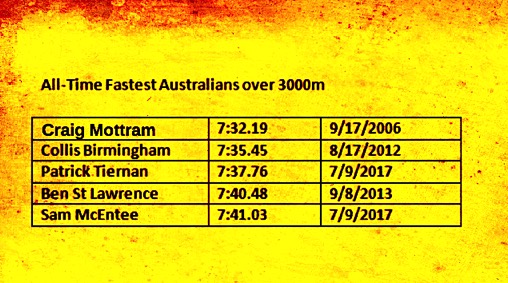 A fast finish by Ryan Gregson saw him claim fourth in the men's 1500m in 3:36.17. His fellow training partners Jordan Williamsz and Luke Mathews ran 3:37.15 and 3:40.86 respectively.
On the field, Brooke Stratton jumped a promising 6.79m in the women's long jump, a season's best following her return from injury. The women's javelin saw national champion Kelsey-Lee Roberts throw a lifetime best of 64.38m, with Kathryn Mitchell throwing 63.25m.
The Diamond League continues next Sunday, July 16 in Rabat, Morocco.