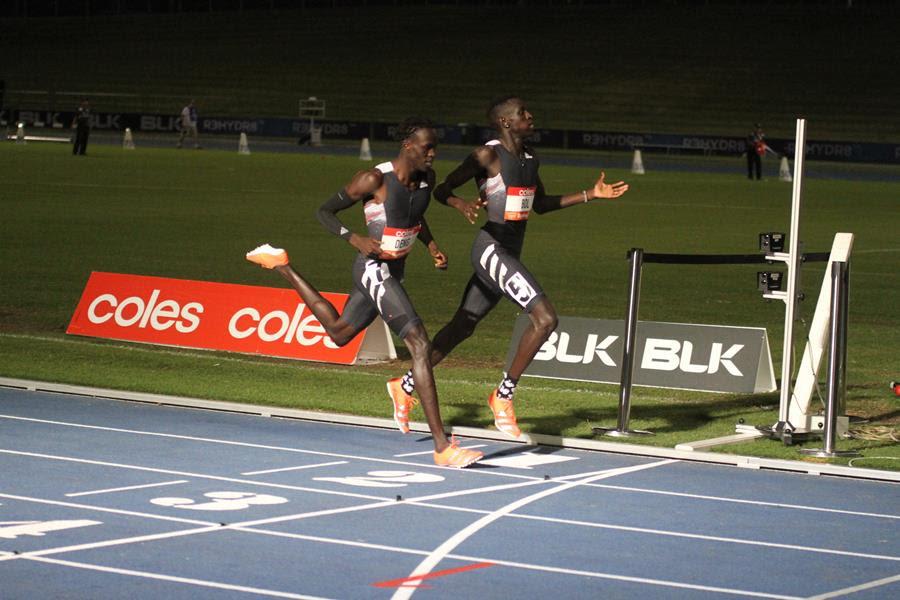 Peter Bol and Joseph Deng are back to their 2018 best after stellar runs in the men's 800m at the 2020 Sydney Track Classic.
Peter Bol won the race in 1:45.85 with Joseph just behind him in second with 1:45.89. After the race, Bol declared him and Joseph were set for bigger things in the Olympic year.
"Next race I'm confident we will both run under the time (Tokyo 2020 Olympic qualifying time of 1:45.20), and boy is it then going to be an exciting year," Bol said.
"I don't want to say too much but I have a feeling it will be bigger than 2018," Bol said.
In 2018 Joseph Deng broke the near 50 year old Australian 800m record set by Ralph Doubell, by running 1:44.21 in Monaco.
Joseph Deng's training partner Peter Bol was just behind him in that race.
After the race at the Sydney Track Classic – Joseph Deng said:
"That's the best I have ever felt in the 800m! Usually I go out hard and then just die out of nowhere but today I finished stronger, fighting down the home straight," Deng said.
"I'm going to get a lot of confidence out of this race, we are back and we are going to do big things in 2020," Deng added.
There were other amazing performances at the Sydney Track Classic, including two World Athletics U20 Championships qualifying times from Mia Gross and Ellie Beer in the women's 100m and the women's 400m (respectively).
Gross (19) won her race in 11.70 (-0.5). She had already achieved the standard earlier this year in Canberra (25 Jan 2020), so setting it again simple shows her rise in the 100m.
Beer (17) finished third in the women's in 52.70 behind Bendere Oboya (52.38) and second Rebecca Bennett with 52.61.
Ellie Beer was the youngest ever Australian appointed to a World Athletics Championships team when she raced in the 4x400m at the Doha Championships, the 400m time tonight secured her placing on the Australian team for the World Athletics U20 Championships in Nairobi.
For full results from the 2020 Sydney Track Classic go here.
The Sydney Track Classic was the first event around the world of the World Athletics Continental Tour, which gives athletes a great opportunity to qualify for major championships and athletics fans greater access to the sport.
The Track Classic circuit heads to Brisbane next, where on March 20 we will see the Continental Tour (Silver meeting) – the Queensland Track Classic take place.