By Chris Lotsbom, @chrislotsbom
(c) 2017 Race Results Weekly, all rights reserved
BOSTON (25-Jun) — On a picture-perfect summer morning for racing through downtown Boston, Kenya's Daniel Chebii and Joan Chelimo ran to victories at the seventh annual B.A.A. 10-K, presented by Brigham and Women's Hospital. Chebii retained his title with a time of 27:58, while Chelimo earned her first win in Boston in 31:24. A total of 8,135 runners completed this year's race, which started and finished at Boston Common.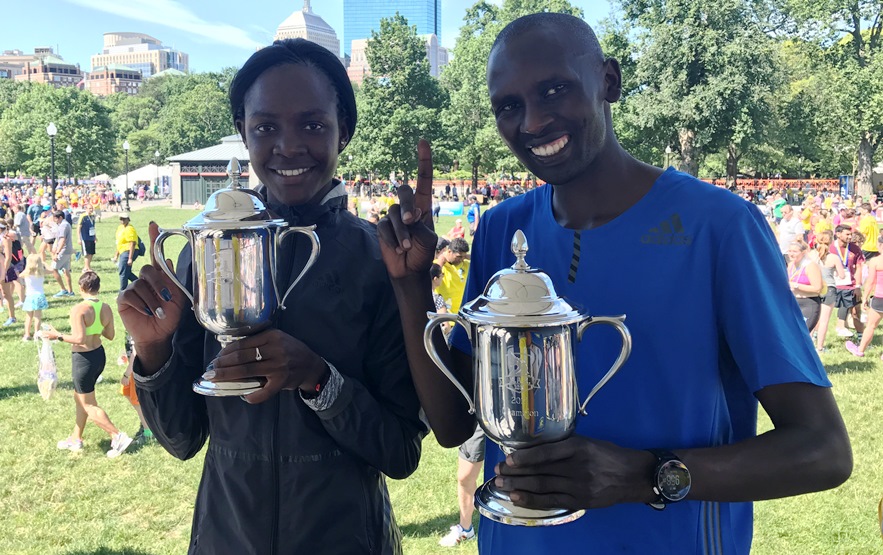 CHEBII MASTERS THE GRIND
It would take a full six miles for Chebii to separate from his challengers and earn a second-straight title here, using the final stretch on Charles Street to his advantage. There, he sprinted away from compatriot Stephen Sambu and Ethiopia's Teshome Mekonen.
From the start, a pack of ten quickly formed on Commonwealth Avenue as the leaders passed one mile in 4:29 and two miles in 9:02. Leading the charge was American Dathan Ritzenhein, returning after placing fourth here in 2016. Ritzenhein would lead through the halfway point in 14:12, joined by Chebii, Sambu, Mekonen, Daniel Salel, and Massachusetts native Tim Ritchie, who now lives in New Haven, Conn.
After the turn-around point, though, the race would begin to develop even further. Aware of his challengers, Chebii gradually upped the pace and intensity. First to fall off the pack were Ritchie and Salel, then Ritzenhein fell victim to the grinding tempo.
Chebii continued to press approaching the finish, and made the winning move on the turn from Boylston onto Charles Street just beyond the six mile mark. There he produced one final surge to leave Sambu and Mekonen behind. Breaking the tape in 27:58, Chebii became the third Kenyan to repeat as champion here, joining Geoffrey Mutai (2011/2012) and Sambu (2013/2014). Kenya has taken home every men's title since the inaugural B.A.A. 10-K in 2011.
"I started to run a bit faster from the start, because when I run very fast I make them come with," said Chebii. "Eight [kilometers] to nine, I knew I was going to win."
Having won here twice, Chebii said he wants to expand his success in Boston: he's eyeing the B.A.A. Half Marathon, presented by Dana-Farber Cancer Institute and the Jimmy Fund, on October 8, and someday the Boston Marathon. "I like Boston. Maybe in October I am going to try to run and win the Boston Half. I have to make sure I win the 10-K, Half, and will have to finish the Marathon."
Following Chebii, Sambu was runner-up (28:03) followed by Mekonen in third (28:06).  Finishing fourth for the second consecutive year as the top American was Ritzenhein (28:10), with Salel (28:29) and Edwin Rotich (28:41) rounding out the top six.
"It was like deja vu from last year," Ritzenhein observed. "It was the exact same race basically: same place, about the same time, led during the same parts of the race, and finished about the same distance back. I felt really good with it because it's way hotter than last year.  I think the heat got me a little bit."
Winning the masters division was 2014 Boston Marathon champion Meb Keflezighi. In his first B.A.A. 10-K, Keflezighi finished in 31:01 and savored the experience, slapping high-fives in the final stretch. He also stayed at the finish and greeted many of the race's 8,135 finishers.
"This was the best victory lap," said Keflezighi. "The people know who I am, and you can hear it. They want to come close to you and say, 'Good job Meb, you're our hero, thank you Meb.' I'm not in contention, but I'm getting the loudest cheer which is amazing. The significance of the 2014 win is still very vibrant and it's good to be back here and able to run."
CHELIMO HAD EXTRA MOTIVATION
Entering today's race, Joan Chelimo was motivated to achieve success in Boston: her training partners, Agnes Tirop and Irene Cheptai, had qualified for the Kenyan World Championships team just two days ago, and Chelimo wanted to prove she could run fast just like her close friends.
That she did.
Chelimo led from gun to tape, leaving 2017 B.A.A. 5-K champion Buze Diriba, 2015 B.A.A. 10-K winner Mary Wacera, and prolific road racer Monicah Ngige in her wake. Though the group was together through five kilometers (15:53), Chelimo always had a step's advantage on her foes.
Passing Boston University and heading back towards Boston Common, Chelimo dug deep and began to pull away. With a mile to go, she was clear in front of Diriba and Wacera.
Down the stretch, Chelimo's gap lengthened to nine seconds. She'd win in 31:24, taking home the $10,000 first-place prize and a silver champion's trophy.
"It's so special. It's a very big race for me. The race was actually good, I felt good," Chelimo said, noting that her training back home in Kenya had gone very well.  Chelimo, who is married to a Frenchman and has a two year-old daughter, continued: "I knew I was going to do something good!"
Behind Chelimo, Wacera used a hard sprint in the final 100 meters to catch and pass Diriba for second; the pair finished in 31:33 and 31:37. Rounding out the top five were Ngige (32:01) and South Africa's Dominique Scott-Efurd (32:22 PB).
"It is so special for me. I feel honored and humbled to be invited here," Chelimo said, proud of her new title as B.A.A. 10-K champion. "Hopefully I can even do the Marathon. I'm not yet a marathoner, but I feel so good in such a big race."
Top American honors went to the B.A.A.'s own Katie Matthews. Starting conservatively, Matthews passed many runners after the halfway point and found herself in seventh place at the finish in 33:28.
"I knew it was going to be tough because the field was so elite, but I just tried to grit it out and pick off as many people as I could towards the end and it worked out," she said.
Mary Pardi of Falmouth, Maine, was the top women's masters finisher in 38:59.
More than 600 runners in the B.A.A. 10-K field were part of the Brigham and Women's Hospital team, raising more than $281,000 to date for the Hospital's mission of providing life giving breakthroughs.
PHOTO: Joan Chelimo and Daniel Chebii celebrate after winning the 2017 B.A.A. 10-K, presented by Brigham and Women's Hospital (photo by Chris Lotsbom for Race Results Weekly)