The seismic impact of Tigst Assefa's remarkable 2:11:53 women's marathon world record in Berlin, just two weeks ago, is still sending shockwaves through the running community. However, the upcoming Chicago Marathon promises to provide a fresh perspective, as elite athletes prepare to compete within the same time frame and under similar conditions.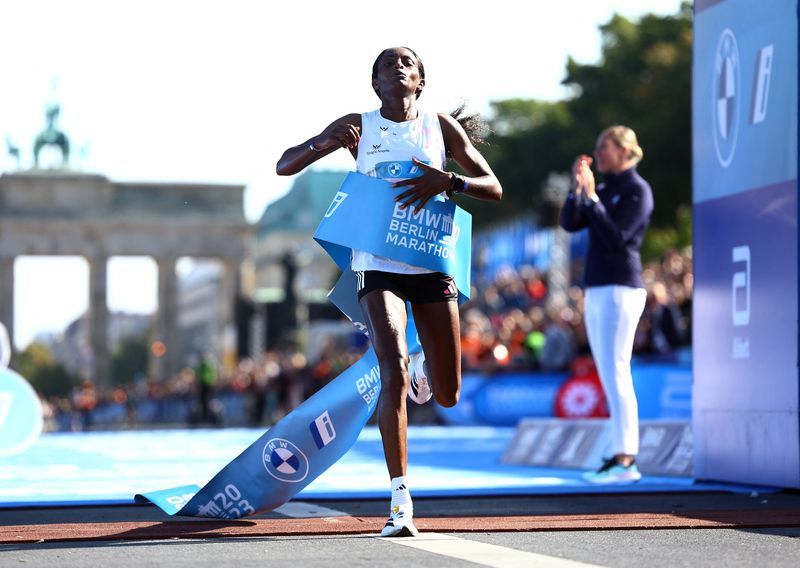 Leading the pack in Chicago is Ruth Chepngetich of Kenya, a two-time defending champion who clocked an impressive 2:14:18 in 2022. Chepngetich spearheads a star-studded field, including Sifan Hassan of the Netherlands (2:18:33, London 2023), a decorated Olympian and world record holder, as well as Ethiopia's Genzebe Dibaba (2:18:05, Amsterdam 2022), the reigning indoor mile, 3000, and 5000-meter record holder.
A Tale of Two Halves
In the previous edition of the race, Ruth Chepngetich electrified Chicago with her breathtaking pace. She blitzed through the first 5K in 15:11, the 10K in 30:40, and reached the halfway point in 65:44—outpacing Assefa's Berlin split by 36 seconds. Chepngetich's race strategy demonstrated her acute awareness of her own capabilities.
The pivotal question in Chicago is whether any of the competitors will shatter the elusive 2:14 barrier, potentially diminishing the reverberations from Berlin. World Athletics employs a scoring table to standardize performances across various events, and Assefa's 2:11:53 record garnered an astonishing 1318 points, surpassing Eliud Kipchoge's 2:01:09 men's marathon world record from Berlin 2022, which scored 1309 points. This stark contrast in scores has ignited discussions regarding the authenticity of Assefa's record.
Assefa's rapid rise to marathon stardom has fascinated many. Her swift transition from shorter distances and half marathons to the marathon distance raises intriguing questions. While the revolutionary Adidas AAPE1 shoes may have played a role, conventional indicators of marathon potential, such as 10K and half marathon times, do not seem to align with her record-breaking marathon performance.
Analyzing the Elite Contenders
Delving deeper into the careers of the elite women competing in Chicago reveals compelling narratives. Ruth Chepngetich has consistently excelled across various distances, displaying remarkable consistency in her performances. On the other hand, Tadu Teshome, at just 22, introduces an element of unpredictability. Sifan Hassan, a track legend, has transitioned to the marathon, yet questions linger about her form in 2023. Genzebe Dibaba, at 32, may have surpassed her prime for a marathon world record attempt.
View this post on Instagram
Joyciline Jepkosgei, a Kenyan sensation, has carved out a distinctive career path. Her achievements in the half marathon and marathon have been impressive, and at 29, she may still possess untapped potential.
While other noteworthy runners, including American record holder Emily Sisson, grace the field, the spotlight remains on the collective strength of this lineup, the favorable race conditions, and the pursuit of the world record. This Sunday's Bank of America Chicago Marathon promises to either validate Assefa's Berlin record or cast further doubt on its credibility. In the 21st century, distance running remains an exhilarating, ever-evolving puzzle.