By Chris Lotsbom, @ChrisLotsbom
(c) 2017 Race Results Weekly, all rights reserved
CAPE ELIZABETH, Maine, USA (05-Aug) — New year, same story for Mary Keitany here at the TD Beach to Beacon 10-K. For the second year in a row, Keitany blitzed a new course record in dominant fashion, proving once again that she's arguably the most feared distance runner in the world. Finishing in 30:41.0, Keitany shaved four seconds from her previous record run in 2016.
For the men, Stephen Kosgei Kibet returned to the top of the podium for the second time in three years. In a thrilling sprint, Kosgei Kibet edged Ben True 27:54.1 to 27:55.3, overtaking the reigning champion in the final 400 meters.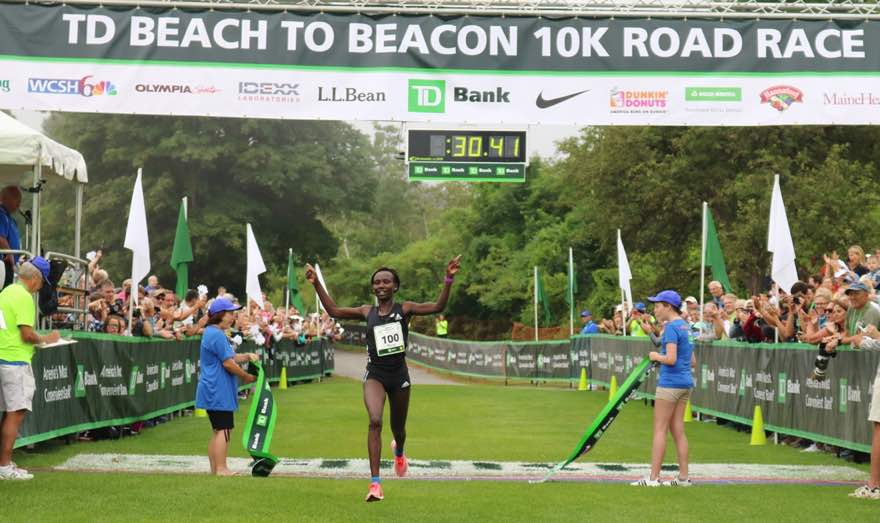 KEITANY CRUISES IN IMPRESSIVE FASHION
Before she begins training for November's TCS New York City Marathon, Mary Keitany stopped here with the goal of retaining her title. Patiently sitting in the lead pack, Keitany and the group split the mile in 5:03and two miles in 10:05. It looked like a casual stroll along the coastline, despite oppressive humidity.
American hopeful Shalane Flanagan led early, but tucked in behind Keitany and Purity Rionoripo as a group of five began to pull away; Meseret Defar and Wude Ayalew tagged along, but wouldn't touch the lead. Flanagan longed to win for her idol Joan Benoit Samuelson –the race's founder– and pushed hard to set a tone with the quartet of East Africans. But approaching three miles, a subtle uphill dashed the Olympic silver medalist's hope for a red, white, and blue victory.
By halfway (15:33), Keitany and Rionoripo had put ten meters on Defar and another fifteen on Flanagan. In a matter of two minutes, the race had gone from four contenders to just two, with the Kenyans dictating the tempo.
Keitany was just getting started.
Making the turn onto Shore Road and running one of the course's steepest downhills, Keitany transitioned from cruise control to race pace. Rionoripo remained on her shoulder, not even an arm's length apart, as the pair hit four miles in 19:53 (a 4:53 split).
From the lead truck, it looked like Rionoripo was crowding Keitany's personal space. The latter weaved from right to left across the road, trying to shake her compatriot from her slipstream. When Keitany turned and pointed by her side, many thought the experienced vet was scolding her counterpart.
Only later would Keitany explain that she was encouraging Rionoripo to join alongside. When Rionoripo didn't respond or acknowledge Keitany's encouragement, Keitany shook her head then simply took off. She'd cover the fifth mile in 4:47, securing the lead for good.
"I thought maybe Purity would come, but at five miles I started to push a little bit and Purity remained behind," Keitany described. "I told her to come along and follow. I was trying to tell her to come close to move together, but instead she was following me. I was again calling her but it seems she wanted to run her pace."
Keitany would enter Fort Williams alone and cross the line in 30:41.0, a new course record and the third fastest 10-K of the year thus far (only Joyciline Jepkosgei and Violah Jepchumba's split at the Prague Half-Marathon was better; Jepkosgei's mark a world record).
"I'm thankful and very excited, because it's not easy to come and defend a title like I did. The field was tight, but for me I was ready for the race," said Keitany. Motivated by her four-year-old daughter Samantha's message from the night before, Keitany wasn't going to return home without the win. "She told me, 'Success mom! Tomorrow, try to win!' I think my family will be happy that I win today."
Rionoripo was second in 31:00.1, with Defar out-kicking Flanagan for third 31:13.9 to 31:14.2. Flanagan was impressed with Keitany's performance, and took encouragement from her own race.
"She rarely loses races. It's fun to be in her presence, watch what she does, and hopefully she brings out the best in all of her competitors, which I believe she does," said Flanagan. When asked about her own race, Flanagan said it was a strong sign considering what kind of shape she's in. "In front of me I had a 2:17 marathoner, a 2:21 marathoner, and a woman with multiple gold medals. I just tried to run my best possible race, run my own race, and I was hoping to get third [in the sprint]… Overall I had a great time."
Flanagan will race a fall marathon, though declined to say which one. Diane Nukuri was fifth in 32:09.9, followed by Ayalew (32:28.8), Jordan Hasay (32:36.8) and collegian Erin Finn (33:15.7). Finn still has eligibility for indoor and outdoor track at Michigan, but gained valuable experience racing on the roads here. She expects to race more summer road races in the coming month.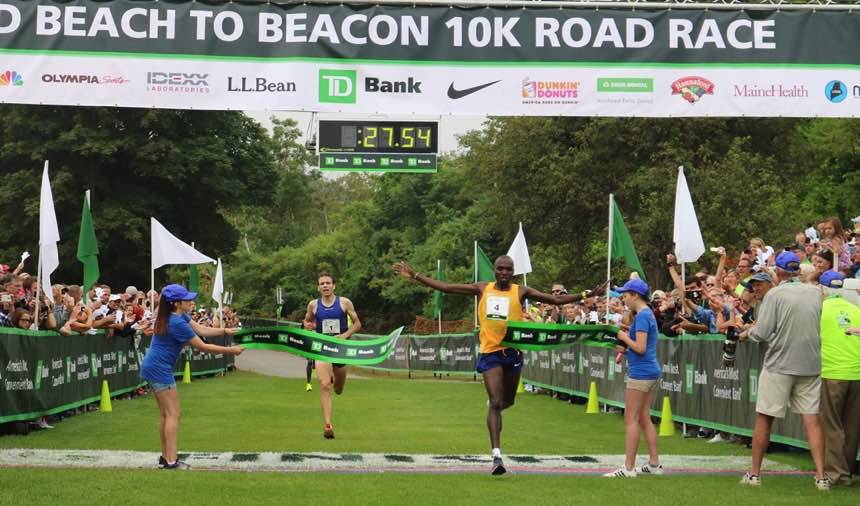 KOSGEI KIBET DENIES TRUE A SECOND TITLE
By the time the men split 5-K in 14:00, four men were well out front of the field: reigning champion Ben True, 2015 winner Stephen Kosgei Kibet, World Cross Country silver medalist Leonard Barsoton and road race ace Stephen Sambu. Barsoton played pace setter for a bit, but a majority of the time the men were four-abreast or bunched together as one.
Training with a focus on the track 5000m this year, True wanted to let the pace settle and prepare for a kick entering Fort Williams with less than a kilometer to go. A 4:31 fourth mile and 4:26 fifth set the stage for a memorable finish on the twisting final half mile.
With the cheers heavily favoring True as the hometown favorite, the Yarmouth, Maine, native took the lead and pushed entering the Fort. While the move would have stunned most competitors into lactic acid shock –and did for Barsoton and Sambu– the 30-year-old Kosgei Kibet hung tough. In his mind Kosgei Kibet believed if he held on for a just a bit, then a late move could steal the win from True's grasp.
"I knew the course. I had run here five times and knew the last hill," said Kosgei Kibet. "I knew the course very well from there [the gate entering Fort Williams], so I knew the hill and the last straight I could get him."
After drawing even, Kosgei Kibet gained a step in the final turn, moving on True's outside to win 27:54.1 to 27:55.3. Kosgei Kibet fell to the ground in exhaustion just past the line, knowing he'd prevailed. "I like the course, the people, the friends. I keep coming because of the people," he said.
With the IAAF Diamond League 5000m final in Zurich his focus, True said a runner-up spot here bodes well for his chances in Europe. "It shows that the strength is there even though I was questioning it from the last two workouts, and I'm pretty sure my speed is there cause I've been doing a lot of that. I've got 19 days to get ready for that race, so hopefully I'll be ready for it."
Four seconds behind True came Barsoton (27:59.4) then Sambu (28:15.8) and Clement Langat (28:41.4). Americans Abdi Abdirahman (28:45.5, the master's champion), Aaron Braun (28:59.7), and Jonathan Grey (29:10.0) were sixth-seventh-eighth. Cam Levins continued his return from injury, placing ninth in 29:23.3, ten seconds up on Tariku Bekele (29:33.0).
The loudest cheer of the day was for Joan Benoit Samuelson, who celebrated the race's 20th anniversary by running with Deena Kastor. They finished together in 39:21 and 39:22.