University student Matt Rizzo made amends for his 5th place disappointment in 2016 to win the richest foot race in Australia today.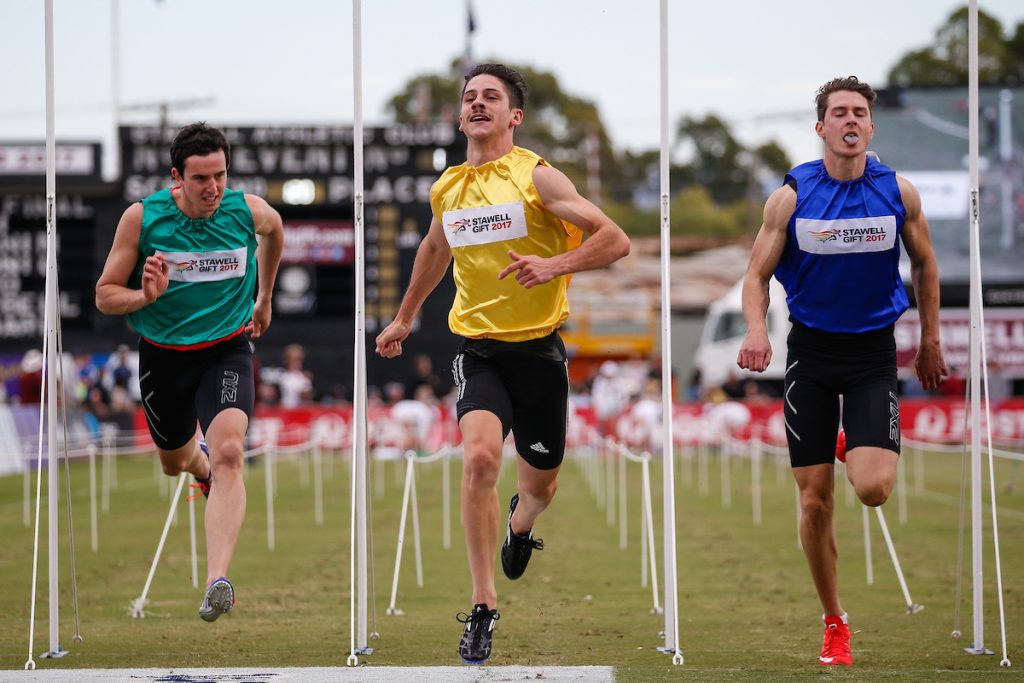 The white hot favourite, who never looked in doubt off the mark of 7.5m, and was equaled on top of the winner's podium by Liv Ryan, who stormed home to win the Australia Post Strickland Family Women's Gift.
After recording the fastest overall heat time on Saturday of 12.10, he then clocked 12.12 in his semi-final to confirm his favouritism for the $40,000 final of the Stawell Gift.
He repeated his heat time win to take out the final in 12.10 seconds, ahead of Yallambie's Nathan Riali and Kyle Grubnic, who won the Arthur Postle 70m yesterday.
"I've been taught to sprint to get across that line first and that's exactly what I did in the final.
"Last year I wanted to win it so badly but it didn't happen, but this year's win will honestly change my life, it's a dream come true," Rizzo declared.
18-year-old Rizzo, who won a little athletics race at Central Park in 2013, said he credited today's win to his support crew at work, home and at the track.
"This year I got a better support group, better training, better coach and more dedication.   I met Matt Carter where I work at Bunnings and said I wanted to improve and win at Stawell," he said of the Vikings squad that he is now a proud member of.
He admitted the knowledge he took home from making the final last year helped in keeping a lid on the emotions of being the favourite throughout the weekend.
"Too many blokes go in and say I'm happy to be here at Stawell, or they're happy to be in the final, and that's when it's lost, you don't think about it, you just get in there, get on your blocks and run," the Langwarrin athlete said.
At the tender age of 16, Donvale's Liv Ryan now has three Stawell sashes.
After winning last year's U'17 girls 100m, Ryan not only won the Australia Post Strickland Family Women's Gift today, but incredibly added the Telstra Store Ararat 70m title to her resume within the hour.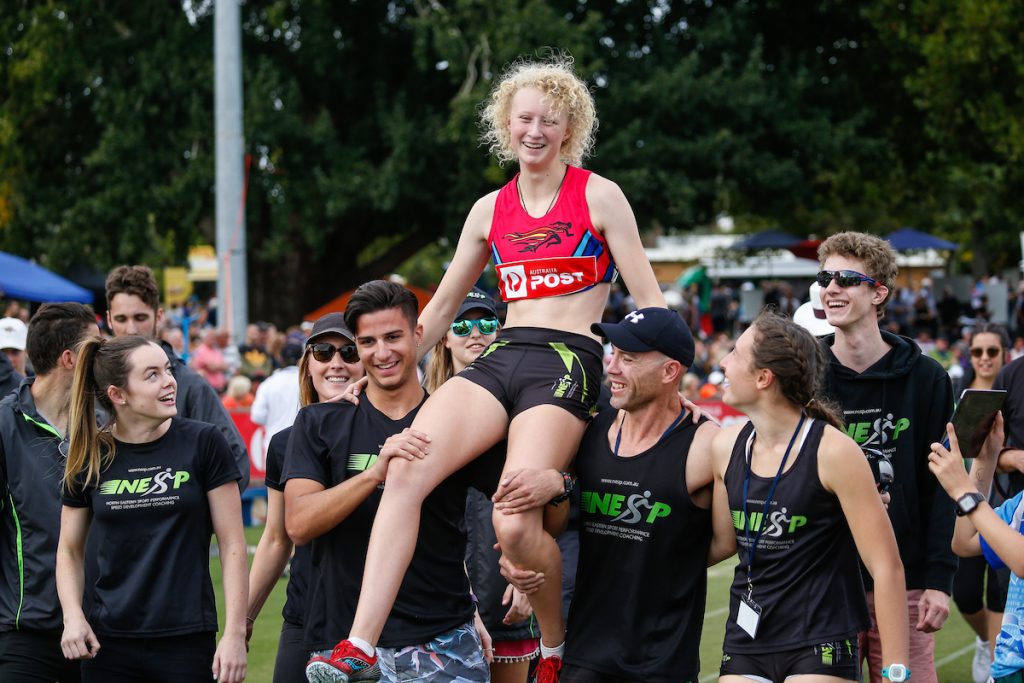 "Winning the double is amazing, I just had to focus after the gift and get down the track in the 70m, I'm thrilled," she said.
Ryan created history by being the only athlete to finish third in her heat, to then come out and win the gift.  It brought back memories of then 16-year-old Jarrem Pearce who in 2000 placed second in his heat and had to progress to Monday's semi-finals via the repechage.
"It was a fast heat and it wasn't the perfect race, my heat run, and I just had to keep pushing through, the semifinal win gave me a massive confidence boost," she declared.
Extraordinarily, first, third and fourth in the final all came from Heat 12 on Saturday, however the final order wasn't repeated.  Heat winner Taylor Perry finished fourth in the final, with backmarker Maddie Coates placing third.
Ryan stormed to interest on Saturday morning after her odds plunged from $31 to evens after Friday's Calcutta and remarkably stayed at that price despite her third place in the heat.
"I put everything to the back of my mind and thought I've got to run my race, who cares what people are thinking," the Craig Mair trained athlete said.
"As the front marker, I had to come out quick, not let them catch me, and get to the line first, is all that was going through my head. In the corner of my eye I could see the red (Coates) coming and I just had to hold on," Ryan explained.
Burnie physiotherapist Daniel Reeves unleashed a vicious final 200m sprint to take the Northern Grampian's Shire Council Handicap 800m in 1:51.29 from Lonain Burnett and Daniel Lawler.
Australian 800m record holder Alex Rowe was looking deadly at the bell in the TAC Herb Hedemann Invitation 1600m, but he couldn't catch 24-year-old Mitch Cashion.  The Hawthorn recruiter added the prestigious sash to his 1600m Backmarkers from last year in 4:01.4.
Wangaratta physiotherapist Anna Pasquali bolted home to win the Lorraine Donnan Women's 400m by nearly two seconds ahead of Kim McDonough and Jody Richards.
While the men's Cadbury Bill McManus Backmarkers 400 saw a win to Jack Anderson from Glen Iris.  The Mark Hipworth trained 20-year-old won on the line in 45.58 from veteran Paul Tancredi and Jake Hilson.
In one of the tightest finishes of the day, Queensland backmarker Ryan Bedford dipped late to pip 2013 women's 400m winner Kendra Hubbard in a photo finish, with Leigh Bennett third.
Beautiful weather and an increase in fields attributed to a 9% increase in crowds this year with 12,000 pouring through the gates over the weekend.