By David Monti, @d9monti
(c) 2017 Race Results Weekly, all rights reserved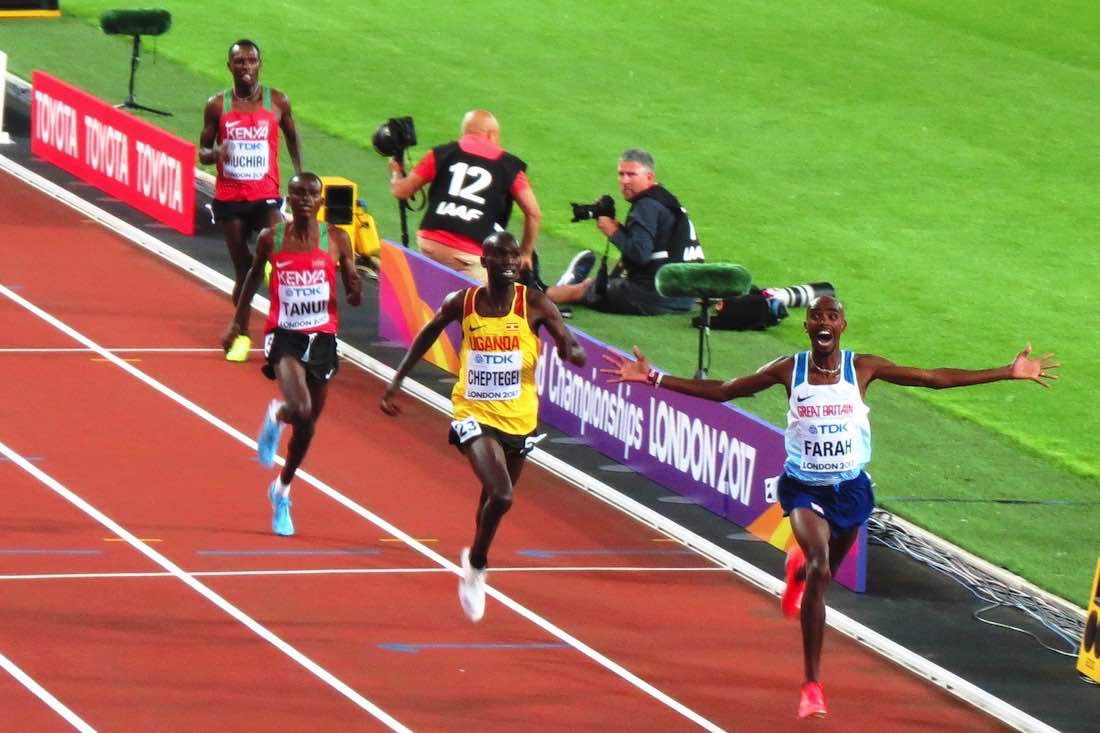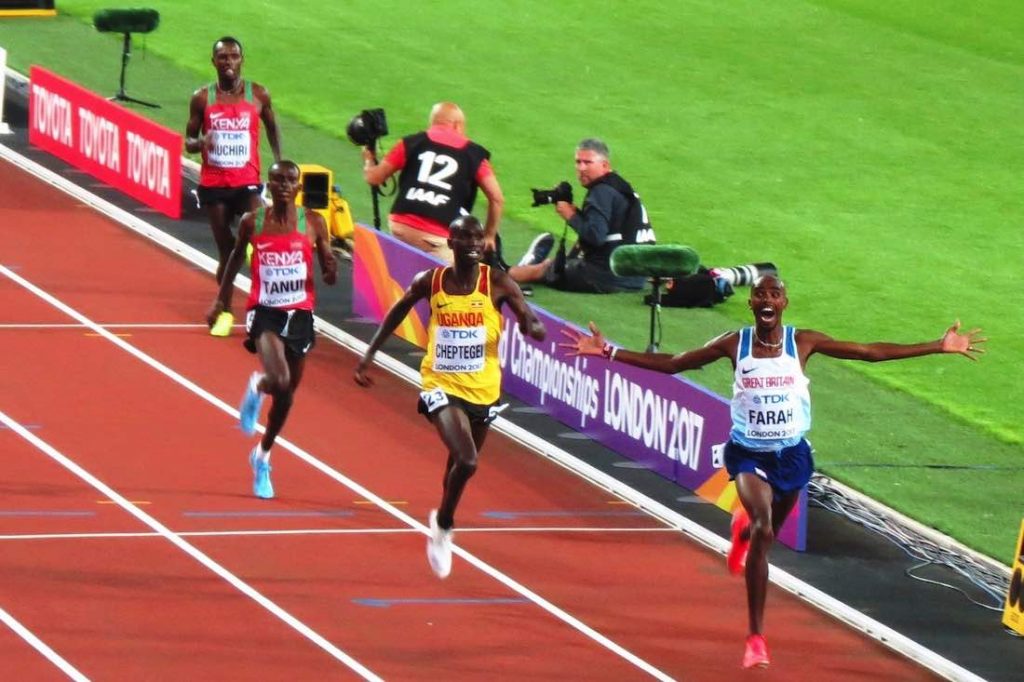 LONDON (04-Aug) — With the deafening roar of over 60,000 spectators as a backdrop, Britain's Mo Farah delivered the goods at London Stadium yet again, beating back a concerted challenge from Africa's best to win his third straight world 10,000m title in 26:49.51, easily the fastest of his three victories.  Uganda's Joshua Cheptegei and Kenya's Paul Tanui won the silver and the bronze medals in 26:49.94 and 26:50.60, respectively.
"It was one of the toughest races of my life," Farah told reporters.  He continued: "They tried everything and I just had to stay strong."
The race got off to a blistering start, with the 20 year-old Cheptegei working with Kenya's Geoffrey Kamworor, the 2015 silver medalist in this discipline, to clock a 61-second opening lap which turned into a 2:39.48 first kilometer.  Cheptegei, Kamworor, Tanui and Uganda's Moses Kurong worked together to keep the pace high.
"Of course for me the opening lap was not a problem," said Cheptegei.  "I thought I was going, like, 65 (seconds), but (it was faster).
Farah, always a savvy racer, stayed well back from the lead.  At two kilometers, he was only in 20th place.  Surges came and went, but Farah didn't move up to the front group until about four kilometers into the race when he slipped into third place.  The crowd roared with approval.
It was not until there were 14 laps to go in the 25-lap race when the first big attack occurred.  Kenya's Bedan Karoki surged on the backstretch with Kamworor and Tanui, and with 13 laps to go the Kenyans were running 1-2-3 and were trying to control the race.  Tanui, the bronze medalist at these championships in both 2013 and 2015, was surprised that the pace hadn't slowed down.
"It was really very fast today," said Tanui.  "We really didn't expect to run under 27 minutes."
There were more surges by Eritrea's Aron Kifle and Ethiopia's Abadi Hadis, but through seven kilometers (19:02.18) the pace sagged to 65 seconds.  Farah, running in fourth position, was fully committed now to winning.  He couldn't let the fans down, he said. Not here. Not tonight.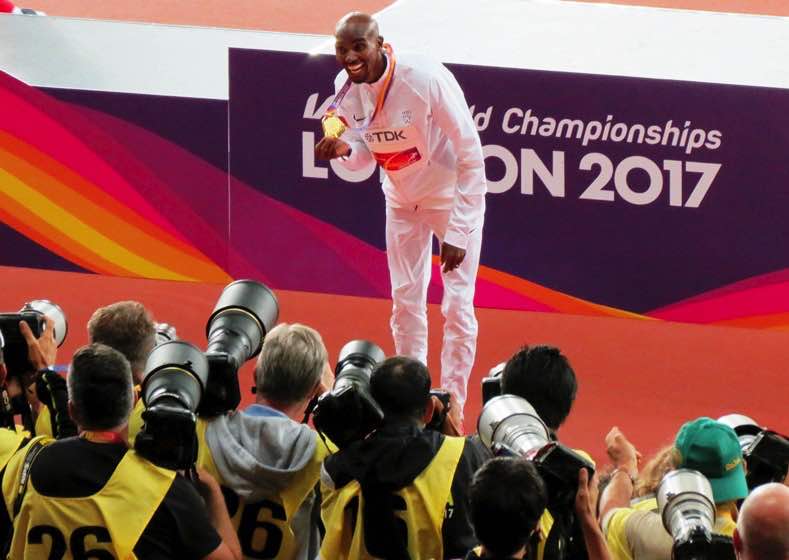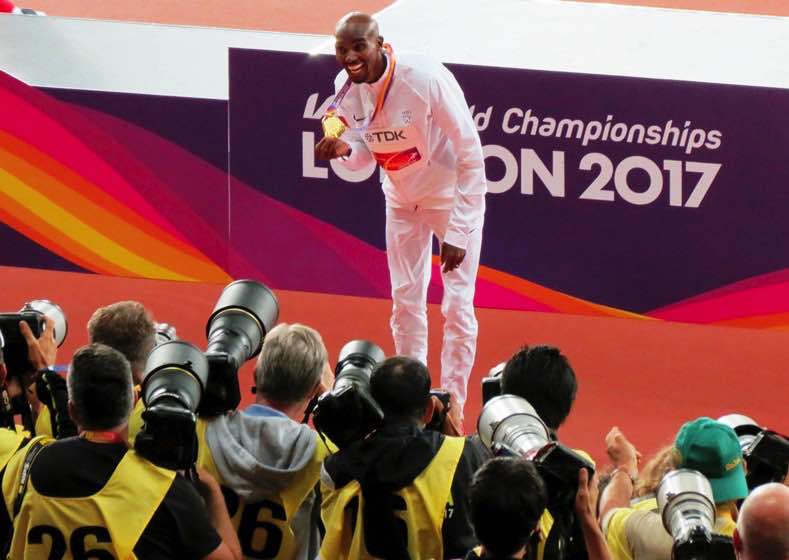 "I can't lose in my hometown," Farah said, getting emotional.  "I can't, I can't."  He continued: "There's no place like London.  I love the people."
With four laps to go, Farah went to the lead and the stadium began to shake.  But soon Hadis attacked and took over the lead and Kamworor and Tanui covered the Ethiopian's move.  Farah steadied himself, and waited for a lap and a half to go before launching his own attack.  Hadis, Tanui and Kamworor were right with him as he charged into the homestretch, and it looked like Farah would run away with the title.
But with about 300 meters to go, Farah tangled briefly with Tanui, stepped into the infield, and his momentum was halted.
"That caught me a little bit, my leg," Farah said.  "I just had to be strong; didn't want to go down, didn't want to go down, and had to fight."
Flying down the backstretch, Tanui and Cheptegei gave it their all to catch Farah, but they simply couldn't do it.
"It was really very hard," Tanui lamented.  He added: "I had nothing left."
Farah turned a 55.7-second last lap to lock in the win.
"I owe it to the people of London," Farah said turning serious.  "I owe it to the people of Great Britain, and the nation behind me."
Down the finish order the first seven men broke 27 minutes, the deepest results ever at these championships.  Twelve men set personal bests, and national records were set by Canada's Mo Ahmed (27:02.35) and Bahrain's Abraham Cheroben (27:11.08).
"The last lap was brutal," said Ahmed.
FAVORITES ADVANCE IN WOMEN'S 1500M QUALIFYING
There were unusually fast times in the first round of the women's 1500m, with 15 women running sub-4:05 (three set personal bests).  Ethiopia's Genzebe Dibaba, the reigning world champion, led all qualifiers with a 4:02.67 win in the first of three heats.  That time was made possible by Britain's Jessica Judd who led the race for nearly 1400 meters –much to the delight of the British crowd– before fading in the homestretch to finish sixth, clinching the final auto qualifier in a personal best 4:03.73.
"It was the highlight of my year," an ebullient Judd told reporters.  "It was stacked," she said of her heat, which also had two-time Olympic 800m champion Caster Semenya of South Africa (second in 4:02.84).  "I was tenth -fastest going in and I thought, oh goodness, this is going to be really, really hard."
Also advancing on time was American Kate Grace, the 2016 USA 800m champion.  She struggled in the final 100 meters, but held on for seventh in 4:04.76.
"It was fast," Grace said, still catching her breath.  She continued: "I didn't think it would stay pushing that long."
Grace's USA teammate, 2016 Olympic 1500m bronze medalist Jenny Simpson, had a scary moment in the final 100 meters of the second heat when she was crowded near the rail and had to make a deft move to the outside to protect her position in the final meters.  She finished second to Dutchwoman Sifan Hassan, 4:08.92 to 4:08.89.
"It looked scarier than it looked to me," a composed Simpson explained after watching the replay.  "It felt really smooth and really good."  She continued: "In the last 20 meters I thought, if you're here and people come on the outside you're really helpless.  So, I'd better be the person on the outside even if it's kind of late in the game for that decision."
Behind Simpson and Hassan, Gudaf Tsegay of Ethiopia and Laura Muir of Great Britain also qualified, finishing third and fourth, respectively.
The third and final heat was also fast, led by 2016 Olympic 1500m champion Faith Kipyegon of Kenya who clocked 4:03.09.  Other favorites to make the final who advanced from that heat were Sweden's Meraf Bahta (2nd, 4:03.23), Poland's Sofia Ennaoui (3rd, 4:03.35) and Britain's Laura Weightman (4th, 4:03.50).  Also moving to the semi-finals on time was the USA's Sara Vaughn, a full-time real estate agent and mother of three from Boulder, Colo.  She ran a personal best 4:04.56, finishing eighth.
"I had no idea how fast we were running," said Vaughn, 31, looking a little stunned.  "So I'm also pleased with a PR.  It felt really smooth."