By Chris Lotsbom, @ChrisLotsbom
(c) 2016 Race Results Weekly, all rights reserved
SOMERVILLE, Mass., USA (17-Jun) — For a meet that was filled with Olympic medalists and global stars, it was high school junior Kate Murphy who had the most jaw-dropping performance here at the first adidas Boost Boston Games. Only 16 years-old, Murphy stormed to an upset victory over Katie Rainsberger in the adidas Dream High School 1500m, posting a time of 4:07.21. The mark is the third-fastest ever by an American high school girl, and was even quicker than the winner of the women's professional race here tonight.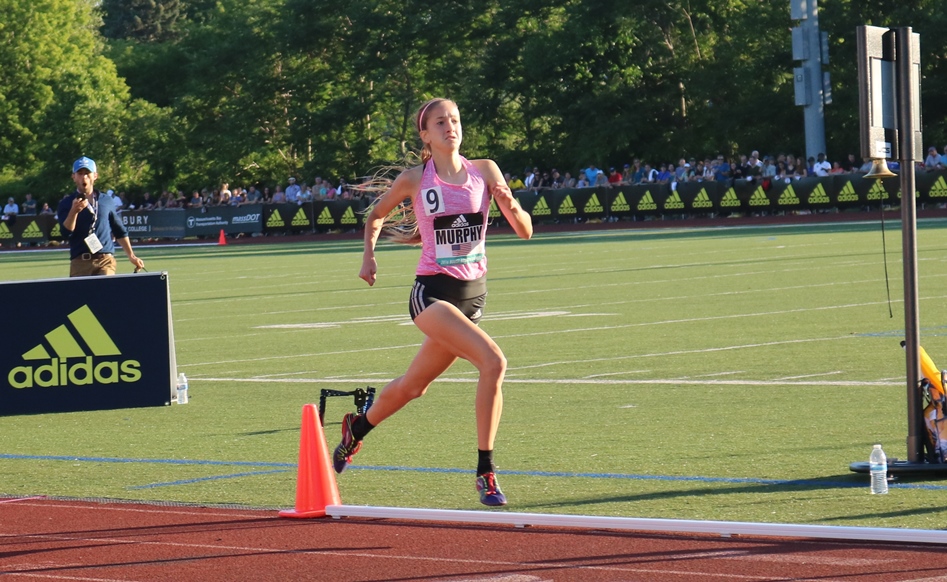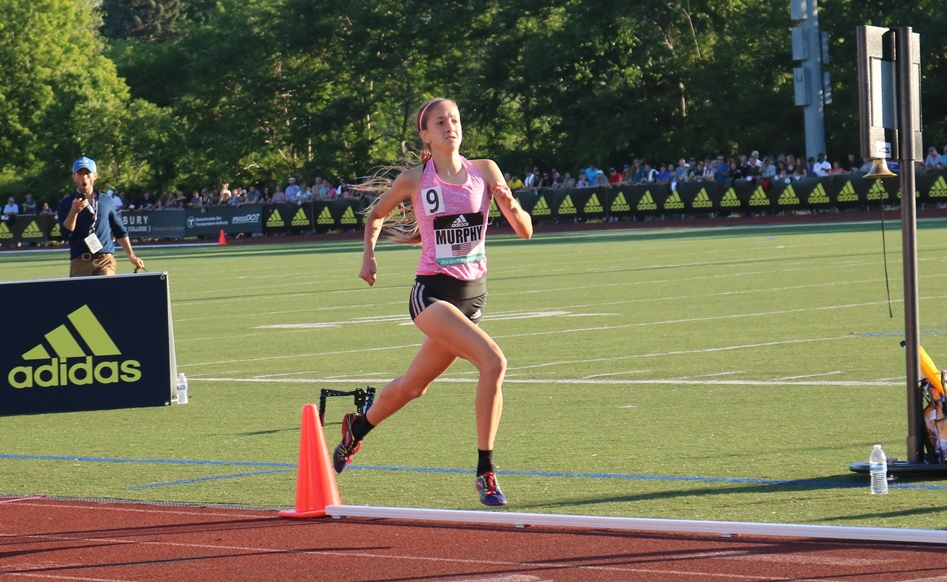 "Ummmm wow," said a speechless Murphy when told that her time was better than Corey McGee's 4:08.65, posted to win the women's pro race. It also qualified Murphy for the U.S. Olympic Trials. "I was trying to race fast… I don't know [what to think]!"
McGee's response was apropos: "I wish I was in the high school race! Wow that's fast!"
Murphy, a native of Burke, Va., burst onto the scene last year when she won a Penn Relays wheel and ran 4:16.98 to win the USA junior title. Improving steadily, she didn't think a time like 4:07 was possible today. She simply wanted to run against her competition.
"Coming in I knew I needed to get it done, this field was not joking around," she said. "When I went out I felt really good and this was one of my last shots at getting [the Olympic Trials standard]. I was just trying to be really brave and I pushed the pace because I knew I didn't want to come through with one lap and close really, really hard. So I just felt really, really good."
Facing Rainsberger, who will attend the University of Oregon next fall, Murphy kept her focus lap after lap and completed her final circuit in 62.05 well out ahead of the field; she'd win over Rainsberger 4:07.21 to 4:14.12. For her efforts and winning time, Murphy earned both the Champion's Belt (similar to what a world-class boxer would don) and a starting spot for the U.S. Olympic Trials in Eugene, Ore., in July.
"It feels amazing. I've been patient over this whole season, and I feel like it really all came together," she said. "My number one goal was just to come out and compete…. The goal was to compete and really just be brave."
Murphy's time ranks only behind Mary Cain (4:04.62 in 2013) and Alexa Efraimson (4:07.05 in 2014) on the all-time USA high school list. Exhausted from the effort and still gasping for air some 30 minutes after her race, she was elated and still trying to comprehend the effort.
In the professional section, McGee held off Rachel Schneider and Mary Cain in a tough, tactical race. McGee's time was 4:08.65, with her competitors 4:09.29 and 4:10.84 respectively. Though not as quick as Murphy, McGee took confidence from the performance.
"It's fun to win, so I'm definitely excited about that," said McGee, who trains in the Boston area. "I think it will take faster than what I ran today to get into the [Olympic Trials] final. I'm not too worried about it, I know it will come."
Mary Cain did not speak to the media after her race, telling Race Results Weekly that she had to go quickly to do a workout elsewhere.
A pair of Olympic medalists in Dejen Gebremeskel and Meseret Defar took to the track for 5000m seeking times good enough for Olympic selection by the Ethiopian federation. One would succeed, while the other likely faltered despite giving her all.
Gebremeskel and countryman Hagos Gebrhiwet traded the lead multiple times lap after lap, keeping the tempo consistent on 13:00 pace. Knowing that they'd need to run 13:00 or better to jump into the top three on their national descending list, the pair used the crowd's roars to their advantage. Standing in lane five, the crowd clapped and screamed the competitors onwards.
Through 3000m in 7:50.98 and hitting the bell lap with 12:02.42 on the clock, both Gebremeskel and Gebrhiwet picked up the pace as much as they could, rounding the track in 57.48 seconds. They were rewarded with times of 12:59.89 (Gebremeskel) and 13:00.20 (Gebrhiwet), good enough for second and fourth in the world this year (not to mention second and third fastest among Ethiopians).
"This was really fantastic, a really nice race," said Gebremeskel, the reigning Olympic silver medalist at 5000m. "They ran 13:03 [in Stockholm at yesterday's IAAF Diamond League meet] but we run 12:59.89, so I am so glad to run this meet in Boston.
"I came four times to Boston and I win four times," Gebremeskel said, reflecting on his success at the B.A.A. 5K, B.A.A. Invitational Mile, and New Balance Indoor Grand Prix. "In my mind, I feel I can win and will win when I come to Boston. I always come to run fast in Boston… Before I came I say that I could run under 13-flat and a world lead and I came here and run that [under 13 minutes] and I am so happy."
Gebrhiwet, who sported sleek red adidas sunglasses he got here in Boston, was pleased as well. In halting English, he noted that working with Gebremeskel helped him very much, and that he was extremely happy to be among Ethiopia's top three athletes at the moment.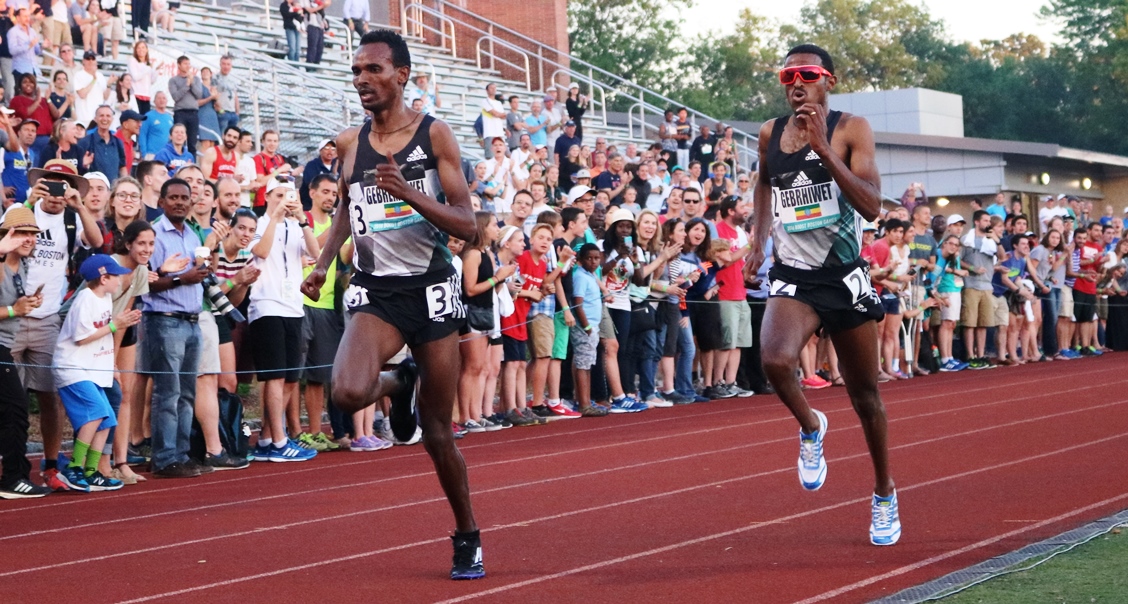 "I knew I could pick off kids, I knew I was probably going to run a PR, but I didn't know I could win," said Salisbury. "Honestly I didn't know I could win until 80 or 90 [meters] to go."
The adidas Boost Boston Games continue tomorrow, as sprints take center stage in downtown Boston as part of a street meet festival.