By Chris Lotsbom, @ChrisLotsbom
(c) 2016 Race Results Weekly, all rights reserved
PROVIDENCE, RI (18-Sep) — Ryan Hill and Aliphine Tuliamuk reigned supreme here at the USA 5-K Championships, held in conjunction with the CVS Health Downtown 5-K through the streets of Providence. Hill waited until 200 meters remained to jump ahead of Sam Chelanga and score the victory in 13:57, while Tuliamuk ran hard from the gun to gap the women's field. Her winning time was 15:22.
Both Hill and Tuliamuk earned national 5-K titles for the first time in their careers, although Hill was the 2015 USA 5000m champion on the track.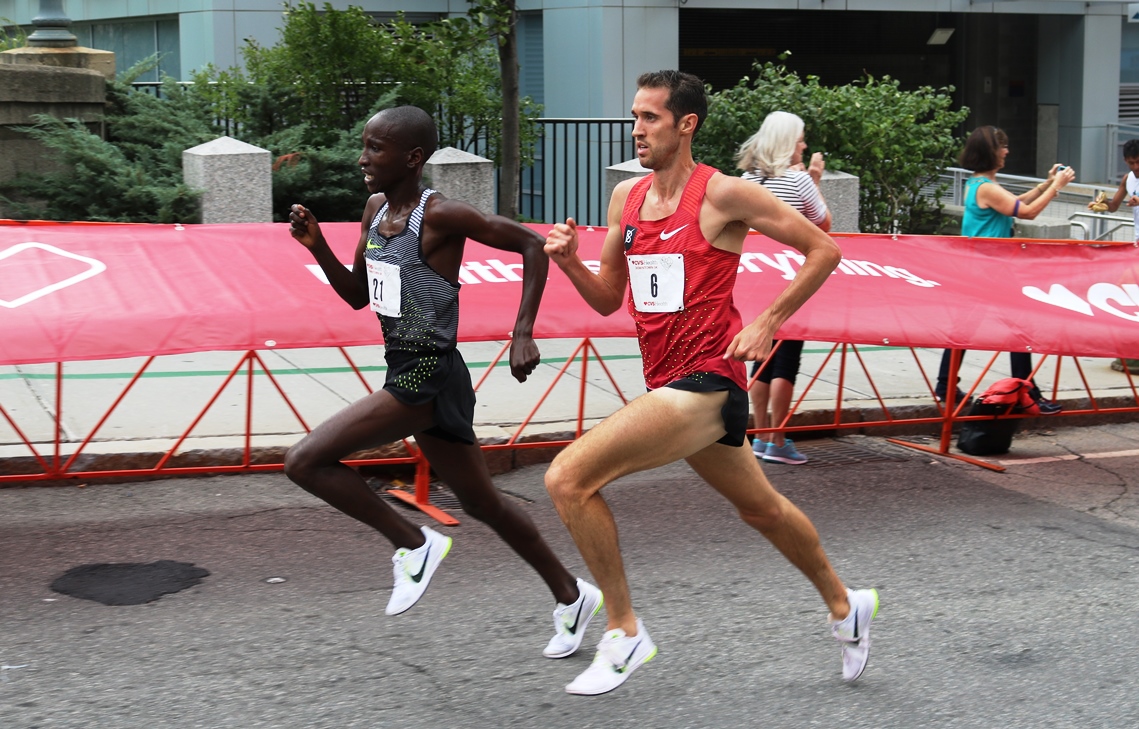 RYAN HILL CAPS SEASON WITH SPRINT WIN
Coming off a strong post-Olympic European track season that saw him run 7:30.93 for 3000m, Ryan Hill knew he'd be a favorite in today's race. Talking with former Nike Bowerman Track Club teammate Andrew Bumbalough only bolstered Hill's confidence. Bumbalough had won the event in 2013, and emphasized that Hill was in a prime position to win the national title and $7000 first place prize.
"From everything Bumby told me, if you're in great track fitness this is going to feel pretty easy compared to guys who are in road fitness. That gave me a lot of confidence that if I just stayed in the front, guys would start chipping away and I would be left," Hill told Race Results Weekly.
That's indeed how the race played out.
With hazy, hot, and humid conditions setting the stage for this morning's championship, no one wanted to jump out to an early lead. A pack of more than 20 passed the downhill first mile mark in a relatively slow 4:29, with Aaron Braun –who had won yesterday's Cow Harbor 10-K on Long Island– and Donn Cabral towards the front. Hill sat back, relaxed next to teammates Chris Derrick and German Fernandez.
Over the Providence River and approaching the second mile, a handful of men dropped off the back. Yet 15 men still remained in contention hitting two miles in 9:16. The U.S. Army Olympians Shadrack Kipchirchir and Leonard Korir made their presence known, as did Bowerman member Fernandez, and Chelanga.
With a kilometer remaining the group began to get antsy. That's when Chelanga cranked the pace up a notch and began his sprint. Hitting the final turn and beginning the ascent towards the finish with 300 meters left, it looked like Chelanga may have enough in the tank to hold off the six men in his slipstream.
Hill, though, was biding his time. Knowing what Bumbalough had told him about looking at the race as a 5000m on the track, Hill knew he could wait a bit longer to pounce. On the track Hill is accustomed to surging from behind in the final meters: that's how he earned a silver medal at the IAAF World Indoor Championships earlier this year.
At three miles Chelanga and Hill were literally neck and neck, stride for stride for five seconds. Hill had one final gear left to carry him to the finish, breaking the tape first in 13:57. Kipchirchir passed Chelanga at the line for second, though both were given a finishing time of 13:58.
"Around the mile I was thinking I feel pretty good, two miles I was hurting, but with a K to go I was thinking this is going to take all I've got. I gave it everything up the hill and fortunately Chelanga just started going back a little bit," said Hill, draped in his medal. "I'm used to being in ninth place with a lap to go and having to pass everybody. It's a lot simpler on the road where you can go wherever you want."
The win was a memorable way to end Hill's 2016 season, a campaign that's had its ups (like the World Indoor medal and national title indoors over 3000m) and downs (failing to make the U.S. Olympic Team).
"It's really all I could hope for here. End the season on a high note, take a break, go back and visit friends and family [in North Carolina] and hang out on the beach. It's all you could ask for to end the season on a win," he said.
Though he got nabbed for second in the final straight, Chelanga walked away pleased with his performance. The 31-year-old announced this week that he has decided to move to Colorado Springs, Co., and join Scott Simmons's training group.
"Overall I feel like sometimes these road races, even though they aren't fast times, they are good races. They are real good races," he said. "I felt a bit sluggish, but I had energy and I believed I could win with that big across the last mile. You know, overall I'm just proud man. It seems to me that these USA races are more fun and guys are not afraid [to go for it], which is the whole point and keeps it interesting."
Behind the top three, the Atlanta Track Club's Kirubel Erassa was fourth in 14:00; Korir and Derrick were fifth and sixth in identical times of 14:02, and Olympic steeplechaser Hillary Bor was seventh in 14:04. Brian Shrader (14:06), Fernandez (14:06, same time as Shrader), and Cabral (14:14) rounded out the top ten.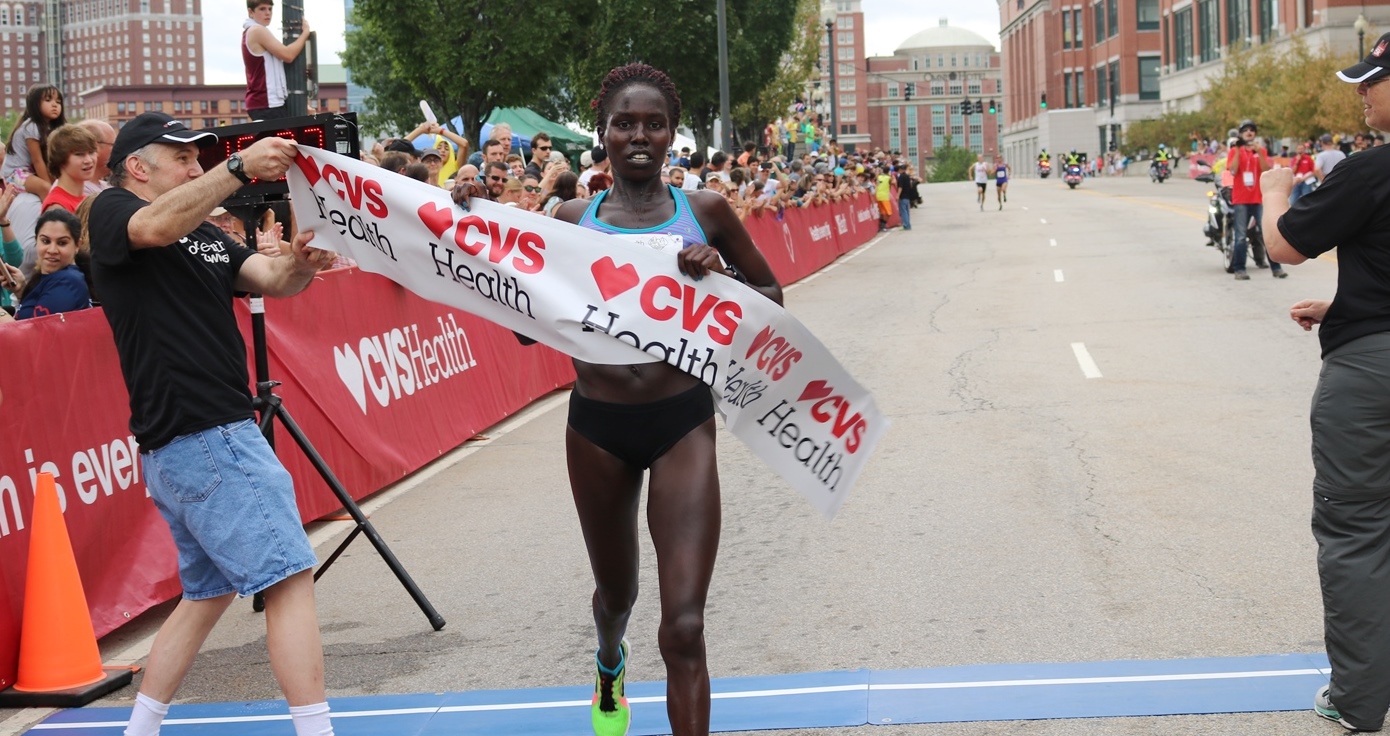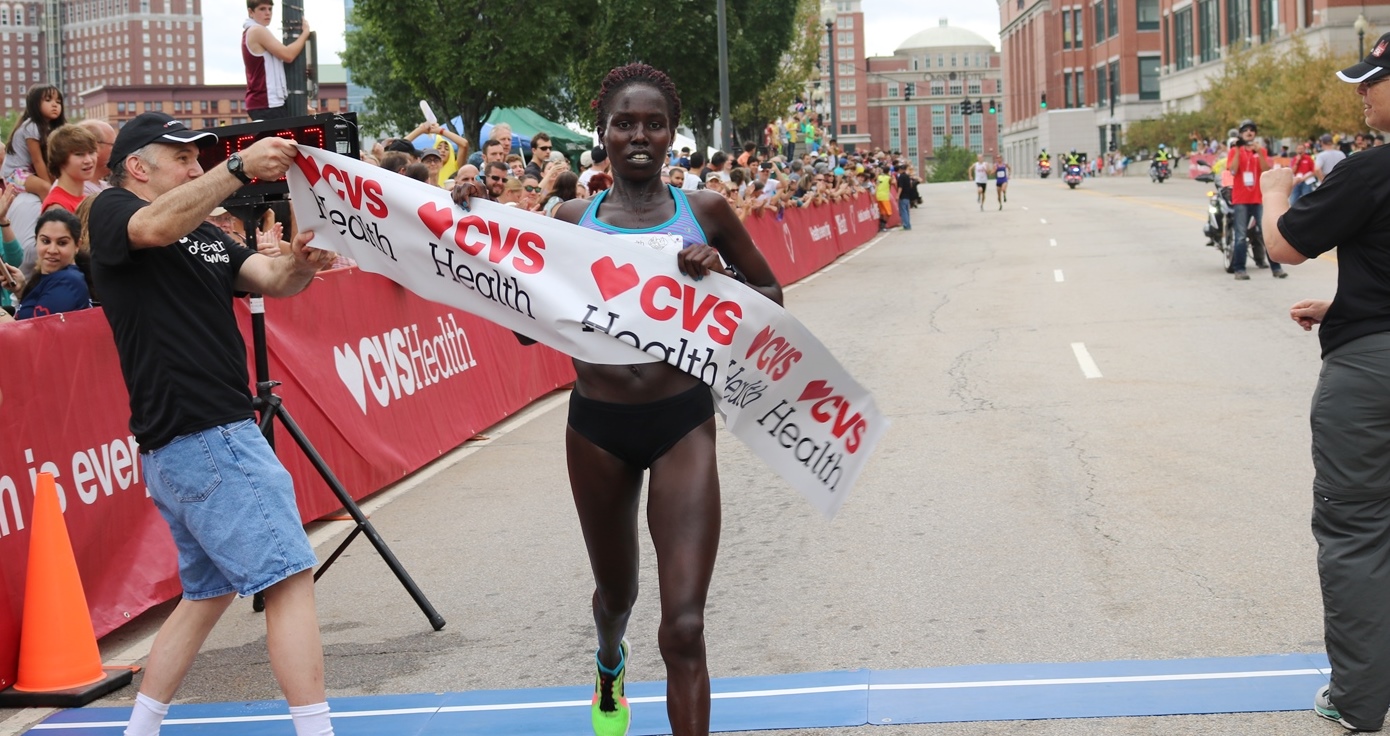 TULIAMUK RUNS AWAY FROM FIELD TO EARN THIRD USA TITLE OF SEASON
One could say that Aliphine Tuliamuk has won the triple crown since becoming an American citizen on April 28. She's claimed three USA national titles over the last five months, scoring victories at the USA 25-K, 20-K, and now 5-K Championships.
"I am so proud for this country. I am really happy, I couldn't be happier," Tuliamuk proclaimed, smiling from ear to ear. When the Pledge of Allegiance and National Anthem boomed over the speakers before the race's start, it meant a lot to Tuliamuk.
Using the men alongside her –and the course's downhill opening stretch– Tuliamuk hit the mile in 4:43 and was shocked. Never had she gone out that fast in a 5-K. Her main challengers, Jordan Hasay and Emily Sisson, were a ways behind and that spooked Tuliamuk.
"Today's strategy was to go hard from the beginning, and I was lucky enough to get away right away because I went out hard, really really fast. When I got to mile one I was like 'Whoa!' I'm glad it was a 5-K because if it was a 10-K I would be in trouble," she said.
Tuliamuk used the thought that Hasay and Sisson may be charging to spur her through the flat second mile. She also relied on the countless men running alongside her, a perk to the coed start of the race.
"I knew that they would be coming after me and Jordan Hasay was right behind me, so I had to keep the pressure," Tuliamuk recalled. "I was thinking I should make sure to use the guys that are with me because they would help me have a better chance otherwise if I was alone it's really easy to get sidetracked."
Tuliamuk didn't have to worry about getting sidetracked. Coming up the final stretch to the finish, the 27-year-old Wichita State alum had a 20-second cushion on Sisson. A Providence resident, Sisson had gone out conservative and passed Hasay in the race's second half.
Clear out front, Tuliamuk broke the tape in 15:22 followed by Sisson (15:42) and Hasay (15:48).
"It's amazing. I am so elated right now, I couldn't be happier. My season has been going really, really well. To win today at 5-K, I am so thankful for all the people who have helped me get here. I'm very appreciative of them," Tuliamuk said. Now a constant threat on the U.S. road racing scene, Tuliamuk's range is remarkable: this year she's run PB's of 31:54.20 for 10,000m on the track; 65:47 for 20-K; 1:25:36 for 25-K, and now 15:22 for 5-K (she also ran a season best 15:30.02 on the track).
"It's the greatest feeling ever knowing that you've put in a lot of hard work and for it all to come together today, it's amazing," she said.
Sisson gave kudos to Tuliamuk for her strength, and knew she'd be a challenge.
"I was trying to reel everyone in the end that I could," Sisson said. "I only saw Jordan and kept trying to reel her in. They went out pretty fast. I wasn't far behind the first mile but the second mile she really put a gap on the field. She's in phenomenal shape right now.
For the first time since 2011, Molly Huddle was not the women's champion. Huddle is in the midst of training for the TCS New York City Marathon, thus gave up the chance to defend her title. That left Sisson as the leading Providence-based entrant.
"Of course, we're missing Molly this year so that's a big one [up front]. I do like this course and it's in my backyard pretty much," said Sisson. "It's a fun one for me. I don't run down hear often but I drive on these streets every day. I love it."
The B.A.A.'s Sarah Pagano was fourth in 15:55, the last women to break 16-minutes. Fifth went to Maddie Van Beek (16:06); sixth to Laura Thweatt (16:07); and seventh to Mara Olson (16:09). Lindsey Scherf, celebrating her 30th birthday today, was eighth in 16:11.
The next USA Championship on the schedule is the USA 10 Mile Championships in Minneapolis, scheduled for Sunday, October 9.