Sydney, Australia; March 13 2021 –  It was a night for the history books at the Sydney Track Classic as world and national records tumbled, Tokyo qualifying standards were set and Australian 5000m national titles were won.
Setting the tone for the night was Michael Roeger (SA, Philo Saunders) who in blistering heat ran 14.00.25 to break the 5000m T46 world record. Placing third in the 5000m Open B Final, Roeger slashed more than six seconds off his previous world record set in 2018.
View this post on Instagram
Despite his success on the track, Roeger has stepped away from middle distance events in recent years to focus on the marathon – an event he has already been selected for ahead of the Tokyo Paralympic Games.
"It's been a long time since I've had a good crack on the track, being on the road for the marathon but I'm stoked with the world record," he said.
"14.06 was my record before and I wouldn't have jumped in the race if I didn't think I could beat that. The goal for tonight was to go sub 14, I was just off that but it's a great sign for what's to come as I head towards the next marathon in six weeks' time."
Continuing her momentum in the women's pole vault, Nina Kennedy (WA, Paul Burgess and James Fitzpatrick) set a new Australian record after jumping a height of 4.82m. The result was her sixth Olympic qualifier, and her fifth in the last three months, as she puts Australian pole vault back on the international athletics scene.
"Most competitions this season we've gone from 4.70m (Olympic qualifier) straight to trying for the Australian record (previously 4.81m), so I am so happy it is done and I got that tonight, I've attempted it five or six times this season so to nail it on my first attempt I am just so happy," she said.
"Now we'll go to Brisbane (for the Queensland Track Classic) and get practice at those high heights. Every competition, I compete against myself at those heights, but when it comes to the Olympics, I'm going to be jumping against girls who can jump well above 4.80 so I've just got to keep practicing."
The Sydney Track Classic also came with Australian championship status as athletes lined up for the 5000m titles. It was 1500m specialist and Rio semi-finalist Jenny Blundell (NSW, James Fitzgerald) who stormed home to win the national title in 15:25.84, just milliseconds behind Canadian Olympian Andrea Seccafien (15:25.62) putting her in great company.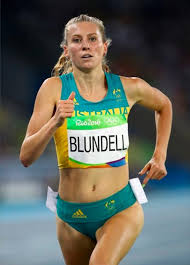 "If you asked me last year, I would have said the 1500m at Tokyo was my goal but an extra year training has been a blessing, so I think I'm ready to put my eggs in both baskets and today was a big tick in trying to do that," she said.
Blundell's win was all the more sweeter after suffering injuries over the years since her semi final at the Rio Olympics.
"A lot of people would ask me if I was going to retire every time I had a setback, but when you know, you know, and I'm not done yet. The last year has been hard, training and foregoing work, but running is my passion."
View this post on Instagram
In the men's 5000m final, Matthew Ramsden (WA, Nic Bideau) clocked 13:29.99 to take the win. While it was not an Olympic qualifier, the slow pace of the race played right into the hands of Ramsden who was patient and played to his strengths in the last lap. Brett Robinson (VIC, Nic Bideau) placed second with a time of 13:31.97, with Jack Rayner (VIC, Nic Bideau) following right behind with 13:34.68, with the two marathon athletes stepping down in distance.
"This is my first proper National title and I couldn't be more pleased. Usually it's just a straight pace and Stewy (McSweyn) would kick out but today was up and down in pace the whole way and it was a positive to take away for myself as well," he said.
"That shows that I am good enough for an Olympic final if I did choose to do the 5k," said Ramsden, who already has a 1500m qualifier.
With Tokyo looming, Riley Day (QLD, Paul Pearce) ran a speedy 22.77 (+2.0) over 200m to all but book her ticket to Tokyo. Just 0.03 faster than the Olympic qualifying standard, it was a nervous wait for Day as she waited to find out if the wind conditions were legal.
"I cannot believe it. I knew I was running fast and I just needed good conditions, and I had a perfect 2.0 and I couldn't be happier," said Day, who burst on the scene at just 16 years old."
View this post on Instagram
In the women's discus, it was newcomer Samantha Schmidt (QLD, Ralph Newton, F38) that impressed securing another Tokyo A qualifying standard with a throw of 33.66m. It was not only a personal best, but an Oceania record.
Daniel Kirk (SA, Steve Larsson), a two-time world championship representative threw a Tokyo B qualifying standard of 51.56m in the discus F44, adding to his list of qualifiers as he aims to compete at his first Paralympic Games. Paralympic wheelchair racer turned F32 shot putter Rosemary Little(NSW, Karyne Di Marco and Breanna Clement) also secured a B qualifier and a personal best after throwing 6.10m.
Former world champion Dani Stevens (NSW, Dennis Knowles) made her return to competition, after sustaining an debilitating neck injury in the gym more than a year ago. While her throw of 63.36m was just shy of the Olympic qualifying standard of 63.5m, her result shows promise as she builds back up to her previous form.
"This time last year was really hard and I couldn't even lift my arm. My priority was just to lift my arm, not even to throw a discus but I'm back and I've realised how much I missed throwing, how much I missed training and how much I love it," she said.
"It's been three years since I did the Sydney Track Classic. I aimed for over 60m for my first throw back, but I went over 61 and I instantly just reevaluated and thought hopefully I could get the Olympic qualifier, but unfortunately didn't," she said.
"I've still got the Olympic qualifier (from before the postponement of the Olympics and before the injury) which still counts so hopefully I can build on this competition. This is a great starting point."
Jessee Wyatt (VIC, John Eden) edged closer to a Tokyo qualifier when he threw 9.84 in the seated shot put to set a new Oceania F33 record. The result is a 20cm personal best but he's already got his sights set on breaking the 10m mark as he aims for his second Paralympics.
Kurtis Marschall (WA, Paul Burgess and James Fitzpatrick) also competed outside of his Western Australia for the first time since 2019. Having already jumped the Olympic qualifying standard of 5.80m at multiple events, Marschall challenged himself to raise the bar to 5.90m as he tried to set a new personal best, but finished with a result of 5.75m.
For full results, visit: http://athletics.resultshub.com.au/
The next leg of the Coles Summer Super Series will take place on March 25, with the Melbourne Track Classic.