IAAF World Challenge Beijing, CHN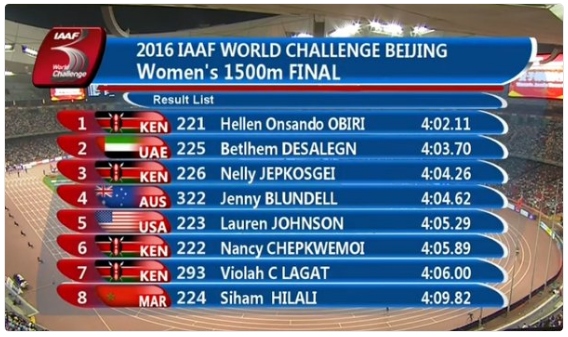 On the 1st May Linden Hall smashed her PB in the women's 1500m with an extraordinary 4.04.47 win in Palo Alto, USA. Less than three weeks later we have seen yet another jaw dropping performance in the women's 1500m, this time from 22 year-old Jenny Blundell.
Competing overnight at the IAAF World Challenge in Beijing, Blundell hung onto Kenyan Hellen Obiri (eventual winner in 4.02.11) for most of the race, and in doing so was dragged through to an Olympic qualifying time of 4.04.62. It smashed her previous PB by 5.05 seconds (4.09.67 set back on January 1), and now places her alongside Hall as the favourites to make the Australian team for Rio in the women's 1500m – behind the already selected Melissa Duncan.
New Australian All-Time Ranking List – Women's 1500m
4.00.93 – Sarah Jamieson (VIC) – Stockholm, SWE
4.01.34 – Margaret Crowley (VIC) – Oslo, NOR
4.04.09 – Zoe Buckman (VIC) – Eugene, USA
4.04.47 – Linden Hall (VIC) – Palo Alto, USA
4.04.62 – Jenny Blundell (NSW) – Beijing, CHN
4.05.25 – Lisa Corrigan (NSW) – Sydney, AUS
We now wait with great interest to see what both Heidi See and Zoe Buckman can produce over the coming weeks leading into the final selection meeting on July 12. See will take her spot on the start line at the Hoka One One Middle Distance Classic on Saturday morning (AEST) in the United States, while Buckman lines up in a 800m overnight in the Netherlands. Buckman will then run a 1500m on June 4, where she could actually start alongside Blundell in a meeting in Belgium.
Jenny Blundell's Progression at 1500m
2016 – 4.04.62
2015 – 4.14.62
2014 – 4.12.00
2013 – 4.17.96
2012 – 4.18.31
2011 – 4.18.27
Blundell competed at both the 2011 World Youth Championships in the 800m (5th in semi final in 2.09.15) and the 2012 World Junior Championships in the 1500m (7th in her heat in 4.24.35).