Brad puts in some threshold reps before getting sick again.
Julian's exploring all the best places he shouldn't be in.
Brady paces at the Bendigo 5km Frenzy and presents an exciting opportunity.
Adelaide Invitational started off with Ben Buckingham running 8:45.33 in his return to the 3000m steeplechase while Cara Feain-Ryan won the women's race in 9:45.14.
Peter Bol opened his season winning the 800m 1:47.14, while Bendere Oboya ran 2:02.88 in her debut in the distance moving up from the 400m.
Izzy Batt-Doyle took the win in front of the home crowd over Rose Davies in the Women's 5000m in 15:13.35, then Sam McEntee lead a stacked field in the Men's 5000m, that featured Michael Roeger setting a new T46 5000m World Record of 13:52.05
Athletics SA Full Results
Roeger runs world record on home soil, Browning and Bol light up the track in Adelaide
Matt Hussey went back to back at the Victorian Mile Championship, while Melissa Duncan won her second title. Catriona Bisset wins the John Higham 800m in 2:00.20, striding well clear from Linden Hall.  Jack Atherton from South Australia won the Men's A 800m.
Vic Milers Club 800m Results
Vic Milers Club Mile Results
NSW 5000m Champs won in tight contests by Joshua Johnson & Aynslee Van Graan in their respective Open races. NSW 5000m Championship Results
UW Husky Classic 5000m ACT's Ky Robinson 13:21.85, Ruby Smee from 3rd 15:36.04 for San Francisco, Amelia Mazza-Downie for New Mexico 15:49.82 8th
UW Husky Classic Results
Lauren Ryan runs 4th fastest NCAA Indoor 3000 m in 8:47.88 at Boston University Indoor Meet. BU 3000m Indoor Women's Results
Listener Question from Jack asks why despite all the modern innovations has Deek's marathon national record still stands after 36 years. Then with Training Talk, the boys discuss how to go about finding your easy pace both in extrapolating from your race pace and by feel. Moose on the Loose wraps it up with the Top 3 worst dog breeds to encounter on the run.
Sam Burke, co-founder of Runner's Tribe and new running shoe and apparel company Tarkine sits down with Brad to talk about his varied pursuits, starting out with his middle distance days, being young while balancing running with studying for a veterinary degree. Sam talks about what running means these days and dealing with injuries, then goes into the early days of Runner's Tribe and how it's over the years navigated ongoing maintenance and changes in the social media landscape, while still keeping true to its purpose of sharing athlete stories, not only through its interviews and articles but through books and contributors such as Len Johnson.
Sam also talks about launching Tarkine, a new Australian-based running shoe company and goes into the details of the types of conversations that take place to get started, getting contacts within the industry and travelling back and forth with production factories in Asia and testing prototypes, refining the design and science that ultimately lead to the producing the  Tarkine Goshawk, the process involved in not only creating the shoe comfortable for running but also eco-friendly and recyclable.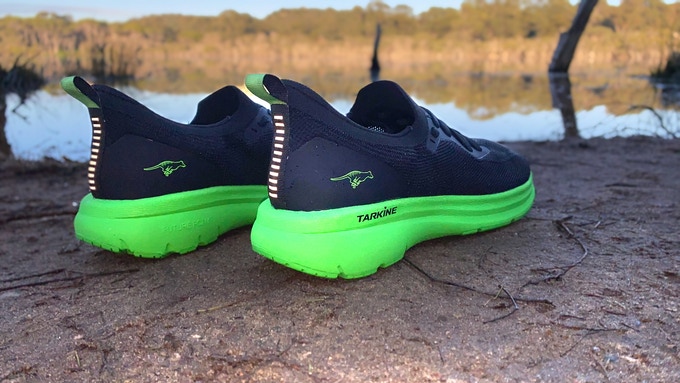 You can learn more about Tarkine and their mission statement at tarkine.com