Today 37,185 people took part in the 42nd Melbourne Marathon Festival– making it Australia's largest ever Marathon.
Eliud Kipchoge's sub-2-hour marathon in Vienna last night inspired Kenyans Isaac Birir and Naomi Mayo to victory in the Melbourne Marathon, each collecting the coveted cash prize of $20,000. Birir, who won Melbourne in 2017 and is now based in Perth where he is awaiting permanent residency, started off at race record pace before tiring and finishing in 2:16.31.
"I think I was a bit excited after last night (Kipchoge's run). I've known of him for a long time and he's a distant relative of my mum's," said Birir.
William Chebon from Kenya secured second place with a time of 02:17:53, followed closely by Australia's Reece Edwards in third place with 02:19:00.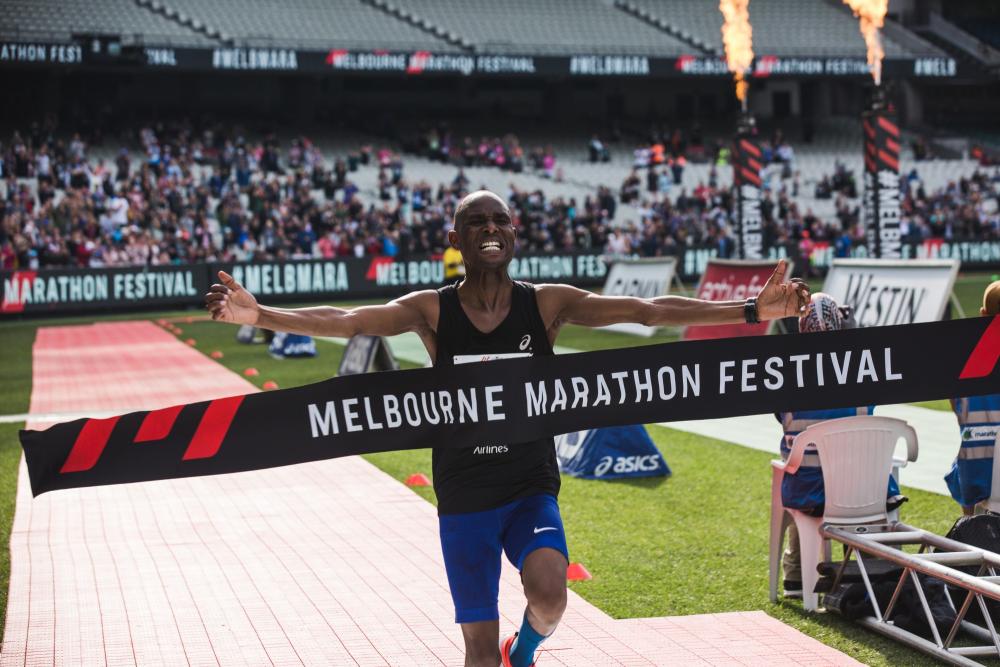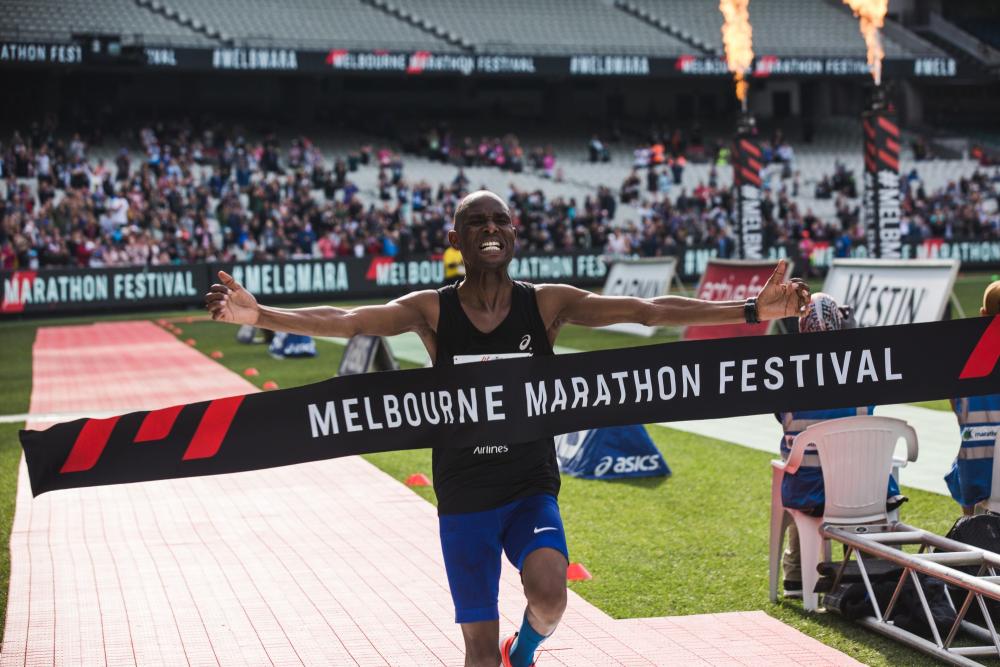 Winner of the Women's Full Marathon was Naomi Jepkogei Maiyo fromIten in Kenya, who tackled the 42.195km course in time of 02:35:34.
"I was training with Kipchoge's group in Kaptagat and he wished me good luck. I was watching him last night. I knew he'd break 2 hours," she said.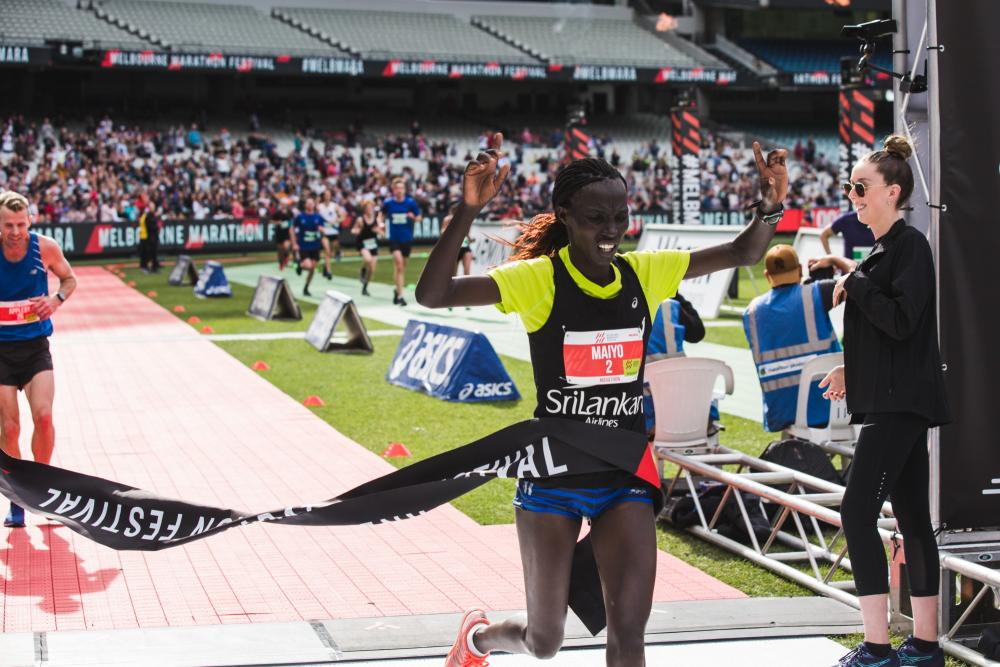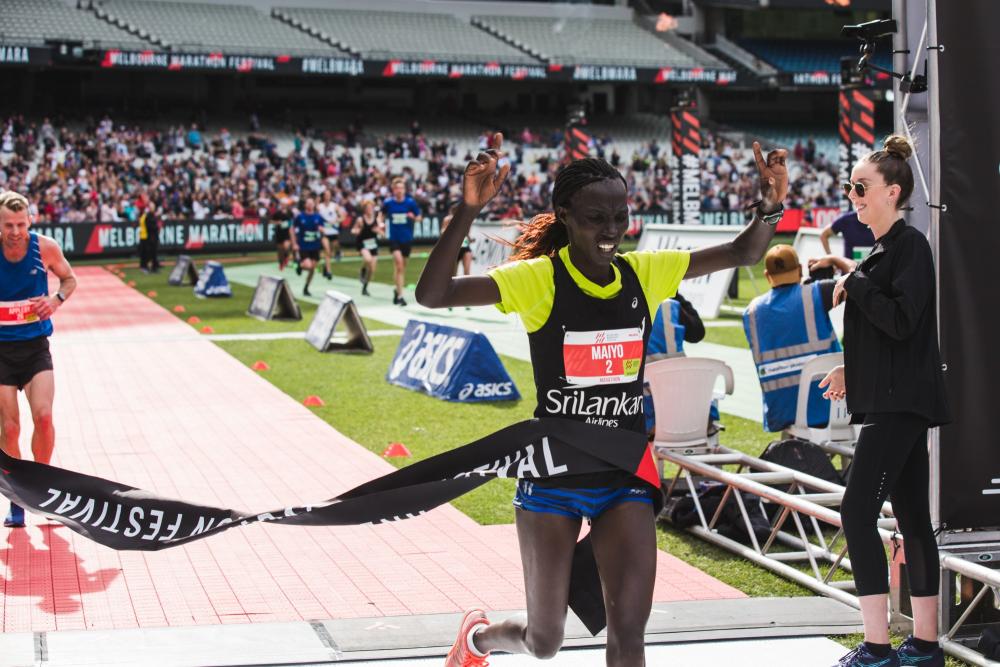 Perth's Nera Jareb caught NSW's runner Marnie Ponton after 30km and managed to hold her off to run 2:36.42 – her personal best by nearly a minute. Ponton rounded out the winner's podium on 02:37:21.
The first athlete to cross the Sri Lankan Airlines Half Marathon finish line was Thomas Do Canto from Australia, who raced against the clock to secure a time of 01:04:29. Makda Haji Harun was the first woman to complete the 21.1km distance, with a time of 01:11:15. Nic Harman secured second place in the men's division with a time of 01:04:31, followed by Brady Threlfall on 01:06:16. Tara Palm secured second place in the women's division, running 01:11:27, while Lauren Reid raced in third on 01:12:38.
Winner of the ASICS 10km Run was Australian, Jordan Williamsz with a time of 00:29:35, whilst Whitney Sharpe was the first female to cross the line with a time of 00:33:45.
Festival Director, Marcus Gale remarked upon the record participation numbers in 2019 as well as the funds that runners raised for worthy charities. "Today marks the biggest Marathon in the event's 42-year history, in fact it will now be recorded in the history books as the largest ever marathon staged in Australia, with four out of the five events sold out to the public including the Full Melbourne Marathon, the Sri Lankan Airlines 21.1km Half Marathon, the ASICS 10km and Westin 5km run."
"Our numbers increased even further with an estimated 37,000 people cheering from the sidelines as participants completed their journey inside the MCG," said Gale. "This year's Melbourne Marathon participants raised in excess of $1,200,000 for a huge number of deserving causes across the country including our official charity partner, Cerebral Palsy Education Centre and associate charities JMB Foundation, Australian Red Cross, Beyond Blue and the Heart Foundation."
This year saw many notable Melburnians banding together in the name of one special charity. More than 295 participants united behind the worthy cause of Lucia's Angels, raising funds for the Royal Children's Hospital Cardiology Ward and to remember Lucia Crinis who lost her battle with a rare genetic condition at just 99 days old. Team members included Sally Crinis and Suzy Eskander, Ricky and Rianna Ponting, Kylie Brown, Lorinska Merrington and Renee Enright.
The Festival saw some of the city's biggest names taking part in the event including Westin Fitness Ambassadors Tim Robards and Olivia Molly Rogers, former AFL player and Beyond Blue Ambassador Tom Downie, Paralympian and Beyond Blue Ambassador Richard Colman and television presenter Brodie Harper.
The event was also significant for six-year-old Annabelle Quinn, one of the first children in Australia to access the Mollii suit; a revolutionary new technology designed to assist in the treatment of people with Cerebral Palsy. Annabelle achieved her own personal challenge as she crossed the 3k event finish line on behalf of the Cerebral Palsy Education Centre, walking the last 100 metres with the assistance of her Mollii Suit.
A number of colourful participants also took part in the event, including a runner dressed as a Power Ranger, a Bulldogs supporter decked out in a Viking costume, a world record chaser dressed as a lacrosse player and one Queenslander dressed only in his Budgie Smugglers.
The day was particularly momentous for five runners: John Dobson, David Foskey, Bruce Hargreaves, Wayne Thompson and Roger Weinstein, the "Spartan Legends" who crossed the Melbourne finish line for the 42nd consecutive year. Following in their footsteps were the hundreds of participants running their tenth Melbourne Marathon who were recognised as Spartans.
Not all the action took place on the running course; the Active Feet Runners Expo on the external concourse of the MCG featured an array of fitness stores catered to runners of every level. For the first time in the Marathon Festival's history, 'The Village' pop up garden quenched the thirst of deserving runners with a selection of post-race celebratory beverages. Participants were also given the chance to donate unwanted running shoes to those less fortunate as part of a collaboration with Australian charity Footscape.
Innovation sponsor, SAP brought detailed insights to the festival with multiple stats created, and wearable tech partner Garmin powered the event app during race week.Participants in 2019 had access to the expert dieticians and athletes from Science in Sport, who created training plans and other invaluable resources to help guide runners towards a successful race day.
Runners looking for their next big challenge after the Melbourne Marathon Festival will not want to miss out on Australia's most stunning running event, The Great Ocean Road Running Festival taking place 16-17 May 2020. Early Bird entries are now open at www.greatoceanroadrunfest.com.au