Late-entrant Joan Melly takes surprise victory while fellow-Kenyan Gilbert Masai wins
Kenyans Gilbert Masai and Joan Melly took the 37th edition of the Berlin Half Marathon on Sunday. While Masai was among the top favourites, late-entrant Joan Melly was an unexpected winner. Masai ran a fine 59:57 and was well ahead of Vincent Kipchumba and Reuben Limaa, who finished in 60:32 and 61:43 respectively. Joan Melly was the last name added to the elite field, but she was first at the finish line with a time of 68:45. It was a personal best for the 28 year-old and her first sub 70 minutes' half marathon. Fellow-Kenyans Edith Chelimo was second with 68:57 while Dutch defending champion Elizeba Cherono took third in 70:43. 34,004 runners from 106 nations entered Germany's biggest and fastest half marathon race.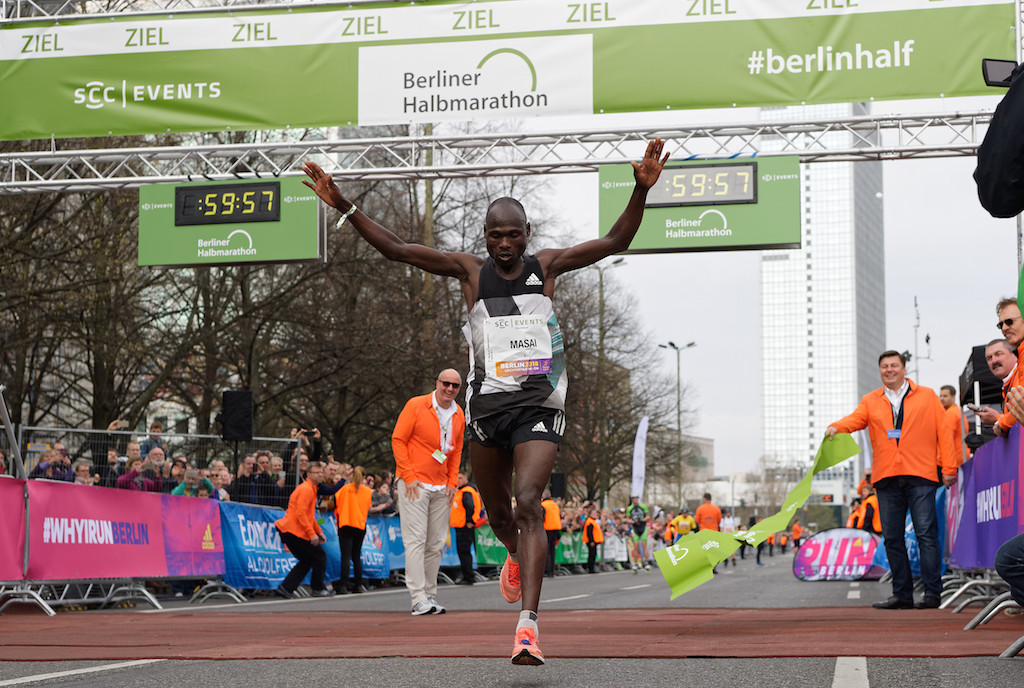 In fine but partly windy weather conditions the men's race started relatively slow. After a first few kilometres with split times of around 3:00 minutes the pace was picked up. A group of six runners then passed the 10 k point in 28:52. It was Gilbert Masai who started an early and decisive move together with pacemaker Vincent Kipchumba. Running the 12th kilometre in 2:38 he took the lead. "Unfortunately the pacemaker could not keep the pace so I was running alone at front," said Gilbert Masai, who had hoped to break his personal best of 59:31. "But it was getting tough without competition." However Masai managed to run a sub one hour time with 59:57. "Now I will prepare for the Hamburg Marathon in three weeks. It is my aim to improve my PB to 2:07 to 2:08."
Left behind by Gilbert Masai, pacemaker Vincent Kipchumba decided not to drop out but carry on. "I looked around and there was nobody behind me. Since I was in second position I continued running," said Kipchumba, who ran a personal best of 60:32 on Sunday.
There was a fine performance by Germany's 1,500 m runner Homiyu Tesfaye. The former Ethiopian was in the leading group for the first seven kilometres. "Then it was getting too fast for me. As I wanted to reach the finish line I had to hold back," said Tesfaye, who finished seventh in a personal best of 62:58 in his second half marathon. Five years ago he had run 67:17. "I will now concentrate on the 1,500 metres again, but in the future I will run a marathon," said Tesfaye.
Kenyans Joan Melly, Edith Chelimo and Susan Jeptoo formed an early leading group in the women's race. Jeptoo, who had fallen just after the start but recovered quickly, lost contact shortly before 5 k and finally finished fifth in 71:28. Melly and Chelimo kept the pace high, passing 10 k in 32:27 and 15 k in 48:36. It was with around 5 k to go when Melly started opening a small gap. She kept going and won with a personal record of 68:45, well improving from 70:33.
"I am grateful that I was able to enter the race at short notice. This was a very nice competition for me," said Melly. "I was very motivated, because it was my first international race after maternity leave. I would really like to come back to Berlin in September for my marathon debut."
After several years with injury problems Sabrina Mockenhaupt ran a fine race in Berlin. The 36 year-old German finished eighth with 72:11. "It was getting tough, but the atmosphere was great," said Mockenhaupt, whose long-term target is the European Championships' marathon in Berlin next year.