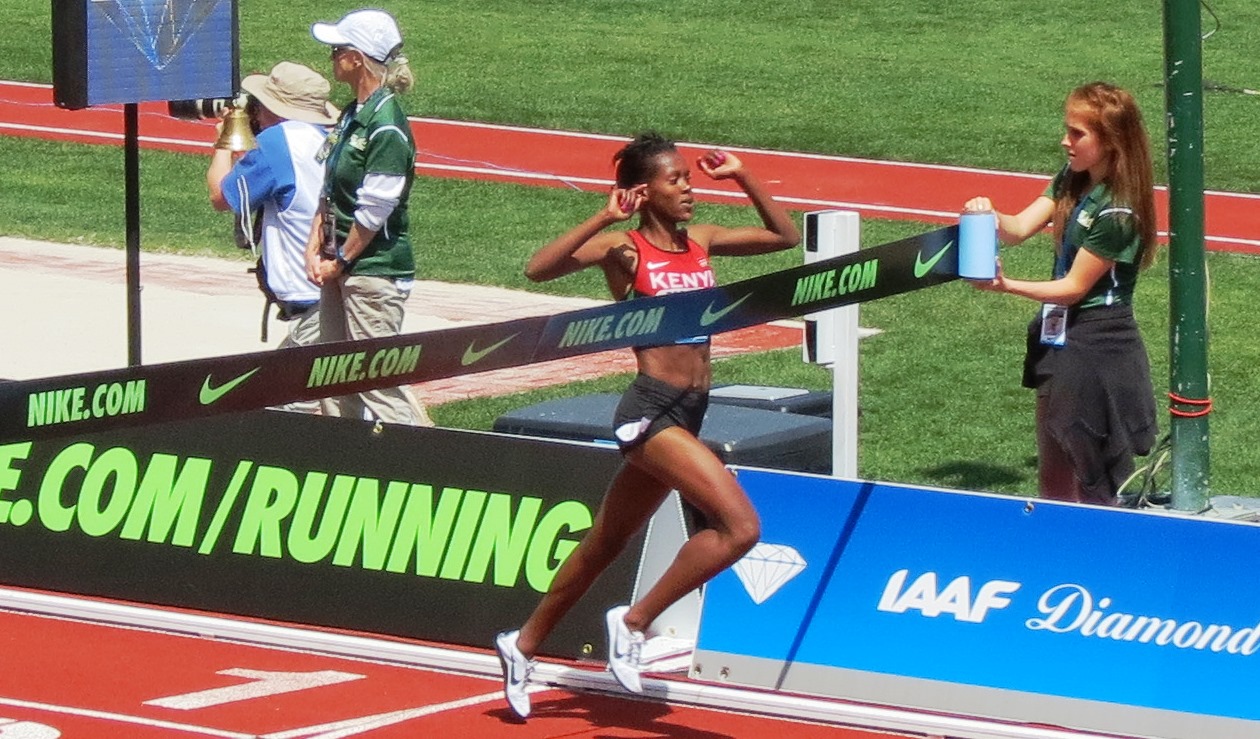 By David Monti, @d9monti
(c) 2016 Race Results Weekly, all rights reserved
EUGENE, Ore. (27-May) — In 2012 Asbel Kiprop came here to race the Bowerman Mile at the Prefontaine Classic.  He was the reigning Olympic and world 1500m champion and he prevailed over 18 other top milers in a world-leading 3:49.40.  It was his third victory here, but he had hoped to run faster.
"I'm happy I won and I like to win," Kiprop told Race Results Weekly in 2012, lamenting his time. "Sometimes it happens that way."
Fast forward four years, and at today's 42nd Prefontaine Classic at historic Hayward Field a similar race played out for Kiprop, now 26.  Off of a slow first quarter (58.0 seconds), the lanky Kenyan once again got the win with a powerful stretch run, but he was disappointed with his time of 3:51.54. Like in 2012, he had hoped to run a career best.
"I feel good," said the always serious Kiprop, squarely meeting this reporter's gaze.  "However, I'm a little bit disappointed because I wanted to run my personal best here today.  It didn't happen."
Kiprop, who made his eighth appearance at what is now America's only IAAF Diamond League Meeting, stayed near the front of the race the entire way, avoiding trouble.  When Morocco's Abdelaati Iguider surged on the backstretch in the final lap, Kiprop tracked his move with confidence, then powered past the 2012 Olympic bronze medalist after rounding the Bowerman Curve.  Iguider got second (3:51.96) and Kenya's Elijah Manangoi clinched third in 3:52.39.
"This is my fourth win," Kiprop said proudly.  "I'm really excited to claim the victory. However, what I expected actually was to run a PB."
Well behind Kiprop, American high schooler Drew Hunter finished 12th (and last), but once again broke four minutes, clocking 3:58.88, his third sub-4:00 clocking of the year.  That left Alan Webb, who watched today's race trackside with Hunter's parents, still the USA high school record holder.  Webb, now 33, ran 3:53.43 at this meeting back in 2001.
"I thought I was pretty tough in there," Hunter told reporters, looking woozy.  "I've never had that bad of lactic acid the last 100 meters in my entire life."
In the undercard International Mile, Britain's Charlie Grice continued his winning ways, streaking away from the field to win in a personal best 3:52.64.  Grice also won the 800m at the Hoka One One Middle Distance Classic two Fridays ago in Los Angeles, also setting a PB (1:46.95).
"I was really happy with it," said Grice who looks forward to qualifying for the British Olympic team next month.  "I knew my speed was there, and like I was saying to you earlier, I was in Flagstaff for the last six weeks, and I knew my strength.  So, I knew I'd be on for a good mile time."
Another American high schooler, Michael Slagowski, ran the second sub-4:00 of his career, clocking 3:59.78 to finish fourth. He finished just ahead of 2012 Olympic silver medalist, Leo Manzano (4:00.27).
In a fast women's 1500 –superbly paced by Chanelle Price, the 2014 IAAF World Indoor 800m champion– Kenya's Faith Kipyegon rocked the house with a Kenyan and USA all-comer record of 3:56.41, breaking her own mark from the Shanghai Diamond League meeting two weeks ago.  A pair of Ethiopians took second and third, Dawit Seyaum (3:58.10) and Gudaf Tsegay (4:00.18).  American Jenny Simpson, the 2011 world 1500m champion, took fourth in a season's best 4:01.57.
"I was not expecting to run quicker than I did in Shanghai," said Kipyegon who clocked 3:56.82 in China.  "I thank God because I won this race, and it was a good race."  Looking forward to the Kenyan Olympic Trials next month she added: "I have the confidence to make the team for Rio."
Also running fast was Bahrain's Ruth Jebet in the women's steeplechase.  With a spirited sprint finish against Kenya's Hyvin Kiyeng, last year's world champion, Jebet ran the fastest time ever in North American: 8:59.97.  She became just the second woman to break nine minutes for the steeplechase.  Kiyeng was just a whisker behind in 9:00.01, shattering the Kenyan record.
In third place, Emma Coburn broke training partner Jenny Simpson's American record of 9:12.50, clocking 9:10.76 in her first steeplechase since last September.  Coburn –who had previously run faster than Simpson (9:11.42), but was denied a national record because she wasn't drug tested– was pleasantly surprised by her performance today.  She said in an interview yesterday that she wasn't expecting to run fast in her season opener.
"Today was great," a beaming Coburn said, hands on hips.  "I saw after Shanghai that the Kenyans were going to be running fast, so I was happy to just run conservative in comparison to them early on, then just start clicking it off.  Luckily, they ran fast enough that it got single file at about halfway.  So, I had a clear track but also had the benefit of someone to chase."
Simpson, who hasn't run a steeplechase since 2009, was genuinely thrilled for her teammate.
"There's not a bigger fan of her in the world than me," said Simpson, whose voice cracked with emotion.  "It's just really sweet to see her do so well.  I said this before –and I feel this way– you don't get to watch the person prepare to break your record, and I get to see that every day.  I'm just really happy for her."
In the men's 5000m, two-time world half-marathon champion Geoffrey Kamworor nearly won the race, leading the final laps after the pacemakers had retired.  But Kamworor, second at last November's TCS New York City Marathon, had to settle for the runner-up position in a personal best 12:59.98 after being out-kicked by Ethiopia's Muktar Edris who clocked 12:59.43.  Canada's Mo Ahmed –who made a last lap effort to win the race but was chased down– finished third in a new Canadian record of 13:01.74.  Hassan Mead was the top USA finisher, clocking season's best 13:04.17 in sixth place.
"I was not sure (if I would win), but I knew I was going to run a personal best," said Kamworor.
The only home country distance or middle distance victory came in the men's 800m.  Newly-crowned world indoor champion Boris Berian muscled his way to victory, holding off a charging Ferguson Cheruiyot of Kenya in the homestretch, 1:44.20 to 1:44.56.  His was the fastest time run outside of one meet in Kenya so far this year.
"I'm out here to run," said Berian who refused to engage the media about a pending lawsuit from former sponsor Nike, also the sponsor of the Prefontaine Classic.  "That's my job.  That's what I love to do." He continued: "Coming up the last stretch, I just give it all I got."
For 41 year-old Bernard Lagat, his 15th and final appearance at the Prefontaine Classic was disappointing.  Battling a cold, he was forced to drop out of the 5000m.
"The thing is I've been having a bad cold, as you can hear, since Monday," he told reporters.  "I saw a doctor two nights ago and, let me tell you, I've been trying to run really hard here, but I couldn't.  My chest was burning like crazy."
Many of the American athletes who competed here today will be back in Eugene for the USA Olympic Trials which run from July 1st through the 10th.