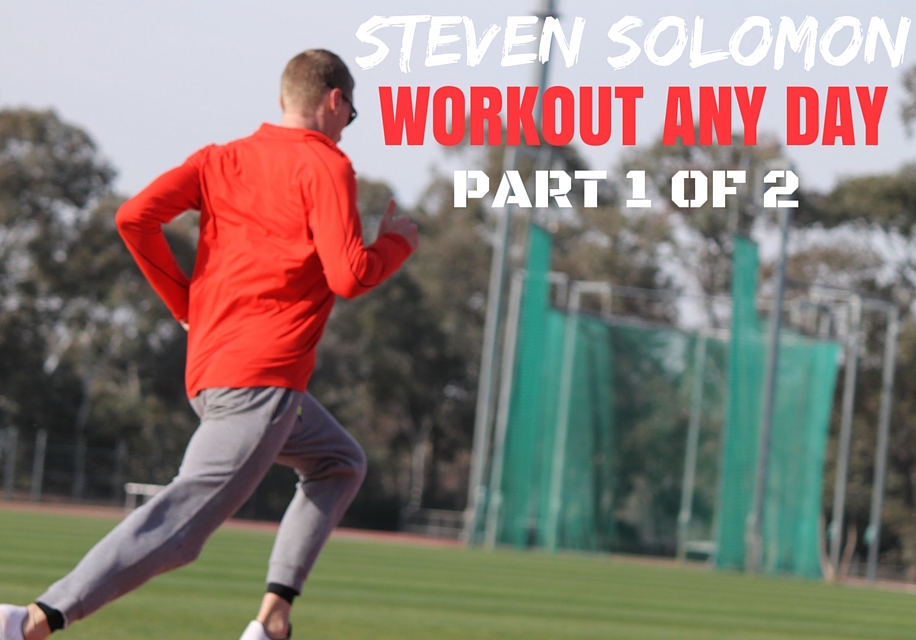 London 2012 Olympic finalist Steven Solomon (NSW) will return to the track in Townsville (Qld) this weekend as he continues his push for Olympic Games nomination in the men's 400m.
On the hunt for the Rio 2016 standard of 45.40, the 23-year-old's start follows a training camp on the Gold Coast (Qld) alongside his training partners and Paralympic aspirants Evan O'Hanlon (ACT), Scott Reardon (ACT) and Chad Perris (ACT).
"Coming to the Gold Coast has been great, the warm weather here after a few cold weeks in Canberra has been ideal. The body responds to different conditions in different ways and I'm confident that the opportunity to base up here has ensured a good block of training," Solomon said.
"It's been amazing to be here with the other boys as well. My squad is made up of para-athletes, I'm coached by a predominantly para-athletics coach (Iryna Dvoskina), and we have learned so much from each other. It's been great to see the sport from a different perspective. We are all working very hard, we're committed to good results, and I wish them every success for a big Rio campaign later this year."
Solomon clocked a strong 45.50 to win the national one-lap championship in Sydney (NSW), before returning to his training base at the Australian Institute of Sport to continue his preparations for a tilt at Olympic selection.
He will run twice at the North Queensland All-Comers, competing on both the Friday evening andSaturday afternoon alongside a bounty of green and gold talent including Melissa Breen (ACT, 100m), Alex Hartmann (Qld, 200m), Michelle Jenneke (NSW, 100m hurdles), Henry Frayne (Qld, long jump) and Kelsey-Lee Roberts (ACT, javelin).
"The qualifier is the target. The last five weeks have probably been the hardest block of training that I've done, but we've freshened up in the last week or so with the intention of running fast in Townsville. I'm going to head to Europe for a few weeks after this competition and to head there with the qualifier under my belt would be great," Solomon said.
For O'Hanlon, competition this weekend provides the T38 cerebral palsy class 100m and 200m world record holder his first racing opportunity since September 2015. Continuing his push to win a third consecutive Paralympic crown in the short sprint, the 28-year-old is also considering a tilt at the longer 400m at Rio 2016.
"This is my first race in quite some time, but I want to get the Paralympic qualifier done so that I am in a position to be named in the team. The time is 11.30 and I think it is achievable. I've had to do a lot of rehab to be back where I am now, full sessions have only come in the last couple of weeks," O'Hanlon said.
"I haven't ruled out the 400m for Rio yet, either. I'm not running it this weekend, and what we will probably do is make a call closer to Games time. I've got a qualifier and can add it late because it's after the 100m on the program. It's a nice to have, and we'll see."
The IAAF Diamond League also continues this week, with Rome (ITA) and Birmingham (GBR) to welcome the world. IAAF World Indoor Championships long jump silver medallist Fabrice Lapierre(NSW) leads the Australian charge in the Italian capital, before the Olympic champion Sally Pearson(Qld) competes for the first time in one year on Sunday 5 June.
Alex Rowe (Vic, 800m), Jeff Riseley (Vic, 1500m), Brooke Stratton (Vic, long jump) and Anneliese Rubie (NSW, 400m) will all make their 2016 international circuit debuts in the coming fortnight.
The next chapter in the race for women's 1500m selection at the Rio 2016 Olympic Games will also play out, with Zoe Buckman (Vic) to compete in Huelva (ESP), Jenny Blundell (NSW) to start in Oordegem (BEL) and Linden Hall (Vic) to join Heidi See (NSW) on the start line in Portland (USA).
2 June

: IAAF Diamond League (Round 5) – Rome (ITA)
1500m: Ryan Gregson (Vic)
Long Jump: Fabrice Lapierre (NSW)
Discus Throw: Benn Harradine (Qld)
3-5 June

: North Queensland All-Comers – Townsville (Qld)
100m: Melissa Breen (ACT)

200m: Alex Hartmann (Qld)
400m: Steven Solomon (NSW)
100m Hurdles: Michelle Jenneke (NSW)
Long Jump: Naa Anang (Qld), Chelsea Jaensch (Qld), Henry Frayne (Qld)
High Jump: Hannah Joye (Qld), Joel Baden (Vic)
Javelin: Kelsey-Lee Roberts (ACT), Luke Cann (Vic)
Decathlon (some events): Cedric Dubler (Qld)
Ambulant Sprints: Brianna Coop (Qld), Chad Perris (ACT), Scott Reardon (ACT), Evan O'Hanlon (ACT)
Ambulant 400m: Alberto Campbell (Qld)
Ambulant Long Jump: Carlee Beattie (Qld)
Ambulant Shot Put: Claire Keefer (Qld)
Ambulant Discus Throw: Katherine Proudfoot (ACT)
Ambulant Javelin: Madeleine Hogan (Vic), Jayden Sawyer (ACT)
Australia's 56-strong IAAF World Under 20 Championships team
will also compete at the North Queensland All-Comers.
MEDIA CONTACT:
Chris Kenner will provide assistance to media, facilitating interviews with athletes on request, from the North Queensland All-Comers in Townsville (Qld).
3 June

: 11th Meeting Iberoamericano Atletismo – Huelva (ESP)
1500m: Zoe Buckman (Vic)
5000m: David McNeill (Vic)
4 June

: Memorial Leon Buyle – Oordegem (BEL)
110m Hurdles: Nicholas Hough (NSW)
800m: Brittany McGowan (Qld), Josh Ralph (NSW)
1500m: Jenny Blundell (NSW)
5 June

: IAAF Diamond League (Round 6) – Birmingham (GBR)
400m: Morgan Mitchell (Vic)
600m: Luke Mathews (Vic)
1500m: Ryan Gregson (Vic)
3000m: Brett Robinson (Vic), Ben St Lawrence (NSW)
5000m: Eloise Wellings (NSW)
100m Hurdles: Sally Pearson (Qld)
Long Jump: Fabrice Lapierre (NSW)
Javelin: Kathryn Mitchell (Vic)
Discus Throw: Benn Harradine (Qld)
5 June

: 16th European Athletics Festival – Bydgoszcz (POL)
400m: Anneliese Rubie (NSW)
7 June: Meeting International – Montreuil (FRA)
800m: Selma Kajan (NSW)
9 June

: IAAF Diamond League (Round 7) – Oslo (NOR)
400m: Morgan Mitchell (Vic)
800m: Brittany McGowan (Qld), Selma Kajan (NSW)
1500m: Luke Mathews (Vic)
Mile: Ryan Gregson (NSW)
5000m: Brett Robinson (Vic)
100m Hurdles: Sally Pearson (Qld)
3000m steeplechase: Genevieve LaCaze (Qld)
11 June

: 45ste Gouden Spike – Leiden (NED)
10,000m: Eloise Wellings (NSW)
11 June

: AtleticACGeneve – Geneva (SUI)
400m: Morgan Mitchell (Vic)
800m: Brittany McGowan (Qld)
12 June

: Portland Track Festival – Portland (USA)
800m: Lora Storey (NSW)
1500m: Linden Hall (Vic), Heidi See (NSW), Michael Roeger (SA), Sam Harding (ACT), Jordan Gusman (ACT), Joshua Wright (NSW)
5000m: Kate Spencer (NSW), Jeremy Roff (NSW)
14 June: Meeting Stanislas – Nancy (FRA)
800m: Brittany McGowan (Qld)
1500m: Jeff Riseley (Vic)
14 June: Spitzen Leichathletik – Lucerne (SUI)
800m: Alexander Rowe (Vic)
Long Jump: Brooke Stratton (Vic)
16 June: IAAF Diamond League (Round 8) – Stockholm (SWE)
100m Hurdles: Sally Pearson (Qld)
3000m steeplechase: Madeline Hills (NSW)
Long Jump: Brooke Stratton (Vic)