Mark Korir wins three-way Kenyan contest, Mamitu Daska just holds off Fate Tola's late surge
Mark Korir won a three-way Kenyan contest and took the 35th edition of the Mainova Frankfurt Marathon with a time of 2:06:48. The 28 year-old beat fellow Kenyans Martin Kosgey and Cybrian Kotut who ran 2:07:22 and 2:07:28 respectively. Bobby Curtis of the USA took a surprise fourth place, equalling his personal best with 2:11:20 in ideal conditions.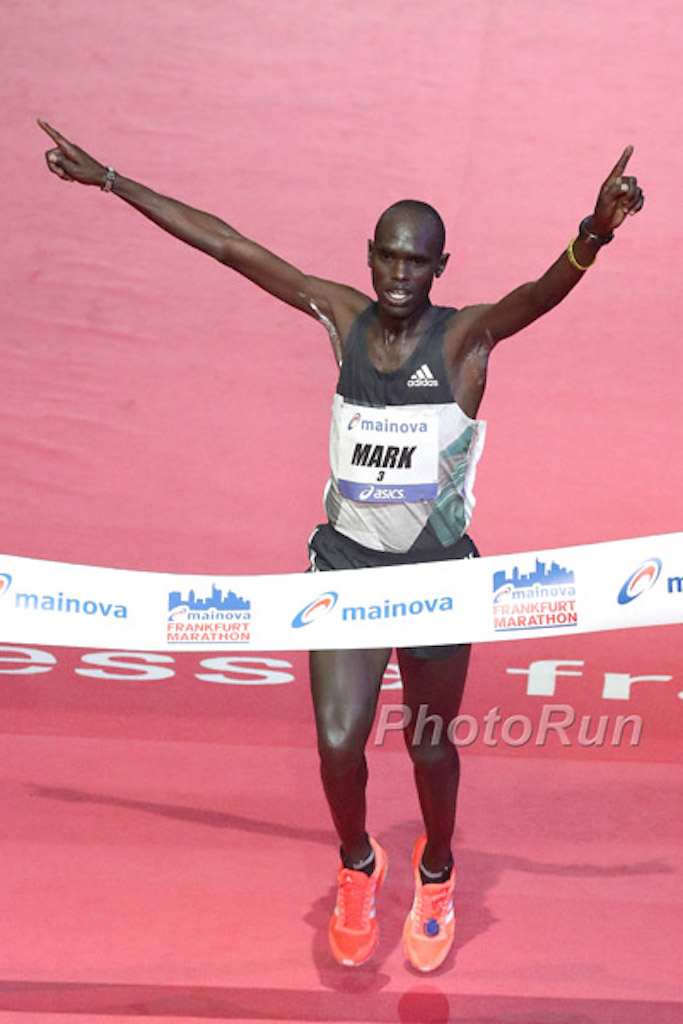 Mamitu Daska took Frankfurt for the second time after winning in 2011. At times the 33 year-old Ethiopian looked capable of threatening the course record of 2:21:01, but she slowed drastically in the final section after suffering of stomach problems earlier and finished in 2:25:27. Germany's Ethiopian-born Fate Tola made up more than two minutes on the leader in the last few kilometres but could not quite catch her. Tola finished in 2:25:42, winning the German marathon championships in dominant style and became the fourth fastest German ever over the classic distance. Kenya's Sarah Jebet was third in 2:27:07 while Lindsay Flanagan of the USA surprised with a fourth place in a big personal best of 2:29:28.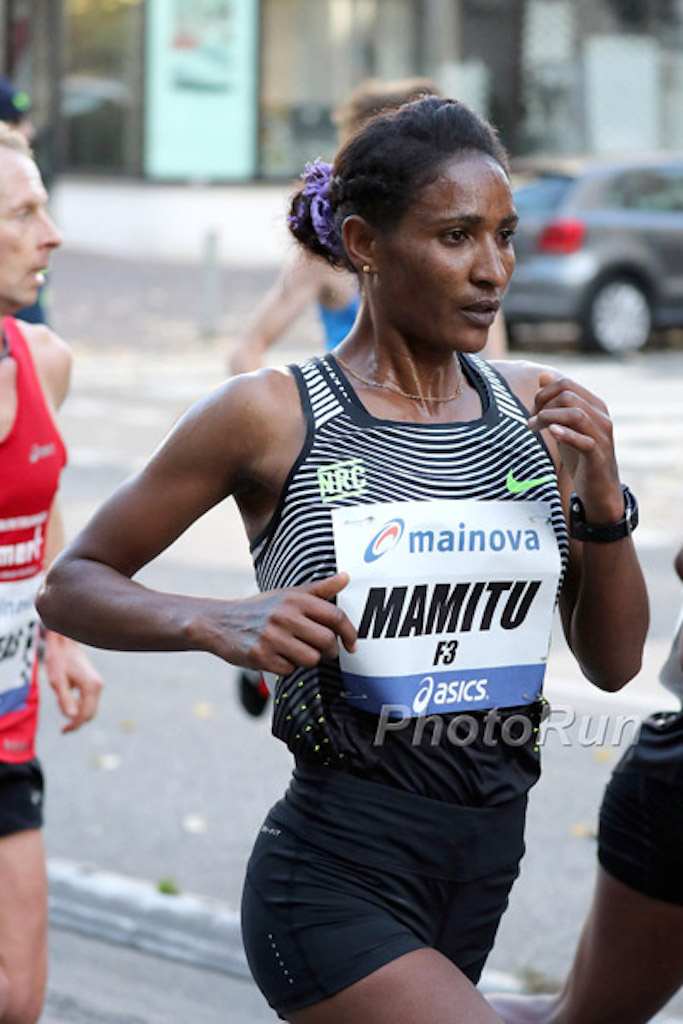 15,850 runners entered the Mainova Frankfurt Marathon which is an IAAF Gold Label Road Race.
Men's Race: Mark Korir pressed the accelerator with 5km remaining
A leading group of eight runners was guided by three pacemakers as they went through half way in 62:58, all was going to plan. While Ethiopia's Tadesse Tola, who was the fastest runner on the start list with a PB of 2:04:49, fell back at around 27 k and later finished fifth with 2:11:52, Korir, Kotut, Kosgey, Birhanu Achamie of Ethiopia and pacemaker Vincent Rono were together at 30 k. They passed this mark in 1:30:09 before Mark Korir began to push the pace. The pacemaker dropped out and Achamie could not hold on soon after the 30 k mark.
Mark Korir, who also won the Paris Marathon 2015, then started his attack with five kilometres to go and left his two fellow-Kenyans Martin Kosgey and Cybrian Kotut trailing. "When the pace dropped after 35 k I put the pressure on – and won. After having to drop out in the Paris Marathon this spring I was very disappointed. I wanted to redeem myself and I really enjoyed this race," said Korir after crossing the indoor finish line in Frankfurt's Festhalle. His 2:06:48 is the eighth best marathon winning this year in the world.
Martin Kosgey in second place was happy to have improved his personal best by a considerable margin to 2:07:22. "I knew from my training that I was in better form than before. But it was a surprise to achieve second place," said Kosgey, who had run 2:09:50 in Hannover in 2015.
The current Paris Marathon champion Cybrian Kotut, who ran 2:07:11 in the French capital this spring, suffered of a hamstring injury during the final part of the race. "Everything was okay until 35 k when I got the injury. Nonetheless I am happy to have run 2:07 despite the problem," said Kotut, the younger brother of marathon great Martin Lel.
There was a surprise in the men's national championship race: Marcus Schönfisch won with a time of 2:20:12.
Women's Race: Daska holds on, Kebede drops out
As expected the Ethiopian pair of Mamitu Daska and Sutume Asefa Kebede established an early lead. The rate of their progress suggested a possible attack on the course record of 2:21:01, set in 2012 by fellow-Ethiopian Meselech Melkamu. Soon after they passed half way in a promising 70:40 minutes Daska went into the lead outright. However, she began suffering of stomach problems around the 25 k mark and had to vomit while running. She kept going and had lost only a few seconds by 30 k mark (1:57:50). At that time the picture behind her began to change. Fate Tola came forward from fifth and took second place by 37 k while Kebede dropped out.
Mamitu Daska was clearly struggling from 35 k, because of her earlier stomach problems. "It was my aim to win the race. But it was getting really tough because of the problems," said Mamitu Daska, who had an advantage of 2:40 minutes at 35 k. Running a couple of kilometre splits of around 4:00 minutes she then lost considerable ground to Tola. At 40 k her advantage was cut to 1:24. However Daska held on to win with 2:25:27 – 15 seconds ahead of the German. Had the marathon distance been 300 metres longer the winner would surely have been Fate Tola. "I could have run 15 seconds faster, but I did not see Mamitu Daska early enough," said Tola, who was not disappointed having missed victory so closely: "It was a great race for me, I am really happy."
Results, Men:
1. Mark Korir KEN 2:06:48
2. Martyn Kosgey KEN 2:07:22
3. Cybrian Kotut KEN 2:07:28
4. Mark Curtis USA 2:11:20
5. Tadesse Tola ETH 2:11:52
6. Birhanu Achamie ETH 2:12:19
7. Weldu Gebretsadik NOR 2:12:20
8. Koen Naert BEL 2:12:27
9. Moses Masai KEN 2:13:23
10. Rene Cuneaz ITA 2:15:32
Women
1. Mamitu Daska ETH 2:25:27
2. Fate Tola GER 2:25:42
3. Sarah Jebet KEN 2:27:07
4. Lindsay Flanagan USA 2:29:28
5. Charlotte Purdue GBR 2:30:04
6. Martina Strähl SUI 2:30:58
7. Helen Tola ETH 2:31:27
8. Mona Stockhecke GER 2:31:30
9. Tracy Barlow GBR 2:32:05
10. Milda Vilcinskaite LIT 2:34:48