Brisbane, Australia; March 25, 2023 –  It was a night for breaking new ground at the 2023 Chemist Warehouse Brisbane Track Classic, as Kurtis Marschall edged closer to the six-metre club and Jaydon Page demolished his own national record amongst a strong evening of international track and field action.
Back-to-back Commonwealth champion Marschall has carried his momentum from the European indoor season into his first Track Classic of the year, leaping to a new outdoor personal best and meet record of 5.85m in the Men's Pole Vault.
Stamping his authority as Australia's premier pole vaulter, Marschall won the competition when clearing his opening height of 5.45m on his first attempt but used the opportunity to show off his impressive form, having cleared new heights of 5.91 in France last month.
The Western Australian sailed over the bar with ease at 5.70m, and then raised the bar by 15cm, pushing his own boundaries having previously jumped a best of 5.82 outdoors.
"After such a successful campaign overseas, to try and get some motivation to jump in Australia was pretty tough. After watching all the other Track Classic and seeing how sick they were, I just wanted to come out here and do the performance of the meet – 5.85m should put me close!" Marschall said.
"I'm very much looking forward to next week [Nationals] after that! I had a couple of good cracks at 5.95m, so hopefully we can do the same thing next week."
New Zealand's Olympic bronze medallist Eliza McCartney took out the women's pole vault with a 4.71m season's best, edging out her compatriot Olivia McTaggart who cleared just one height of 4.45m.
Paralympic sprinter Jaydon Page lowered the Australian 100m T47 record for the second time in consecutive meets, stopping the clock in the Men's 100m Ambulant race in 10.87 (+1.2).
Having shattered the 11-second barrier for the first time at the Maurie Plant Meet – Melbourne last month, Page said the performance was proof of what he can achieve when racing quality athletes.
"I was just hoping to run consistent, maybe 10.9 or 11.0 but not that! Training has been good, I have had a few ups and downs with stress behind the scenes, but this will help. I have been trying really hard, Seb [Kuzminski, coach] has been pushing me and Evan [O'Hanlon] always helps me. It's all about learning," Page said.
Page's result saw him notch up another B qualifier for the World Para Athletics Championships and cross the line ahead of his athletics idol, five-time Paralympic medallist Evan O'Hanlon (T38). O'Hanlon too punched a B qualifying time for the Paris 2023 Championships with a performance of 11.31. Paralympic gold medallist James Turner (T36) won the multi-class race on percentage score in 11.84-seconds, missing out on his world record by an agonising 0.12-seconds.
In the Women's 100m Ambulant, it was New Zealand's Paralympic champion Anna Grimaldi (T47) who closed the race in 12.61, ahead of West Australian duo Ella Pardy (T38, 13.12) and Rhiannon Clarke (T38, 13.14). 18-year-old Mali Lovell (T36) registered a B qualifier with a performance of 14.75.
Australian record holder Catriona Bisset made her first appearance of the 2023 Chemist Warehouse Summer Series with a strong win over 800m, racing in aggressive fashion to hold off Ellie Sanford and win in 1:59.74.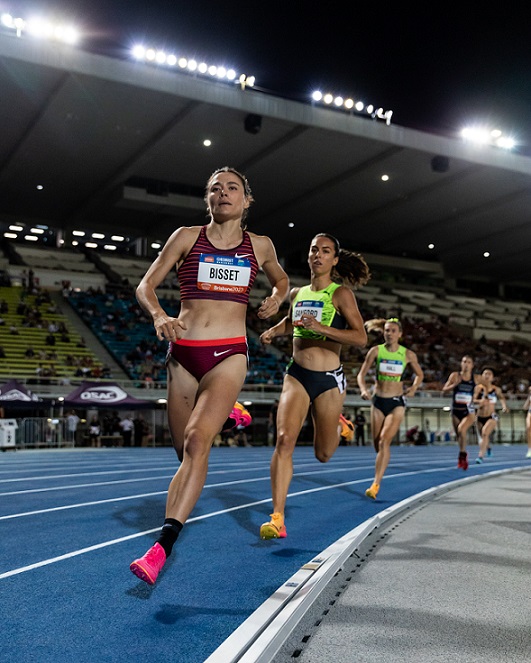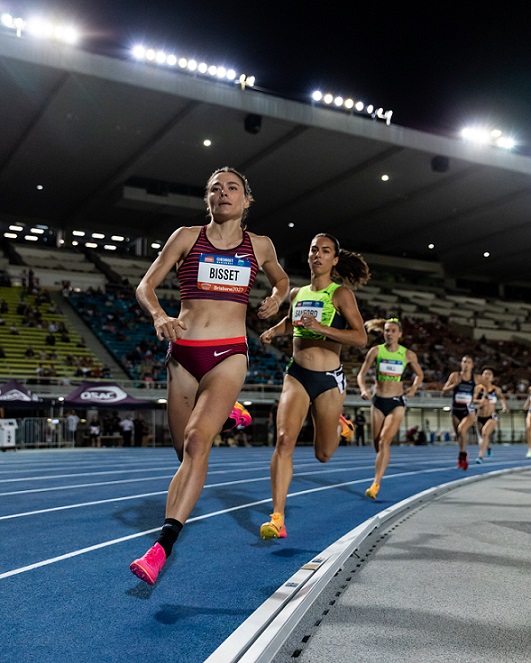 "It's just great to be part of such a strong cohort in the women's middle-distance. To realise you are part of the Australian team and you are not just one individual out the front, I have built off the people before me and now it's just a group effort. I feel like there is a lot more there for me," Bisset said.
Bisset defeated Ellie Sanford who rallied late to set a new personal best of 2:00.55, while Linden Hall's two-lap experiment saw her clock 2:01.48 for third.
Michelle Jenneke kept her winning streak alive as she won her third consecutive race of the Chemist Warehouse Summer Series, when defeating Celeste Mucci (12.92) and Hannah Jones (12.98). Placing in the same order as at the Sydney Track Classic two weeks ago, the trio also all clocked times under 13 seconds.
Jacob McCorry also repeated his Sydney Track Classic efforts, with a win and a result of 13.69 (0.3) ahead of Japan's Shuhei Ishikawa (13.37) and World Indoor Championships representative Nicholas Andrews (13.85).
New Zealand's king of sprints Eddie Osei-Nketia left a parting gift to the sport when cruising to victory in the Men's 100m in 10.13 (-0.1). The New Zealand record holder, who will soon relocate to Hawaii to begin a career in gridiron, caused an upset when beating Australia's Rohan Browning who ends his winning streak in Australia in a time of 10.29-seconds.
Continuing New Zealand's domination on the track was Zoe Hobbs who won the Women's 100m in 11.20 (-0.1), ahead of Queensland's Bree Masters (11.42) and Singapore's Veronica Shanti Pereira. 
Small margins have separated Australian long jump duo Brooke Buschkuehl and Samantha Dale in 2023, with that theme continuing in Brisbane as Dale prevailed by a winning margin of two-centimetres – leaping 6.61m (+0.2) to Buschkuehl's 6.59m (-0.2). Two-time Paralympian Sarah Walsh also leapt to success with a jump of 5.18m that sees her clock up another qualifying performance for the World Para Athletics Championships.
Highlighting the quality of Australian long jump, Darcy Roper edged out fellow Queenslander Liam Adcock also by two-centimetres when leaping to 8.05m (0.0) on his first attempt.
The steeplechase action witnessed two meet records tumble early in the night as South Australian Matthew Clarke stopped the clock in the Men's 3000m Steeplechase in 8:26.91. A season's best for the Tokyo Olympian, the win was not without the aid of Melbourne's Ben Buckingham who took charge after the pacemaker completed his duties, with the intention of lowering Shaun Creighton's national record from 1993.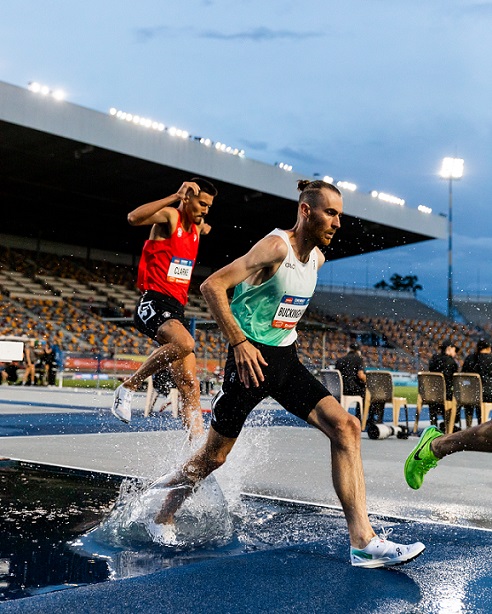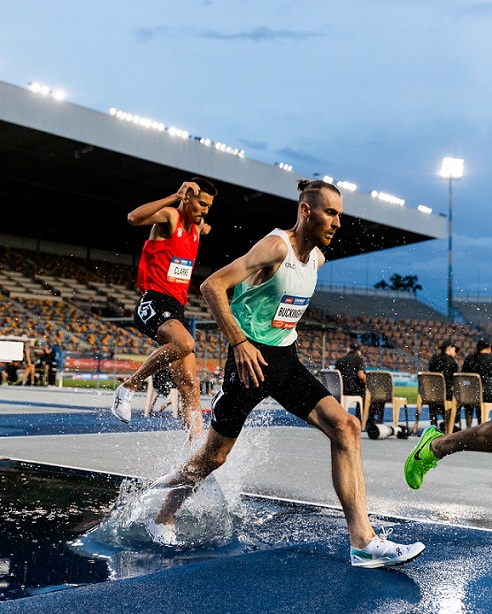 Cara Feain-Ryan followed suit with a meet record of her own in 9:38.44, crossing the line with a fist pump as she saluted in her home state. In a see-sawing affair, Feain-Ryan accelerated to a commanding lead in the closing stages, with her tidy hurdling technique proving crucial in the home stretch as Stella Radford and Brielle Erbacher claimed the minor placings.
Commonwealth Games champion Matthew Denny continued his dominance of the men's discus, with a best throw of 62.40 on his home track in Queensland. While his first throw won him the event with ease, the competition was hot as the next crop of talent including World Under 20 Championships teammates Darcy Miller and Etienne Rousseau produced lifetime bests of 54.27 and 53.99 respectively.
The sole para athlete to compete in the men's discus, dual World Para Athletics Championships medallist Guy Henly threw 51.71 – his best throw of the season by almost a metre – resulting in another B qualifier ahead of the World Para Athletics Championships in Paris this July.
In the Women's Discus, Great Britain's Jade Lally took her third win of the Australian season, with a 60.48m throw on her first attempt. Queensland's Taryn Gollshewsky proved consistent with 58.30, while Cameroonian Nora Monie recorded a 56.51 performance. Tokyo Paralympian Samantha Schmidt achieved her third B qualifier for the World Para Athletics Championships with a 33.23 performance.
Athletes will now have just five days to reset, with the 100th edition of the Australian Track and Field Championships beginning on Thursday, 30th March at Queensland Sports and Athletics Centre.
Full results from the Chemist Warehouse Brisbane Track Classic can be found here.