Melbourne World Challenge (5 March) – Great Depth in Women's 1500m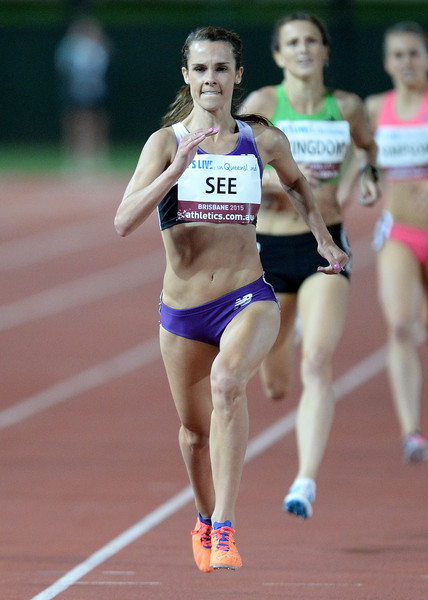 The women's 1500m (Saturday at 7.11pm) looks set to be one of the top events of the night at this years Melbourne World Challenge. It includes 2 athletes who have already qualified for the Rio Olympics, Zoe Buckman and Melissa Duncan, plus 2015 World Championships representative in Heidi See (who is placed 12th on the Australian all-time ranking list with a 4.08.15).
Then we have Hunter Track Classic winner in Jenny Blundell (4.09.67 and new PB) plus Linden Hall (PB of 4.10.41), Katelyn Simpson (PB of 4.12.09) and Bridey Delaney (PB of 4.10.32). It is literally a National final, and there is every possibility, if it's run at a fast pace, that the record of 4.06.23 set back in 2000 by Toni Hodgkinson (NZL) could come under real threat.
We take a look at the main contenders below:
Zoe Buckman (VIC) – is coming back to the track after a lengthy lay off that included missing the 2015 World Championships (watch her video interview with RT here). Recently ran at the Victorian Championships where she won in a time of 4.17.53, but it should be noted that she only resumed full training sessions at the start of January. With this in mind she won't have the race fitness that many of the other athletes in the field will have, but that won't stop the 2013 World Championship finalist being right in the mix.
Prediction: hard to know really, but we think anything around the 4.10.00 mark would be a good stepping stone for all future races.
Melissa Duncan (VIC) – what more can you say, this girl is on fire in 2016. A sensational 4.06.93 indoors (Feb 14) to break the Australian indoor record suggests that anything is possible in Melbourne. She has twice broken 4.06.00 (at the Commonwealth Games in Glasgow in 2014, and again in Oslo, Norway in 2015) and the confidence from such a big run in the United States could lead to that meeting record being broken on Saturday night.
Prediction: if it's a fast paced race then Duncan should win based off her run at the New Balance Indoor Games 3 weeks ago. If it's a tactical race then many different scenarios could play themselves out. Sub 4.06.00 – every possibility.
[dvteamcarousel max='99' categoryid='1020′ columns='3′ gridstyle='square' autoplay='false' duration='4′ spacing='35' side='center']
Heidi See (NSW) – an interesting athlete who had a breakthrough year in 2015, which included going sub 4.10.00 on three occasions and ending the year with a new PB of 4.08.15. Took an unexpected victory at the 2015 National Championships (defeating Buckman, 4.09.60 to 4.10.32) and this was the catalyst for her new PB and selection to the World Championships in Beijing. Would have learnt a lot from that experience and has already started off 2016 with some excellent performances – including a 4.33.30 mile indoors (29 Jan) and a 8.57.66 3000m indoors (Feb 14).
Prediction: she should be in good form based on her two runs this year indoors. Hard to know what to expect coming from the US, but has been in Australia for a few weeks so should be ready to run a good race in Melbourne. A sub 4.10.00 would be a great first up run outdoors for the 26 year-old, as he pushes for selection for the Rio Olympics.
Jenny Blundell overtakes Meliss a Duncan for the win at this years Hunter Track Classic (photo courtesy of Getty Images)

Jenny Blundell (NSW) – the 21 year-old World Youth semi finalist over the 800m back in 2011 made a statement at this years Hunter Track Classic. Storming home over the concluding stages of the 1500m in Newcastle, she smashed her previous PB of 4.12.00 by over 2 seconds. In the process she also took the scalps of Duncan and Genevieve La Caze (4.10.20 PB). The 4.09.67 PB was the run that she needed after a frustrating 2015 that saw her place 8th in the final at the National Championships in a modest 4.18.44. Her new found confidence was again on show at this years Adelaide Track Classic where she again smashed her PB, this time in the 800m with a 2.03.71.
Prediction: it's always a test to back up after such a great run (and breakthrough performance), but Blundell is riding a wave that could again place her right in the firing line in Melbourne. If she can control her race and not get overly excited, then another PB is definitely on the cards and with it a certain top-3 finish.
Linden Hall (VIC) – was certainly touted as an athlete to keep an eye on in 2016, and there is still belief that she can join Blundell in the sub 4.10.00 club. Started the year off in great fashion with a quality 4.12.64 at the Victorian Milers Club meeting on January 19. Since then she has placed 5th at the Hunter Track Classic and 2nd at the Adelaide Track Classic, but hasn't bettered the early season time of 4.12.64. Had a big breakthrough in Europe in July last year when she recorded her PB of 4.10.41 in Heusden, Belgium, and would be looking to better that in Melbourne on Saturday night.
Prediction: this a real test after a slightly disappointing 5th placing in Newcastle. Is an athlete on the rise, although these types of races will indicate whether or not the Olympic qualifier (4.07.00) is realistic or not for the 24 year-old.
The other athlete who could be in the mix is 22 year-old Katelyn Simpson. She recently won the NSW State title in 4.17.36, but is just coming back to racing and could need a few more races before she reaches the levels we come to expect from this talented middle distance runner.
So there you have it, a fantastic race that could be a great indicator for future Olympic qualifying performances. the expectations will be high for something special from Duncan, but don't discount any number of her rivals on the night. It should be a cracking race!