By Chris Lotsbom, @ChrisLotsbom
(c) 2016 Race Results Weekly, all rights reserved
FALMOUTH, MA, USA (20-Aug) — Kyle Merber capped off a memorable week with a photo-finish win over teammate Colby Alexander here at the Aetna Falmouth Mile, held on the eve of the New Balance Falmouth Road Race. Merber came from behind in the final lap to secure his second win in three years, defeating Alexander 3:58.14 to 3:58.15. For the women, Katie Mackey became the event's first three-time women's winner in 4:29.73.
It's hard to have a better week than Merber, who proposed marriage to longtime girlfriend Patricia Barry (she, of course, said yes) and is in the process of closing on a house. This evening's win was the cherry on top, and came in the blink of an eye.
With a fierce wind blowing across the track, Ford Palmer took over the leading duties 600 meters in once pacer Michael Reher stepped off. Behind Palmer, Garrett Heath and Alexander ran tall with a gap of seven meters back to Merber and the rest of the field.
"We knew the wind would be a factor, and for us prima donnas the wind is a huge factor unfortunately," said Palmer, a former football player, revealing his sense of humor. "But I'm shooting for fast times so that's why I got out kind of hard and jumped on the rabbit… I tried to push the race and try to make it a 3:55 race but the wind really gets to your head."
On the third lap, Palmer, Heath, and Alexander maintained their distance on the field. Merber, however, was not going to let them get any farther ahead. Making up ground little by little, he found himself next to Alexander at the bell, with Palmer then Heath two steps ahead.
"I was in a hole that first 800m. I worked really hard that third lap to catch up, and luckily I latched on and had a little bit left," said Merber.
With 250m to go, Alexander was the first to make a bid for the win. He slipped past Heath then by Palmer, all the while Merber was in his slipstream. Around the bend, Alexander and Merber were side-by-side, wearing the same Hoka One One kit. The duo battled man for man just like in practice back in New Jersey, where they train under Frank Gagliano and the New Jersey/New York Track Club.
At the line, both lunged for the tape. Photographers and journalists snapping finish photos compared shots, trying to get an idea who was the winner. It would be Merber by one one-hundredth of a second, 3:58.14 to 3:58.15.
"I was able to sit for a little, catch my breath and then roll," said Merber, just before his pre-race meal of fish came up on him. Later he'd tell RRW "I thought I had a step [on Alexander] at the line. I leaned and could sense I got it. It didn't seem .1 close."
With organizers increasing prize money shortly before the race, Merber earned $3,500 for finishing first plus $1,000 for breaking four-minutes.
"We [Patricia and I] can get that nice couch we wanted now," he joked. "All good things. This is another good one to have." Merber has won three invitational miles this month, taking home victories at the Sir Walter Miler in North Carolina on August 5 and the ServiceNow West Chester Mile on August 11. He plans to jog tomorrow's Falmouth Road Race.
Alexander and Palmer (third in 4:00.54) completed a one-two-three sweep for Hoka One One and the NJ/NY Track Club, while training partner Johnny Gregorek was fourth (4:00.60; Gregorek competes for ASICS). As Palmer told Race Results Weekly, the 1-2-3-4 run for the NJ/NY TC only further proves that the team has quickly become the most consistent group in the nation.
"I've been saying that our training group is one of the best in the country by far. We're arguably the best mile training group in the country. We're really good friends, we hang out with each other every day, we run with eacho ther every day and make sure we train pretty hard," said Palmer. "Our track club is just growing and getting better and better each year. This year it's 3:54 to 3:58 in the mile. Next year we want to hit 3:52's, 3:54 more consistently. We're really getting better and better."
Heath wound up fifth in 4:00.60. Newly minted professional Drew Hunter was off his game today, jogging through the line eighth in 4:06.71, ahead of Olympic silver medalist Leo Manzano (a distant ninth in 4:07.60).
The women's contest was an all-out 400 meter sprint rather than a wind-it-up mile. With the wind playing a large factor, Katie Mackey adjusted her pre-race strategy based on the conditions. She'd run tucked in behind pacer Dana Giordano, Team USA Minnesota's Heather Kampf, adidas's Morgan Uceny, and New Balance's Stephanie Garcia through the early circuits.
Giordano stepped off after laps of 67 and 71, then the trio of Garcia, Saucony's Shannon Osika, and New Balance's Cory McGee had moved into position at the bell.
Uceny shook the field up with 250 left, surging in her bid for victory. The 2012 Olympian's move was strong, though Mackey's would be stronger. Into the stretch Mackey was not to be denied, surging hard and taking over the inside position. The win would be hers going away in 4:29.73 after a final lap of 62 seconds. Uceny was second in 4:30.97, Kampf third in 4:31.29. Cory McGee, who had originally been DQ'd for unknown reasons, was reinstated and placed fourth in 4:32.76.
"It's really, really special to win for the third time. The last couple weeks have been an emotional rollercoaster," Mackey said.
Mackey gave credit to Uceny, whose move helped string the field out slightly.
"Going into the last 400 everyone was really chomping at the bit. Morgan Uceny on the backstretch made a really good move," she began. "I was focusing on form, driving the arms, really focusing on not tieing up. The game was there today and I'm really happy for that."
Mackey noted that her third win here is extra special since it comes during an Olympic year. Mackey was sixth at the U.S. Olympic Trials 5000m, missing out on completing her Rio dream by one spot (fifth placer Abber D'Agostino went to Rio because both Molly Huddle and Emily Infeld passed on their spots, opting for the 10,000m).
"It's been a little bit of a dark time for I'm sure every athlete that's not in Rio. On one hand you're ecstatic because all these people you know and love are out there in Rio and doing really well and bringing home medals, and we're so proud to be Americans and of the level of American distance running. But the other side of it is being disappointed that you're not there and trying to really manage that," she said, speaking from the heart. "One day is great, then the next day you'll wake up and be like 'Ah man I'm feeling really down today.' You need to find that motivation… I think it really just comes down to perspective."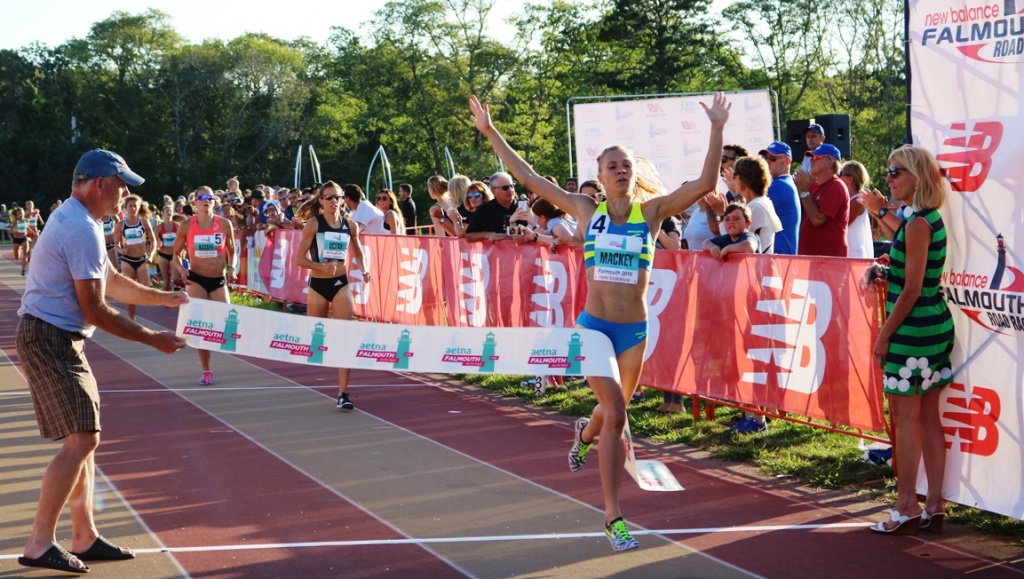 On Sunday morning, the 44th New Balance Falmouth Road Race will be run from Woods Hole to Falmouth Heights. Defending champions Stephen Sambu and Diane Nukuri both return. RRW will have exclusive coverage from the event.