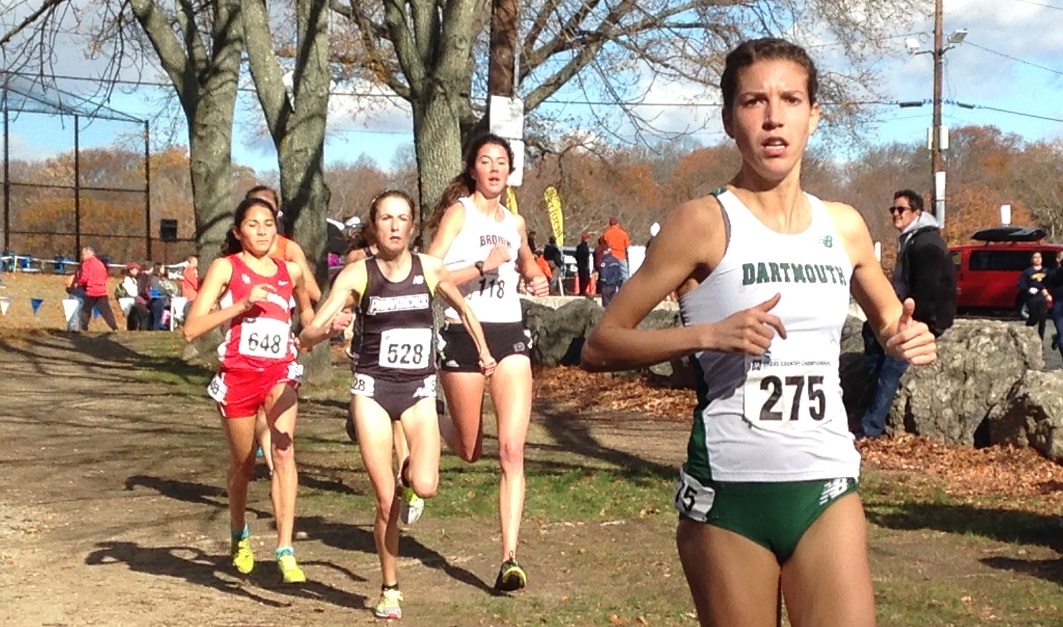 By Chris Lotsbom, @ChrisLotsbom
(c) 2015 Race Results Weekly, all rights reserved
BOSTON (17-Nov) — For twelve months, Dartmouth senior Dana Giordano has looked at the same darn sticky note on her computer, one that serves as a reminder of both heartbreak and motivation. The 21-year-old is ready to make the most of her final collegiate cross country race at Saturday's NCAA Cross Country National Championships, avenging a bitter disappointment from last year's meet.
On the starting line in Terre Haute, Ind., last November on a bitterly cold day, Giordano was confident that an All-American finish was in the cards. She was set to lead her Big Green teammates as a junior, taking over as Dartmouth's top runner after reigning national champion Abbey D'Agostino had graduated.
Yet a thousand meters into the race, her hopes were dashed. On the muddy course, Giordano lost her footing and fell hard to the ground. Her knee gushed blood from a deep spike wound, and her jersey was no longer a glistening white color.
"I got tripped up and got spiked pretty bad," Giordano told Race Results Weekly, speaking after she claimed the win at last Friday's NCAA Northeast Regional meet here, booking her ticket to this year's NCAA Championships. "When I tried to get back up Margo Malone [of Syracuse] fell on me, and when we tried to get up again then Kira Garry [of Yale] fell on us. I was in, like, 85th at the mile."
Giordano laughs at the moment now, only because she's relived the hectic scenario for nearly 365 days. In the hours after finishing a respectable 45th despite the fall, the New Jersey native went to her computer and jotted down how she felt.
"I wrote down a note right after that that I never wanted to feel that way ever again," Giordano said, describing the sticky note that still is up on her computer. Every time she sits in front of the screen, whether to do homework or surf the internet, she sees the note. It serves as a reminder that another opportunity at nationals is what she desires most. "This is what I care about and sometimes it's really easy to forget that you care so much."
On Friday, Giordano looked like an experienced veteran, sprinting to victory here. She led nearly wire to wire, putting pressure on Providence's Sarah Collins and Stony Brook's Christina Melian. Entering the homestretch Giordano hit a gear the pair could not match.
"I felt good so I thought why not string it out. I don't want to have a question of who is going to be in the top five. I wanted to make people work for it," she said. "I'm really, really happy. It's been a crazy season all around, some ups and downs, struggling with a couple things, but I'm happy to be here."
Competing for Dartmouth, much focus is put on Heps, the Ivy League conference championship meet that brings together eight of the most prestigious academic (and athletic) institutions in the country. Giordano placed second, eight seconds adrift of Princeton's Elizabeth Bird. Though she would have liked to end her Dartmouth career with a Heps title, she understands that the ultimate goal lies ahead at Louisville's E.P. 'Tom' Sawyer State Park, where she'll toe the line on Saturday. Reflecting on the past two seasons, Giordano puts everything into perspective.
"It's been like a very long game, and the long game is very disappointing in the middle. But I'm not trying to peak at Wisconsin [where she finished 19th] or Heps," she said. "I think since last season I've been motivated by my unfortunate fall at nationals."
Giordano feels an All-American (top-40) finish at NCAA's should be attainable, and says she'd be really proud to finish in the top twenty. But she also knows that anything is possible, and is not counting out an even higher placing. Unlike the men's side –where two-time defending champion Edward Cheserek returns– there is no clear-cut favorite for the women's individual title.
"Anything can happen at NCAA's. You saw it last year with Sarah Disanza," she said, referencing the then-underdog sophomore from the University of Wisconsin who placed second. "I'm not saying I'm going to do that, but just kind of putting myself in the game because it's whatever happens on the day of and whoever feels the best. I finally believe that I'm up there and I'm one of those people to beat."
This week Giordano will rest, recover, and get as much sleep as possible. She'll look at the year-old sticky note every day between now and the NCAA Championships. On Sunday afternoon, following her final cross country race for the Big Green, she hopes to replace the note with more favorable memories.
"Nationals is fun," Giordano said, adding that she genuinely enjoys the meet. Showing her playful side, she looked into a video camera and laughed. "I know not to fall now."
PHOTO: Dana Giordano of Dartmouth (r) leads Sarah Collins of Providence (528), Natalie Schudrowitz of Brown (118), and Christina Melian of Stony Brook (648) at the 2015 NCAA Northeast Regional Cross Country Championships at Franklin Park in Boston on November 13 (photo by Chris Lotsbom for Race Results Weekly)