Nike has announced a new shoe called the Nike React Infinity, set to be released January 2020. The shoe is designed to prevent running injuries by adding extra cushioning to the midsole. It will mark the arrival of Nike's first real 'maximalist' shoe to their line-up.
The Nike React Infinity (let's just call it the Infinity) is similar to the Nike Epic React (models 1 and 2), but with significant extra cushioning under foot.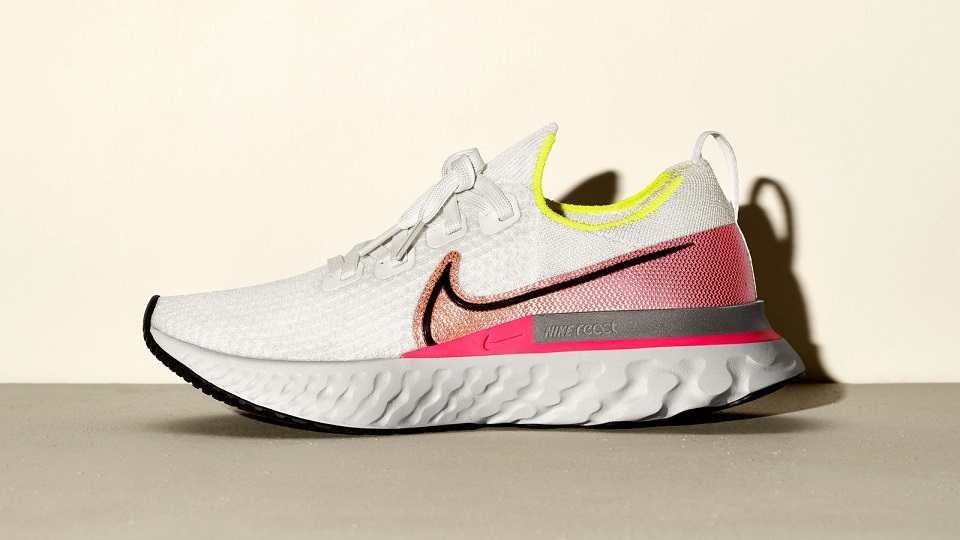 This level of cushioning will rival even the most cushioned of shoes on the market.
The Infinity will have a 9mm drop with stack heights of 33mm (heel) and 24mm (forefoot). The Epic React has stack heights of 28mm (heel) and 18mm (forefoot).
Below, many of the most popular running shoes are compared in regard to their stack heights, drops and weights.
| | | | |
| --- | --- | --- | --- |
| Shoe (all size US 9 Men | Weight (grams) | Drop(MM) | Stack Heights (heel/forefoot cushioning) |
| Nike React Infinity | Approx 285grams | 9mm | 33mm/24mm |
| Hoka Bondi 6 | 310grams | 5mm | 33mmm/29mm |
| Hoka Clifton 6 | 255grams | 5mm | 29mm/24mm |
| Nike Epic React | 224grams | 10mm | 28mm/18mm |
| Nike Vomero | 281grams | 10mm | 27mm/17mm |
| Nike Pegasus | 266grams | 10mm | 28mm/18mm |
| Adidas Solar Boost | 301grams | 10mm | 28mm/18mm |
| Asics Nimbus | 315grams | 10mm | 31mm/21mm |
| New Balance 1080 | 283 grams | 8mm | 30mm/22mm |
| Mizuno Wave Rider | 289 grams | 12mm | 32mm/20mm |
| Brooks Glycerin | 309 grams | 10mm | 32mm/22mm |
| Brooks Ghost | 286grams | 12mm | 29mm/17mm |
The shoe provides a soft yet bouncy ride, thanks to the use of React foam, a styrene based rubber, that is also used in shoes such as the Pegasus Turbo (in conjunction with Pebax).
The Infinity also has a wider midsole, quite different to the narrow midsole of the Epic React or the Vaporfly 4%. It provides extra support and reduces any side-to-side wobbling.
A rocker-like bottom midsole and outsole, has also been carved out, assisting runners' to roll through their stride with reduced effort. The rocker-geometry supposedly promotes a slight lean forward to create natural forward propulsion.
So, does all this result in reduced risk of injury?  An external study by the British Columbia Sports Medicine Research Foundation (BCSMRF) on 226 runners using the Nike React Infinity Run as well as the Nike Structure 22, indicated that runners using the former had a 52% lower injury rate. It's an area in which more research is required. However, it seems clear the trend in maximalist running shoes is here to stay, we already know that many runners love highly cushioned shoes. Soon there will be a Nike option.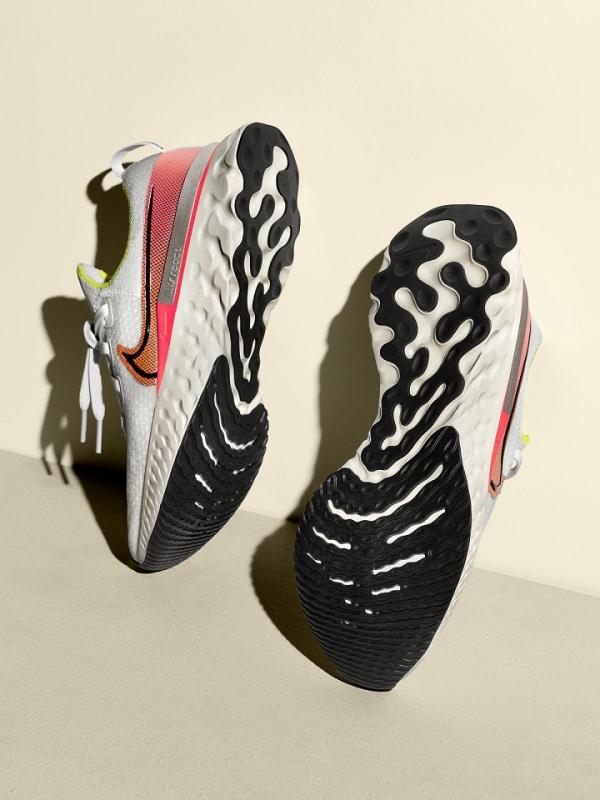 The move into the maximalist world is a significant step by Nike. Historically, Nike's most cushioned shoe has been the Vomero. However, the most recent Vomero, the 14, has a reduced stack height compared to the 13. The 13 came in with stack heights of 31mm (heel) and 21mm (forefoot). Whilst the 14 came in at 27mm (heel) and 17mm (forefoot).
Nike's most popular everyday trainer, the Pegasus, is perhaps the shoe that has set the standard for what a 'conventional' running shoe should be.  At 28mm (heel) and 18mm (forefoot), this hasn't varied much in many years, and is well-loved by generations of serious runners.
The Nike Epic React was not a shoe that the elite running world embraced in masses. Considered a cool lifestyle shoe, and very popular with casual joggers, it just wasn't a shoe that elite runners took seriously. Dragging serious runners' away from their beloved 'Pegs', is no easy task.  Will the Infinity do it? Stay tuned to Runner's Tribe as we review the shoes when they drop in January 2020.
Written by Sam Burke for Runner's Tribe
Disclaimer: Runner's Tribe were not paid to publish this article.