By Chris Lotsbom, @ChrisLotsbom
(c) 2017 Race Results Weekly, all rights reserved
BOSTON (27-Jan) — The men's 3000m at Saturday evening's New Balance Indoor Grand Prix is overwhelmingly intriguing. Some would say it's a dog fight, with a trifecta of Olympic medalists from different distances clashing. Clayton Murphy (800m bronze), Matthew Centrowitz (1500m gold), and Paul Chelimo (5000m silver) are ready to square off at the Reggie Lewis Center, aiming for bragging rights and a fast start to 2017. The stakes are high.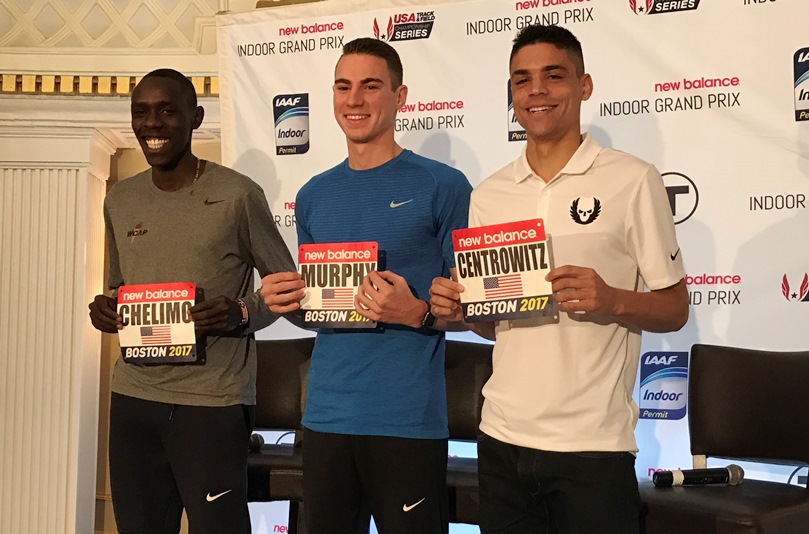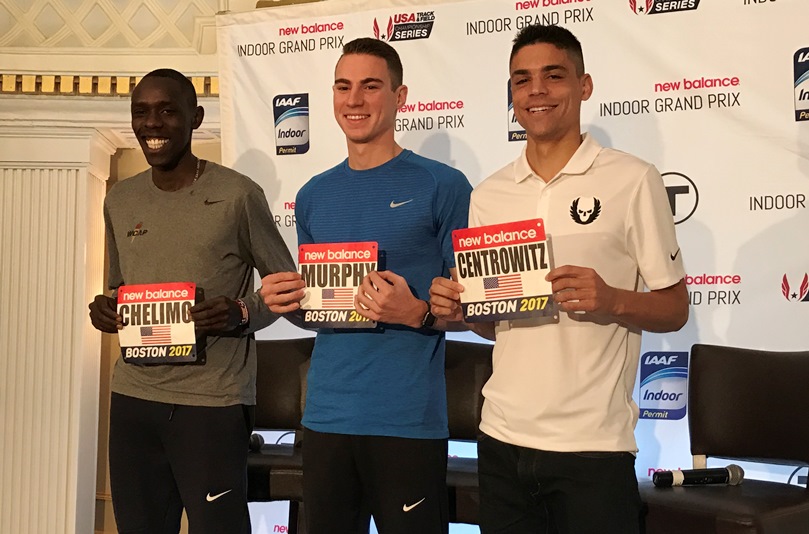 "I'm looking for good times," Chelimo began, speaking straight-faced while looking at both his rivals seated next to him. "They always say, 'When the lion goes to its own habitat, you can't go in there and mess with the lion.' I'm just telling Clayton, tomorrow, you're coming into my own zone, you're coming into my own home. Come here expecting it's going to be a big fight. I'm just going to make it hard for him. When I go to the 800m I'm going to respect him."
While the playful warning drew laughs from the crowd, a clear message had been sent. Murphy took it in stride without hesitation, and believes he deserves to be on the starting line of what could be the fastest 3000m indoors this year.
Though he won Olympic bronze over the 800m, Murphy has a history of racing the 3000m. It's how he kicked off the 2016 indoor season at the University of Akron, and he's run countless cross country races in excess of the distance.
"It's kind of the plan we've always had, we wanted to step up for the first one, my coach and I," Murphy said. "[I] didn't really want to race a mile early so the 3000m is right where we felt and training has been going good. I've always run cross country with Akron the last three years, so it wasn't a huge big difference to train for a 3000m for me. Just keep the strength work up and hopefully that extends the season longer like it has in the past."
Announcing his 3000m personal best as a pedestrian 8:20, Murphy drew laughs from Chelimo (7:37.98 PB outdoors) and Centrowitz (7:40.74 indoors). In actuality, Murphy shortchanged himself since his indoor PB is 8:18.44. Nonetheless, the Akron alum said his goal is to latch onto the group and be competitive, seeing what happens when he sticks his nose in the fight.
While the 3000m is a more common distance for Chelimo and Centrowitz, they both were adamant about what this race means to their seasons. Neither wants to rest on their Olympic laurels, and are hungry for more in 2017.
"It wasn't hard to find motivation [to resume training]," Centrowitz said. "I found it to be hard to get all of the training in when you have all these other obligations to do like appearances and so forth. Obviously a lot more distractions… For me, it was hard to say no to a lot of those things. But certainly resuming training, that's what I love to do at the end of the day."
In 2017, Centrowitz said he wants to lower his 3:30.40 1500m PB while also test the waters at longer distances. In addition to tomorrow's 3000m, he'll race the 2-mile at the NYRR Millrose Games on February 11 and may run a 5000m outdoors. He won the famed NYRR Wanamaker Mile last year, beating two-time Olympic medalist Nick Willis of New Zealand, but preferred to run the longer distance this year.
"I don't think my mentality changes at all from last year. For me, I've got to just play to my strengths,  and my strength is my strength I think," he said. "I think having these longer races such as a 3000m and possibly a 5000m kind of makes that 1500m, that mile, feel a bit shorter and easier for me, versus me going down in distance."
Chelimo's 2017 New Year's Resolution was simple: "stay thirsty" and go undefeated.
"My main goal is to keep staying humble, keep staying thirsty, and don't lose any race this year," he said. "Don't lose any race. Sometimes I lose [shakes his head], I've got to win all the races."
There will be only one winner in the 3000m here. In addition to Chelimo, Centrowitz and Murphy, 2012 Olympic 5000m silver medalist Dejen Gebremeskel, Nike Oregon Project's Eric Jenkins, and Brooks Beasts' Garrett Heath are entered in the field of twelve men.
* * * * * * * * * *
With a highly publicized attempt to attack the women's distance medley relay world best, global championships medalists Jenny Simpson, Emma Coburn, and Brenda Martinez all spoke in depth about teaming up with high school Olympian Sydney McLaughlin to try and better the current mark of 10:42.57 from two years ago.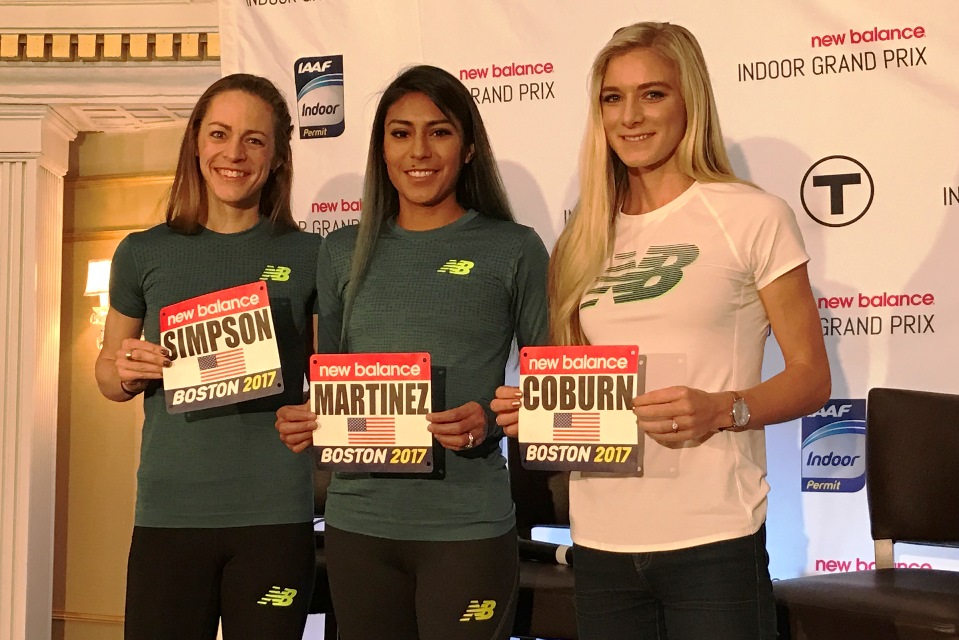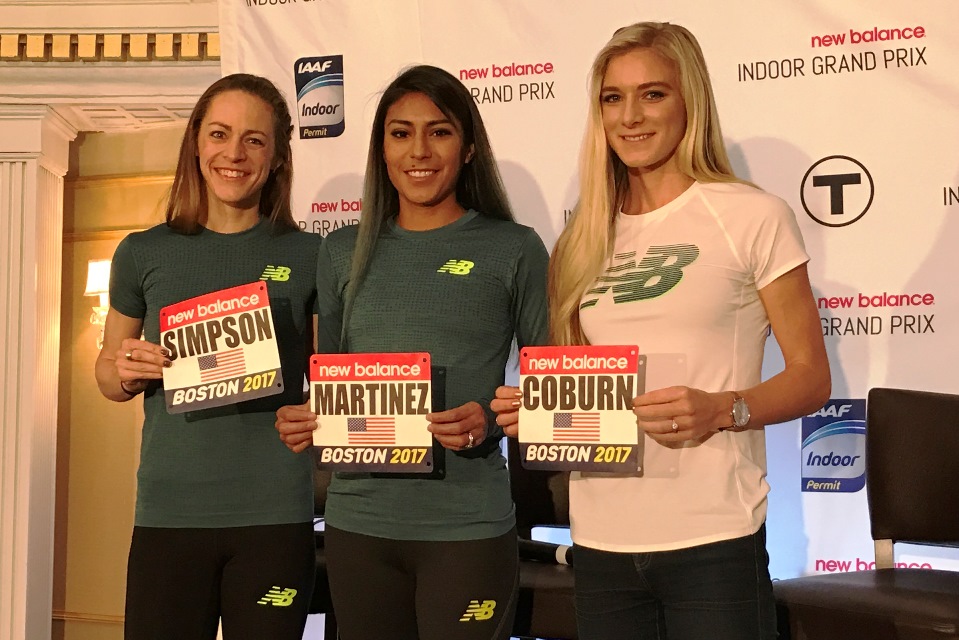 "When we're in such an individual sport, to be able to really collaborate and work really hard and do something in a team effort with women that I really respect and women that I really love running at similar competitions with, to carry the baton with them quite literally around the track is going to be a really, really fun thing," Simpson said. "I think that will be a really wonderful way to kick off 2017 for me, personally."
Simpson noted that the record isn't a slam dunk. This will be the only indoor race of the year for her and Coburn, while Martinez is only racing twice indoors before focusing on the outdoor oval. The way that this meet fits in the schedule is more a fun test of fitness than pressure-packed competition.
"It's January — we can only get so fit by January when everyone on the team had long Olympic years," Simpson said. "We're going to do our best, we're all going to discover together what kind of real sharpness we've had by this point of the year. But I have confidence; the most important thing is that we'll get the stick around."
* * * * * * * * * *
When asked by Letsrun.com's Jonathan Gault about the upcoming Super Bowl match-up between the hometown New England Patriots and NFC Champion Atlanta Falcons, Murphy, Centrowitz, and Chelimo all gave great answers.
Centrowitz said he'd typically pull for the underdog Falcons but is going with the Patriots "for reasons that I won't disclose right now."
Murphy, on the other hand, is rooting for the Falcons mainly because their star quarterback Matt Ryan was on his fantasy football team this year, and helped lead him get to the playoffs of his 16-man league. Also, Murphy is rooting against the Patriots since his agent Paul Doyle is a Patriots supporter.
When it came to Chelimo, he said he wasn't a football fan but could tell a funny story. Once Chelimo saw an advertisement that a football referee was needed, so he showed up to apply. Not knowing that the flyer was meant for an American football referee, and not for soccer, he was eager for the interview.
The first thing the interviewer asked was, 'Do you know what a snap is?'
Chelimo instantly snapped his fingers, figuring he was on top of the question and acing the interview.
"They told me to turn around and, 'We don't want to see you back. Leave,'" he recalled with a laugh. "They thought I was playing, but I was serious!"