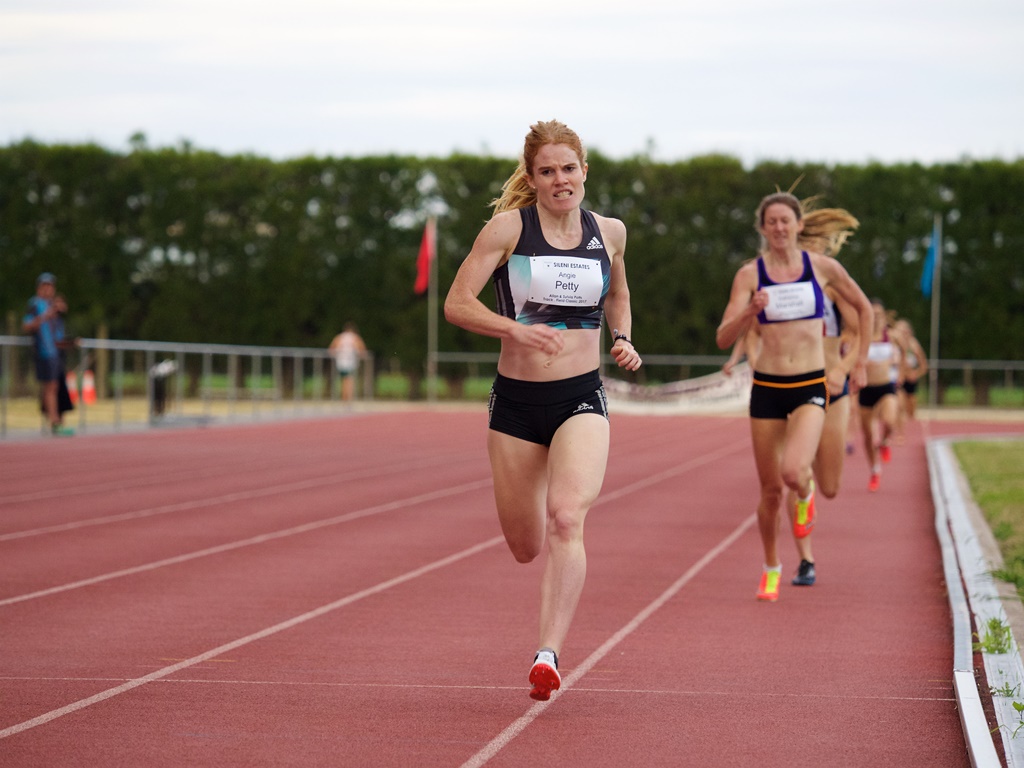 Angie Petty takes eighth Potts Classic 800m title
Angie Petty won the feature women's 800m race for an unprecedented eighth time after very strong finish at the Potts Classic on a balmy Saturday evening in Hastings.
Petty tucked in behind the early pace-maker and Katherine Marshall until the home straight where she used all her experience to force her way to the lead and move ahead of Marshall to win in 2:03.67.
Marshall recorded 2:05.56 and Katrina Anderson with a big personal best of 2:05.91. Petty's time was just 0.24s outside her meeting record from last year.
The men's 800m was won by Australian record holder Alex Rowe in a meeting record 1:48.06 from compatriot Andre Waring and Otago's Sam Bremner in a personal best 1:52.08.
Olivia McTaggart cleared a personal best 4.40m to break Eliza McCartney's meeting record of 4.20m in the women's pole vault. The seventeen year old North Shore athlete was also just 0.05m away from the NZ under 18 record held by McCartney who presented the prizes for the event.
Jacko Gill produced some excellent throws in the men's shot put and the Olympic finalist came away with a best of 20.30 to improve his own meeting record by 0.24.
The women's shot put went to Reta Blinova with 15.54, another new meeting record.
Zoe Hobbs (Auckland) ran a very good 11.78 to take the women's 100m final in a close finish with and Veronica Pereira (Singapoer) 11.78 and Georgia Hulls (Hastings) 11.80, while Zac Topping took a surprise win in the men's 100m final with a personal best of 10.72.
Invercargill's Marshall Hall with a throw of 55.95m took out the men's discus from Alex Parkinson in a new meeting record, while Te Rina Keenan won the women's discus with a best of 56.52.
Results
Men

100m: Zac Topping (P/Nth) 10.72 1, Matthew Wyatt (NHB) 10.83 2, Nick Smith (L/Hutt) 10.87 3.
400m: Deluca Lawson-Matthew (Aust) 48.93 1, Max Spencer (Wairarapa) 52.66 2, Sam Hill (Hastings) 54.47 3.
Allan Potts Memorial 800m: Alex Rowe (Aust) 1:48.06s 1, Andre Waring (Aust) 1:52.03s 2, Samuel Bremer (Dunedin) 1:52.08s 3.
5000m: Michael Marantelli (Aust) 14:39.19 1, Joshua Torley (Aust) 14:50.72 2, Theodore Purdy (P/Nth) 16:38.47 3.
Shot put: Jacko Gill (Tak) 20.30 1, Alexander Parkinson (NHB) 15.45 2. 6kg; James Joycey (Aust) 16.34 1. 5kg; Nick Palmer (Hast) 18.20 1.
Discus throw: Marshall Hall (Otago) 55.95 1, Parkinson 53.94 2. 1.75kg; Nathaniel Sulupo (L/Hutt) 50.26 1. 1.5kg; Connor Bell (NHB) 59.68 1.
Long jump: Hamish Gill (NHB) 7.43 1, Zachary Nunis (Aust) 7.01 2, Jordan Peters (P/Nth) 6.93 3.

Pole vault: Nick Southgate (NHB) 4.90 1, James Steyn (NHB) 4.60 2, Ben Kennedy (NHB) 4.00 3.

Women

100m: Zoe Hobbs (NHB) 11.78 1, Veronica Pereira (Singapore) 11.78 2, Georgia Hulls (Hastings) 11.80 3.
400m: Amy Robinson (Tauranga) 58.12 1, Maria Sartin (Fairfield) 58.86 2, Deigna Khamal (Ham) 58.98 3.
Sylvia Potts Memorial 800m: Angie Petty (Cant) 2:03.67s 1, Katherine Marshall (Te Awamutu) 2:05.56 2, Katrina Anderson (Papk) 2m 5.91s 3.
5000m: Tessa Webb (Feilding) 17:56.86s 1, Briony Shaw (Aust) 18:18.36s 2.

Shot put: Reta Blinova (Tak) 15.54 1, Te Rina Keenan (Wait) 14.88 2, Amania Mafi (U/Hutt) 12.50 3.
Discus throw: Keenan 56.52 1, Emma Ryan (Sthld) 34.69 2, Mafi 31.85 3.
Long jump: Corinna Minko (Aust) 6.05 1, Mariah Ririnui (Ham) 5.91 2, Ashleigh Sando (Ham) 5.60 3.
Pole vault: Olivia McTaggart (NHB) 4.40 1, Imogen Ayris (Tak) 3.90 2, Hannah Philpot (NHB) 3.70 3.
END