By Chris Lotsbom, @ChrisLotsbom
(c) 2016 Race Results Weekly, all rights reserved
FRANKLIN PARK, BOSTON, MA (16-Sep) — With temperatures in the mid-70s and a brisk wind blowing across Franklin Park, the weather could not have been better for today's BC Coast to Coast Battle in Beantown cross country meet. The women of Providence lived up to their billing as the top-ranked team in the northeast (and No. 3 nationally), scoring 25 points to win over Dartmouth (79) as New Hampshire's Elinor Purrier ran away with the individual title in 17:06.
Making the trip north from Fayetteville was the University of Arkansas men's squad, led by Brit Alex George. George broke from the field near the four kilometer mark and went on to win the 8 km race in 24:09. Dartmouth pulled the early season upset by scoring 40 points to Providence's 50 and Arkansas's 61, though the sixth ranked Razorbacks held out a number of their top men.
Here are some quick observations from the meet, which kicked-off a strong weekend of collegiate cross country action nationwide.
1) Providence Friars Live Up To No. 3 Ranking: While it is early, Coach Ray Treacy's Providence College Friars already look like they possess podium potential on the national level — even when holding out senior All American Catarina Rocha. The Friars placed five straight runners from third through seventh, tallying 25 points and having a scoring spread of seven seconds.
Though they looked strong, coach Treacy said it is still very early in the season and anything can happen. Not until the Wisconsin Invitational on October 14 will Treacy get a feel for what the team is destined for.
"It was pretty solid I thought. I just wanted the four women behind Sarah to run together today and they did the job nicely," he said. "Until I get my full squad out there, I don't really know. I think the team that ran today is a top ten team, that's about all I would say right now until I get everyone else back. Right now it's hard to tell."
Graduate senior Sarah Collins –who was a member of the national championship winning 2013 team– led Australian Brianna Illarda and West Virginia transfer Millie Paladino as their top three runners in 17:19, 17:24, and 17:24. Katie Lembo (70th and 101st at the last two NCAA championships and a key returner according to Treacy) was seventh in 17:26, a second behind freshman Abbey Wheeler (17:25 for fifth). The number two through five runners ran together the entire way.
2) Elinor Purrier Aims To Convert Track Success Onto XC Course — New Hampshire junior Elinor Purrier had a breakthrough 2016 track year, running 4:29.71 for the mile indoors then 9:47.17 in the steeplechase on the outdoor oval. At both NCAA Indoor and Outdoor Championships she was third in both respective disciplines.
Though the Olympic Trials didn't turn out how she had hoped (ninth in her heat in 10:08.39), the Vermont native kicked off her cross country campaign on the right foot by breaking from Boston College sophomore Isabelle Kennedy after two miles, creating a seven-second cushion to win in 17:06.
Purrier did not race cross country last year due to a knee injury, and thinks top ten could be in the cards this season.
"The plan was to hang with whoever was in the front crowd, the top five or so, and then see what I had at the end and see if I could kick," said Perrier. "It definitely helps my confidence a little bit, but it's a little different cause I took last cross country season off. Feels like I've been out of the loop a little bit for a while but it's definitely nice to be back cause I definitely enjoy cross country.
"I think I'm definitely running off of some good fitness from the spring, it's definitely still there, so I think I'm in pretty good shape but it's a long cross country season so I still have a ways to go until I'm in my best shape," she said.
Purrier has never raced at an NCAA Cross Country Championship before. At the 2013 and 2014 Northeast Regionals, she finished 40th and 14th, respectively.
3) Alex George and Arkansas Razorbacks Race In Control: Arkansas junior Alex George looked to be in cruise control the whole race here today, running within himself through 4 km before gently creating a gap on Providence's Julian Oakley. The 20-year-old Brit won in 24:09, some 16 seconds up on Oakley and 20 seconds ahead of third placer Daniel Salas (Dartmouth).
George said he raced wanting to get a hard effort in, and felt strong throughout. While the Razorbacks held out a number of men (including Austen Dalquist, Jack Bruce, and Andrew Ronoh), they still managed to finish third in the standings. George said that this season is critical for him, as he wants to erase the sour taste left behind after 183rd (2014) and 176th (2015) finishes at the last two NCAA Cross Country Championships.
"I love Boston. It's nice to come out here and get the win, get a hard effort in," George said. "I just wanted to feel good, run hard, and I felt really good so I strung it open."
Fun Fact: George wore a sprinter's speed suit today, and said it was quite comfortable and could be his new lucky uniform. Not often do you see a speed suit leading a distance race, let alone a cross country meet.
Back in high school, George sported a speed suit during a snowy race as a means to keep warm. Joking with his teammates, he said he'd one day wear it again. None of his Razorback teammates believed him.
"The guys were like 'Nah you won't!' and egged me on to do it. I felt it's the first meet of the year, what's the harm," he said laughing. "It seemed to work this time around… It's surprisingly comfy actually."
4) Isabelle Kennedy is One To Watch: Boston College coach Randy Thomas watched sophomore Isabelle Kennedy pass the mile out front in 5:19 and smiled. He turned to a pair of reporters and said a memorable line: "She's not one to be denied of many things."
Kennedy took second in 17:13 after battling Purrier step for step heading into the Wilderness Loop. It's Kennedy's story, though, that is awe-inspiring: at 12 days old, Kennedy was diagnosed with cystic fibrosis, a chronic lung disease that affects roughly 30,000 people in the United States each year. Growing up in Boulder, Co., Kennedy was active as a child and didn't let the disease hamper her in the slightest.
Though she still deals with the daily treatments that come along with CF –such as physiotherapy treatments, multiple medications, and visits to her doctor at Children's Hospital in Boston– Kennedy has quickly become BC's top threat, taking the reins from former Eagle Liv Westphal. Coach Thomas said Kennedy can definitely be an All-American this year; her race today was a grind from start to finish.
"I'm lucky to be really healthy right now. A lot of people with CF have a much tougher battle than I do, so I feel very fortunate right now," she said. Kennedy doesn't want to be known as the runner with Cystic Fibrosis; rather just a runner. "I do this because I love it, because I want to be out here, and because it's just a dream come true, and I think every other person here feels that same way… I'm just another athlete. I come out here and I feel great and compete just like anyone else. I don't want to be the girl who does well with CF. I just want to be a competitor and come out here and see what I can do."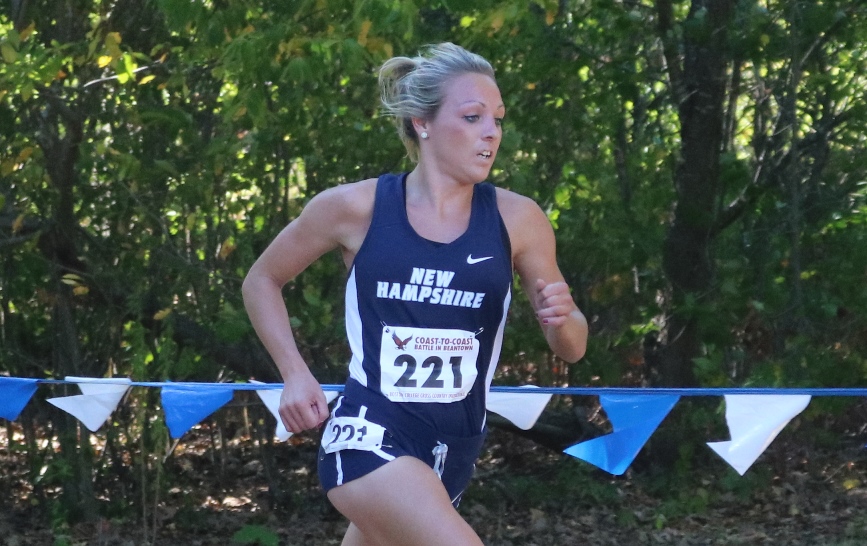 5) Molly Huddle Update: On hand as a neutral spectator was Molly Huddle, fresh off her American record 10,000m at the Olympic Games. Huddle's coach, Treacy, is the head of Providence while her husband Kurt Benninger is a coach at Brown University. Both were competing here today.
Roughly a month into training for her debut marathon in New York on November 6, Huddle is eager to ramp up the intensity in the coming weeks. The month of October will be key, when she'll log the most important miles of her buildup.
"I'm just kind of getting into the long runs now. I've only done one real long one, and am going to do a longer tempo tomorrow. I'm still kind of building," she said. "I kind of miss the track already! But I've enjoyed the long runs and experimenting with those, trying to push those at the end. Still a work in progress but trying to feel it out."
Coach Treacy said Huddle's lead into New York is very calculated and a tad on the cautious side: he doesn't want to take the zip out of Huddle's legs and wants to avoid burnout at all cost. Both excited and a tad nervous, Huddle will try and become the first American woman to win in New York since Miki Gorman in 1977.
"I've practiced the gels and running 5:30 pace with bottles. It's harder than it looks!" she said.
[To see the complete interview, visit
http://bc-xc-invitational-coast-to-coast-battle-in-beantown.runnerspace.com/eprofile.php?event_id=9046&do=videos&video_id=186280
]
6) Faces in the Crowd: On hand to witness the cross country meet were a number of notable names in the running industry. In addition to Huddle, spectators included legendary Greater Boston Track Club coach Billy Squires (who led the likes of Alberto Salazar, Dick Beardsley, and Bill Rodgers during their careers); Olympian and New Balance Boston coach Mark Coogan; former Stanford All American Aisling Cuffe (now training in Providence under Treacy); 2000 NCAA Cross Country champion Keith Kelly; former Georgetown standout Katrina Coogan; Vice President of Running at New Balance Tom Carleo (watching son Nick race for Providence); and former New Jersey/New York Track Club runner and Olympic Trials qualifier Mike Rutt (now coaching UMass Lowell).