By Chris Lotsbom, @ChrisLotsbom
(c) 2016 Race Results Weekly, all rights reserved
NEW YORK (03-Nov) — It's often said that the marathon is magical, both in the literal and figurative sense. Traversing 26.2 miles can give runners a euphoric high, carrying some to incredible personal bests and triumphant wins. The roads from Staten Island to Manhattan have seen their fair share of magical moments over the course of the TCS New York City Marathon's 46 years, from Paula Radcliffe's three titles to Meb Keflezighi's 2009 runaway win.
American Craig Leon, who finished eighth in 2015, described Wednesday night as magical. The lifelong Chicago Cubs fan witnessed his beloved Cubbies win their first World Series title in 108 years, staying up past midnight to see the champagne celebration. Leon, along with marathon debutante Molly Huddle, each have ties to the Cubs baseball team, and hope to duplicate some of the team's magic here on Sunday.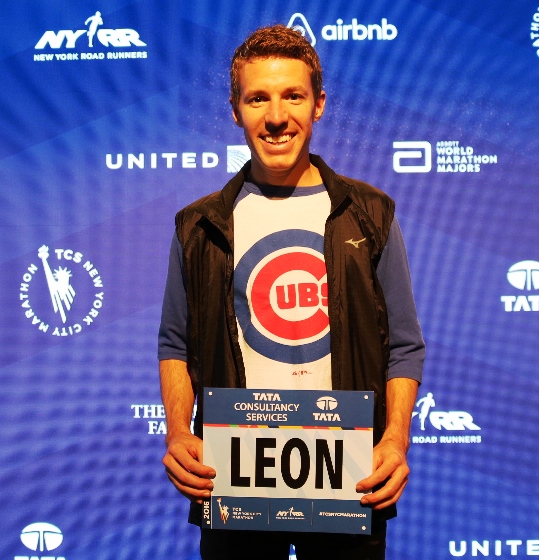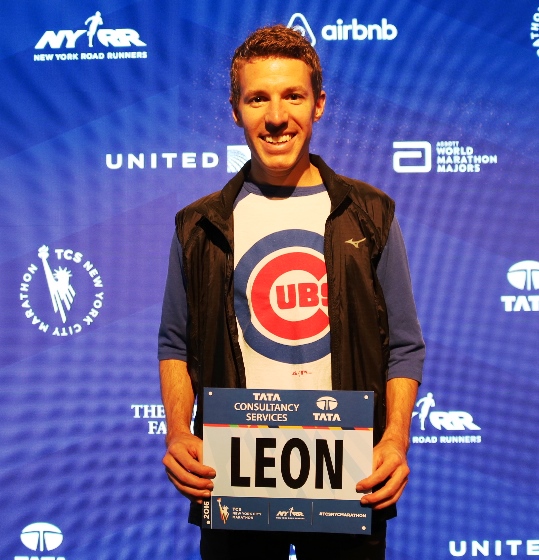 "Being able to watch the game in New York with some other Cubs fans, yeah I'd like to think if there can be a little magic left over from that then [it'd be] great!" Leon told Race Results Weekly, speaking a baseball's throw from the marathon finish line. "It's been a lot of fun the last couple weeks."
Since he was a young boy, Leon has been following the Cubs. His dad is a Cubs fan and native of Illinois, as were his grandparents. Leon, 32, would often visit Chicago during summer vacations from his home in Ohio, taking trips to Wrigley Field to see the team play. He'd follow the team through the up's and down's, from the days when Harry Caray called the games over the radio through Steve Bartman's disastrous 2003 blunder.
To watch the Cubs play for the pennant, then the World Series title, has been all but a dream come true. In a way, the Cubs' run has helped Leon prepare for Sunday's race: watching the team day in and day out has provided Leon an outlet to focus on away from training. Instead of constantly scouting the competition and worrying what may happen come race day, Leon's been caught up in the Cubs' excitement.
Leon said he'll even try to follow two of the team's mottoes through the five boroughs: 'We never quit' and 'Try not to suck!'
"I think it's an appropriate motto for Sunday too!" Leon said with a wide smile. Going to bed at 2:30 a.m. Thursday morning, Leon reflected on the win and it's greater meaning. It gave the Eugene, Ore., resident a chance to get even closer to his brother (who'd been traveling to watch the Cubs from city to city this fall), and his father. Watching the final innings, Leon chatted on the phone with his father so the two could experience the triumphant moment together.
"It's one of those things where, you talk about sports and what they can do socially and in terms of what they can do to bring families together, that's one of the things I thought about when I went to bed last night," Leon said. "I'm glad I could talk to my dad over the last hour [of the game]."
Leon and his brother came up with a winning strategy that could help Leon take the title on Sunday just like the Cubs did.
"I was actually joking around with my brother and was thinking maybe around mile 22 or 23 I can take a rain delay, a well-timed rain delay, and come back out and finish the race," Leon said. Of course, after an extra-innings rain delay halted Game 7, the Cubs rallied to retake the lead over the Cleveland Indians and ultimately win the Series.
Though she doesn't consider herself to be a die-hard Cubs fan like Leon, Huddle was happy to see the team break their "curse" and score the World Series title. A month of Huddle's marathon buildup was done in Scottsdale, Arizona, one town over from the Cubs' Spring Training facility in Mesa. For the second year in a row, Huddle put in many miles (including 110-mile weeks) in the hot Arizona heat, passing the Cubs' stadium.
One of Huddle's key marathon workouts happened to be at Sloan Park, where the Cubs play games in March during Spring Training.
It was only natural that a bit of the Cubs spirit rubbed off on Huddle. Spending time being treated by highly regarded chiropractor Dr. John Ball in Arizona gave her even more of a reason to keep an eye on the team.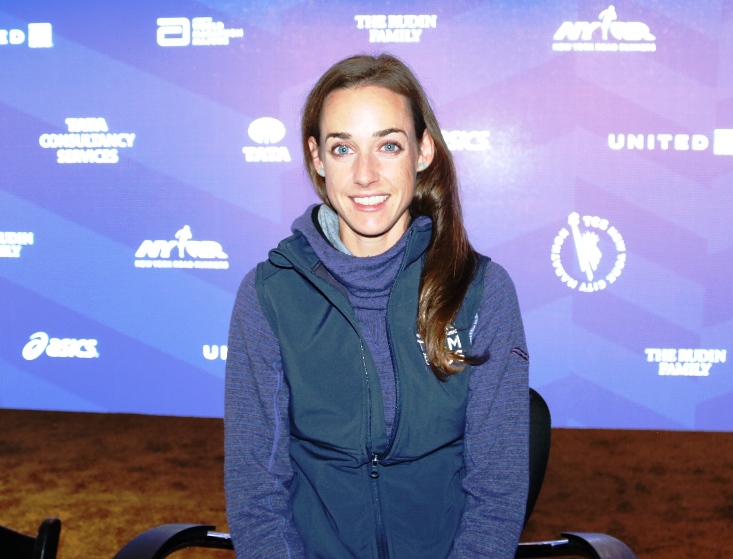 "He [Ball] was kind of excited and when he was talking about it I was just 'Oh cool!'" Huddle said with a laugh, adding that Ball is one of the biggest fans she knows. "I don't really watch, though."
Huddle didn't stay up to see the Cubs' finale last night (which ended well past midnight), but was happy the team pulled off the 8-7 victory.
"I hope some of that [luck] rubbed off, the magical miracle type luck. That was pretty cool," she said.
Even if Huddle gets lucky, she was bluntly honest that it would take close to a miracle to win Sunday. No woman making their marathon debut has won in New York since Tegla Loroupe in 1994.
"I don't think that's reasonable [to win], honestly. I will stick my nose in it, but I think there's three or four 2:19 or under women and this is my first marathon. And this is New York City," Huddle said. "I just want to have a good day, good experience, and I'll see where I end up. I'll never put [winning] out of my mind, but I don't think it's reasonable to be unhappy unless I win type of a thing.
"Anything can happen in the marathon, and I just want to have a smooth run," she added, saying that a top-six finish is her goal.