NSW Club Championships – Rubie, Clarke Ready for Rio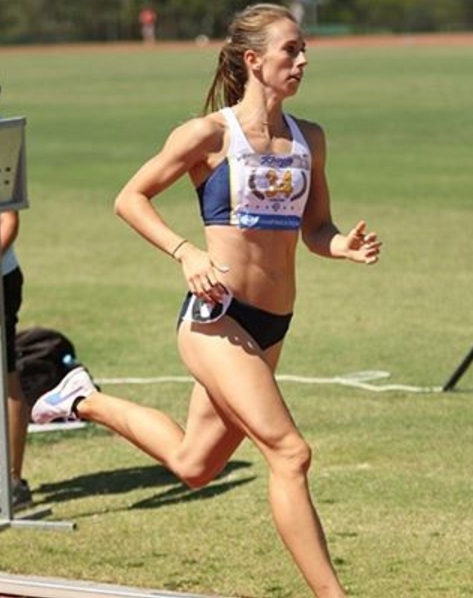 There are two athletes in Sydney who are absolutely flying in early season competition, and both will be excited to know that the Rio Olympics are only 207 days away. Anneliese Rubie (who already has an Olympic Qualifier in the 400m) and Josh Clarke (within reach of an Olympic qualifier in the 100m) both produced exceptional performances in the 800m and 200m respectively over the weekend.
Rubie has already shown that she's not simply a 400m specialist with a previous PB over the two laps of 2.03.93 (when 4th at the 2015 Sydney Track Classic). This strength in the 800m was again evident in Sydney on Sunday when Rubie ran a very impressive 2.02.52 – a time that was matched or bettered by only two Australian athletes in 2015 – Brittany McGowan and Selma Kajan.
The performance from Rubie also showcased her abilities across three varying events – the 200m, 400m and 800m. She now owns PB's of 23.54s, 51.69s and 2.02.52, which equates to 2,642 points using the Mercier scoring tables. To place the performances in perspective we decided to line it up against some of best athletes across these three events – shown in the table below:
[supsystic-tables id='3′]
It's interesting to see that both Stewart and Andrews finished their careers just shy of breaking through the two minute barrier, while both owning PB's in the 400m of just over 51 seconds. There just seems some similarities with Rubie's performances, and the ability to also end her career with a sub 2.01 800m and maybe even a time under the 'magical' 2 minute barrier. [note: Andrews did run a 1.59.8h 800m in a mixed race]
Over to the men's events and it was Clarke who continues to show his ability to also wear the green and gold come Rio in August. (see our 100m event preview for 2016 here). In the 200m, albeit aided by a +2.9m/s tailwind, Clarke produced a super quick 20.66s to beat home Hayden Kovacic (21.13s) and Ben Jaworski (20.19s).
Watch out for Clarke at the Canberra Track Classic on February 20 – we suggest that a new PB could be set over the 100m and maybe even an Olympic qualifier provided there are good conditions for sprinting.
Campbell Who?
Holly Campbell entered the NSW Club Championships with a PB of 4.29.52 for the women's 1500m – set when winning the silver medal at the 2015 Oceania Championships in Cairns back in May. Fast forward to 2016 and Campbell now owns a PB of 4.15.99, less than 8 months later.
Now admittedly there were signs leading onto the event, which included a very tidy 9.28.20 over 3000m – when crossing the line as the first Australian in the U/20 event at the Zatopek meeting in December. Also in December she produced a PB of 2.08.45 over 800m. This all while still being a junior. Now in senior ranks there will surely be a lot more focus placed on the talented middle distance runner – another one to add to a very strong women's 1500m in 2016.
Campbell defeated another quality 1500m specialist in Jenny Blundell (4.17.32), who would also be pleased with such a good first up performance leading into the all important AA Tour Meetings in February and March.
Other highlights from the NSW Club Championships:
Jared West 1.49.24 in the men's 800m
Abbie Taddeo's super treble – 11.80s (100m), 23.92s (200m) and 13.58s (100m Hurdles)
Alysha Burnett – WJQ in the U/20 heptathlon (5,343pts)
Kyle Cranston – produced a PB of 74 points in the men's decathlon to record a final points tally of 7,703.
After the event (thanks to ANSW), Burnett said:
"I'm very happy to get the qualifier and very relieved. Now I have that in my back pocket I can concentrate on training rather than chasing it."
"Overall it was probably my most enjoyable competition as I was confident where I was at, rather than being nervous. Now I've done nine of ten competitions I know what to expect."
More Sparks Flying up in Brisbane
There is one athlete who is clearly no longer able to fly under the radar – with the 2015 National Champion over the 200m and the National silver medallist over the 100m Alex Hartmann clearly in line for a tilt at Olympic competition.
At the Glynis Nunn Shield in Brisbane over the weekend Hartmann finished with a superb sprint double of 10.31s (+1.9) and 20.60s (+1.7) – both performances exactly 0.01s from his previous PB's for the two events. In the 200m he was within 0.10s of the Olympic qualifying mark of 20.50s.
With such fantastic early season form it's hard to imagine that Hartmann can't at least produce a qualifier in the 200m, whilst also putting his name in the mix for a potential relay spot in the men's 4x100m (if Australia was to qualify for Rio).
The other notable result came from one of Australia's top decathlon prospects in Cedric Dubler. Although we haven't really seen much of Dubler over the past 12 months, you only have to go back to his silver medal at the World Juniors in 2014 (with an exceptional total of 8,094 points – an Australian junior record) to understand just how much talent this athlete has.
In Brisbane Dubler produced some excellent performances, which included a 2.12m high jump, to record a new PB with the open implements of 7,785pts. Although this looks to be well off the Olympic qualifier of 8,100pts, there is every suggestion that with more competition the mark is not totally unrealistic. We take a look at his recent results and then show you what his PB's from his WJ competition back in 2014 would equate to:
[supsystic-tables id='4′]
As you can see from the table above there is no doubting that he can still improve across so many of the ten disciplines – especially considering that many of his PB's still exist from his World Junior performance from 2014. Can Dubler break through the 8,100 point barrier – we think he can but all we can do is simply sit back and wait and see with much anticipation!
In other highlights from Brisbane:
Ben Hayward was second in the men's 100m in 10.49s
Celeste Mucci of Victoria just missed a WJQ in the women's heptathlon with a final score of 5,283pts.
Back in Canberra on Thursday night Jess Thornton produced another WJQ in the women's 400m, producing a time of 54.44s.