(c) Runner's Tribe, 2020
Another year, another Hoka Clifton, perhaps Hoka's most popular shoe. A highly cushioned, neutral high mileage trainer. A workhorse for endless miles.  Hoka call it their 'Ultra comfortable go to daily runner' – it's hard to argue with that.
Not designed for speed, but for long distances or easy runs.
The Clifton 7 is very similar to the Clifton 6 – a nice, soft, lightweight, cushioned ride. The only significant changes are a new upper (mesh) and various minor changes to it's last/upper/heel counter. The differences between the 6 and 7 are pretty much negligible, some minor tweaks, but hardly noticeable.
Runner's Tribe took these shoes through 110km of mostly road and light trail running, and below is our analysis.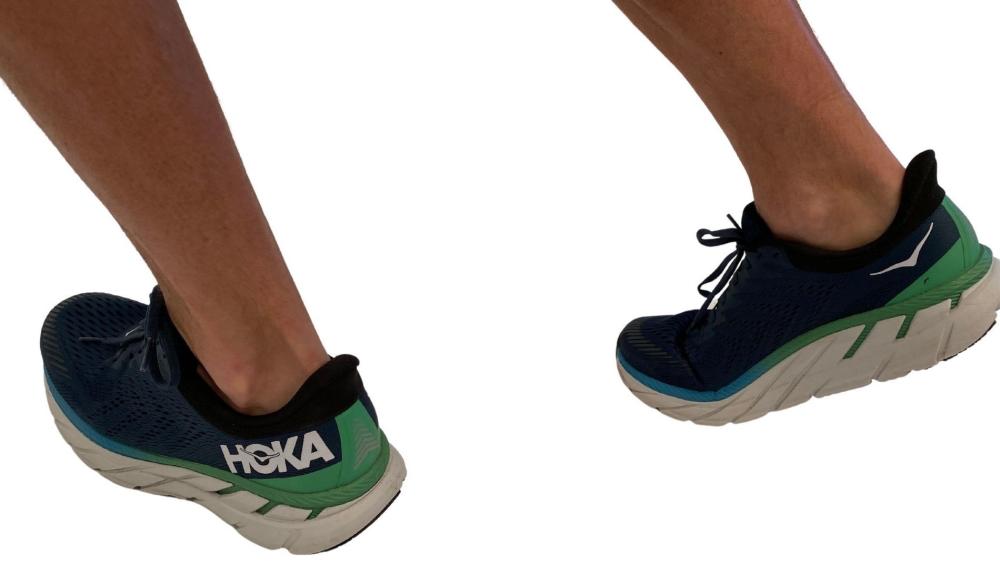 Specs
Km's run during testing process: 110
Testers: Two road/track runners.
Surface: Road or very light trails.
Purpose:  Everyday high mileage trainer. Good for warm-ups and warm downs. Good for easy runs or long runs.  Not a super fast racing shoe.
Pronation: Neutral.
Stack Height: 29mm heel. 24mm forefoot. These stack heights were verified by Hoka Australia. See the table below for brand comparisons.
Heel-to-toe-drop/pitch: 5mm
Weight: Very light (see the below table for brand comparisons)

Men: 9 US:  258g (Nike Pegasus is 266 grams).
Women: 8 US: 224g.
Men: 11 US: 286 grams (Nike Vomero is 312 grams).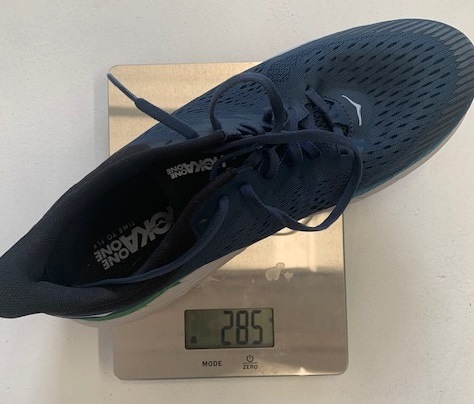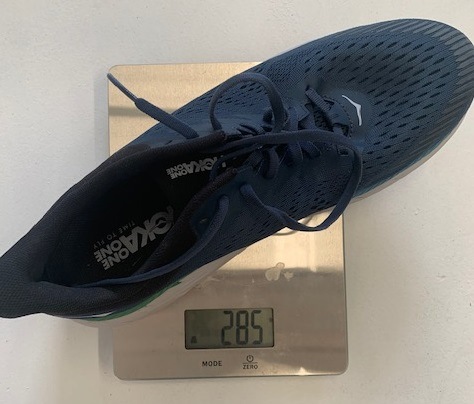 Midsole: Soft lightweight EVA foam.
Upper: A new upgraded 2-layered mesh. Numerous ventilation holes provide for good breathability.
Outsole: Exposed EVA foam and strategic rubber under high impact areas. The exposed midsole foam as well as the outsole rubber are both soft to the touch, providing for a much softer landing than is found with traditional high mileage trainers such as the Nike Pegasus or Asics Kayano.
Flexibility: Moderate. Quite easy to flex.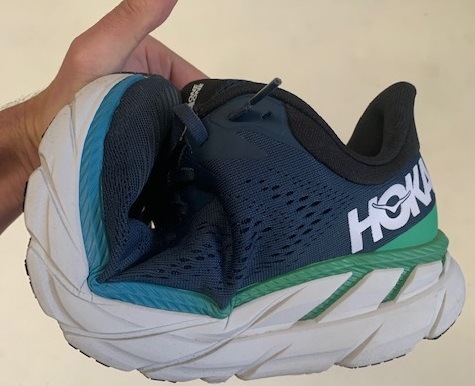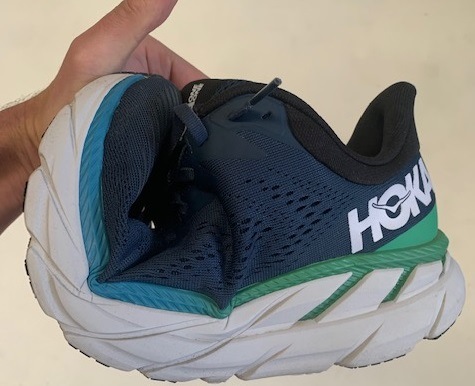 Toe Box:  Standard Hoka, a tightish fit, not a lot of room for those with peculiar feet idiosyncrasies.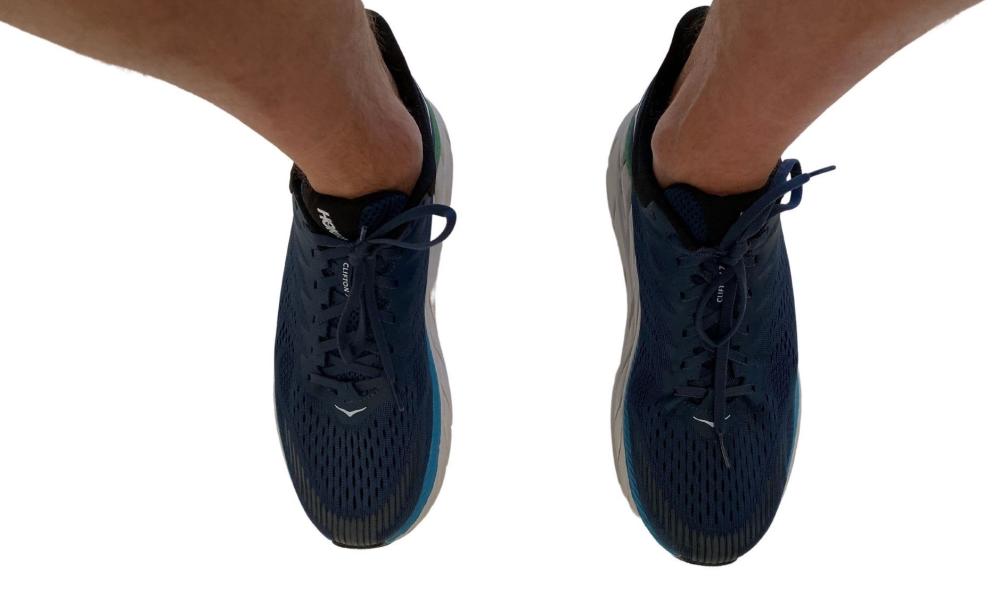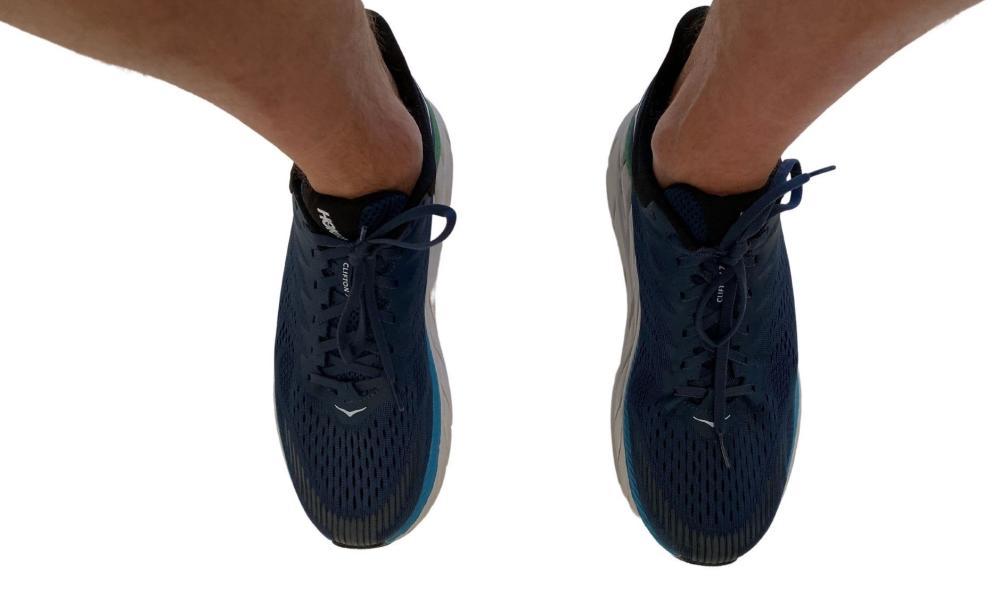 Durability: Average to good. The outsole rubber and exposed outsole EVA are soft and therefore wear quick than shoes with hard outsoles. It's all a compromise; Hoka's soft ride is why people love their shoes, but the trade off is that the outsoles do show wear quicker than say an Adidas Ultraboost.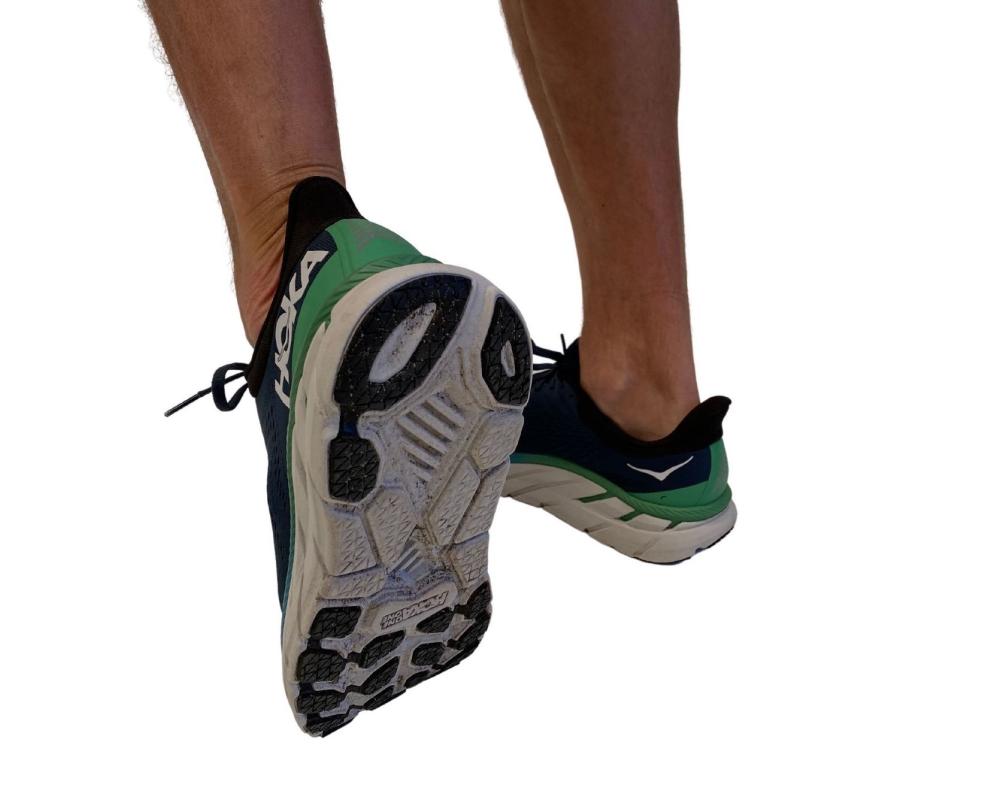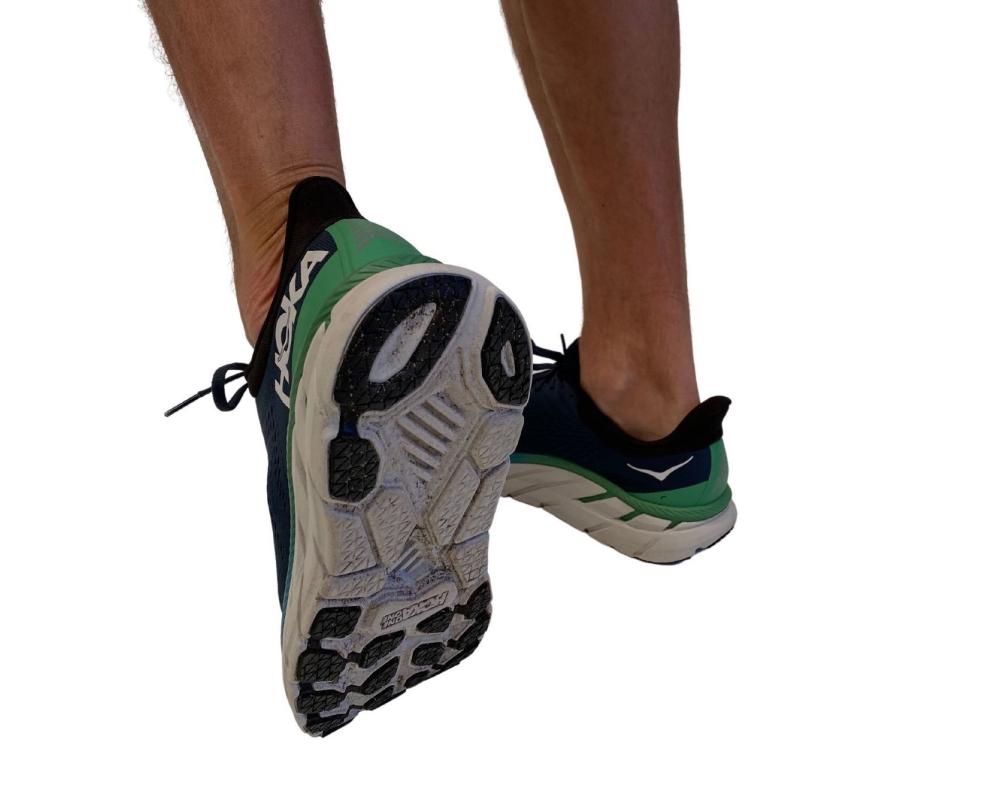 Density of midsole: Soft to moderate.
Heel cushioning: Soft.
Forefoot cushioning: Soft.
Heel counter: Hard/rigid, doesn't collapse easily. The Clifton &'s heel counter is more flared than the 6. There is also no pull tab on the 7.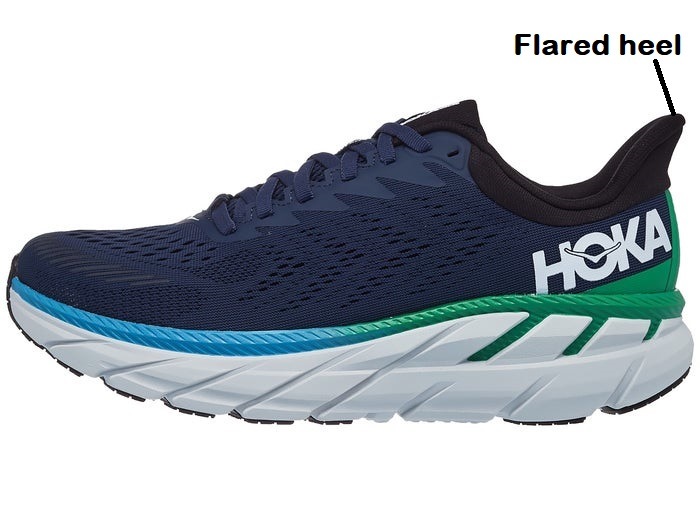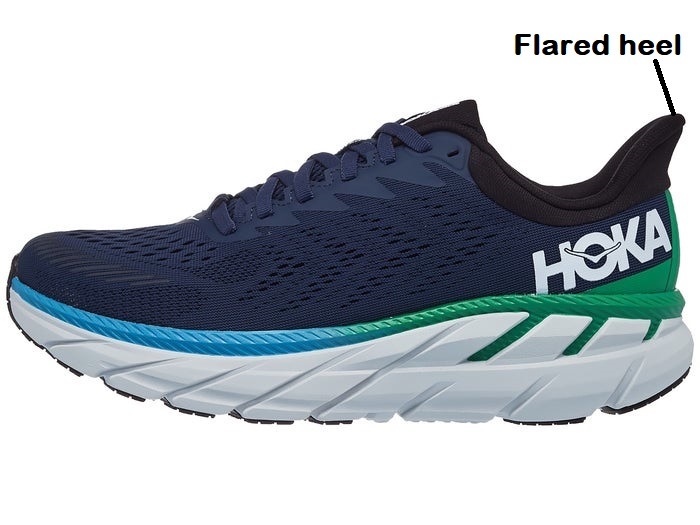 Fits: Runs true to size.
Marketing Hype: Low.
Does it live up to the hype: Yes.
Price: $239.95 AUD at Hoka Australia.
Buy from
Against some rivals
| | | | |
| --- | --- | --- | --- |
| Shoe (all size US 9 Men | Weight (grams) | Drop(MM) | Stack Heights (heel/forefoot cushioning) |
| Hoka Clifton 7 | 258grams | 5mm | 29mm/24mm |
| Nike Vomero | 281grams | 10mm | 27mm/17mm |
| Nike Pegasus | 266grams | 10mm | 28mm/18mm |
| Adidas Solar Boost | 301grams | 10mm | 28mm/18mm |
| Asics Nimbus | 315grams | 10mm | 31mm/21mm |
| New Balance 1080 | 283 grams | 8mm | 30mm/22mm |
| Mizuno Wave Rider | 289 grams | 12mm | 32mm/20mm |
| Brooks Glycerin | 309 grams | 10mm | 32mm/22mm |
| Brooks Ghost | 286grams | 12mm | 29mm/17mm |
| Nike Epic React | 224grams | 10mm | 28mm/18mm |
What sets a Hoka Clifton apart from most of its rivals, is the extra forefoot cushioning. There is substantially more support under the forefoot than other shoes.

Cool things about this shoe
Weight: The shoe is incredibly light, crazy light for a high mileage trainer. The midsole EVA that Hoka use is incredibly light foam, it's how they get away with having so much of it.
Soft midsole: If you enjoy a soft midsole then you will love this shoe. It's maybe slightly firmer and more responsive than the Clifton 6, but that may just be in my head.
High-end upper: The upper is soft, comfortable and breathable.
Perfect for easy runs: The shoe isn't fast, but it is a soft cruisy ride that is easy on your legs. For those casual warm-ups and warm-downs, or for easy runs or long runs, the shoes provide a soft ride that feels great.
Neutral ponderings
Durability of outsole: As mentioned above, the outsole is soft and therefore wears down a lot faster than the rock hard full-length outsoles found in most Asics, Nike or Adidas high mileage trainers. The compromise; the Clifton's ride is softer. It's all a trade-off.
To buy or not to buy?
The Hoka Clifton 7  is an awesome shoe for long runs, easy runs, warm-ups and warm downs. It is suited for the road or for very safe and easy trails. It's a soft, light ride; softer and lighter than nearly any other rides out there. For those who loved the 6, the 7 has remained true to the Clifton lineage, and won't let you down.
Disclaimer:  Runner's Tribe were given a pair of Clifton 7  for free.
Written and tested by Sam Burke for Runner's Tribe.