SHOES FIRMLY TIED, FINN ASPIRES TO NCAA XC TITLE
By Chris Lotsbom with David Monti (@chrislotsbom / @d9monti)
(c) 2016 Race Results Weekly, all rights reserved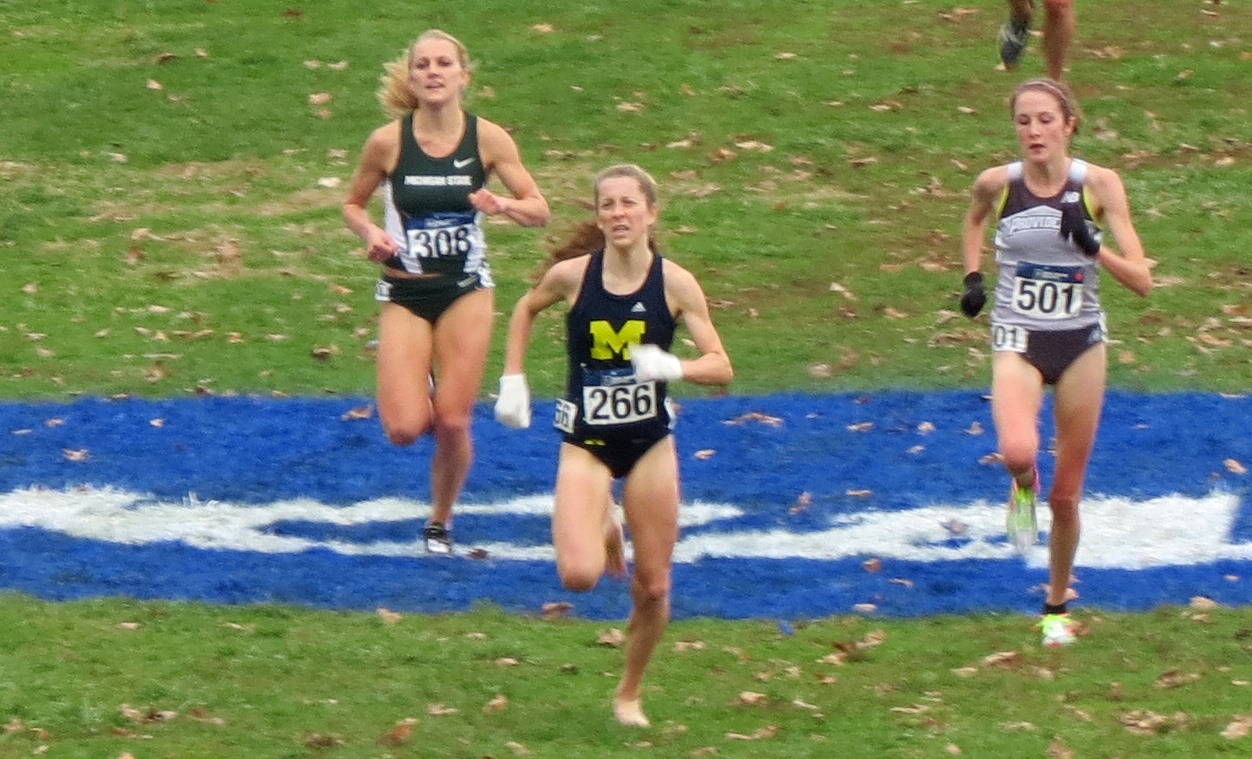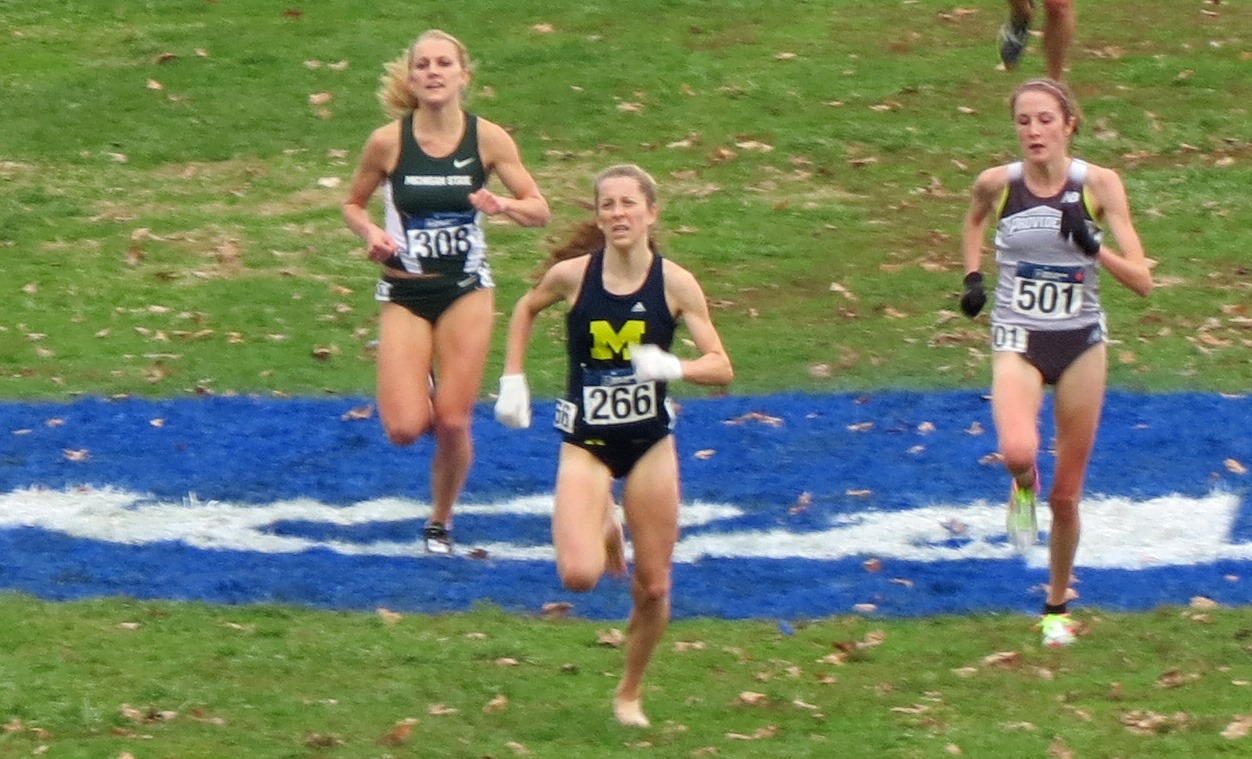 TERRE HAUTE, IN (18-Nov) — A year ago in Louisville, Ky., the University of Michigan's Erin Finn was running confidently in the opening minutes of the NCAA Division I Cross Country Championships at E.P. "Tom" Sawyer State Park. Two kilometers into the six-kilometer race, she was in the lead pack of about 20 women along with Notre Dame's Molly Seidel, Boise State's Allie Ostrander, and Arkansas's Dominique Scott who would finish first, second and third, respectively.
Then disaster struck.
Despite having her spikes firmly tied, her shoes were stepped on from behind taking both of them off, a serious problem in any race but particularly bad on the Louisville course which features sections of rocks and gravel. Finn, a proud Michigander who grew up in West Bloomfield, just kept running, hoping that her coach, Mike McGuire, wouldn't pull her from the course.
"It was incredible that they were stepped on exactly on the heel without touching my Achilles at all, one after the other," Finn explained to reporters at a press conference here today. "It was just, maybe it was fate. Maybe it was to make me hungrier for this year. Maybe it'll all be for the better."
Finn managed to finish 19th helping her Wolverine team to sixth place finish. It was her dedication to her teammates which kept her in the race, she said.
"There's nothing more powerful than a team driving you, and knowing that you have six other girls racing and 35 other girls at home," she said today. "That's one of the most influential things in a race. I definitely want to soak up my last opportunity to have that tomorrow."
Finn, a senior, will run her final NCAA Division I Cross Country Championships at the LaVerne Gibson Cross Country Course here tomorrow, and is hungry to perform well for both herself and her No. 6-ranked Michigan team. This year has been a rollercoaster ride for the biochemistry major.
Finn's fall season began slow and steady, far from her typical fast-paced, full-throttle approach. After racing the Portland Track Festival 5000m on June 12 (where she was ninth in 15:34.50), Finn knew something was wrong. Her foot was in pain, and an MRI would soon reveal stress fractures in two bones in her right foot.
"For a couple weeks I knew there was something wrong with my foot and [was] playing the wishing game that it wasn't bony, and then after the race we found that it was and that's just where my season ended," Finn recalled. The injury was a tragic blow to not only Finn's NCAA title hopes on the track, but also a potential berth on the USA Olympic Team. Finn had run 31:51.84 for 10,000m only a month prior, one of only 13 American woman to have run sub-32:00 in qualifying for the USA Olympic Trials.
Forced to scratch out of the Trials, Finn would be sidelined for six to eight weeks of no running. She'd begin training on an Alter-G treadmill in mid-August, then slowly returned to running on land right before a pre-season camp for the Wolverines. Having learned her lesson from multiple injuries during her high school and collegiate careers –which included a broken tibia– Finn and Coach McGuire took a conservative approach to the 2016 cross country season.
"We really did a great job of taking it slow and easing into the season. I definitely go pedal to the metal as soon as I can, so my coach, I'm really thankful that he held me back and made sure in workouts that the effort was a little more tempered," Finn said. "We really started to get after it after Roy Griak."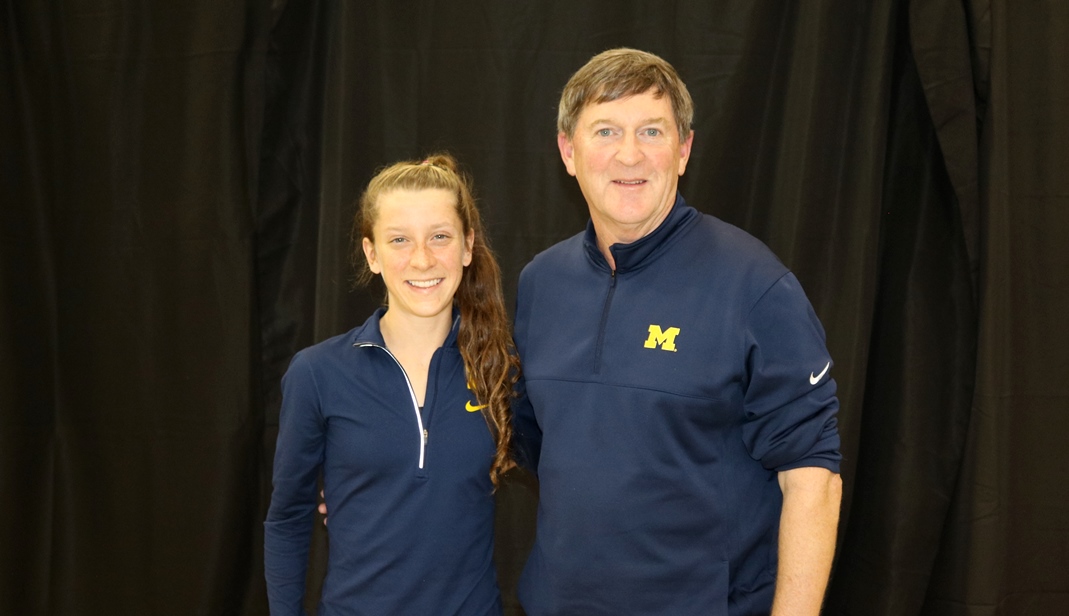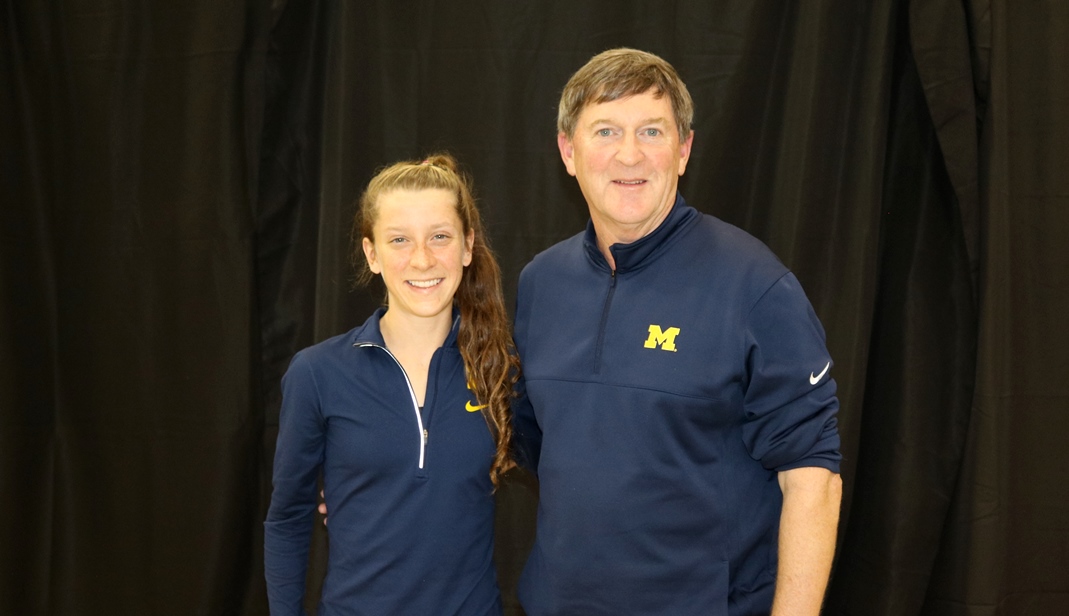 At the Roy Griak Invitational on September 24, in Minneapolis, Finn suffered her only loss of the 2016 cross country season to Boise State sophomore Brenna Peloquin. The defeat only served to motivate the 22-year-old, who typically runs with a maize-colored bow holding her long ponytail. "I don't like losing so I kind of asked [Coach McGuire] to let me start hammering workouts a little more and we slowly built into it after Roy Griak. I think that really started to show at Pre-Nats and I hope it will show tomorrow."
In total, Finn has scored five victories this cross country season, making her a prime contender to become only the second Michigan Wolverine ever to claim an individual NCAA Cross Country title after the now-retired Katie McGregor in 1998. Finn will face key rivals including Peloquin, Notre Dame's Anna Rohrer, New Mexico's Alice Wright, and Colorado's Erin Clark, among others.
Keeping it simple, Finn said she would just run on feel, energized by the dedication of Coach McGuire and her Wolverine squad.
"I always ask my coach for very detailed race plans before races and he never gives them to me," she quipped. He always just tells me go out and just run. In the race I'm just going to do whatever feels right in the moment and I've found that that's usually the best thing to do, to rely on how I feel in the moment and to just run. I'm a runner and that's what I love to do and I'm just going to go out tomorrow and run and see what happens."