By David Monti, @d9monti
(c) 2017 Race Results Weekly, all rights reserved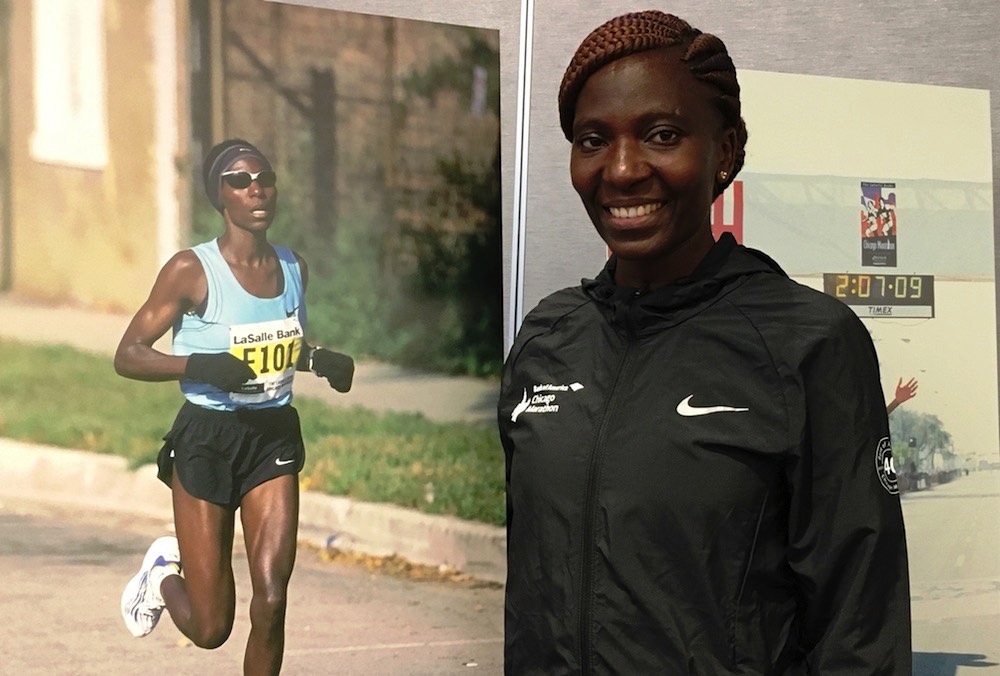 CHICAGO (05-Oct) — Sixteen years ago this week, it was a near-freezing day here and Kenya's Catherine Ndereba got off to a slow start at the Chicago Marathon.  She was the defending race champion, and running with compatriot Lornah Kiplagat in the early kilometers of the race she only split 5-K in 17:41, barely below a 2:30 pace.
"I did not notice where the first mile was," she explained at the time, "and the second one I didn't see it.  I said, Oh my God, this is not the pace I want.  I have to wake up and run my pace!"
Ndereba quickly jump-started the race, and began to lock in a 3:18 per km pace (5:18 per mile).  Only Kiplagat and late entrant, Elfenesh Alemu of Ethiopia, could stay with her.  They hit the 10-K in 34:10.  Malgorzata Sobanska of Poland worked her way up to join them and the four athletes made 15-K in 50:40, a more-than-respectable 2:22:30 pace.
But fast wasn't fast enough for Ndereba.  She found another gear and lowered her pace to a sizzling 3:10 per km (5:06 per mile).  She hit the halfway mark alone in 1:10:15, 27 seconds up on Kiplagat (who would later drop out), and was quickly alone and running in uncharted territory.  She had some company from Robert Johnson, a founder of LetsRun.com, but Ndereba stayed to the side of him out of the draft.  Wearing black knitted gloves and a headband for warmth, she needed two hands to scoop up her slippery water bottles at the elite fluid stations because she was running so fast.  She was in the zone, and needed no assistance.
"All of my races I used to run without pacemakers," she said in an interview here today on her first visit to Chicago since that day in 2001.  "It's one thing that I had learned in my training, let's say that I want to run a six-minute (per mile) pace, I just try to keep that.  If it is my five minute, thirty (second) pace, I just run to do that in my long runs."
The kilometers rolled by and Ndereba continued to hold her pace.  Despite the sluggish start, by the 27th kilometer she was already running under the pace of the then-world record of 2:19:46 set by Japan's Naoko Takahashi in Berlin just one week before.  Her mind and body were locked in an epic battle with the clock.
"All what I've been doing all those months," she said at the time.  "All that sacrifice, all the hard training.  Sometime it's hard, but I have taught myself to run by myself.  In my training I don't rely on somebody I just rely on myself."
Running the last 10 kilometers in an eye-popping 32:35 –the final part of a 1:08:32 second half– she toppled Takahashi's week-old record by nearly a minute, stopping the clock at 2:18:47.  Holding her hands over her face, tears streamed down her cheeks and she was overwhelmed with emotion.  Her strong religious faith clearly played a roll for her.
"It had been my prayer and my dream," she sobbed.  "I thank Him and I worship Him.  God is there for those who doesn't have strength.  If feel great.  I'm overwhelmed."
Looking back on the day, Ndereba said she was driven by a snub from the Kenyan federation which did not select her for the 2000 Olympic team.  She had won the 2000 Boston Marathon in a personal best 2:26:11, but was passed over by selectors for Esther Wanjiru who finished third at the Osaka Marathon 2:23:31.  Ndereba was miffed that selectors didn't take into account the difficulty of the Boston course, and the fact that the race did not use pacemakers.
"I was really upset because I cannot even imagine having won Boston Marathon, and knowing how tough it is," she told Race Results Weekly today.  "Everybody in my federation promised that, yes, you are going to represent us.  Not until the very last minute they had to drop me just because somebody ran Osaka Marathon which is quite a flat course."
After winning Boston again the following spring, Ndereba told reporters she was ready to do something special.  She said she planned to skip the 2001 IAAF World Championships, and gear up to run fast in the fall.
"I think I have proved enough," she said in Boston in 2001 when asked to comment on her exclusion from the Kenyan Olympic team the year before.  "It's not enough to just go for the Olympics, it's something special to hold a record, God willing.  My big goal is not to go to the World Championships.  What I'm looking ahead is something special, more than World Championships.  Now, I can start setting to go for the world record or the world best, God willing."
Her record in Chicago came on an unusual day of racing, when two-time Olympic medalist Paul Tergat was relegated to second place by a pacemaker, Ben Kimondiu, who decided to keep going and won the men's contest by four seconds.  Kimondiu's win was all the more amazing because he actually ran in place and waited for the field to catch up after the contenders didn't go with the pacemakers in the first half of the race.
"I have no explanation as to what happened," executive race director Carey Pinkowski said of the pacemaking situation at the time.
Ndereba, now 45 and still trim, said that she only runs once a week now.  Looking at a photo of herself running the world record here 16 years ago, Ndereba pointed to her rippling thigh muscles.
"I like to see that," she laughed. "They don't look like that anymore."