Team Australia at the 2017 IAAF World Championships is bigger than it has ever been, with 14 additional athletes extended invitations to compete at London 2017 via the IAAF Roll-Down Process in recent days.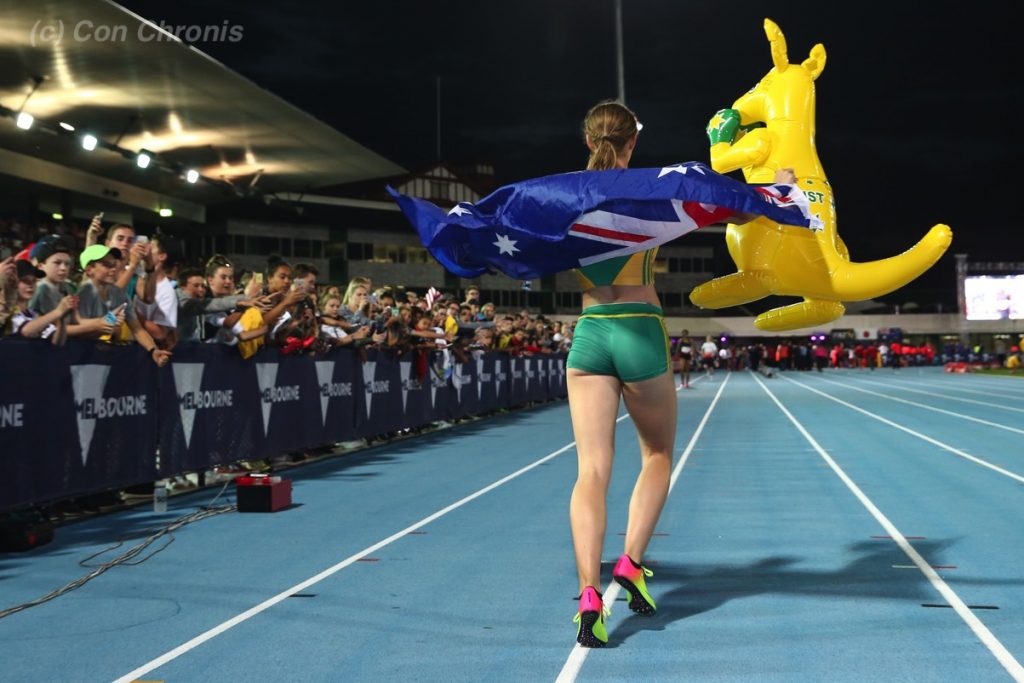 Bringing the team size to 62, eight more than Seville (ESP) in 1999, the green and gold contingent now includes debutants Riley Day (Qld, 200m), Naa Anang (Qld, long jump), Lora Storey (NSW, 800m), Mitchell Cooper (Qld, discus throw) Nicola McDermott (NSW, high jump), Stewart McSweyn (Tas, 3000m steeplechase) and Jordan Williamsz (Vic, 1500m), Rio 2016 Olympians Michelle Jenneke (NSW, 100m hurdles), Victoria Mitchell (NSW, 3000m steeplechase) and Benn Harradine (Qld, discus), as well as Heidi See (NSW, 5000m), Taryn Gollshewsky (Qld, discus), Liz Parnov (WA, pole vault) and Brittany McGowan (Qld, 800m).
Day, an impressive talent that has taken the athletics world by storm since starring at Coles Nitro Athletics Melbourne, arrives in London (GBR) after winning gold in the 200m at the Commonwealth Youth Games in Nassau (BAH).
Boasting a personal best of 23.26 and her medal winning run of 23.42 from Nassau (BAH) earlier this month, Day joins best friend and 4x400m relay starter Ella Connolly (Qld) as the youngest athlete on the team, aged 17.
"It's so exciting, but I'm so nervous. It hasn't sunk in. I'm going to the world championships. To have Ella there will be great, we get to experience it all together," Day said.
"I'm 17, there are no expectations. The chance to run against the fastest women in the world is incredible. All I've ever done is watch them on Diamond League and now I'm going to be in the lane next to them.
"If anything, my goal is to run a Commonwealth Games qualifier. I just want to run as fast as I can and hope to soak up as much of what's on offer as possible."
Anang and Williamsz will start in the women's long jump and men's 1500m respectively, with the duo set to line-up against Usain Bolt and Jamaica after joining him as members of the Bolt All-Stars at Coles Nitro Athletics Melbourne earlier this year.
Coached by renowned jumps specialist Gary Bourne, Anang starts at the IAAF World Championships having previously won bronze at the World University Games. In 2017, she has soared a personal best of 6.68m (w: +1.9) and won her first Australian Athletics Championships gold medal in the women's long jump.
"This tops off a big year. Competing with Bolt comes pretty close to my number one highlight, but I'm so happy to be heading to the world championships at just 22," Anang said.
"It's strange to think I'm lining up alongside Usain this time around. At Nitro, I kind of thought that I didn't think I would see him again but now I find myself at world championships competing together with him and Jamaica. Perhaps we can catch-up for coffee," Anang joked.
"This will be a big experience for me. I'll be competing against athletes that I've always looked up to and the chance to jump alongside them, to almost become one of them, will be an amazing way to learn. We've got a Games at home coming up and a couple of qualifiers to strengthen my changes for a start there would be great."
Set to line-up alongside his Melbourne Track Club training partners Ryan Gregson (Vic) and Luke Mathews (Vic), Williamsz arrives with a season best of 3:36.87 from the Swarthmore Final Qualifier in June.
"It felt a bit weird to run against Australia at Nitro. I'll certainly be more comfortable pulling on the green and gold and running alongside my mates from home," Williamsz said.
"In my mind, it doesn't matter how you've been selected, you're on the start line and have a chance. I want to show my training is paying off and I believe that it is. Since college I have stepped up, even in the last 12 months. Prior to this season I'd only broken 3:40 in the 1500m a few times and so far in 2017 I've done it six or seven times."
Team Australia continues to arrive at the Tonbridge School in Tonbridge (GBR) for a preparation camp that ends on 1 August. The squad will then move to the host city of London for competition across ten days at the Queen Elizabeth Olympic Park from 4 August.
"Between the Preparation Camp in Tonbridge, and the continued training of athletes at altitude in locations like St Moritz and Avila, Team Australia is doing all that it can to ready for competition at the IAAF World Championships," Craig Hilliard, Team Australia Head Coach, said.
"It's great to see the number of debutants now sitting at 17, with the IAAF Roll-Down Process providing a number of the next generation a chance to experience a global competition as we prepare for the Commonwealth Games."
At the IAAF World Championships in Beijing two years ago, Team Australia won two silver medals by Jared Tallent (50km walk) and Fabrice Lapierre (long jump), with three athletes featuring in the top-eight. The year following at Rio 2016, Team Australia won two medals in race walking, with 28 athletes placing in the top-16 for their event.
For more information on London 2017, please click here.
FEMALE (33):
200m: Ella Nelson (NSW), Riley Day (Qld)
400m: Morgan Mitchell (Vic)
800m: Georgia Griffith (Vic), Britt McGowan (Qld), Lora Storey (NSW)
1500m: Zoe Buckman (Vic), Georgia Griffith (Vic), Linden Hall (Vic)
5000m: Madeline Hills (NSW), Heidi See (NSW), Eloise Wellings (NSW)
10000m: Madeline Hills (NSW), Eloise Wellings (NSW)
100m hurdles: Michelle Jenneke (NSW), Sally Pearson (Qld)
400m hurdles: Lauren Wells (ACT)
3000m steeplechase: Genevieve La Caze (Vic), Victoria Mitchell (NSW)
Long Jump: Naa Anang (Qld), Brooke Stratton (Vic)
High Jump: Nicola McDermott (NSW)
Pole Vailt: Liz Parnov (WA)
Discus Throw: Taryn Gollshewsky (Qld), Dani Stevens (NSW)
Javelin: Kathryn Mitchell (Vic), Kelsey-Lee Roberts (ACT)
20km walk: Regan Lamble (Vic), Beki Smith (NSW), Claire Tallent (SA)
Marathon: Milly Clark (NSW), Sinead Diver (Vic), Jess Trengove (SA)
4x400m Relay: Ella Connolly (Qld), Morgan Mitchell (Vic), Ella Nelson (NSW), Anneliese Rubie (NSW), Jess Thornton (NSW), Lauren Wells (ACT)
MALE (28):
400m: Steven Solomon (NSW)
800m: Peter Bol (Vic)
1500m: Ryan Gregson (Vic), Luke Mathews (Vic), Jordan Williamsz (Vic)
5000m: Morgan McDonald (NSW), Sam McEntee (WA), Patrick Tiernan (Qld)
10,000m: Patrick Tiernan (Qld)
110m hurdles: Nicholas Hough (NSW)
Long Jump: Henry Frayne (Qld), Fabrice Lapierre (NSW)
Pole Vault: Kurtis Marschall (SA)
Shot Put: Damien Birkinhead (Vic)
Discus Throw: Mitchell Cooper (Qld), Benn Harradine (Qld)
Javelin: Hamish Peacock (Tas)­­
Decathlon: Cedric Dubler (Qld)
20km Walk: Dane Bird-Smith (Qld), Rhydian Cowley (Vic)
50km Walk: Jared Tallent (SA)
Marathon: Jack Colreavy (NSW), Josh Harris (Tas), Brad Milosevic (NSW)
4x100m Relay: Nick Andrews (NSW), Rohan Browning (NSW), Tom Gamble (Qld), Alex Hartmann (Qld), Trae Williams (Qld)