The duo are among an elite group of world-class women runners who have improved their personal bests to sub-2:19 in the past year in winning high quality races in the Abbott World Marathon Majors (AWMM) series. But they will both have to beware of a dangerous Ethiopian, Mare Dibaba, who has twice run under 2:20 and took the bronze medal in the 2016 Olympic Marathon in Rio.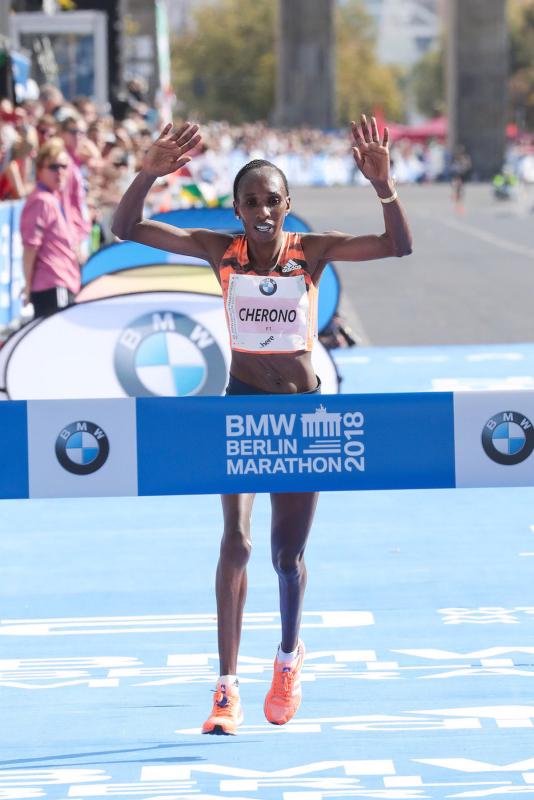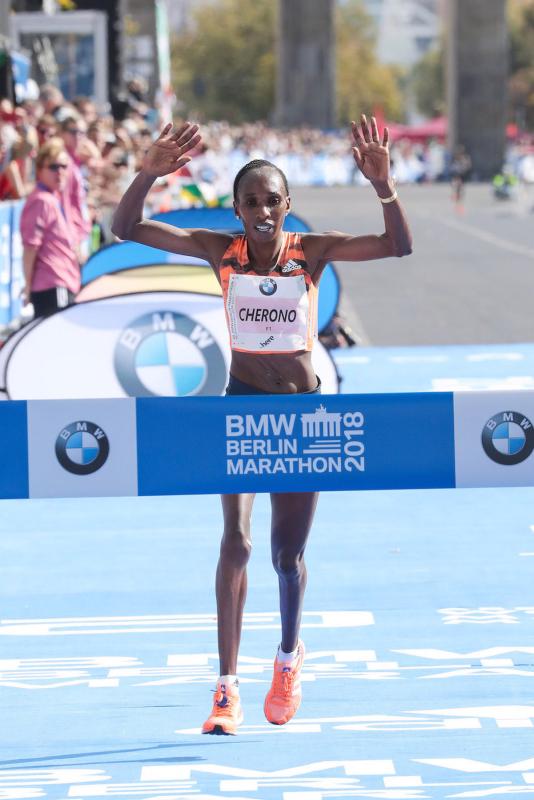 "We are naturally delighted that we'll be having the defending champion Gladys Cherono on the start line," said Race Director Mark Milde and added: "Compared to the men, the women in Berlin have some ground to make up. With three very strong contenders in the line-up, the women's race on September 29 could be centre stage." In the past twelve years the men's race at the BMW BERLIN-MARATHON has produced a string of world class times with six world records into the bargain. The presence of Gladys Cherono and Vivian Cheruiyot suggests that these two Kenyans could headline a show-stealing performance from the elite women in general.
After victories in 2015 and 2017 Gladys Cherono achieved her third triumph in the BMW BERLIN-MARATHON last year. The 36-year-old, who won the World Half Marathon title in 2014, also broke the course record of the Japanese Mizuki Noguchi of 2:19:12 which had stood for 13 years. Cherono's time of 2:18:11 was a big improvement on her lifetime best and helped her join the exclusive company of women champions in Berlin with three wins apiece: Renata Kokowska of Poland, the home town favourite Uta Pippig and Ethiopia's Aberu Kebede. "My goal is now to win for the fourth time in Berlin," announced Gladys Cherono soon after she had completed the hat-trick last year. Her return is a clear bid to go for the unique honour of a fourth title.
Gladys Cherono may well have to run another personal best to win title number four. Among her rivals will be her compatriot Vivian Cheruiyot who will be making her debut in the BMW BERLIN-MARATHON. The 35-year-old Olympic 5,000m champion in 2016 won last year's London Marathon, improving her best to 2:18:31. This year in London she finished runner-up, beating Gladys Cherono on both occasions. Both Kenyans are in the women's top ten of all-time fastest marathon runners with Cherono at six and Cheruiyot at number eight, setting up what should be a fascinating clash.
Another who will be making her BMW BERLIN-MARATHON debut will be Mare Dibaba. The 29-year-old Ethiopian actually has more marathon experience than either Gladys Cherono or Vivian Cheruiyot. She won the world title in Beijing in 2015 and one year later took the bronze medal at the Rio Olympics. She has a best of 2:19:52, achieving that time twice, in 2012 and 2015. Given Berlin's renowned fast course, Dibaba will be aiming to run another very fast time and challenge the Kenyan duo.
The BMW BERLIN-MARATHON forms the Abbott World Marathon Majors (AWMM) along with Tokyo, Boston, London, Chicago and New York. For the first time the BMW BERLIN-MARATHON on September 29 will mark the final race in the current series. While entries to Germany's most prestigious race have long since sold out, there is still a limited number of places available from tour agencies and charities. Further information can be obtained at the race website: www.bmw-berlin-marathon.com