We count down our top 10 moments that helped define the 40th Gold Coast Marathon as one of the greatest in event history:
10. Jordan Gusman breaks Michael Shelley's eight-year-old race record
Jordan Gusman broke an eight-year-old race record to win the Southern Cross University 10km Run. Gusman, 24, put a gap on his rivals in the opening kilometre and powered away to win his first 10km on the Gold Coast in 28:42, eclipsing the previous record held by Gold Coast 2018 Commonwealth Games gold medalist Michael Shelley by 11 seconds. The time was just outside his personal best of 28:39 but under the race record that Gusman predicted was going to be broken.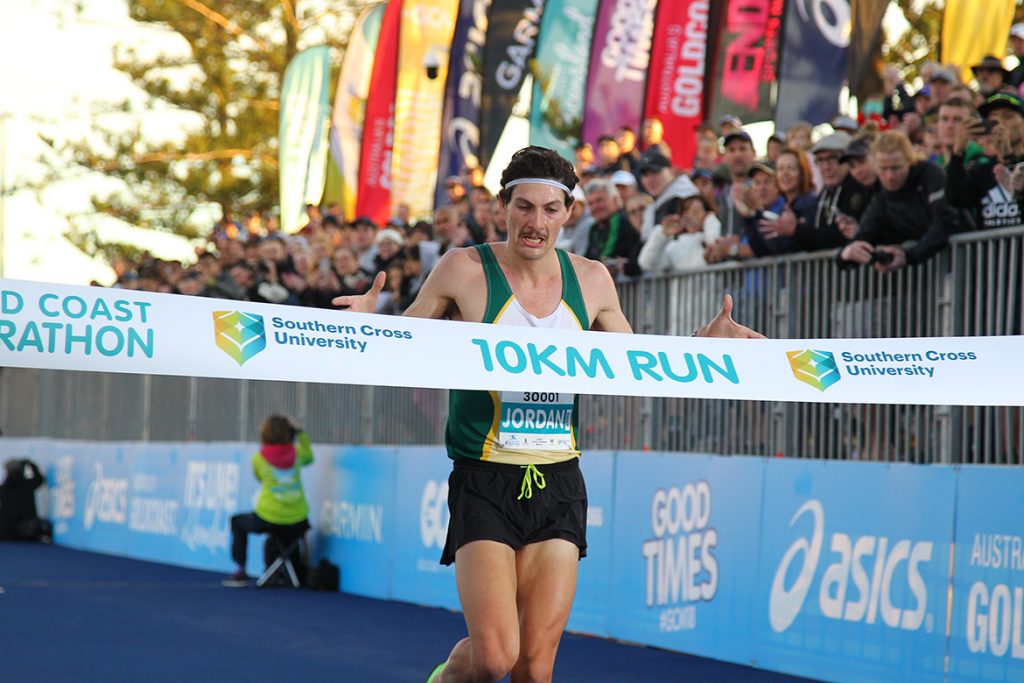 9. International participation numbers reach record heights
A record 4,307 people from 51 countries participated at the 40th Gold Coast Marathon eclipsing the previous record set in 2017 by 1,063. The event welcomed record numbers from several countries including China (571), Hong Kong (529), Indonesia (188), Malaysia (363), New Zealand (538) and Singapore (503) along with strong numbers from Japan (712), Taiwan (449) and the United States (260). The large number of international entries is estimated to generate more than 90,000 visitor nights and over $27 million in economic impact for the city.
8. Inaugural champion Eric Sigmont and 1980 winner Andrew Lloyd return to the Gold Coast
Inaugural Gold Coast Marathon winner Eric Sigmont and 1980 champion Andrew Lloyd both returned to the home of their famous victories to celebrate the event's 40th edition. Four decades since his 1979 victory (2:28:44), Eric, 69, ran the 42.195km race and clocked 4:47:10. Lloyd, 59, who ran 2:23:02 in 1980, unfortunately didn't complete the race on Sunday but enjoyed the festivities in the lead up including attending the Gala Dinner on Friday night.
7. Marathon sells out for the first time in event history
For the first time in event history, the 42.195km race sold out one month before the starter's gun fired. The full-house sign for the signature event meant more than 6,700 runners from 19 countries competed and reaffirmed the event's position as one of the world's most desirable races for thousands of participants from overseas, interstate and Queensland.
6. Five personal bests and back-to-back victories on the ASICS Half Marathon podium
American Sara Hall made it back-to-back victories in an enthralling women's ASICS Half Marathon race as she achieved a 10-second personal best and the second fastest performance ever recorded to win in1:09:27. Hall, 35, pulled away in the second half of the race from Australia's Sinead Diver who finished second in 1:09:53, a close to two-minute improvement on her previous best while Laura Thweatt (USA) filled this year's podium in third in a PB of 1:10:17. 22-year-old Jack Rayner from Victoria took more than six minutes off his personal best to stop the clock at 1:03:12 while Edward Goddard, 20, landed third place in a massive five-minute PB of 1:04:07.
5. Madison de Rozario goes back-to-back on the Gold Coast
Australian para athletics star Madison de Rozario returned to the scene of her Gold Coast 2018 Commonwealth Games marathon gold medal with a dominant display of wheelchair racing. De Rozario won her first Gold Coast Marathon in 1:48:21, the second fastest time ever recorded at the event. Coached by Australian para sport legend and a former Gold Coast Marathon winner herself Louise Sauvage, de Rozario finished clear of second placegetter Eliza Ault-Connell (NSW) who clocked 1:51:22. In a repeat of recent history, de Rozario and Ault Connell were first and second in the Commonwealth Games, although only 13 seconds separated them on that occasion.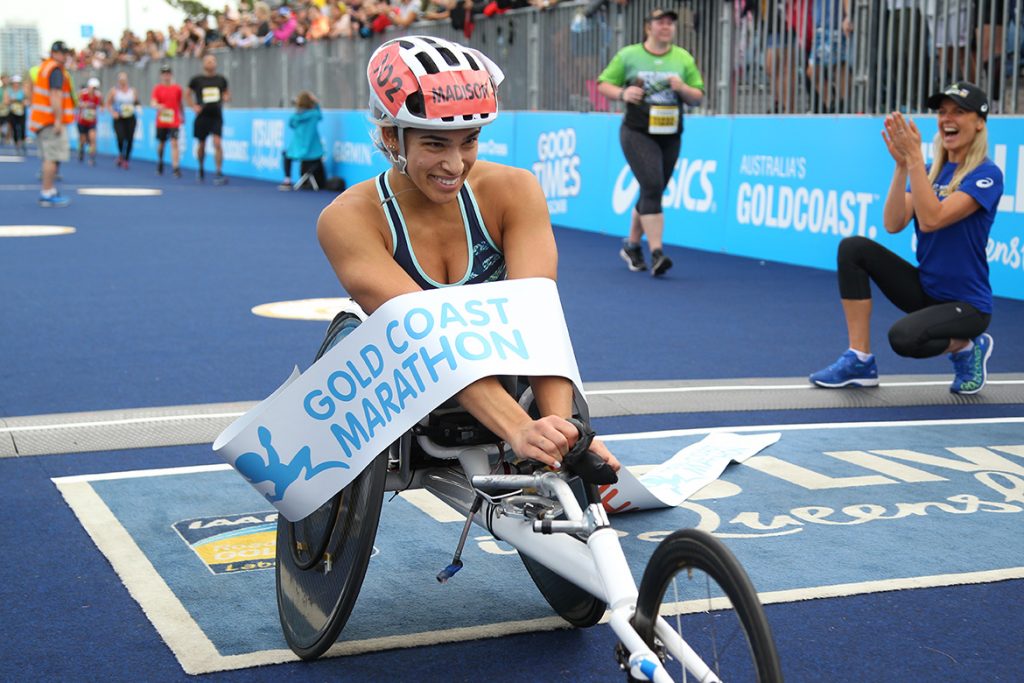 4. Jessica Trengove crosses the line second and claims $40,000 incentive
Aussie Jessica Trengove, 30, improved her personal best to 2:26:31 and claimed a special incentive for Australian athletes to run sub 2:28 in the women's marathon. For the 40th edition of the race, organisers offered a $40,000 prize pool for Australian athletes who ran sub 2:28 for women and 2:10 for men. As the only Australian to go under those marks, the South Australian was awarded the AUD $40,000 and an additional AUD $8,000 for her runner up finish. Trengove, who won bronze in the marathon at the Commonwealth Games, said post-race that she would contribute some of her incentive money to charities close to her heart.
3. Kenneth Mungara claims his third win in four attempts on the Gold Coast
Kenyan Kenneth Mungara won an amazing third Gold Coast Marathon in a thrilling finish over Japan's Kenta Murayama. Mungara, 44, used a surge in the closing stages to pull away from his 25-year-old Japanese rival to win in 2:09:49. Exciting the grandstand crowd at the finish, Murayama made a late sprint to close the gap on an unfazed Mungara and only miss by one second. Jo Fukuda of Japan was also closing hard to finish third two seconds later in 2:09:52. What a history Mungara has created at the event, with three victories (2015, 2016 and 2018), a second placing last year, as well as an Australian allcomers and race record of 2:08:42 (from 2015).
2. The Stewart siblings create record-breaking history on the Gold Coast
The Stewart siblings of Sydney wrote themselves into the record books and marked their names as distance running stars of the future in the Garmin Junior Dash races. Imogen, 12, not only won the girls' division of the Garmin 4km Junior Dash, she was the first finisher overall beating juniors aged up to 14 years. Her time of 12:48 took an impressive 31 seconds off the record previously held by Katelyn Simpson in 2008. Kobe, 10, won the boys' Garmin 2km Junior Dash in 6:33, slicing 10 seconds off the previous race record set by Kobi Rutherford in 2011. The Stewart siblings now hold all of the age group records in the Garmin 2km Junior Dash – 5-6 years, 7-8 years, 9-10 years.
1. Ruth Chebitok becomes the first Kenyan woman to win and smashes race record in the process
Kenya's Ruth Chebitok set a race record and the fourth fastest time ever recorded in Australia with her win in the women's Gold Coast Marathon. Chebitok, the first Kenyan woman to win this race, won the AUD $20,000 winner's purse as well as a $10,000 time bonus for her race record of 2:24:49, breaking the previous record of Abebech Bekele (2:25:34) by 45 seconds. The only three times faster on Australian soil are the three female placegetters in the Sydney 2000 Olympic Games marathon event.
The 41st Gold Coast Marathon will be held 6 – 7 July 2019 on the beautiful Gold Coast in Queensland, Australia.
The Gold Coast Marathon is organised by Events Management Queensland, a major event management company wholly owned by the Queensland Government as part of Tourism and Events Queensland. 
Visit goldcoastmarathon.com.au for more information.