Big Moves on All-Time Lists after Hunter Track Classic
The Hunter Track Classic has always been known for some quality performances over the distance events, and on Saturday night we were again witness to individual brilliance on the track.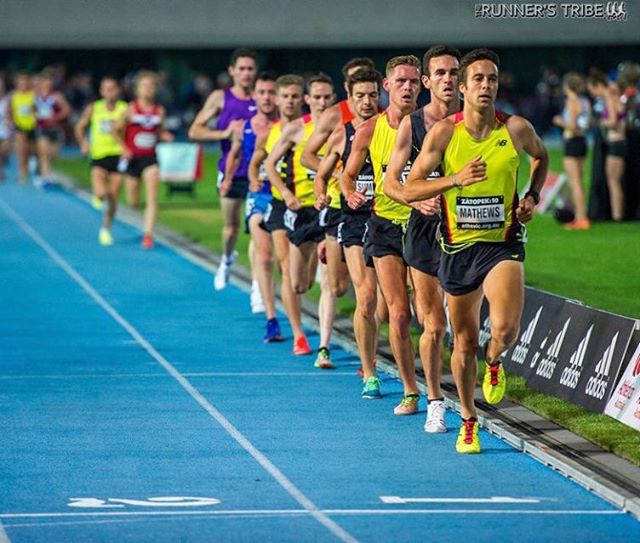 It all started in the men's 800m where 20 year-old Luke Mathews made a statement by recording a PB of 1.46.35. The performance moved him up to no.22 on the Australian all-time list, and shattered his previous best of 1.47.60.
Mathews will now look to see if his quality speed over the 2 laps transfers to a super quick time over 1500m. With such a fast time so early on in the season there is no reason why a time around 3.37.00 for the 1500m couldn't be just around the corner – maybe the Sydney Track Classic will be the best place to record such a fast time.
Also impressing in the men's 800m was junior Joseph Deng. His time of 1.48.90 was the first time that he broken 1.50.00 for the event, and places him in the perfect place to be wearing the green and gold in Poland later this year at the World Junior Championships.
In the women's 800m it was Anneliese Rubie who again pushed her way to the win in 2.02.53 (only 0.01 outside her previous PB). The specialist 400m runner is certainly readying herself for a big 2016 over the one lap event, and she will go head to head with another HTC winner in Morgan Mitchell (52.04s PB).
Away from Rubie and second placed Selma Kajan (2.02.90), it was the surprise performance from Lora Storey who had everybody talking. Storey had already posted a 58.88s 400m hurdles and a 2.05.84 800m leading into the meeting, but ended up leaving Newcastle with a massive PB of 2.03.22. Now we wait and see if she has another big performance left in her over the remaining Track Classics in 2016.
In the women's 1500m we all knew that the race was full of quality performers, but the winner could have surprised many who had tipped Melissa Duncan for the win. The surprise athlete was 21 year-old Jenny Blundell who came into the meeting on the back of a frustrating 2015.
Blundell had only run a 4.14.62 in 2015, and finished the domestic season with an 8th placing at the National Championships. However everything looked to be turning around with a solid 2.06.66 over the 800m in early 2016, and it certainly continued on to a magical run in Newcastle. Blundell's time of 4.09.67 (to run down Duncan 4.09.70) was the fastest time of her career, and obliterated her previous best of 4.12.00 when 3rd at the 2014 National Championships.
The performance also moved Blundell up to no.14 on the Australian All-Time ranking list, moving past athletes such as Melissa Rollison (4.09.80) and Wendy Old (4.09.86). She will now focus on the 4.07.00 qualifying mark for the Rio Olympics – a qualifying mark that has already been met by Duncan and Zoe Buckman.
In the other big news story of the night, 16 year-old Josh Torley again showed his amazing talent by posting the 10th fastest 3000m of all time from an Australian junior athlete. His time of 8.06.55 was faster than that of 2015 Zatopek winner in Matthew Ramsden (8.09.07), and suggests that the Australian junior record of 7.57.45 (set by Ryan Gregson back in 2009) is within reach for Torley over the next 3 years.
All other notable performances from the Hunter Track Classic
Genevieve LaCaze is in great early season form with a PB in the 1500m of 4.10.20. It just surpassed her previous best of 4.10.29 set back in 2013.
Madeline Hills also produced a PB in the 1500m (4.12.39), bettering her previous best of 4.13.30 set when running at the Canberra Track Classic last year.
Hamish Peacock threw a quality 82.76m in the men's javelin. It was his 3rd best throw of his career and was only 24cm's away from an Olympic qualifier.
Ryan Gregson looks to also be in great early season form, this time stepping up to the 3000m and posting a new PB of 7.47.73. It was only the second time that he had broken through 7.50.00 for the 3000m, and was a 4 second improvement from his 2015 best (7.51.64).
Sam McEntee equalled his PB in the 3000m, when second to Gregson in a time of 7.48.35. He also ran 7.48.35 when winning in Dublin, Ireland in July 2015.
In the same Dublin meeting Zac Patterson recorded a PB of 7.53.49, but in Newcastle the 20 year-old took another 2 seconds off the mark with a very tidy 7.51.36.
Josh Clarke didn't set any records in the men's 100m but again showed that with good conditions that he's in 10.15-10.20 form. Adjusted for the wind of -2.8m/s his time on Saturday night of 10.39s roughly converts to 10.19s.
Morgan Mitchell continues to show that 2016 is looking to be a breakthrough year in the 400m for the 21 year-old. After winning the 2014 National Championships in 52.22s not everything went to plan in 2015. But since a 52.66s towards the end of 2015 there has been a sense of change in the career of Mitchell. In 2016 she had already posted a 52.29s performance and then in Newcastle she went within a whisker of being the 20th Australian athlete to breakthrough the 52 second barrier – with a winning time of 52.04s.
2016 Power Rankings
After each major track and field meeting of 2016 we will be updating the Australian Power Rankings. After a truly amazing 4.77m AR from Alana Boyd this week, she is placed at no.1 on the list. The other big performers of the last week have been Damien Birkinhead and Brooke Stratton – who were both in great form at the recent Victorian Country Championships.
[tnc-pdf-viewer-iframe file="http://runnerstribe.website/wp-content/uploads/2016/01/2016-IAAF-Rankings-AUS-Points-Men_Women-1.pdf" width="900″ height="400″ download="true" print="true" fullscreen="true" share="true" zoom="true" open="true" pagenav="true" logo="true" find="true" language="en-US" page="" default_zoom="auto"]