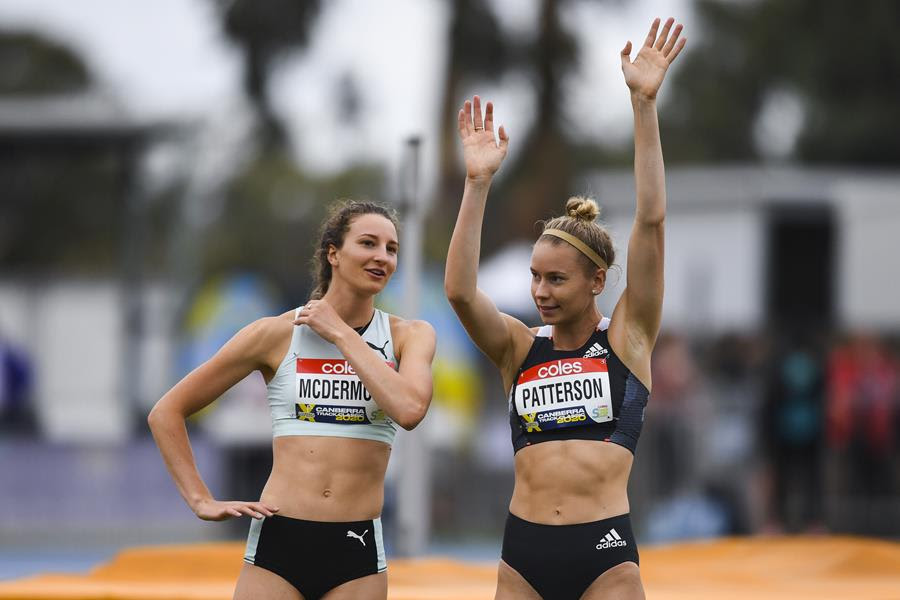 Results from the meet found HERE
Two Olympic qualifiers from Eleanor Patterson and Nicola McDermott in the women's high jump have lead the charge at the 2020 Canberra Track Classic.
Although both Patterson and McDermott had already jumped the Tokyo 2020 Olympic qualifying height (1.96m), McDermott in June 2019 in Ostrava and Patterson in January 2020 in Canberra, they both again cleared 1.96m at the meet.
Eleanor Patterson, who is now coached by Alex Stewart (coach of Brandon Starc) said that her team was the reason she was jumping so well:
"I'm so stoked to be back jumping, and jumping the way I know I can jump, especially cause I am with Alex, I feel blessed that I am in the position I am today,"
"To be in Alex's team is just fantastic, everyone with him is such a quality athlete, especially Brandon, actually everyone – I am very very lucky,"
McDermott who also cleared 1.96m but came second on countback, had a terrific 2019 – climaxed by making the Australian Team at the 2019 Doha World Championships.
"It was so good being on the track with some amazing athletes and not feeling inadequate, being able to face up with the girls that are winning medals and just have fun with them all,"
Both women now have two Olympic qualifying heights and are proof that Australia is not to be shaken at on the World stage.
Liz Clay started off the afternoon in brilliant fashion, backing up her win in the 100m hurdles at the Melbourne Track Classic, with another win, finishing in 13.17 on the front straight.
Australian co-captain at the 2019 Doha World Championships, Steve Solomon won the men's 400m in 45.37.
But to round out the race perfectly – Australian 4x400m runner at Doha – Alex Beck set himself a new PB of 45.82, only the third time in his career that he has broken 46 seconds.
The women's 800m was a highly talked about race and it lived up to its expectation with Georgia Griffith taking home the title, winning in 2:00.88.
In the race, Griffith was the only competitor who kept up with the pacemaker to the 400m mark and it proved the winning tactic, beating home everyone else.
Australian 800m record holder Catriona Bisset finished in second place in 2:02.41
To make the most of the winds. the men's 100m was switched around to the back straight and with Jack Hale unfortunately being disqualified on the line, Rohan Browning ran home for the win in 10.17.
The Australian Track Classic circuit heads to Sydney next with the Sydney Track Classic on Saturday 22 February.
Results from the meet found HERE