UNITED AIRLINES NYC HALF IS A MARATHON OF SORTS FOR CRAGG
By Chris Lotsbom, @ChrisLotsbom
(c) 2017 Race Results Weekly, all rights reserved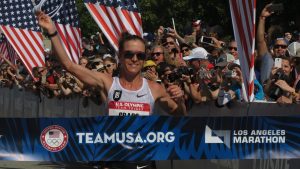 (14-Mar) — By all accounts, American Olympian Amy Cragg considers herself a marathoner. She won the USA Olympic Trials Marathon a year ago, placed ninth in the Olympic Marathon last summer, and boasts a lifetime best of 2:27:03. For the time being, though, she's considering this Sunday's United Airlines NYC Half her own special marathon for the first half of 2017.
By not entering a spring marathon this year, Cragg and coach Jerry Schumacher have put all their eggs in the 13.1-mile basket with one common goal: improve in the marathon.
"We decided not to do a marathon, and we decided to do more half-marathons and get better at the half-marathon in order to better prepare me for marathons in the future," Cragg described in a conference call today, joined by Schumacher and Nike Bowerman Track Club teammate Chris Derrick. "This is a race I've been really gearing up for."
The decision post-Rio to lean towards the half-marathon in the short term has paid off already. On February 5, Cragg ran a massive 68:27 PB to finish second at the Kagawa Marugame Half-Marathon in Japan. That race, combined with Sunday's half through Manhattan, is all about gaining experience and becoming more comfortable with the 26.2-mile distance. While she's completed six over the course of her career, there is still room to grow.
"It makes me feel very confident," she said, speaking from Flagstaff, Ariz., where she has been doing altitude training. "I think that race [in Japan] was more a testament to the fitness I'd acquired over the past year as opposed to the fitness right before the race. Being able to run that time there, it really gave me a lot of confidence," she said. "This past month we've just been building up focusing more on specific workouts for the half-marathon. I've been at altitude so that should help. I'm just going to go in there and compete."
In Sunday's United NYC Half, two-time defending champion Molly Huddle; Olympian Des Linden; and rapidly rising road racer Emily Sisson are among the top Americans entered. Huddle ran a 2:28:13 debut for third place at last fall's TCS New York City Marathon, and Sisson –her training partner– is waiting in the wings as a future marathoner.
Even with a 2:27:03 best and a repertoire that includes the Olympic experience last summer, Cragg is well aware that the next crop of American marathoners (including Huddle, Sisson, and Boston Marathon debutante Jordan Hasay) are knocking on the door. That, she says, makes it important to build fitness and strength through early season half-marathons this year with the future in mind.
"I think having the marathon, more athletes doing it and for it to be deeper up front is just going to push everyone to be better," Cragg said. "It's awesome actually. I really believe that there are more marathoners in the U.S. than what show up on race day every four years [at the Olympics]. I think the deeper we get up front the better it'll be."
One difference in Cragg's training prior to this week's race has been the absence of close friend and Bowerman teammate Shalane Flanagan, who is recovering from a back injury (Flanagan had to scratch from the Boston Marathon due to the injury). While Flanagan has pushed Cragg to a new level over the years, another Bowerman teammate, 2015 IAAF World Championships bronze medalist Emily Infeld, has helped fill the void and took over as Cragg's training partner in recent weeks. Over the last month, Infeld's speed has rubbed off on Cragg.
"That has been a huge help," Cragg said of Infeld. "Having Shalane over the past year and a half or two years now has been absolutely incredible. I think she's pushed me and taught me a lot about racing and running. It was really, really hard not having her here. It felt weird leaving for altitude without her, but Emily was absolutely amazing. We had a great time and we built a lot together."
Later, Cragg would continue to praise Infeld, contrasting her strengths with those of Flanagan.
"It's definitely different than training with Shalane. Shalane is someone, we just match up so well. We can do pretty much every step of every mile together. Training, our workouts match up really well. A lot of time she just pushes me to the next level," Cragg said. "With Emily, she's a different runner and more of a 10-K runner. With the faster stuff she really helps me go faster on the track. She doesn't do quite as many miles but she's really just a fun person to be around. She absolutely loves running, loves the sport, and she brings an excitement every single day to practice and training."
Cragg feels that another PB could be in the cards on Sunday, and wants to continue the American tradition of finishing on the podium (Huddle has won the last two years and Kara Goucher was third in both 2011 and 2012).
"Just to compete well. I'm not sure what kind of time the conditions will allow for, so it really is that I just want to be in the mix with the front group of people. I'm hoping to take that leap in this race cause I feel everything has been going really well. I just want to get in there and compete to the best of my ability."