Dutch champion Sifan Hassan and Swiss contender Julien Wanders set new world 5km records* within minutes of each other during the Herculis 5km race along the Monaco coastline on Sunday (17).
Both athletes had set themselves for attempts on the newly-established 5km road standards and they duly delivered on a picture-perfect winter day in Monaco.
The elite women started first from Port Herculis and Hassan's intentions were immediately clear.
The European 5000m champion surged to the front of the field behind the pace-makers, gapping the rest of the field by the time she reached the end of the port. She returned alone to cross the finish line in 14:44, bettering both the pending women's-only race world record of 15:48 and the pending mixed race standard of 14:48. Britain's Laura Weightman finished second in 15:29.
"After 3km I was slow and I thought, 'I'm not going to make it','' Hassan said.
"I really gave up and was just running, but I pushed at the end, I really sprinted the last 200 metres, and I'm so happy. It's my first world record."
"When I did the half-marathon last year (she set the European record in Copenhagen last September), that was my 5km best, 15-something. But my training and endurance was good and I thought I could run about 14:45."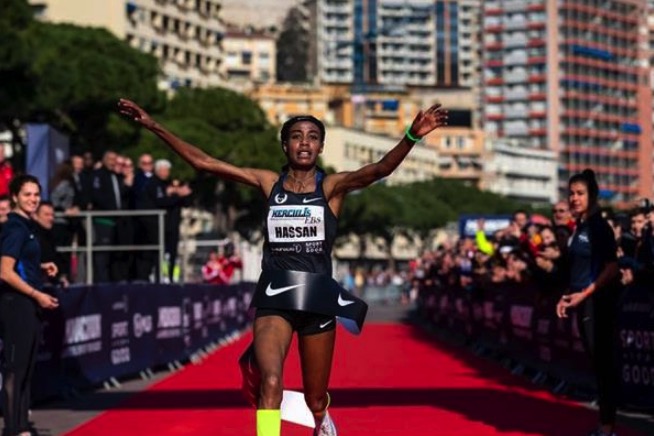 The elite men began five minutes later and Wanders, who broke Mo Farah's European half-marathon record, last week, continued to show outstanding form, completing his 5km in 13:29, just one second inside the target time of 13:30, and eight seconds clear of second-placed Sondre Moen of Norway (13:37).
When Wanders crossed the finish line he was unsure if he had done enough to claim his first world record but he was delighted when his official time was confirmed.
"I got two European records and now a world record, my first one, so it's amazing,'' Wanders said.
The 22-year-old Kenyan-based runner revealed that he had battled some illness in the days leading into the race and was uncertain if it would detract from his performance.
"I was confident. The only thing was I got flu three days ago so it was a challenge for me, I was not sure,'' he said.
"I wanted to go for around 13:20 and we were right on pace at half-way but then we were losing time and I was a bit worried because I knew 13:30 was the old record and at the finish, I saw 13:30 and then they told me, no, it was 13:29, so I was very happy."
Both athletes finished their road-racing campaigns today and will now pursue other ambitions for the rest of the year.
"Now I will focus on the track and I hope to do well in Doha (at the IAAF World Athletics Championships in September-October) in the 5000m and 10,000m,'' Wanders said.
"For now I still want to improve on the track and see what I can do on the track and probably after Tokyo I will try my first marathon.''
The versatile Hassan, who has put in world-class performances from 1500m to half-marathon, said she would take on the new challenge of contesting the IAAF World Cross Country Championships at Aarhus, Denmark, on 30 March.
"I did European Cross Country a couple of times and I really like it so this year I'm excited to do World Cross Country,'' she said.
In Doha, she also intends to contest the 5000m-10,000m double.
The 5km road distance was introduced as a world record event in November 2017, with the inaugural record to be recognised after 1 January 2018 if the performances were equal to or better than 13:10 for men and 14:45 for women. If no such performances were achieved in 2018, the best performances of 2018 would be recognised on 1 January 2019.
The pending inaugural records – 13:30 by Bernard Kibet on the men's side and 14:48 by Caroline Kipkurui in the women's for a mixed race – were set en route at the Birell Prague Grand Prix 10km on 8 September last year.
Nicole Jeffery for the IAAF