The inaugural Great Southern Stage Run certainly lived up to the region's 'wild and rugged' reputation as competitors rose to the challenge that both the course and weather threw at them over the three-day event.
Held on Thursday 17 to Saturday 19 November 2022, the ultra-distance stage run showcased a 200km point to point course which traversed large sections of the famed Bibbulmun Track in the Great Southern Region of Western Australia.
Organisers Rapid Ascent were blown away by competitors' feats at the inaugural event;
"We are truly blown away by the success of the event over the past few days; it has shown us that this is a World Class event on a World Class course!" said Event Director Sam Maffett.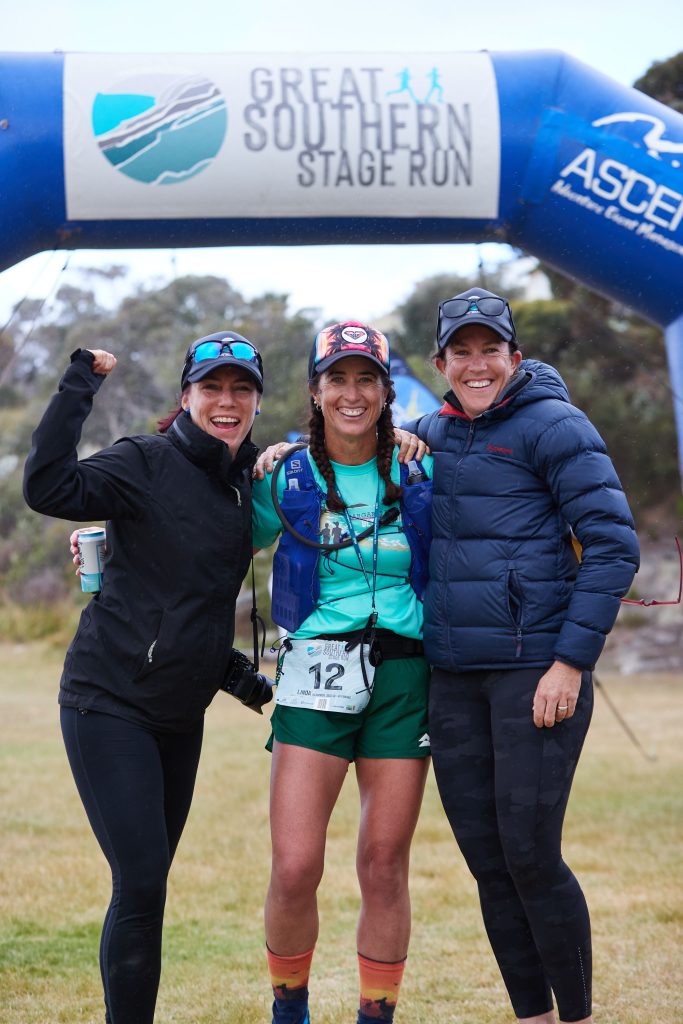 "It really was fantastic to see so many of our participants relishing in the opportunity to run in an area of Australia rarely visited by people," added Maffett. "Over the three-day race they have pushed frontiers, pushed their limits, broadened their horizons and challenged themselves each and every kilometre – falling asleep at the end of each day exhausted and satisfied!"
Competitors were treated to a challenging course that encompassed a wild, rugged and incredibly beautiful part of Australia, enroute to the spectacular finish line on the Torndirrup Peninsula at Albany.
61 relay teams of 4 competitors ran between 10km and 26km each over the four legs that make up each of the three days; with 8 competitors completing the entire course solo, running 70km on day 1, 77km on day 2, and 56km day 3.
Team Flying V's held solid form over the three days taking out the Relay Team of 4 category and feeling absolutely thrilled to the brim!
"At one point I actually stopped running… I got up to the top of this hill between 2 mountains and I just had to stop – the view was World Class, and it literally took my breath away!" – Flying V's.
"That was a dream run; the trails out there are just phenomenal and all I could think about was running that course again!" – Flying V's.
Supported by his wife and kids, Alan Williams was our first Solo Male runner on each day, taking out the overall solo win.
"Everyone out on the trails were so fantastic and extremely encouraging; it's that camaraderie that gets us through this tough course!" said Williams.
Linda Kilpatrick was our Solo Female winner and recalls: "It's just beautiful out there on course – it really blows my mind how you find these courses and all those tough little bits too!" said Kilpatrick. "Hitting the beach was super hard at times but I had it to myself, so I had a big cheer!"
The course consisted mostly of single track as competitors followed the Bibbulmun Track, with Day 1 starting at the valley of the Giants in Walpole on the elevated tree-top walk, and finished up at Parry Beach.
The 70km course for Day 1 was broken up in to 4 legs of varying distance and had competitors run through lush Great Southern forests and a mix of terrain along wild back beaches, cliff tops, rock-hopping and inland trails. Day 1 saw competitors treated to a number of scenic landmarks such as Conspicuous Beach and Peaceful Bay; and also included a 200m river crossing by canoe!
Day 2 was described as simply sensational! The 77km course began at Parry Campground and included an untimed stint by ferry over Wilson Inlet. Competitors rose to the challenge that both the weather and course threw at them, running on trails that flowed past picture-postcard beaches and popular landmarks such as Greens Pool and Elephant Rocks.
Day 3 was a staggered start from Kennedy Camp with slowest to fastest solo and relay teams, with the aim to all finish the event close together in time for celebratory presentations at Camp Quaranup on in Albany.
"The handicap format was really successful at bringing everyone together at the finish line, and maximised the celebrations for all!" said Maffett.
The final days' trails included Australia's Best Beach for 2022 – Misery Bay! Competitors swept across spectacular beach-hugging trails with the Albany Windfarm towering above; before cutting through the towns of Little Grove and Big Grove, past Misery Bay to our Finish Line.
Participants stayed together at coordinated group accommodation at each day's finish line, which created a social and supportive environment for all runners and supporters.
"The genuine enthusiasm and energy amongst teams was fantastic to see," said Maffett. "Their amazement at the magnificence of the terrain showed just how blown away competitors were by the course; not to mention the many life-long connections formed from the event!"
The event finished with a celebratory BBQ, free beer and presentations at Camp Quaranup making it a very joyous occasion.
The Great Southern is the largest and most diverse region within Australia's South West and is supported by the City of Albany who have helped Rapid Ascent creating such a successful event. Simultaneously, the event supported the Bibbulmun Track Foundation with their ongoing maintenance and management of the trail.
The event was formed as an amalgamation of the best parts of Rapid Ascent's two most successful (and sold-out) trail running events – The Run Larapinta Stage Race in the NT and The Margaret River Ultra Marathon in WA.
The next edition of the Great Southern Stage Run will be held in November 2023 and will act as an official qualifying event for the Everest 135 Extreme Race (the only Australian qualifying race!). Learn more here.
For more information on the Great Southern Stage Run including detailed results, head to www.greatsouthernstagerun.com.au.