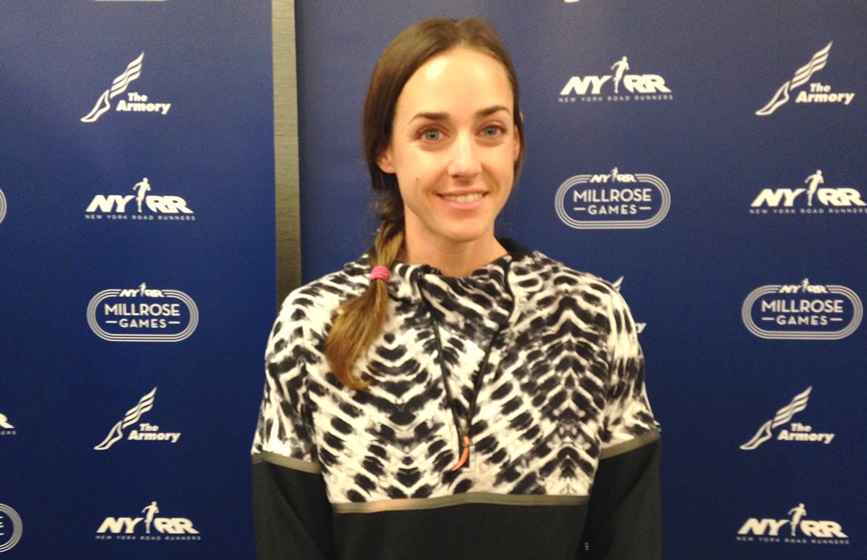 By Chris Lotsbom, @ChrisLotsbom
(c) 2016 Race Results Weekly, all rights reserved
NEW YORK (18-Feb) — It's been nearly two years since Molly Huddle has lined up on an indoor track, a long 24-month stretch that has seen her rise to world-class levels. Huddle will return to the indoor oval here on Saturday at the NYRR Millrose Games for the women's 5000m. Hinting that she is in very good shape, Huddle would not rule out an attempt on the American indoor record of 14:47.62, which Shalane Flanagan has held since 2009.
"I'm going to run hard. I definitely want it to hurt," Huddle told Race Results Weekly, speaking quietly at the meet press conference.
Having been training at her warm weather base in Phoenix, Ariz., Huddle has kicked off 2016 with ample motivation. She wants to build on the successes of 2014 and 2015, where she won eleven national titles and set national records at 5000m (14:42.64) and 5-K (14:50). Not altering her regimen too much, Huddle is taking a calm approach to the early months of 2016. Along with coach Ray Treacy, the Notre Dame-alum knows the ultimate goal is a medal at August's Olympic Games in Rio de Janeiro.
With that being said, she hopes to run well here this weekend and then again at the United Airlines NYC Half on March 20, two dates circled on her calendar. Huddle is the defending champion of the latter event, where she set a USA record for an all-women's race, and plans to use the half-marathon as a springboard for the rest of the year.
"I hope to have a similar build-up this year, and the focus is making the Olympic year and running well there. I probably will keep things similar the front half of the year, and not race as hard as much afterwards," she said.
Saturday's race is not a rust-buster, nor is it strictly a time trial. Huddle has put in a plethora of strength work and built a solid base of training the past few months, running alongside New Balance's Emily Sisson and Ireland's Mary Cullen. Her weekly mileage has broken into the triple digits twice this year, a high mark for the 2012 Olympian.
"[The NYC Half] was a great thing to have on the schedule because it forced me to do a lot of strength work that I can feed off on all year, and it is obviously a great event for me, so I really wanted to come back. We are going to be doing that this year and hoping it pays off again and keeps me strong all year through August," Huddle said. Turning her attention to Saturday, Huddle couldn't help but get subtly excited. "Sometimes strength turns into speed when you line up to race, and sometimes you just feel rusty. We'll see which one it is!"
The current world lead at 5000m is Kim Conley's 15:09.31 (on an over-sized track), which Huddle should break. She said she is capable of a sub-15 clocking, but just how far under 15-minutes is the great unknown (Huddle raised her shoulders at the thought of a particular time). Among those Huddle will be facing Saturday are Emily Infeld, the very athlete who nipped her for the 10,000m bronze medal at last year's IAAF World Championships, as well as Kenya's Betsy Saina, New Balance's Abbey D'Agostino, Nike Oregon Project's Jordan Hasay, Boulder Track Club's Laura Thweatt, and local standout Marielle Hall (Nike).
Still hesitant to elaborate on the devastation of last year's fourth-place in Beijing –for which she told Race Results Weekly was a devastating result multiple times last fall– Huddle seems to be looking ahead.
"I'm glad I had those races [after Worlds] to look forward to, I think it just helps to focus on the next race and helped me go forward," she said. In her races following the IAAF World Championships, Huddle won national crowns at 5-K, 10-K, 12-K, 10-miles, and 20-K.
On The Armory's 200m banked oval, Huddle wants to replicate the tempo and in-the-zone mentality that propelled her to meteoric success in both 2014 and 2015.
"I think just because it is 200 meter loops instead of 400m you can kind of get into a zone and click them off especially in the 5000m, which can be a long time to focus," she said.
While intrinsically Huddle is motivated, last weekend's U.S. Olympic Marathon Trials served as an added dose of motivation and adrenaline, as she watched former training partner Amy Cragg run away with the women's victory after assisting teammate Shalane Flanagan.
"I'm inspired by that. I think Amy's had a good marathon in her for a while, so for it to come out in those conditions is really impressive. I'm glad I wasn't running on that day, but it definitely makes me interested to try the marathon," Huddle said. She wouldn't rule out a fall marathon, and has been anxious to try the distance for many years. "I'll definitely be asking all my friends who've run marathons before [for advice]. Hopefully it's in the near future."
If the right race plays itself out on Saturday, Huddle could cross the line as the newest American record holder. It could be the beginning of a monumental year for Huddle, a dedicated grinder and feisty competitor.
"It's a tall order for the first race in February" Huddle began, slightly downplaying her record hopes as not to appear over-confident. "[It's] something I'd love to have, but the race has to set up."