By David Monti, @d9monti
(c) 2017 Race Results Weekly, all rights reserved
(01-Mar) — The streets of Prague will be graced by the greatest collection of elite athletes ever to run a half-marathon in the Czech Republic on Saturday, April 1, for the 19th edition of the Sportisimo Prague Half-Marathon, organizers announced today.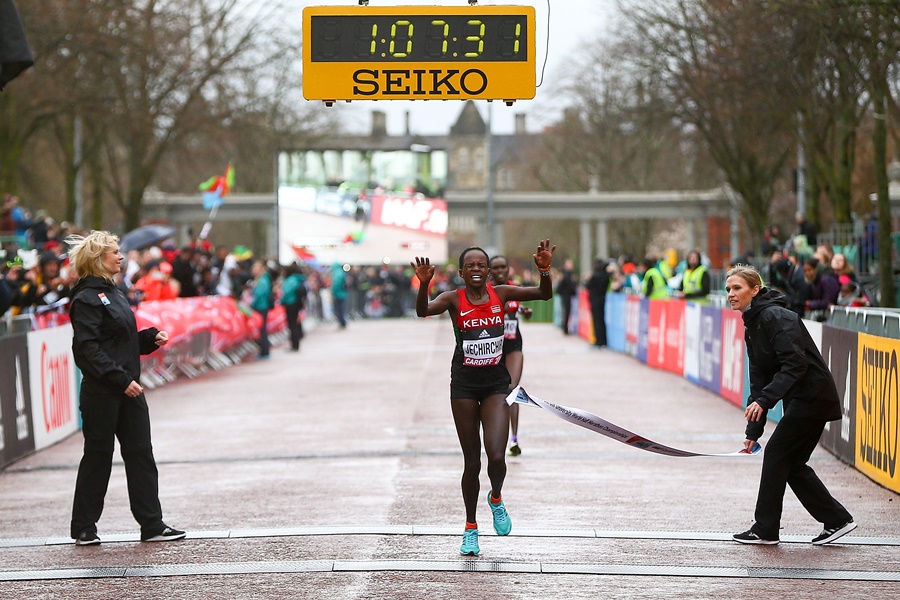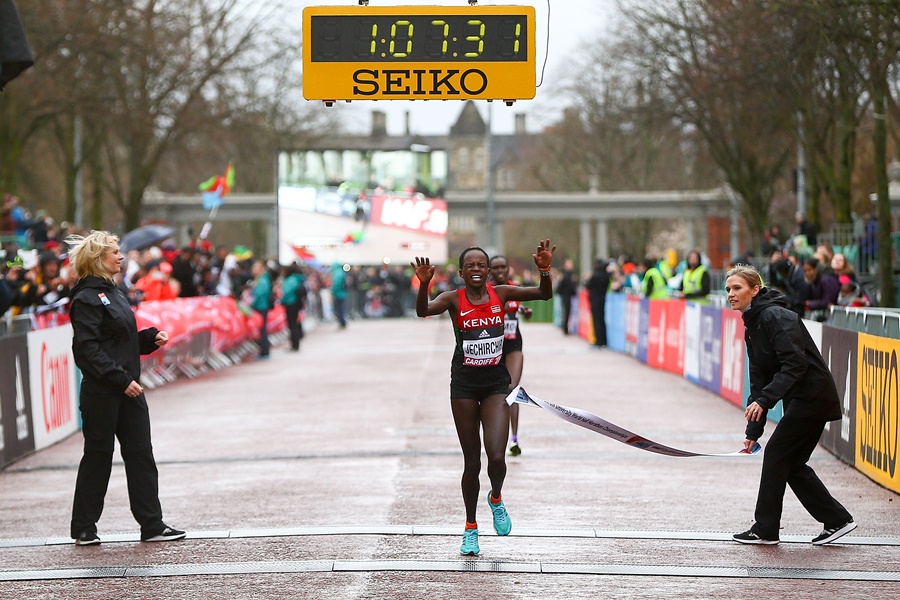 The women's field is particularly compelling, led by the reigning IAAF World Half-Marathon champion, Peres Jepchirchir of Kenya, who is also the newly minted world record holder (1:05:06).  She will be challenged by compatriot Violah Jepchumba, who not only won the race last year but also ran the fastest half-marathon of 2016 (1:05:51).  Another Kenyan, Joyciline Jepkosgei, who recently set a personal best of 1:06:08 at the RAK Half-Marathon last month, should also challenge for the title.
Additionally, another four women –Worknesh Degefa of Ethiopia, Gladys Chesir and Lucy Cheruiyot of Kenya, and Jordan Hasay of the United States– have broken the 1:09:00 mark.  Another nine women representing six nations have broken 1:12:00 during their careers.
On the men's side, it will be hard to top last year's race when five athletes broke the one-hour mark.  However, the field is strong enough for that to be possible.  Four Kenyans –Barselius Kipyego, Leonard Patrick Komon, Geoffrey Yegon and Vincent Yator– have all run sub-60:00 during their careers.  Komon, the world record holder for both 10-K and 15-K on the roads, is the fastest with a 59:15 career best.  Kipyego has run 59:15, Yegon 59:44, and Yator 59:55.
The men's field also has two Olympic medalists, Galen Rupp of the United States and Tamirat Tola of Ethiopia.  Rupp –who earned the silver medal in the 10,000m in London in 2012, and the bronze medal in the marathon in Rio in 2016– will be using this race as a tune up for his Boston Marathon debut in April.  He has a career best of 1:00:30 from the United Airlines NYC Half from 2011 which was his debut at the distance.  Tola was the 10,000m bronze medalist from the Rio Olympics.  He has a 1:00:06 half-marathon personal best.
A total of 14 men have broken the 62-minute mark during their careers, including 2014 European Marathon champion Daniele Meucci of Italy (1:01:06), who is the top European entrant.
The Sportisimo Prague Half-Marathon will be streamed LIVE globally via Runczech.com, with English language commentary at 10h00 CET.
The complete elite fields are below, listed by bib number:
MEN –
1, Barselius KIPYEGO, KEN, 0:59:15
2, Leonard Patrick KOMON, KEN, 0:59:14
3, Geoffery YEGON, KEN, 0:59:44
4, Vincent Kipsegechi YATOR, KEN, 0:59:55
5, Tamirat TOLA, ETH, 1:00:06
6, Abraham KIPYATICH, KEN, 1:00:03
7, Hiskel TEWELDE, ERI, 1:00:29
8, Benard Kiplangat, BETT, KEN, 1:00:36
9, Galen RUPP, USA, 1:00:30
10, Daniele MEUCCI, ITA, 1:01:06
11, Amos Kiplimo MITEI, KEN, 1:00:53
12, Eliud Macharia MWANGI, KEN, 1:01:09
13, Fabiano SULLE, TAN, 1:01:17
14, Amos Kibiwott KURGAT, KEN, 1:01:56
15, Evans RUTO, KEN, 1:02:05
16, Oleksandr SITKOVSKYY, UKR, 1:03.49
17, Geoffrey KOECH, KEN, 1:02:29
18, Arkadius GARDZIELEWSKI, POL, 1:03:30
19, Jiří HOMOLÁČ, CZE, 1:03:50
20, Vít PAVLIŠTA, CZE, 1:05:09
21, Jan KREISINGER, CZE, 1:03:43
22, Jan KOHUT, CZE, 1:06:18
23, Tibor SAHAJDA, SVK, 1:06:24
24, Jozef URBAN, SVK, 1:07:13
25, Ignas BRASEVICIUS, LTH, 1:07:57
26, Michael JAPPESEN, DEN, 1:08:11
27, Andrey LEIMENOV, KAZ,
28, David VAŠ, CZE, 1:09:13
29, Josphat Kimutai TANUI, KEN, debut
30, Nicodemus Kipkurui KIMUTAI, KEN, debut
31, Xavier CHEVRIER, ITA, debut
32, Jan JANU, CZE, debut
33, Tomáš MIKA, CZE, 1:12:29
34, Eyob GHEBREHIWET, ITA,
35, Boris, SCIBA, SVK, 1:08:40
Pacemakers:
41, Ismael Kipkemboi MOTOSIO, KEN
42, Dominic Kipngeno MIBEI, KEN
44, Edwin Kimutai, KIPLAGAT, KEN
45, Ondřej, FEJFAR, CZE,
47, Benard Kitavi, KIMANI, KEN
48, Josphat Kiprop, KIPTIS, KEN,
49, Nicholas Kipchirchir, BOR, KEN, 1:00:09
50, Philimon Kipkorir, MARITIM, KEN
WOMEN –
1, Violah JEPCHUMBA, KEN, 1:05:51
2, Peres JEPCHIRCHIR, KEN, 1:05:06
3, Joyciline JEPKOSGEI, KEN, 1:06:08
4, Worknesh DEGEFA, ETH, 1:06:14
5, Gladys CHESIR, KEN, 1:06:57
6, Lucy CHERUIYOT, KEN, 1:08:17
7, Jordan HASAY, USA, 1:08:40
8, Viola JELAGAT, KEN, 1:09:27
9, Valary AIYABEI, KEN, 1:09:33
10, Meagan KRIFCHIN, USA, 1:09:51
11, Shitaye ESHETE, BHR, 1:10:14
12, Eva VRABCOVÁ, CZE, 1:11:06
13, Risper Biyaki GESABWA, KEN, 1:11:41
14, Monica Madalina FLOREA, ROM, 1:11:56
15, Sarah JEBET, KEN, 1:11:28
16, Diana LOBACEVSKE, LTH, 1:11:33
17, Stellah BARSOSIO, KEN, 1:12:18
18, Fancy CHEMUTAI, KEN, debut
19, Olga SKRYPAK, UKR, 1:13:09
20, Yvonne JELAGAT , KEN, debut
21, Soňa VNENČÁKOVÁ, SVK, 1:17:44
22, Irina SMOLNIKOVA, KAZ,
23, Tereza LAJDOVÁ, CZE, 1:17:56
24, Barbora JÍŠOVÁ, CZE, 1:19:30
25, Tereza ČAPKOVÁ, CZE, debut
26, Dagmar RYCHNOVSKÁ, CZE, 1:20:32
27, Daniela HAVRÁNKOVÁ, CZE, 1:23:35
28, Radka HANZLOVÁ, CZE, debut
PHOTO: Peres Jepchirchir winning the 2016 IAAF World Half-Marathon Championships in Cardiff, Wales (photo by Getty Images, used with permission from the IAAF)