By David Monti, @d9monti
(c) 2018 Race Results Weekly, all rights reserved
BOSTON (16-Apr) — In soaking rain accompanied by near-freezing temperatures and a stiff headwind, Desiree Linden of Washington, Mich., and Yuki Kawauchi of Japan won the 122nd edition of the Boston Marathon here today.  Linden, 34, overcame a strong urge to drop out in the first quarter of the race to become the first American woman to win here since Lisa Larsen-Weidenbach in 1985.  Kawauchi, 31, became the race's first Japanese champion since Toshihiko Seko won for the second time in 1987.  Both athletes earned $150,000 in prize money.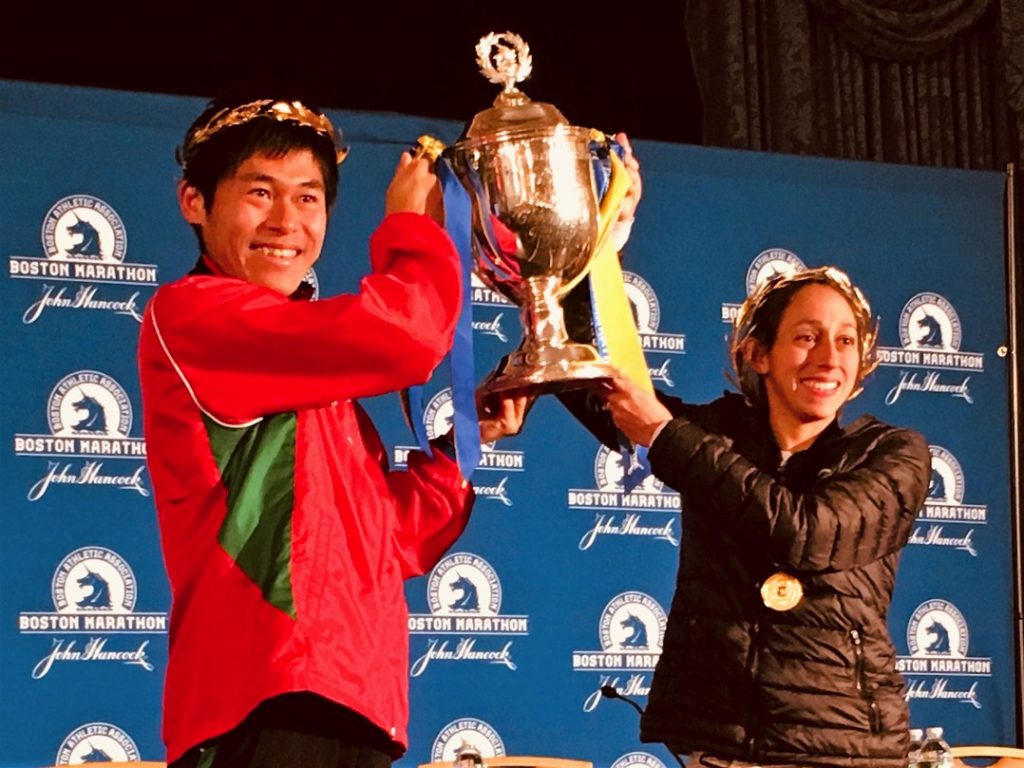 Race times were exceptionally slow as athletes fought against the harsh conditions.  The temperature at the start in Hopkinton was 3C/34F accompanied by moderate rain and gusting winds.  But the rain intensified during portions of the race leaving the athletes soaked and the roadway covered with puddles. Linden's mark of 2:39:54 was the slowest women's winning time in 40 years, while Kawauchi's time of 2:15:58 was the slowest men's winning time in 42 years.
Moreover, the weather laid waste to a top-class field of African runners who have dominated at this race over the last 20 years.  Not a single elite athlete from Ethiopia –male or female– was able to finish the race, and only two Kenyan men finished in the top-20.  The race's defending champions, Geoffrey Kirui and Edna Kiplagat of Kenya, finished second and eighth, respectively.  Twenty-six time USA national champion Molly Huddle finished 15th, and reigning TCS New York City Marathon champion Shalane Flanagan (who grew up just outside of Boston in Marblehead) was sixth.
"It was kind of comical how slow you were running," Linden observed at the post-race press conference saying that she was repeatedly "stood up" by the wind.  She added: "Definitely toughest conditions on the cold side that I've run in."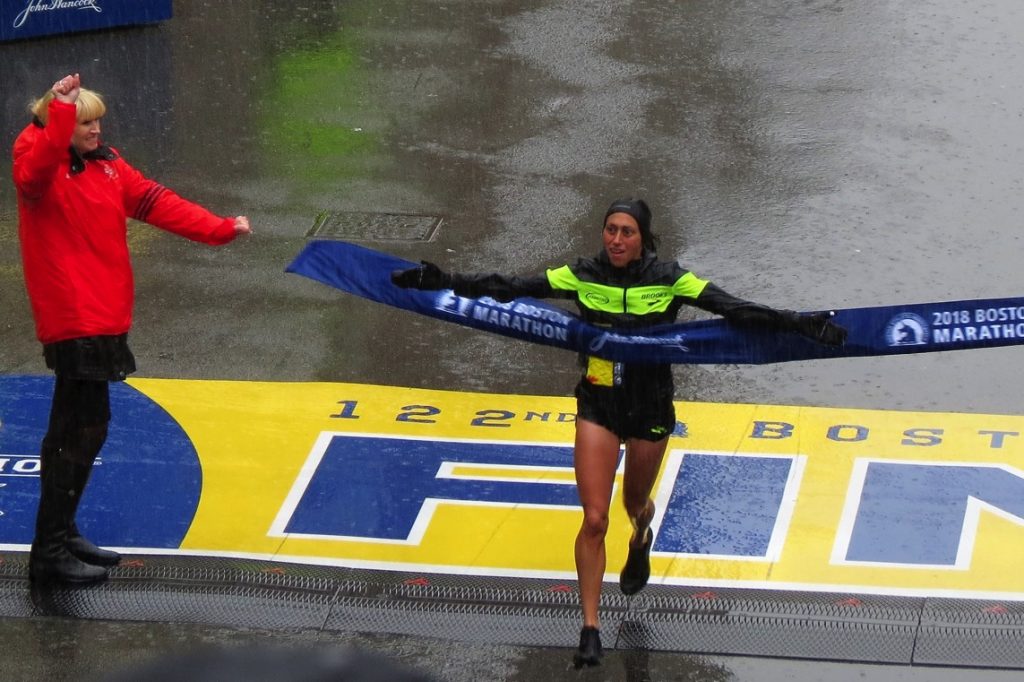 Remarkably, Linden nearly decided to quit the race only after just 10 kilometers.  While the lead pack was still all together, she could be seen on the television broadcast conversing with Flanagan who then darted off of the course to use one of the portable toilets.  Linden said she wasn't feeling great and instead of focusing on her own race she decided to help Flanagan bridge back up to the leaders.
"Honestly, early on the in the race I was feeling horrible," Linden told reporters.  "I just kind of nudged her (Flanagan) and said, 'I might drop out.  If you need something, block the wind, whatever, let me know.'  She nudged me and said, 'I'm going to hit the bathroom.'  I thought, if it slows up, great, if not I'll try to tuck in and bring you back to the group and that was that."
The two Americans didn't lose any time and were in a 12-strong lead pack at 10-kilometers (37:10).  Linden still wasn't feeling great and was looking for more motivation.  She saw a chance to help Huddle.
"Molly (Huddle) was at the front and (Ethiopia's Mamitu Daska) made the move, and I was, like, I should probably help Molly reconnect to that.  And then I turned back and I was in third, or fourth, and I thought, I probably shouldn't drop out."
After the halfway mark was reached in 1:19:41, only nine women were left in contention: Ethiopians Mamitu Daska and Buzunesh Deba; Kenyans Edna Kiplagat, Gladys Chesir, and Caroline Rotich; Japan's Hiroko Yoshitomi; and Americans Linden, Huddle, and Flanagan.  Daska made a big move to break open the race, and by the time the 25-kilometer mark was reached the Ethiopian had a 27-second lead over the chase group.
But Chesir and Linden decided to chase Daska, and caught her going up Heart Break Hill (about 34 kilometers).  Daska's form had deteriorated and she was clearly slowing down.  The three women were still together at 35 kilometers, but the wheels fell off for both of the Africans who eventually dropped out.  By 40 kilometers, Linden had a three-minute lead.
"Honestly, I felt miserable, but sometimes when you pick it up and you just forget about how you're feeling and just engage for a little bit you can kind of turn everything around.  That's kind of what happened."
Despite having a big lead, Linden recalled her second place finish here in 2011 where she lost the race in the final spring. She just kept driving and did not let up until she got to the finish line.
"This is storybook stuff," she said in near disbelief.
Second place went to unheralded Sarah Sellers, a 26 year-old nurse-anesthetist from Tucson, Arizona, and a former collegiate runner at Weber State University in Utah.  Running in only her second marathon (the first was a 2:44:27 last September in Huntsville, Utah), she finished here in a similar time of 2:44:04 and collected the $75,000 runner-up prize.
"I'm still in shock about that," said Sellers of her $75,000 payday.
The last podium position went to Canadian Olympian Krista Duchene, 41, from Brantford, Ontario, in 2:44:20.  She said she had come here hoping for a top-3 masters (veterans) finish, and maybe top-15 overall.  But instead she found herself in a surreal situation in the last five kilometers of the race as some of the sport's greatest athletes were reduced to a shuffle, or even dropped out.  Duchene was only in 13th position at halfway, but moved up to fifth by 40-kilometers, and third by the finish.
"It was just crazy how it all unfolded," Duchene marveled.  "I'm still in shock."  She continued: "I just kept going.  The race was surreal.  I never experienced that before; I'm pretty experienced at marathons having done 14.  The last 5-K was just complete disbelief to what was happening so quickly."
Among the elite women who failed to finish were Aselefech Mergia (ETH), Buzunesh Deba (ETH), Mamitu Daska (ETH), Madai Perez (MEX), Caroline Rotich (KEN), Gladys Chesir (KEN), and Deena Kastor (USA).  Kastor last ran here in the Nor'Easter of 2007.
Kawauchi also came from behind to get the win today, but he also spent a lot of time at the front of the race, too.  After the starter's horn was sounded, Kawauchi shot through the first downhill mile in four minutes and 37 seconds, a 2:01:03 marathon pace.  He was eventually caught, but shot ahead again between 15 and 20-kilometers, only to come back to the pack again.  He later said that he was just running by feel.
"The beginning was one of several different scenarios that I had considered before the race, and it played out that way," Kawauchi told reporters with translation help from his manager, Brett Larner.  "Then, just the evolution of the race and how I was feeling the race that I went to the lead again mid-race."
Fourteen men were still in the lead pack at halfway (1:05:59).  The situation remained pretty constant until Geoffrey Kirui decided to break the race open.  He split 15:54 between 25 and 30-kilometers building a 28-second lead.  Wearing a thin white jacket over his racing kit which sometimes billowed in the wind, Kirui looked strong.  After cresting Heart Break Hill (about 34 kilometers) he was still ahead by one minute and 23 seconds, and his lead swelled to 1:31 by 35-kilometers. He appeared to have the race under control.
But the cold would eventually catch up to Kirui, and by 40-kilometers his lead was down to just 20 seconds.  Kawauchi was coming, and was coming fast.
"To be honest, when I took the lead I didn't realize I had," Kawauchi admitted.  "I could see somebody coming back, but I wasn't sure it was Kirui.  And when I went by I didn't look to see who it was.  And I just kept telling myself, forward, forward, forward.  Run your own race and keep going."
By the end, Kawauchi would win by about two and one-half minutes.  Kirui, who was timed in 2:18:23, was nearly caught by American Shadrack Biwott of Folsom, Calif., who finished third in 2:18:35.  Fourth place went to Tyler Pennel of Blowing Rock, N.C., in 2:18:57, and Andrew Bumbalough of Portland, Ore., finished fifth in 2:19:52.
Among the elite men who failed to finish were Galen Rupp of Portland, Ore. (last year's runner-up); Ethiopia's Lemi Berhanu, Tamirat Tola and Lelisa Desisa; Kenya's Norbert Kigen, Wilson Chebet, Felix Kandie, and Evans Chebet.  Interestingly, the only other Kenyan to finish after Kirui, Stephen Sambu, lives and trains in the United States in Tucson, Arizona.
Famously, Kawauchi is a government servant in Saitama Prefecture where he works in the administrative office of a high school and does not run in Japan's famous corporate team system.  He is best known for his prolific marathon running and holds the world record for sub-2:20 marathons (he now has 79).  He has already run four marathons this year, and said that he would resume training tomorrow.
"About one hour," he said when asked how long he would run on Tuesday.
The 2019 Boston Marathon is scheduled for Monday, April 15.  The Boston Marathon is part of the Abbott World Marathon Majors, the premiere global series of marathons.