A look at the latest breaking 2 project.
When it comes to second chances, you can pick your won cliché. Some old sayings take the glass-half-full perspective; others look on the gloomier, glass-half-empty side.
"A soufflé doesn't rise twice," former Australian prime minister Paul Keating observed scathingly of a political opponent 'gifted' a second attempt to beat him.
On the other hand, as the old song has it, "love is lovelier the second time around."
Eliud Kipchoge will make a second attempt on breaking two hours for the marathon in Vienna sometime between 12 and 20 October. How will it go for the runner many now see as history's greatest marathoner, I wonder: will it be lovelier the second time around, or will sub-2 be a soufflé which has still not risen once, much less twice.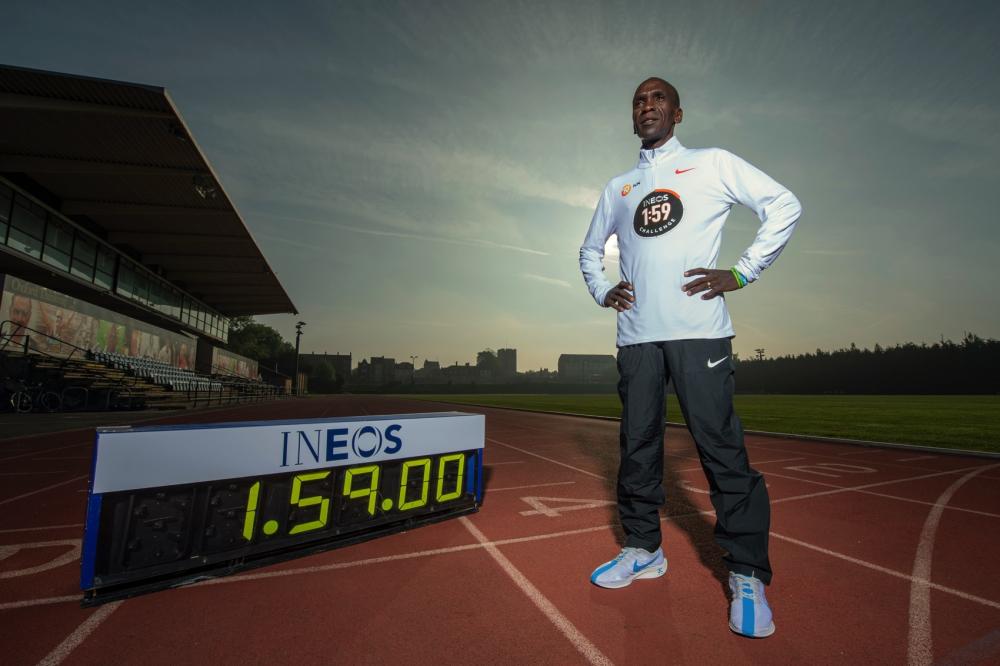 Come to think of it, there is a third possibility. John Howard, another onetime Keating opponent, was twice elected leader of his party and twice defeated. Asked on the latter occasion whether he foresaw himself getting a third opportunity, Howard replied: "That would be like Lazarus with a triple bypass. I mean, really, break it down."
Turns out it was Howard who had to "break it down." Not only was he wrong; he went on to win back his party's leadership, re-take government and become Australia's second-longest serving prime minister.
Back to the main point. Is the sub-2 project again doomed to be a disappointment, a goal not to be reached, a soufflé never to rise.
First time round, in Nike's Breaking 2 project at Italy's Monza road racing circuit, Kipchoge came within 26 seconds a 1:59:59, closer than many observers thought possible. Now, Kipchoge's Vienna waltz is being backed by UK multinational chemicals giant, Ineos, whose CEO/founder, Jim Ratcliffe, is Britain's third-richest man.
Ratcliffe just bought French Ligue 1 team Nice, having previously been linked with Manchester United and Chelsea. Ineos also took over Team Sky this year. No stranger to tipping buckets full of money into sporting projects, then. The support systems already announced for the Vienna attempt are an enhancement even of the elaborate arrangements for Monza.
I must admit to warming late – and reluctantly, to the first sub-2 project. It seemed a totally contrived effort and, besides, still some way out of reach even for Kipchoge, whose best 'normal' time then was 2:03:05 in winning the 2016 London marathon. By coming within 26 seconds – a second a mile – of breaking the barrier, Kipchoge shattered such notions.
"Can it be done?" has been emphatically answered. Yes, it can. And Kipchoge has since gone on to reduce the world record to 2:01:39 in Berlin last September and his London course record to 2:02:37 earlier this year.
Will it be done in Vienna is another matter. Kipchoge is obviously still on an upward performance curve. His world record was about a minute and a half faster than his previous best; his London race record around 30 seconds faster than he had previously run there. Assuming Kipchoge can find a similar quantum improvement to his 'paced' best in Vienna as he achieved to his 'raced' best in London this year, a sub-2 is within reach.
As said earlier, the superlatives around Kipchoge's 2:00:25 in Monza largely put to rest the misgivings about the project. Now, Kipchoge says that he wants to make a second attempt because, as he said in a telephone hook-up launching the Vienna project: "This is about history, it's about leaving a legacy." A little later, he described it as "like the first man to go to the moon, I will be the first man to run under two hours, this is crucial."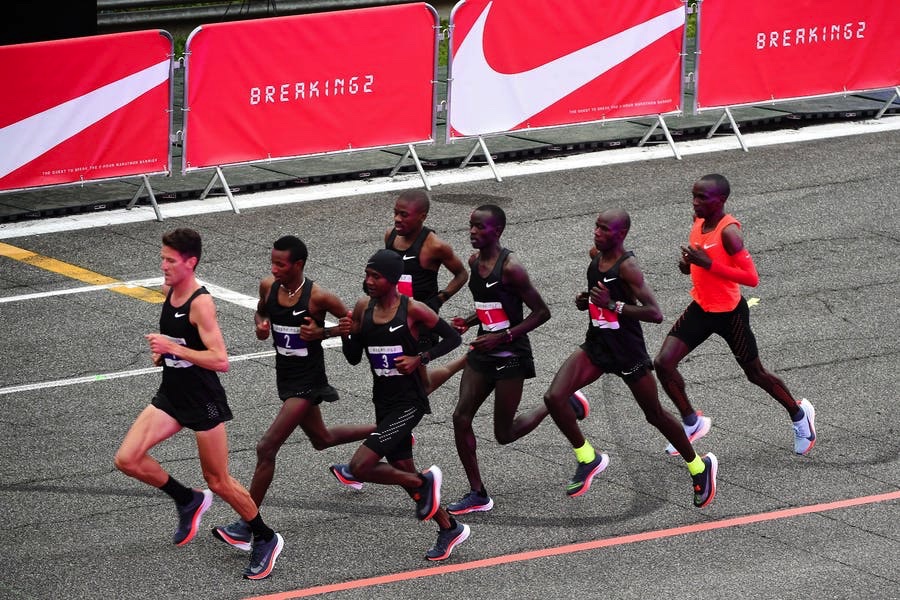 For me, anyway, the misgivings about the first project have re-surfaced with the announcement of the second. It seems even more contrived, for a start, with teams of six pacers – "say, isn't that the Ingebrigtsens?" – switching in and out at regular intervals, running in the arrow formation which greatly reduced wind resistance then. All of this, too, will be behind a pace car with a large clock acting as a windshield (more of a help to the pacers, but nonetheless further assistance, both indirect and direct, to Kipchoge).
If two hours is broken, it will be broken in circumstances not capable of being duplicated for any other runner in any other marathon. Conditions not ideal on the day? Just change the day. Wind resistance a problem? Just block out the wind. A few rough patches of tarmac? Mend them! And try getting a large pack of runners tucked in behind an arrowhead of pacers. It just cannot work.
Sure, a sub-2 in Vienna would not be recognised as a world record. What it will do, given its barrier-breaking element, is implicitly devalue every time from 2:01:39 to 2:00:00 – and on to whatever Kipchoge runs – for years to come. How ever many years we are away from a man breaking two hours in 'normal' marathon competition before Vienna, we will be much the same time away from it the day after. If successful, Kipchoge will show that sub-2 can be run, but only in totally artificial conditions.
By way of comparison, Roger Bannister did not show that a sub-four minute mile could be run on that day in Oxford on 6 May, 1954. John Landy, Wes Santee and, to a lesser extent, Bannister himself, had been showing it could be run over the previous couple of years. Bannister – with the help of his collaborators Chris Chataway, Chris Brasher and Franz Stampfl, did it. Fear that Landy or Santee might beat him to it was one of his motivating factors. Landy, running on his own to a far greater extent, quickly followed and Santee came within a few tenths. There is no comparable build-up of marathoners close to two hours, so it is hard to see a successful Kipchoge breakthrough being quickly emulated – even by Kipchoge!
If Eliud Kipchoge succeeds in breaking two hours in Vienna it will be an achievement in which to rejoice, no doubt. What is doubtful is whether it will bring a 'normal' sub-2 any closer.
End of article.