A column by Len Johnson – Runner's Tribe
Insanity is doing the same thing over and over again and expecting different results.
This definition is attributed to Albert Einstein. It has also become such an over-used cliché, according to the smarty-pants people at news and opinion website Salon, that further use is evidence of insanity in itself.
Call me crazy then, but watching the men's 5000 metres at the Pre Classic was enough to send anyone right around the bend. A field of about a 100 world-class men thought that the way to beat Mo Farah, defending champion of just about any title you can think of, was to out-sprint him over the final lap.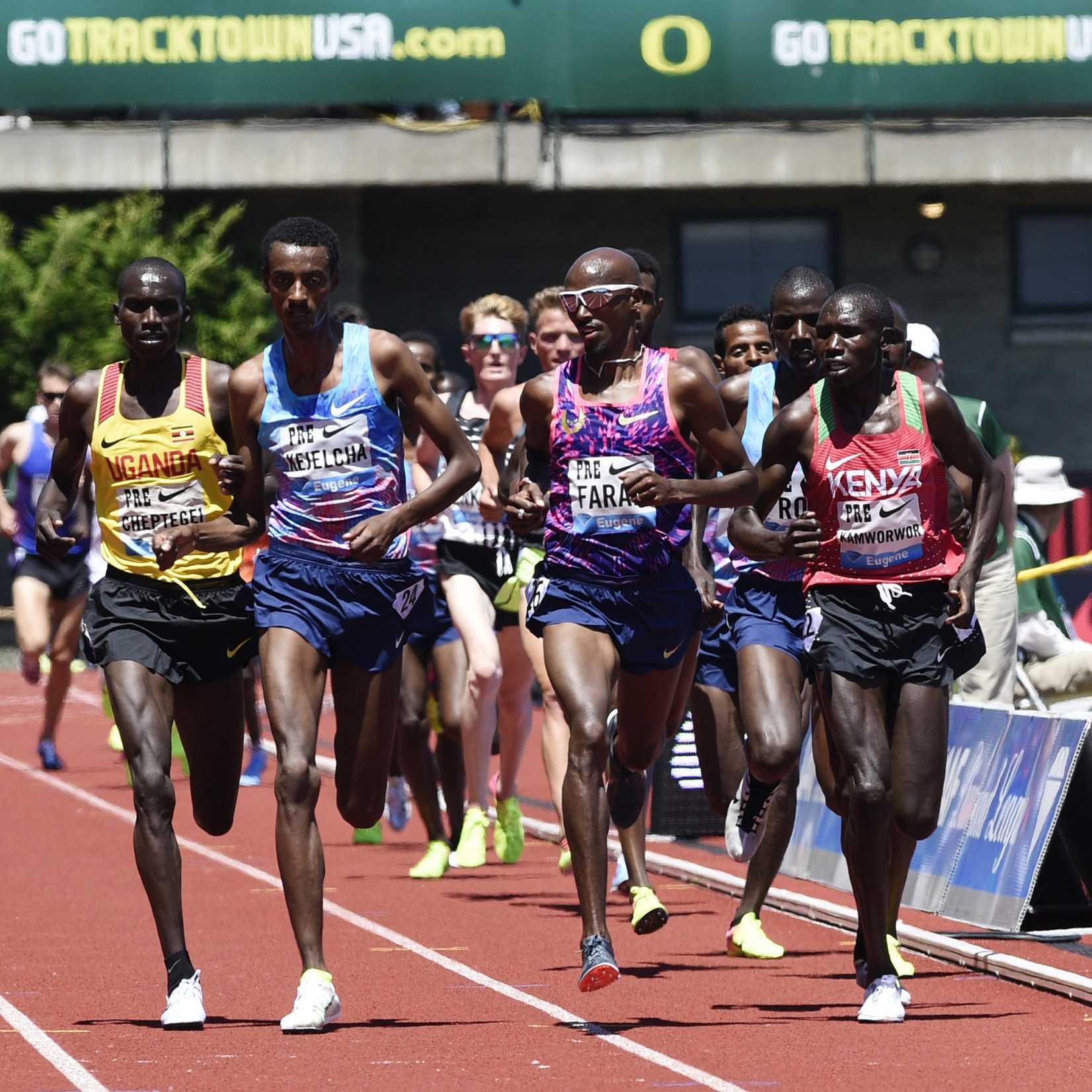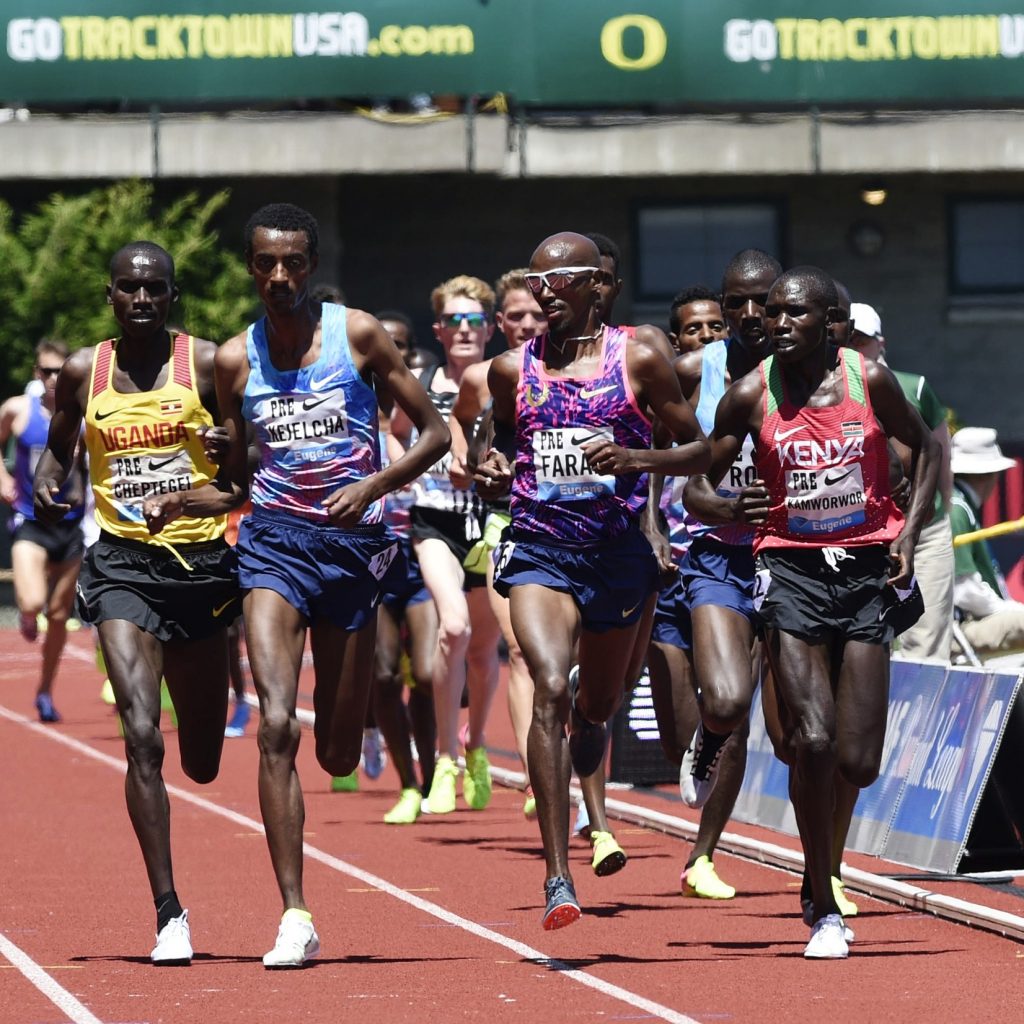 It didn't work, but then again we know that already. Mo waltzed around in 55 seconds or so, resisting the efforts of Yomif Kejelcha and Geoffrey Kamworor to get by. He won in 13:00.70, the fastest in the world this year.
"I just used my experience to finish strong," Farah said, making at least one person in the race who had profited from previous experience.
To be fair, the wait-until-the-bell-and-then-outkick-Mo tactic has worked once before. That would be back at the world championships in Daegu in 2011, before Farah had ever won a world or Olympic title, and it came only after Ibrahim Jeilan had produced one of the greatest last laps ever to ease past in the final straight of the 10,000 metres.
A few days later, Farah won the 5000 and he has remained undefeated at both track distances in championships through two Olympic Games and two more world championships since. And with minor variations, most of his championship races have followed the same pattern since, Mo taking charge in the final couple of laps and defying anyone to run faster over the closing stages.
Works for him. Doesn't work for anyone else. Long since time for some new thinking, people. Of course, Mo is retiring from track after this year's world championships in London, so there will inevitably be new world and Olympic champions this Olympic cycle (unless Jeilan has an unlikely resurgence).
Farah's dominance reflects two things: first, he is a great distance runner. Traditionally, multi-championship winners have run world records, or very fast, at some stage in their career. Farah has seemed strangely reluctant to explore his limits at 5000 and 10,000, but his sheer number of championship wins is irrefutable evidence of greatness.
A sometimes overlooked second point is Farah's single-minded focus on the track. Yes he runs cross-country (though not the world event since finishing 20th in Bydgoszcz in 2010) and a limited number of road races), but Nike Oregon Project/UK Athletics support allows him the luxury of being able to concentrate overwhelmingly on what he does best – track distance running.
Genzebe Dibaba's mooted world record attempt in the women's 5000 metres was never on track. After going through 3000 in 8:39, Dibaba never really ran significantly faster as she won in 14:25.22. Pretty darned good, but no threat at all to older sister Tirunesh's WR 14:11.15. Perhaps she was miffed by the event being on the Friday night pre-program, a little off- Broadway for a superstar. Madeline Hills achieved the world championships qualifier, adding to the 10,000 qualifier she ran a few weeks earlier.
Not at all bothered by which day she ran, however, was 18-year-old Celliphine Chespol, the world women's U20 champion in the 3000 steeple. Also competing on Friday night, Chespol ran a world U20 record 8:58.78. She beat world record holder Ruth Jebet into third place; more amazingly, the lost almost 20 metres at the water-jump on the second-last lap after her shoe partially dislodged.
Unarguably, though, the two peak performances of the meeting came on the main program from Tori Bowie and Christian Taylor.
Bowie blitzed a hot women's 200 field to win in a world-leading 21.71 ahead of Olympic 400 champion Shaunae Miller-Uibo (Bahamian record 21.91), Olympic champion Elaine Thompson (21.98), Dafne Schippers and Allyson Felix.
Olympic champion Taylor looked to have the triple jump won with his opening round 17.82w before US teammate Will Claye first equalled that distance on his fourth jump (and took the lead on count-back) then improved to 18.05w on his fifth.
Taylor responded with an 18.11 and, when neither could improve with their final jump, took a thrilling victory with two men over 18 metres for only the second time ever in any conditions.
The triple jump has been graced with some great entertainers over time – the irrepressible Willie Banks was the man who popularised rhythmic clapping as the jumpers ran down the runway; world record holder Jonathon Edwards introduced the idea of almost jumping out of the pit.
Just the cue to re-introduce the 'Broadway' theme. Alan Abrahamson, whose columns on athletics and Olympic matters are always worth a read, wondered whether the fact that most major US meetings were held in tree-encircled Eugene was a good or bad thing, asking: "If a track meet happens in the forest, does it make a sound."
No, was Abrahamson's answer, arguing that while Eugene was a marvellous venue, that didn't compensate for track and field having lost ground in major population centres like New York (which had a Diamond League meeting until two years ago), Los Angeles, Chicago.
The column attracted its share of criticism, many missing the basic point. Abrahamson was not criticising Eugene for not being New York. Eugene does run a great meeting, but its crowd are the converted. The major markets lie elsewhere.
Canberra is an apt Australian comparison. Our national capital likewise runs a great meeting, but it would not be good for the sport if every major competition was held there because such meetings were no longer viable in our larger cities.
Off-Broadway can be good; great, even. But there's myriad reasons to sing "Give my regards to Broadway." Let's hope our sport is there before long.