By Chris Lotsbom, @ChrisLotsbom
(c) 2017 Race Results Weekly, all rights reserved
CONCORD, Mass., USA (1-Jun) — Ten men dipped under four minutes for the mile here at the Adrian Martinez Classic, led by a euphoric David Torrence in 3:53.21. The Olympian for Peru stormed to a triumphant win down the stretch, taking full advantage of near perfect weather for the small-town meet in Greater Boston. Nicole Tully won a battle of the sisters in the women's mile to establish a world lead of 4:30.22, while Kemoy Campbell and Marielle Hall were victorious in the men's and women's 3000m.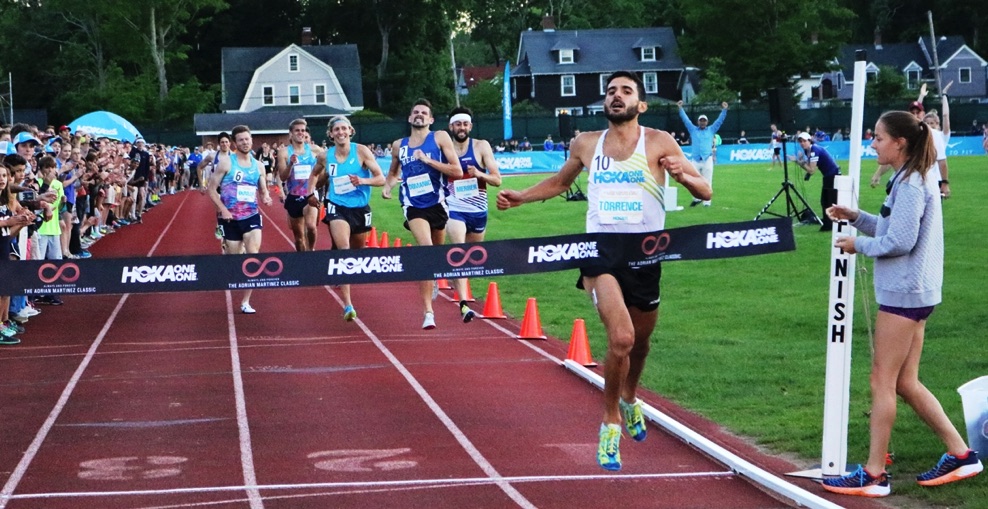 As the meet transitioned from the opening recreational races to the elite sections, a steady breeze came to a halt and temperatures dipped to an ever more comfortable range in the mid 60's. Torrence and Tully took notice and used it to their advantage.
Before the race, Canada's Charles Philibert-Thiboutot had told Torrence that he wanted to make the race honest, get a hard effort out of the run and aim for the World Championships standard of 3:53.40. When the rabbits stepped off after a 1:57.5 opening 800 meters, Philibert-Thiboutot stayed true to his promise. Torrence sat in third, "shut my mind off and ran as relaxed as possible" surrounded by Trevor Dunbar, Kyle Merber, and recent Ole Miss grad Robert Domanic.
Hitting the bell in 2:56.4, the words of Torrence's coach Ricky Soos rang in his head: don't get boxed and lose the race by a late pass. With 300 to go Torrence moved up, then entering the final bend surged a bit more. In the final straight, nothing was going to stop the hard charging Torrence from victory. He'd win in a meet record 3:53.21.
"We prepared to run well here, but we're also looking ahead to the rest of the season. To run this time this early, I'm ecstatic about it," Torrence said. "You don't see this all the time. You don't see this [kind of time] at playgrounds. But we made it happen here today, in honor of Adrian's memory."
Adrian Martinez was a miler for Concord-Carlisle High School who later died of sudden cardiac arrest while playing soccer.
"I know I'm in really good shape, for sure, but I didn't think it would happen here. This is a soft [track], not like a Mondo track. It's a soft, playground, family or community track. I could say that we all could probably take a second or second and a half off their time here today just cause of that. But the conditions are perfect."
Torrence made note that he plans on competing in both the 1500m and 800m at the IAAF World Championships in London this coming August.
Behind Torrence, Domanic finished second in 3:54.73 just ahead of Merber (3:54.78) followed by Philibert-Thiboutot (3:55.14). Domanic's run is quite impressive, considering his fastest mile before tonight was 4:00.19 indoors, according to multiple statistics websites. Now he's a 3:54-miler. In all, ten of the twelve finishers broke four minutes. On the outside looking in was Leo Manzano, a distant eleventh in 4:00.75.
Two years ago, Nicole Tully won the women's mile here and earned a stuffed rhino as a prize. Returning, the 30-year-old wanted to add another rhino to a shelf back home, where she keeps the furry friend. On her road back from a partially torn Achilles suffered last September, Tully stuck her nose in the women's mile and rubbed elbows with younger sister Stephanie Schappert. The pair seemed attached at the hip throughout the race.
With a lap to go Tully thought Schappert was going to get boxed in, so she let her sister get a step ahead. "Up in that turn I was thinking 'Mom and Dad are going to kill me if I block Stephanie in,'" she said, laughing. "So I kind of moved down a bit to let her go, and of course she goes and I'm like, 'I can't get beat by Stephanie!'… It's definitely a family thing."
This happened all the while Eleanor Fulton was working hard up front, leading the bell lap with the field in her wake. Down the homestretch, Tully was able to match Fulton and ultimately take the win by a lean in a world leading 4:30.22 to Fulton's 4:30.34. Schappert crossed third in 4:32.49; on the podium, big sister was on the top step, little sis to her left.  All of the women were well off of the IAAF World Championships qualifying time of 4:26.70.
"This is maybe the third of fourth time we've ever raced head-to-head," Tully said. When asked the lifetime record, she scoffed: "I think I have the lifetime record, but I don't think I'm going to have it very much longer. Stephanie is coming up!"
In 2015, a win here helped set the stage for a memorable USA Championships where Tully ultimately took home the 5000m national title (while Stephanie cheered trackside with a giant cardboard cutout of Tully's smiling face). Could that happen again this year — win this meet then win USA's?
"I believe that's the pattern," responded Tully, laughing as she clutched her winner's bag that included another stuffed rhino. She indicated her form is improving steadily, and anything can happened on the national stage.
The men's and women's 3000m were a tale of two races. In the men's contest, a 4:12 opening 1600m set the tone for a bunched final half leading to an eight-man race for the tape. For the women, Marielle Hall took control and didn't let anyone challenge her.
Entering the bell lap for the men, it was anyone's guess who would win the 400 meter sprint home. In contention were Kemoy Campbell, Donn Cabral, Thomas Curtin, Luc Bruchet and more. It would come down to a pair of training partners, though, in Campbell and Curtin. Since moving to the Boston area, Campbell and Curtin have linked up despite representing two rival teams (New Balance Boston and Saucony Freedom). Fast friends, Campbell nearly laughed when he saw who was matching him stride for stride.
"He's been doing pretty well in training, we've been working together just to try and help each other out. It works for us," said Campbell. "When I saw the person beside me I didn't know it was Tommy until I looked over. It definitely came back to me like I have to kick because I know Tommy's a strong guy so I have to get rid of him early."
Campbell edged Curtain by .21 of a second, 7:44.90 to 7:45.11, with Bruchet third in 7:46.89.
Marielle Hall left no questions as to who was the top woman in the 3000m. A 2016 Olympian in the 10,000m, Hall went with rabbit Elaina Balouris through 1600m in 4:48 and ran solo the rest of the way. Her winning time was 8:55.55, five seconds ahead of runner-up Cally Macumber (9:00.92).
"I felt pretty good. I tried to do what my coach wanted, stick with the rabbit then pick it up a little bit each lap," said Hall. "You don't have many opportunities to race by yourself. Usually I'm kind of following other people's race plans, so it was good and refreshing to mentally work out there alone."
Hall said her form this year feels even better than 2016, when she ran 31:37.45 for 10,000m. She hasn't made any drastic changes in training. "[Coach] gives you the numbers to run, gives you the workouts, and you have to get there. This year I finally am starting to really be able to handle sessions and come off them a little bit better. I feel like every year's got a little better, but this year I think it's noticeably very different the way that I'm training. I'm hoping it all pays off." Hall says she is 90-percent sure she'll run the 5000m at the USA Championships.
Each of the 800m sections came down to the wire. Ce'aira Brown of Hoka One One New Jersey/New York Track Club won the women's 800m in 2:01.10, just ahead of teammates Kenyetta Iyevbele (2:01.68) and Cecilia Barowski (2:01.81). That is a new PB for Brown by 1.72 seconds, according to Tilastopaja.net.
Emily Lipari of the B.A.A. won the second section in 2:03.01, the first of a back-to-back double; she'll race the 1500m at Friday's Adidas Boost Boston Games. Lipari was eager to complete the double, using it as practice for rounds at the USA Championships.
Asics Furman Elite member Ryan Martin was the men's 800m winner in 1:46.03, punctuating his win with a flex of his muscles across the line. Edose Ibadin challenged Martin to the line.
Note from RT editor: Australia's Philo Saunders competed in the Men's 1 Mile Run HP and finished 11th in 4:07.04