A Column By Len Johnson – Runner's Tribe
Dipping a foot in the water
My running shoes are drying out as I write from Falls Creek.
Haven't had to do that for a few years. The annual Christmas-New Year trek to the Bogong High Plains has been marked by fine, dry and – mostly – sunny days. A bit boring really. The cold, wet and windy-day running gear has mostly sat, unused, in the bottom of the suitcase.
Those of us fond of saying: "we get weather up here" (by which is meant cold, wind, rain, sleet and even, sometimes, snow), have sounded like silly old duffers recalling times they never actually experienced.
But, a few days into the 2016-17 stay, weather is back at Falls. That's back with a capital-B. We've had high wind, followed by rain, cloud and fog on repeat.
The views haven't extended far beyond the end of your arm and the shoes – well, the shoes have been getting wet. Mine spent yesterday drying out in the lodge's drying room only to get thoroughly soaked again, along with the rest of me, this morning.
In the past few years' dry spell, about the only time my shoes have got wet is crossing the creek on the way to Fitzgerald's Hut. Even then, they've been pretty much dry by the time I finished. This year my shoes have scarcely been better than damp since we left Melbourne for the mountains.
Wet shoes, in fact, were an integral part of running back in the day. At Ferny Creek in the Dandenongs, venue for the Sunday long run, your shoes would be covered in thick black mud after the first of the winter rain and would not dry out completely again until the middle of the week. The mud, too, would come with the first solid rain and be a feature of each week's run until the forest dried out in late spring.
These days, I have worn out several pairs of shoes without ever getting them really wet. Maybe it's climate change – I don't know.
In any case, the damp weather did not deter people from turning out for the traditional 400s session. Mark Thursday, 29 December, 2016 in your diary or calendar. That was the day a Langford's West aqueduct, Victorian state, Australian national and world record number of athletes participated in a session of 400s.
There were over 200 running, shuffling out and back along a 10-post circuit (the posts, used to mark the track in winter conditions, are 200 feet apart). Runners from Olympians to (relative) plodders took part, with virtually no traffic management issue thanks to a disciplined keep-to-the-left rule.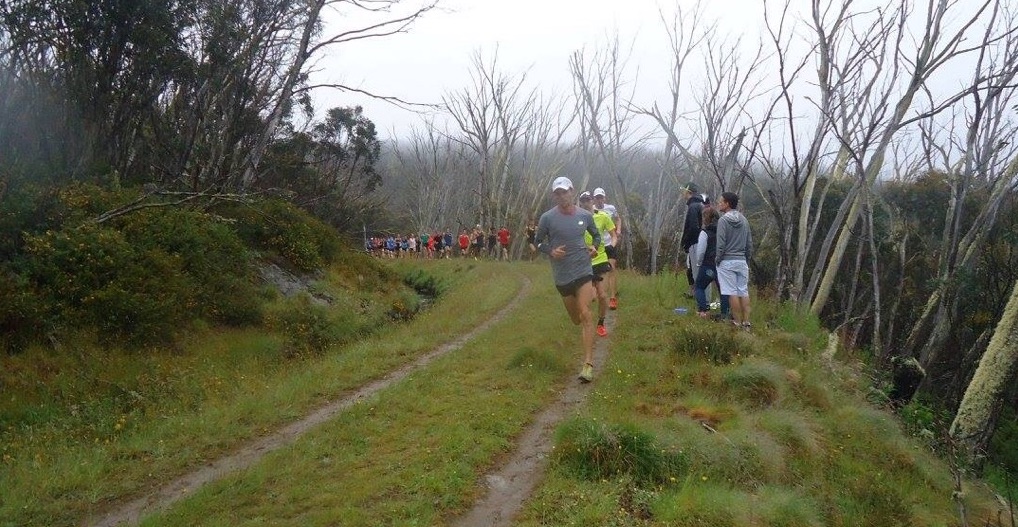 Trevor Vincent has very kindly supplied a photo (above) showing just three athletes clearly. Brett Robinson is leading from Dave McNeill, I think, and if you look closely you can see approximately 197 others in the background.
Friday's run was 'The Tower', a 13km circuit starting and finishing from the village and looping out-and-back around Rocky Valley Dam to a water tower. Usually there are as many, or slightly more, doing this run as the 400s, but I'm not sure anyone was counting anything other than their fingers and toes as they tried to keep warm in the driving rain.
The one element of Falls' 'weather' we have escaped so far is cold. The temperature has remained remarkably mild through the 100kmh-wind day, the visibility-zero day and, now, the torrential rain day. Thank heavens for small mercies.
Most years I've written about Falls Creek, but you're always finding out something new with each visit. Chris Wardlaw is popularly, and rightly, regarded as the father of Falls, but we learned this year that Trevor Vincent had first come up here in the mid-1960s. That was when the first group of runners visited Falls, accompanied by the 1960s version of sports physiologists and sports scientists, to investigate potential training sites in preparation for the high altitude Mexico City Olympics.
'TV' can't match Chris's 40-plus consecutive years, but he did get here first.
Each year for most of the past 25 there has been some sort of a running seminar at Falls Creek. We did the first as a DIY venture back in the 1990s with Ron Clarke and AFL football coach (and legendary PE educator) David Parkin. Then it was taken over by Athletics Australia – largely through the drive of the late Pam Turney.
Now Athletics International runs the show. This year's version was a cracker featuring a panel comprising Olympians Luke Mathews, Brett Robinson and Linden Hall along with Commonwealth Games marathoner Sarah Klein. It is always difficult to find the right pitch to an audience consisting of a handful of elites and an overwhelming majority of enthusiasts, but the panellists and MC Wardlaw managed adroitly. It seemed a positive experience for most attendees.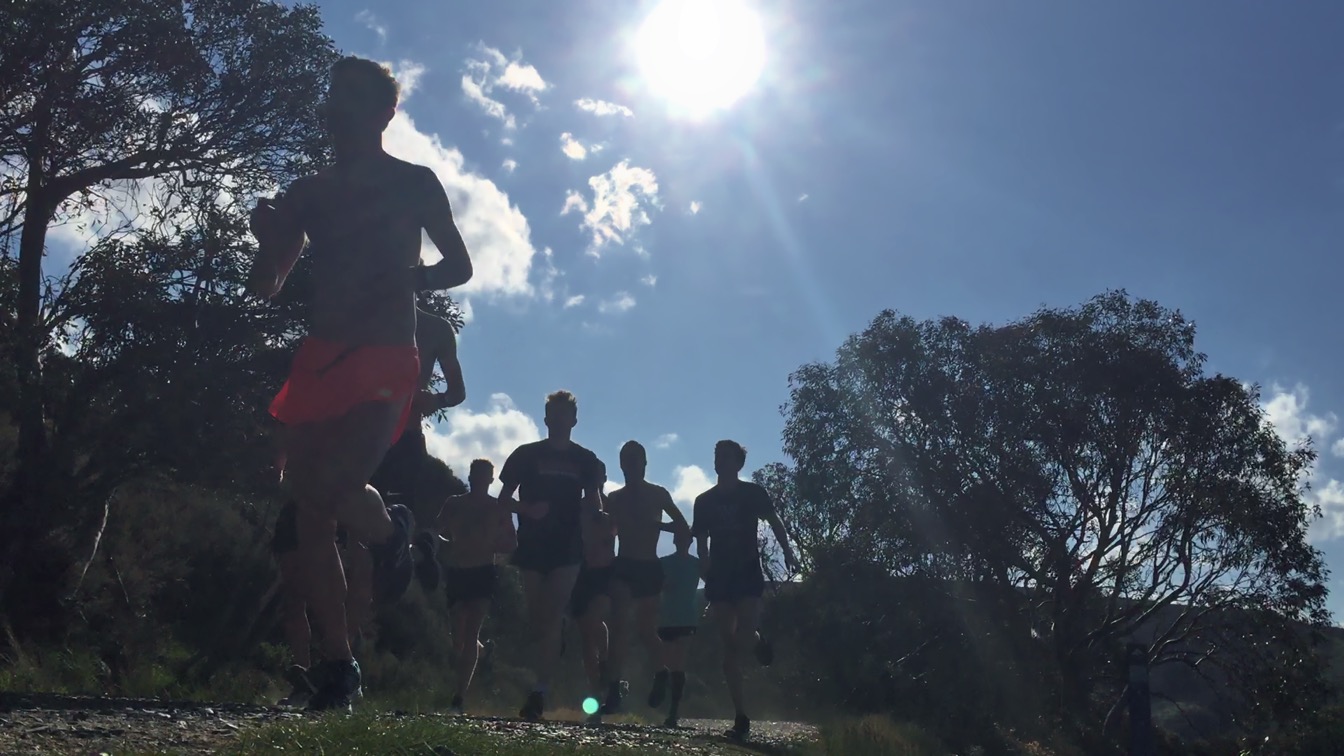 As I finish writing, the weather is showing (very slight) signs of improvement. It's stopped raining, at least.
Maybe once the shoes dry out this time they won't get soaked again.
END
About the Author-
Len Johnson wrote for The Melbourne Age as an athletics writer for over 20 years, covering five Olympics, 10 world championships and five Commonwealth Games.
He has been the long-time lead columnist on RT and is one of the world's most respected athletic writers.
He is also a former national class distance runner (2.19.32 marathon) and trained with Chris Wardlaw and Robert de Castella among other running legends. He is the author of The Landy Era.