Len Johnson – Runner's Tribe
Mo Farah won the final track race of his career in the same manner as many of his famous championships victories – looking utterly dominant while winning by centimetres.
This was not just any old race. It was the 5000 metres at Zurich's Weltklasse meeting, auspicious enough in its own right, but these days carrying even more kudos as the final of the IAAF Diamond League.
A 52.61 second final lap took Farah to a 13:06.05 victory. He had to dive desperately for the line after fighting fiercely to maintain the lead throughout the last, gripping 400 metres. Mo's was controlled desperation: inches behind it was chaos, a demolition derby.
Muktar Edris, who had defeated Farah at the world championships, dipped a stride too soon and fell just four hundredths of a second short this time. Paul Chelimo, he of the Mobot and the throat-slitting gesture on the start line in London, was a boxed-in fourth with 20 metres to go. Using his hands to dive through a too-small gap between Farah and Edris, he crossed the line in third place in the same time as Edris. The chain reaction pushed Edris into the path of Yomif Kejelcha, bringing both men down as they crossed the line.
Chelimo was subsequently disqualified, which seemed a touch harsh. Relegation to fourth would have been justice as he did impede Kejelcha. You shouldn't be shot for trying too hard.
But Farah was ahead of the chaos and on his way to (track) retirement, a relative term here, as turning to the marathon is hardly the equivalent of the comfy armchair, the slippers and a mug of hot chocolate.
It is easy to focus on the centimetres by which Mo won and forget the fact that the centimetres he saved by fighting off Kejelcha and Edris as they tried to edge past him in the back-straight were every bit as vital to his win. As were the centimetres saved when he took the lead – and the curve – at the bell.
In a desperate final lap, Farah ran 400 metres and not a step more. His rivals had to run further – not much further, granted, but enough to be critical in such a close finish.
The close finish has been a hallmark of the Mo era. Farah wins races late, though he has been far from your conventional sit-and-kicker. Many middle and long-distance runners rely on closing speed but, unlike most, Farah injects himself into the race at earlier stages. His moves from the back of the pack to the front, his habit of showing at the front at crucial stages, and his taking control of the last lap – not just the last 100 metres, have distinguished him from other big kickers. It can mesmerise opponents, too, making them wonder what Mo is doing rather than focusing on what they should be doing.
Thus, it has always been close with Mo Farah races. He slices his opponents up with the delicacy of a surgeon. In his run of 10 consecutive world and Olympic titles from the 5000 in Daegu in 2011 to the 10,000 in London 2017, inclusive, his greatest winning margin was 0.63 seconds in the Beijing 2015 10,000. His narrowest was 0.28 in the 5000 in both Daegu and Moscow 2013.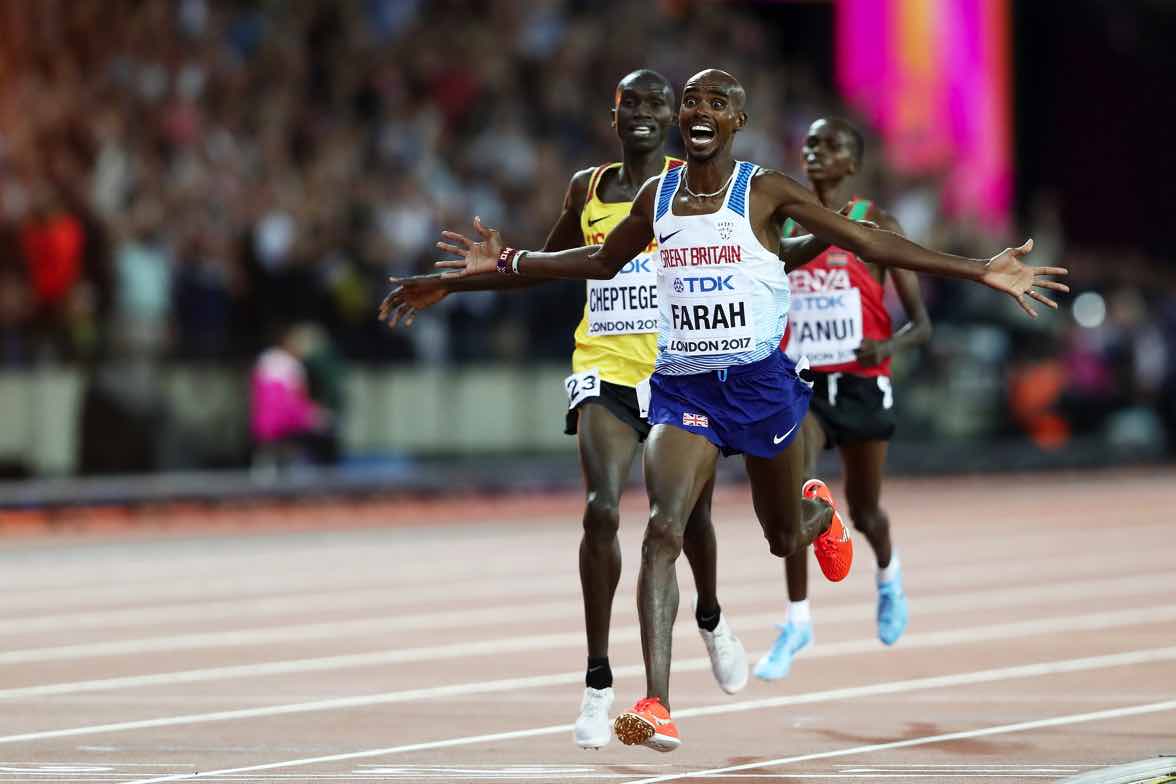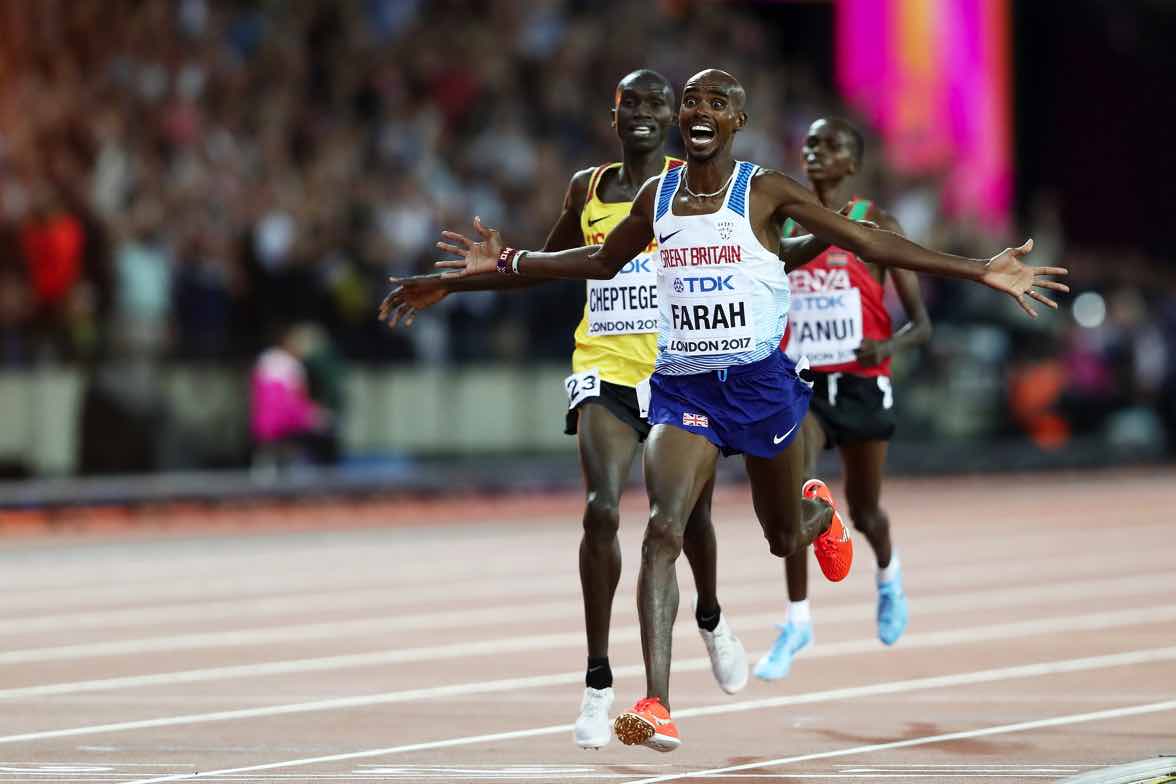 Farah's combined winning margin in the 10 races was 4.38 seconds. To put that into perspective, Emil Zatopek won his two Olympic 10,000 gold medals by 47.8 and 15.8 seconds, respectively; Vladimir Kuts won the 1956 Olympic 10,000 by almost seven seconds and Lasse Viren won the 10,000 of his second Olympic distance double by 4.79 – all greater margins in one race than Farah amassed in 10.
Discussion of times inevitably leads to where Farah sits on the all-time lists. Farah's seeming indifference as to how fast he might be over 5000 or 10,000 has been noted by many. The weight of his championship wins totally overwhelms any misgivings about his absolute performances, but it is nonetheless still surprising how far down the lists he is. His 12:53.11 for 5000 puts him 31st on the all-time list, well behind Bekele's 12:37.35 WR; his 26:46.57 for 10,000, sees him 16th – WR 26:17.53.
Even considering winning performances only, Mo ranks 11th and seventh, respectively. If you want to be picky, his lack of super-fast times is a glitch, but in the overall body of his work it is like one missed note in an entire symphony. He has been fast enough when it mattered.
Track will miss Mo Farah almost as much as it will miss Usain Bolt. It will be interesting to see how his absence affects those who remain. Will someone from those who have regularly followed him home step up; will the torch pass to the next generation represented by 17-year-old Selemon Barega, fifth in both London and Zurich, or 21-year-old Joshua Cheptegei, silver medallist in the London 10,000.
Or will we just see an era of exciting racing as several contenders struggle for supremacy.
Oh, wait; we've just had that. It's just that the winner was always Mo Farah.
Sally Pearson was the night's other big story. Having bounced back to take her second world title in London, she came to Zurich where, if my stats are correct, her win in the 100 hurdles in 2011 makes her the only Australian athlete to have won at the Weltklasse.
If so, she is now the only one to have won twice. Facing Sharika Nelvis, who did not make the US team for London but has been red-hot in Europe (including a win over Pearson in Lucerne and 2nd v 5th in Monaco), she again nailed her start and ran a technically sound race.
But it was the finish what done it, Pearson's well-timed dip narrowly out-leaning Nelvis's less gainly throw: both were given the same time of 12.55.
It's been a huge couple of weeks – a world championships gold medal and a Diamond Race trophy.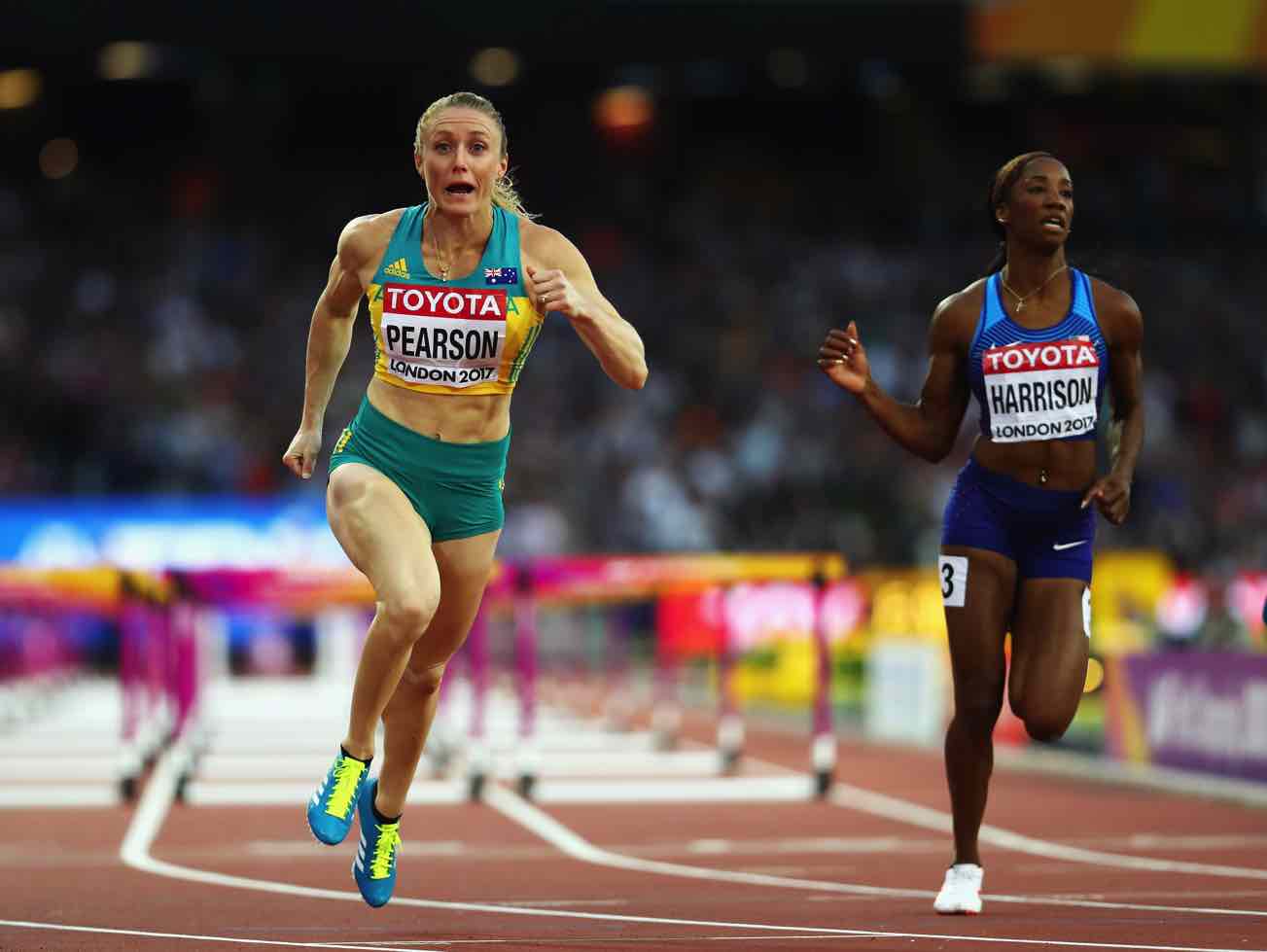 End
About the Author-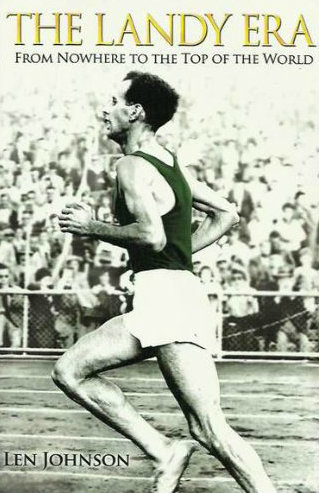 Len Johnson wrote for The Melbourne Age as an athletics writer for over 20 years, covering five Olympics, 10 world championships, and five Commonwealth Games.
He has been the long-time lead columnist on RT and is one of the world's most respected athletic writers.
He is also a former national class distance runner (2.19.32 marathon) and trained with Chris Wardlaw and Robert de Castella among other running legends. He is the author of The Landy Era.