Full stage dress rehearsal and debut before the general public: the 76th edition of ISTAF this Sunday has plenty to offer. 180 elite athletes will be performing once more in Berlin's Olympic Stadium and among them are eight gold medallists from the recent World Championships in London as well the cream of Germany's track and field stars, for whom the meeting with such deep historical roots will also serve as a dress rehearsal for next year's European Championships at the same venue. But there is also innovation for competitors and fans alike: for the first time ISTAF organizers have installed a 250 square metre fan tribune which will also act as a tunnel for the athletes. The Berlin ISTAF, which will see its 76th edition, is part of the IAAF World Challenge Series.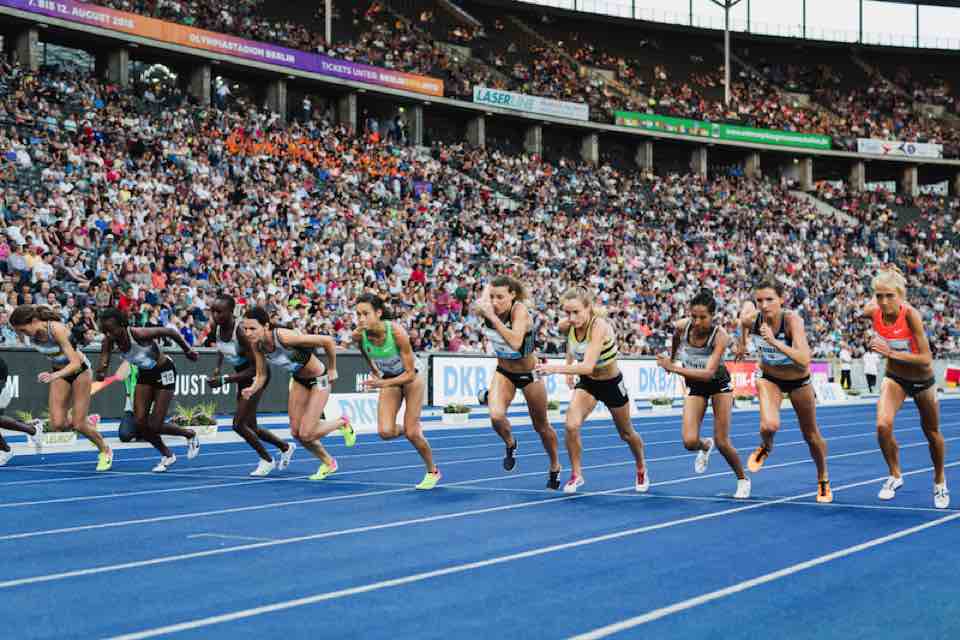 Two weeks after the World Championships in London, eight gold medallists will be in action: Ramil Guliyev (Turkey / ISTAF event: 100m), Adam Gemili (Great Britain / 100m), Sam Kendricks (USA / Pole Vault), Andrius Gudzius (Lithuania / Discus), Caster Semenya (South Africa / 600m), Dafne Schippers (Netherlands / 4 x 100m), Phyllis Francis (USA / 200m) and Johannes Vetter (Germany / Javelin).
The German fans have a wide range of treats in store including their Olympic champions Thomas Röhler (Javelin) as well as the Harting brothers, Robert and Christoph (Discus), plus 1500m rising star Konstanze Klosterhalfen, Gesa Krause (3,000m steeplechase), the German sprint relay squad with Gina Lückenkemper and Lisa Mayer and also the double World Shot Put champion David Storl.
"In sporting terms this is the best line-up we've had for a long time. The spectators will see countless medallists in action and thrilling competitions in 15 events. Apart from the top international stars I'm especially pleased about the "German New Wave" – young athletes whose great performances and relaxed approach really strike a chord. Personalities who also give our sport profile away from the stadium and bring a breath of fresh air. I'm excited to see how our new fan tribune is received and what the public make of it," said Meeting Director Martin Seeber.
The aim of the ISTAF organizers in building this ten metres by 25 long and four metre high construction is "to bring athletes and fans closer together." Meeting Director Martin Seeber says: "We want stars and role models that are accessible in track and field. We want to create a place right in the stadium where fans big and small can meet their idols, collect autographs and have selfies taken."
The field events could well be the ones that produce the headlines among the men's disciplines. The Pole Vault in Berlin's Olympic Stadium creates a World Championship rematch between the American Sam Kendricks, Piotr Lisek of Poland and Renaud Lavillenie of France. A thrilling World Championship final ended in victory for Kendricks who is the world leader on height this year. He cleared 5.95m to beat Lisek and the world record holder Lavillenie with the latter duo both clearing 5.89 but Lisek winning silver on countback.
The ISTAF will see the best javelin throwers in the world on Sunday. In addition to the World champion Johannes Vetter and fellow-German Olympic champion Thomas Röhler, who finished fourth in London, the competition includes the World Championship silver medallist Jakub Vadlejch and bronze medallist Petr Frydrych (both Czech Republic). Which of "The Big Four" will triumph at ISTAF or will an outsider be celebrating with a surprise win? Last year Johannes Vetter sent the javelin hurtling to a distance of 89.57m.
Both of Berlin's Olympic discus champions, the Harting brothers Robert and Christoph, will compete in their "living room" plus the man who sprang a surprise at the World Championships to win the gold, Andrius Gudzius (Lithuania) and the bronze medallist Mason Finley (USA). Also in the line-up is Martin Wierig of Germany, last year's ISTAF winner Lukas Weißhaidinger (Austria) and Piotr Malachowski. The World and European champion from Poland has had numerous fine contests with Robert and Christoph Harting in the past. "ISTAF, thanks to its great reputation and innovations, continues to be a highlight at the end of the season. Berlin is my city and I am always hugely excited to throw in front of the home fans," said Robert Harting who recently described Piotr Malachowski as his "lifelong opponent."
A middle and a long distance race should be among the highlights of the women's events. At the request of South Africa's World 800m champion and Olympic gold medallist Caster Semenya, the organizers have included a 600m on the programme. It is possible that Semenya will attempt to break the world best for the distance which has stood for 20 years: 1:22.63 set by the Cuban Ana Fidelia Quirot in 1997. "Berlin is my city – and I want to end my season there with a super-fast time," said the 26-year-old. But Caster Semenya, whose best 600m time is 1:25.56, will have to contend with top class competition. Among the South African's rivals will be Francine Niyonsaba of Burundi, who won silver medals in both London and Rio.
Gesa Krause will surely have the spectators behind her when she will try to bounce back from the disappointment at the World Championships. Being tripped in the final she fell and was at the back of the field. She clawed her way back up the field to finish ninth. "That's sport for you, falling down is part and parcel of it," she reflected as she fought back the tears. The German record holder with 9:15.70 will encounter the World Championship silver medallist Courtney Frerichs (USA, 9:03.77) among her rivals.
More information about the ISTAF and tickets are available at: www.istaf.de