A column by Len Johnson – Runner's Tribe
Could it be that the year's best performance in the marathon came in the equivalent of a 'beer mile'?
Well, it could just be. That's if you're prepared to accord Nike's Breaking 2 project at least as much credibility as an event in which the object is to consume four cans of beer as fast as you can and, in between cans, run a mile as fast as you can.
We're only talking men's marathon here, I should emphasise. Both internationally and domestically women's marathon has had a bumper year, from Mary Keitany's world record win in London, through Tirunesh Dibaba's second place there and subsequent win in Chicago, to Shalane Flanagan's emotional triumph in New York. In domestic terms, both Lisa Weightman and Jess Trengove ran personal bests in London, Trengove finished ninth in the world championships and Virginia Moloney and Celia Sullohern broke through the 2:30 mark.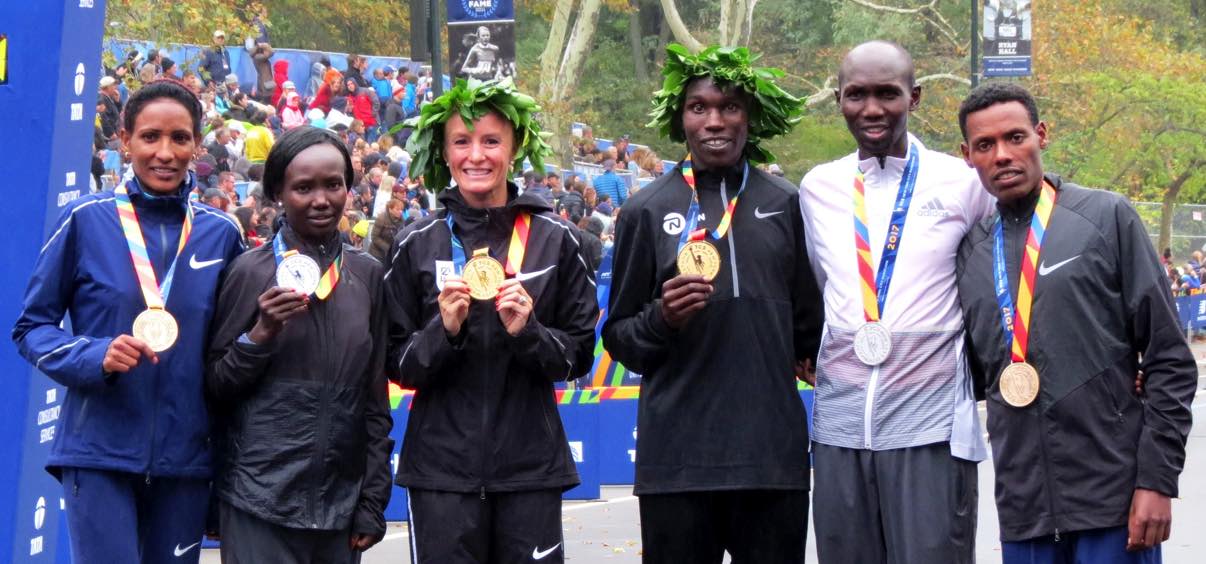 But the men's marathon was a different story. The year got off on the wrong foot, pretty much literally, when Kenenisa Bekele stumbled and fell at the start of January's Dubai marathon, turning what was billed as a world record attempt into an unsuccessful attempt to finish the race.
Things didn't get much better for the world's best distance runner ever, two further marathon attempts yielding a loss to Daniel Wanjiru in London in April and a second 'dnf' for the year in Berlin in September.
Berlin? Ah yes, that was supposed to be an epic battle for the summit between Bekele, Eliud Kipchoge and Wilson Kipsang. Former world record holder Kipsang, who appeared to have gotten back to best form with a 2:03:58 win in Tokyo in February, joined Bekele among the 'dnf' casualties, while the seemingly unbeatable Kipchoge had to pull out all stops – and a 30-meter deficit in the closing stages – to defeat first-time marathoner Guye Adola.
Granted, this all made for excitement and some great racing, but in a marathon world increasingly geared around performance, a year that began with the near-certainty the men's world record was going down faded with not much more than a whimper.
Fukuoka is still to come. Bitan Karoki, who made such a fine debut in London, is running there. Like the great Sammy Wanjiru, Karoki runs with big ambitions, though his second attempt may be a little early for their attainment.
All of which might leave Kipchoge's 2:00:25 at Monza in May as the men's marathon 'performance' of the year, a most unfortunate prospect given that no matter how brilliant and thrilling it was one of the most contrived performances ever.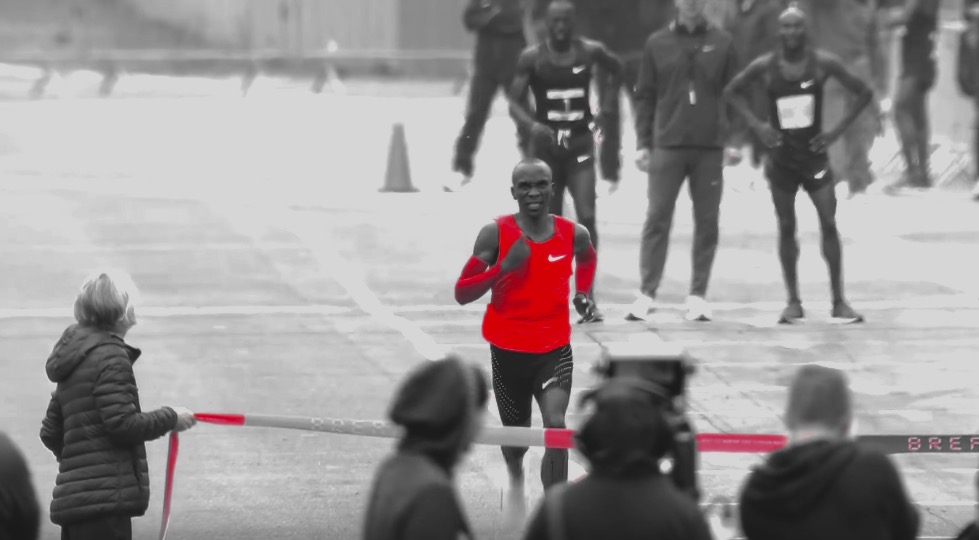 To recap, Kipchoge was aided by a double layer of pacemakers, a phalanx of runners in arrow-head formation, rabbits and runners all formed up behind a pace/timing vehicle with a large wind-break shield attached.
Magnificent it may have been but almost certainly unrepeatable in anything approaching normal marathon circumstances. Anyone who saw Kipchoge win last year's London in 2:03:05 is in no doubt he could have broken Dennis Kimetto's world record that day, but he remains a 2:03-marathoner. He won Berlin this year in 2:03:32. Okay, not the best day with showers following on the heels of heavy overnight rain; not Kipchoge's best day either; but it seems safe to conclude that the benefit of the Monza pacing arrangements was something of the order of two to two-and-a-half minutes.
Given his superb career record – nine wins and one second (to Kipsang's world record) from 10 starts – and as an Olympic champion, Kipchoge scarcely needs anything else to garnish his c.v. But it is interesting to ponder whether the Breaking2 project may ultimately prove to have come at the cost of his best chance of running a world record. The manner in which he responded to Adola's challenge in Berlin showed Kipchoge remains as competitive as ever, but the stars need to align to run sub-2:03. One more less-than-ideal weather day and another chance goes by.
The 2:00:25 may have another longer term impact on what Kipchoge does next. Boston, for example, is regarded as an aided course because it is not only point-to-point but also drops almost 140 metres between start and finish.
Times run at Boston under normal conditions give the lie to any notion that it is aided, in practice, but times run once every 10 or so years when the wind blows in the right direction often leave those who run them with a PB they will never approach again. In the same way, if Kipchoge run 2:02, 2:01 or, even, 2:00:30, he will still have a faster PB, albeit one with several asterisks appended.
Monza 2017 will not have done Kipchoge any favours if that turns out to be the case. Against that, his record over the past four years – and for ever long he continues to dominate – suggests there won't be any asterisks against his name on the list of all-time greats.
End
ABOUT THE AUTHOR
Len Johnson has been the Melbourne Age athletics writer for over 20 years, covering six Olympics, eleven world championships and six Commonwealth Games. He is also a former national-class distance runner. For over a decade Len has bee Runner's Tribe's lead columnist. Len also writes for IAAF. He has recently been named an Athletics Australia Lifetime Member. He is also the author of 'The Landy Era'.