By David Monti, @d9monti
(c) 2017 Race Results Weekly, all rights reserved
LOUISVILLE, Ky. (16-Apr) — It has been five years since the Lady Bulldogs of the University of Georgia have qualified a team for the NCAA Division I Cross Country Championships, America's most competitive team running event.  At those 2012 championships here, the Georgia team finished 30th out of 31 teams with 642 points under a new distance and cross country coach, Patrick Cunniff.  Their top scorer, sophomore Carly Hamilton, finished 92nd.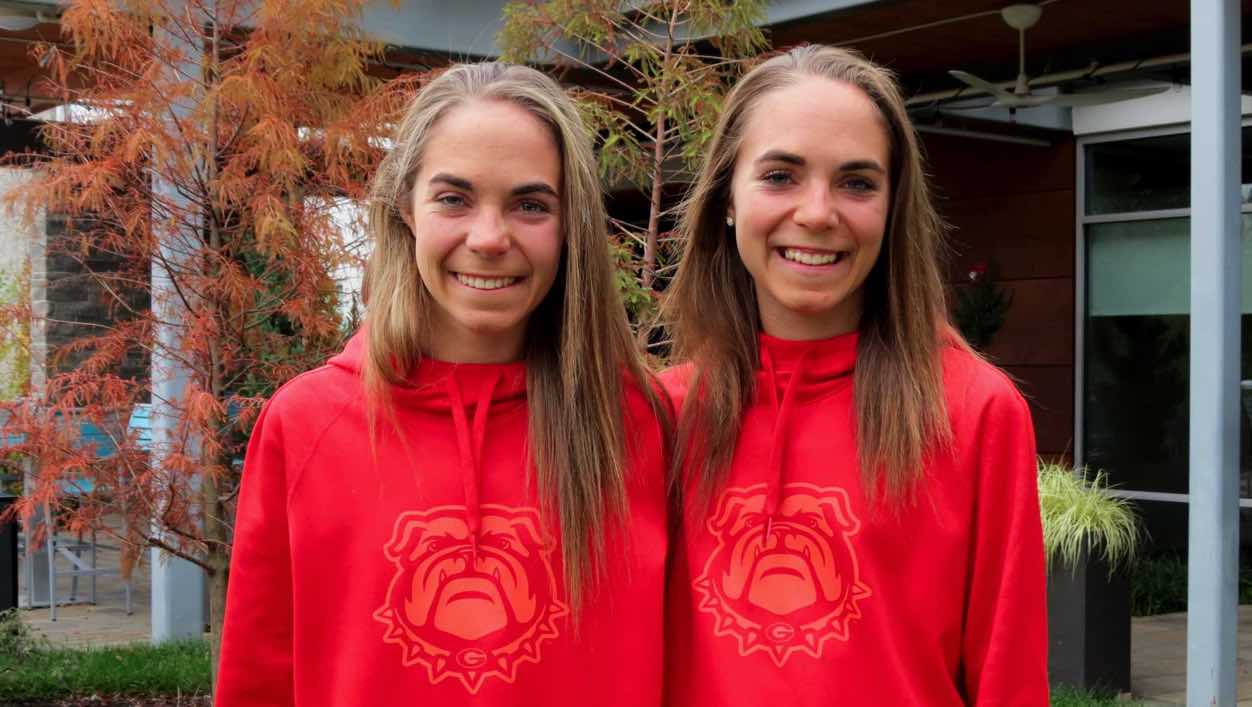 But thanks to the soft-spoken twins Jessica and Samantha Drop, both sophomores from Durham, Conn., Coach Cunniff can look forward to better results at Saturday's 38th NCAA Division I Cross Country Championships for women at E.P. "Tom" Sawyer Park here.  The Drops, 19, who are fraternal twins (Jessica is a few minutes older and one inch taller at 5-4), were Cunniff's "under the radar" recruits last season who have blossomed into two of the best distance runners in the Southeastern Conference (SEC).  Jessica and Samantha finished fourth and fifth, respectively, in the SEC Cross Country Championships on October 27th, allowing the Lady Bulldogs to finish second to perennial powerhouse Arkansas.  Then at the South Region Championships last Friday, Samantha finished first and Jessica third on the 6-kilometer course, putting Georgia in second place and clinching their qualifying position for Saturday's Championships here (the top-2 teams in each region get automatic berths).
Speaking to Race Results Weekly at their team hotel, Coach Cunniff sees similarities –and important differences– with his 2012 team.
"In some ways it was a similar kind of circumstance that a group that nobody expected that much of just kind of really came together," Coach Cunniff said, comparing his 2012 and 2017 teams.  "On the other hand the team that basically scored zero points all year (in 2012) and just clicked one day at regionals and beat the SEC champions and we got pushed in.  Whereas this is a team that just kind of surprised from Day One, and then really built a lot of momentum going through the year, kind of solidified all year long."
The Drops are the unlikely engine behind that momentum.  Jessica was a soccer player and didn't run cross country at Coginchaug High School about 20 miles northeast of New Haven. She did run on the track team, however, but often in relays, which hid her best marks from national lists.  She liked the speedy stuff and set school records at 600m, 800m, and 1000m.
"I told my high school coach I'd never run longer than 800m," Jessica said, looking a little sheepish.  "I thought I'd be a 400-meter, 800-meter runner."
But Samantha loved cross country, and was all-state from her sophomore and senior years.  She also ran in relays with her sister, and it was her idea to go to college somewhere in the south.
"My plan was to move away," said Samantha, locking eyes with her sister.  "I didn't really want to stay in New England.  I don't really like the cold."
Coach Cunniff was happy to oblige them.  He was also a transplant to the south.
"They were doing kind of a family trip and checking out schools in the south," Cunniff explained.  "And they came and did an unofficial visit at Georgia, and they really liked it.  And by coincidence, I also grew up in New England.  My family is from Massachusetts and I ran cross country in Rhode Island, and you always have a soft spot for kids from New England."
It took a little time for the Drops to adjust to life at UGA, which is in Athens about 70 miles east of Atlanta.  Georgia's women's track team, second at last June's NCAA Division I Track & Field Championships, is a field and multi-events powerhouse boasting national champions like Kenturah Orgi (triple jump), Kendell Williams (heptathlon) and Madeline Fagan (high jump).  Eventually the Drops, who are roommates, settled in.
"There was definitely an adjustment coming down here because everyone knew everyone down here," Samantha explained.  "I think eighty percent of the school is from Georgia.  So, it was kind of hard to adjust, but about a month or two in, we found our place here."
Under Coach Cunniff, the Drops tapped into their aerobic differences for the benefit of their team.  Jessica loves the mile (she has a signed photo of her and Shannon Rowbury in her room), but thinks the 5000m may end up being her best event.  She dropped her personal best to 16:12.09 last track season, and finished fourth in the SEC Championships in that discipline last May.  Samantha moved up to the 10,000m at the urging of Coach Cunniff –she debuted at the distance at the SEC Championships– and finished sixth.  Then, she lowered her personal best to 34:29.84 at the NCAA East Preliminary round.  She also won the USA U20 5000m title last summer, and won the bronze medal at the Pam Am U20 Championships in Lima, Peru.
Despite their different strengths, the Drops prefer to compete at the same time so they can support each other and avoid the intense anxiety they feel when they watch each other race.
"I get really nervous watching her," Samantha said of Jessica.  "If she has a big expectation for a race, I want to see her do well.  I don't usually like to see her after a bad race because she gets really mad."
Jessica agreed. "I usually get more nervous for her race because I want her to do well."  She added: "When she doesn't think, she runs best."
At last May's SEC Championships, Jessica got tripped in the 1500 preliminaries and finished seventh (officials allowed her to advance to the final where she finished ninth).  Samantha took it hard, possibly harder than Jessica.
"Sam was way more upset," Cunniff explained while the twins giggled in unison.  "I went to console Jess, and everyone was like, Sam is taking it really hard."