Len Johnson – Runner's Tribe
Whichever marathon host first had the idea of boosting entries by offering shorter distance options certainly did Australian races a great service.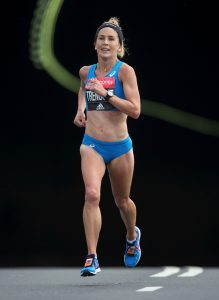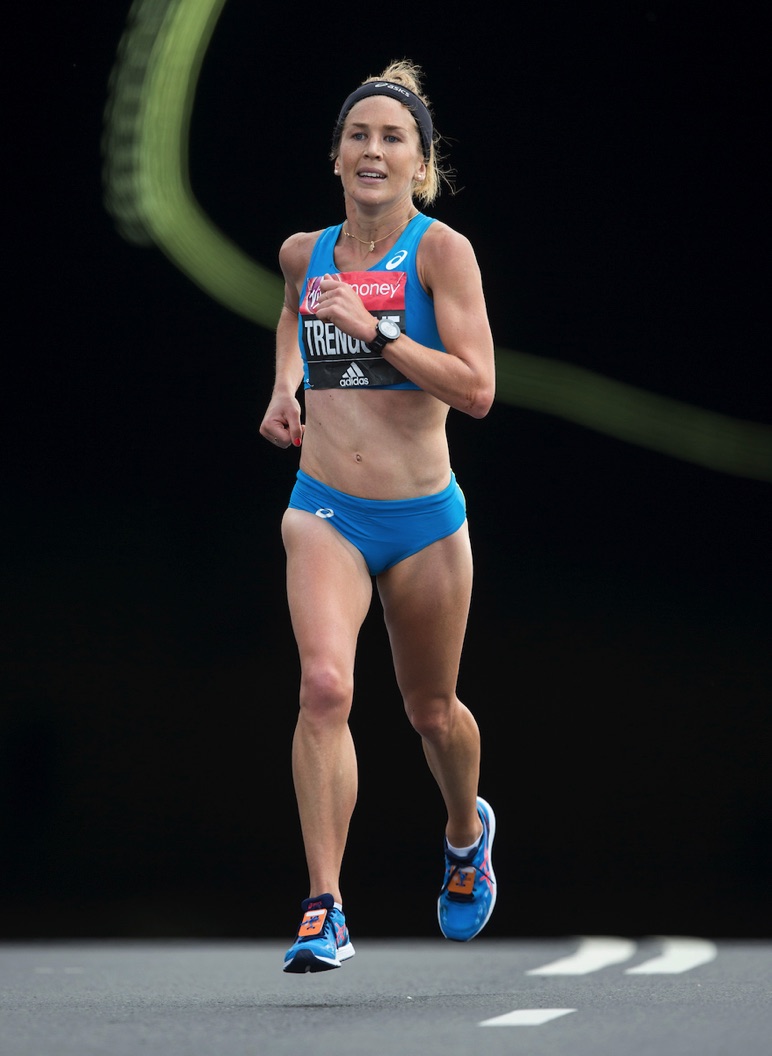 Take this year's Gold Coast marathon. Four of Australia's world championship marathoners are running. But Jess Trengove, Milly Clark, Jeff Hunt and Josh Harris are not doing the full 42.195km event – only Yuki Kawauchi runs a marathon as a warm-up for a championship; and he's one of a kind.
No, the Aussie London reps are competing in the half-marathon. Another for whom London calls, Eloise Wellings, is running the 10km. In terms of locals who might feature among the potential top threes, the half-marathon glass is full. The marathon glass: now that's another thing. There's probably not enough fluid in that one to attract the interest of a man dying of thirst in a desert.
This is not to be taken as a criticism of Australian marathoners. The timing of the Gold Coast race in the middle of the southern hemisphere winter makes it an inevitable clash with the year's major championship marathon which will almost invariably be in the middle of the northern hemisphere summer.
The Sydney and Melbourne marathons suffer from the same date clash problem. Not as severely, by September and October some of the championship runners have recovered sufficiently to run . . . come to think of it, they usually run the half then.
It has always been a problem getting the top Australian runners to run the top Australian marathons. Derek Clayton, wily old Irishman that he was born, got around the problem by having his career well and truly finished by the time marathons ever made it into town. In Derek's day, marathons were run in the back blocks. The wonder of his 2:08:33 in Antwerp wasn't that no-one could ever re-discover the exact course. No, the wonder was that the race made it into a major city in the first place.
Even when the New York marathon leapt the borders of Central Park and out into the five boroughs in 1976, the idea of taking over city streets for a running event was slow to catch on. Melbourne followed – the 'Big M' run for the first time in 1978, but it took five years before London emulated progressive cities like the Big Apple and the ideal city to make a film about the end of the world (as Hollywood star Ava Gardner once cruelly labelled Melbourne).
'Deek' ran his first marathon around the back of Werribee, his second around Herne Hill outside Perth (our picture shows him wondering where the next inhabited dwelling might be). Had there not been a home Commonwealth Games in Brisbane, he would not have run a major marathon in Australia.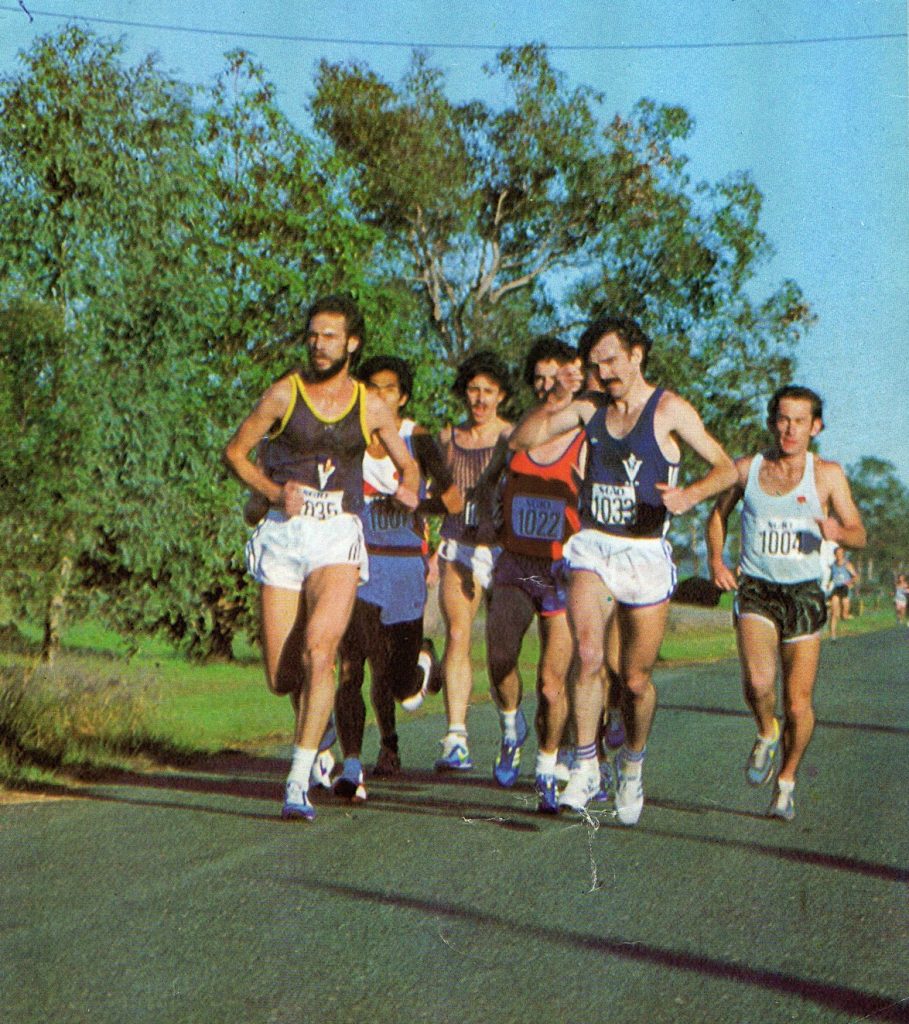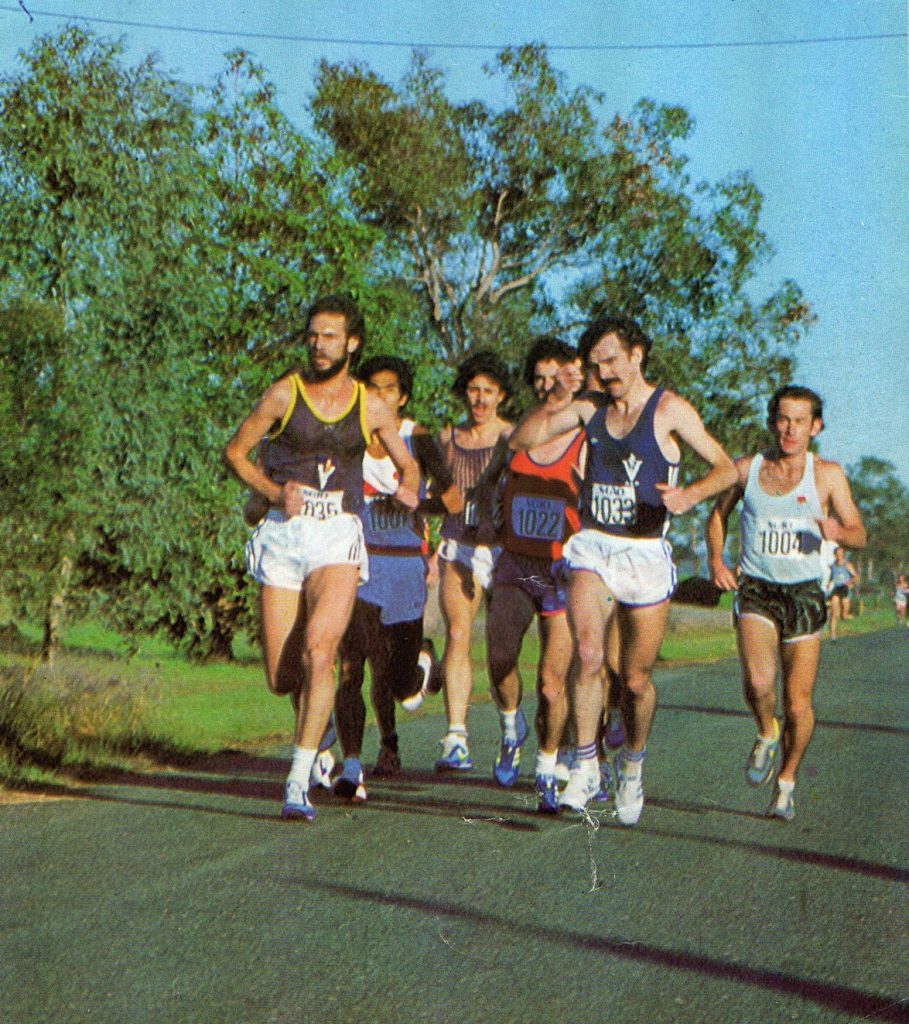 Lisa Ondieki had to come back to Australia to run the 1984 women's Olympic selection trial. But that was in Canberra and no-one outside Canberra takes any interest in what happens there. Again, no further marathon appearance in Oz.
Neither 'Mona', nor Kerryn McCann, ran an Australian marathon at their top. Again, had it not been for Sydney 2000 and, famously in McCann's case, Melbourne 2006, we would not have seen them here. Kerryn did run Sydney and the Gold Coast before she reached international standard and 'Mona' has run every marathon going round in his latter-day role as race ambassador to pretty well every race in the country.
Actually, things have improved a little in recent times. Gold Coast introduced Pat Carroll to the running world, while Brad Camp put a pretty-well anonymous performance in the Seoul Olympic marathon behind him with a Gold Coast race record in 1989. Lee Troop won Gold Coast in 2006, the last Australian male winner (Lauren Shelley won the women's race in 2009).
Mostly, though, the best Australian performances have come in the half-marathon. Malcolm Norwood, Andrew Lloyd, Martin Dent, Michael Shelley, Jeff Hunt and Liam Adams are amongst the men's half-marathon winners on the Gold Coast; Ondieki, McCann, Lisa Weightman, Clark and Wellings have saluted as first woman.
One of Australia's finest distance runners, Bill Scott, won the first Melbourne marathon and Andrew Lloyd the next three, but that is about it as far as our very top men go.
But Melbourne has seen some outstanding marathon performances by Australian women. Championships representatives have won the past five races – Lauren Shelley, 2:36:29 in 2012, Weightman, 2:26:05 in 2013, Nikki Chapple, 2:31:05 in 2014, Trengove, 2:27:45 in 2015 and Virginia Moloney, 2:34:27 last year.
Going back to earlier days, Liz Hassall (our first sub-2:40 female), Jackie Turney (our third), Rhonda Mallinder and Tani Ruckle all won in Melbourne. Jillian Colwell (our second sub-2:40) and Turney both broke 2:40 for the first time in finishing behind American Sue King in 1982.
Overall, though, if you want to see Australia's best marathoners race at their top, you'd better have a deep travel budget. It happens here rarely, if at all.
End
About the Author-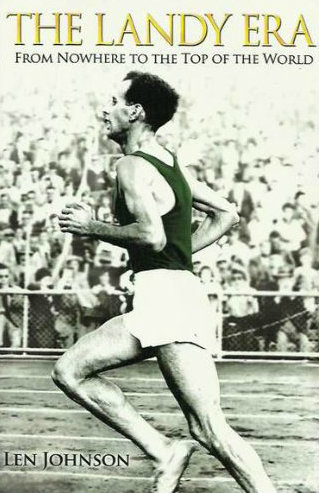 Len Johnson wrote for The Melbourne Age as an athletics writer for over 20 years, covering five Olympics, 10 world championships, and five Commonwealth Games.
He has been the long-time lead columnist on RT and is one of the world's most respected athletic writers.
He is also a former national class distance runner (2.19.32 marathon) and trained with Chris Wardlaw and Robert de Castella among other running legends. He is the author of The Landy Era.
RT insiders exclusive